Hi everyone! March brings us another step closer to the 2022.4 release. As always, there are lots of interesting things to share this month.
UiPath Document Understanding updates
UiPath Document Understanding updates released in 2022.3 are designed to help robots become even more effective in processing documents with handwriting and signatures.
Within Document Understanding, our Document OCR in the cloud has been optimized to recognize handwriting and signatures as well as perform better for print text and checkboxes. Now that Document OCR is capable of processing handwriting and signatures, we recommend you use Form Extractor and Document OCR for such documents (instead of the previously recommended Intelligent Form Extractor).
And a new DocumentUnderstanding ML package (on CPU) for on-premises deployment of UiPath AI Center™ has been released to public preview. It only runs on CPU and doesn't include handwriting support, yet it's designed to speed up running the workflow and importing documents into Document Manager.
Document OCR remains free for unlimited consumption for UiPath Document Understanding enterprise customers.
Another major update is public preview of the Signature Comparison Model in AI Center in Automation Cloud™. The model is trained to determine the similarity between a pair of signatures. As an output, you'll receive a similarity score indicating the likelihood that the signatures are from the same author. The detection of each signature is not part of the model and should be done in advance so that the input to the model is just images of a pair of signatures.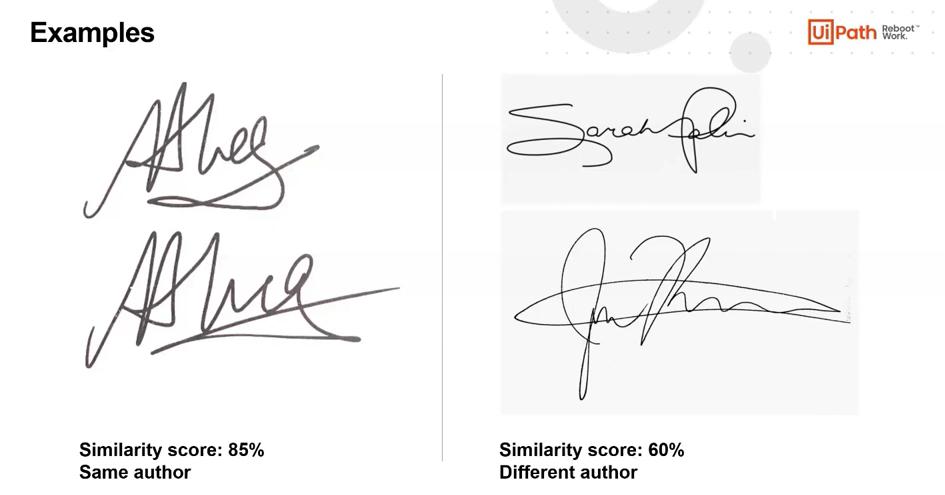 Newly released, prebuilt API connectors for Twitter and Campaign Monitor
Twitter integration is now available as part of the UiPath Integration Service connector catalog.
While Twitter automated use cases may not be front-of-mind, marketing via social media certainly is.
For example, using our Salesforce connector in tandem with the newly released connector for Campaign Monitor, we can trigger a robot to segment contacts by sales probability. In this workflow, Twitter automatically transmits a tailored marketing message to contacts who reach a sales probability of 50%.

As usual, each connector comes with triggers, native objects, and standard activities.
UiPath Automation Hub: new assessment customization experience
Quality assessments ensure quality submissions. In this latest release, we're unveiling a unified customization experience for all of the built-in assessments within UiPath Automation Hub. With new visibility settings, admins can now determine when a question or key performance indicator (KPI) is visible—or limiting specific collected information from appearing in the Automation Pipeline. Admins also now have the ability to download and import a customized assessment, which can then be used in another tenant or organization.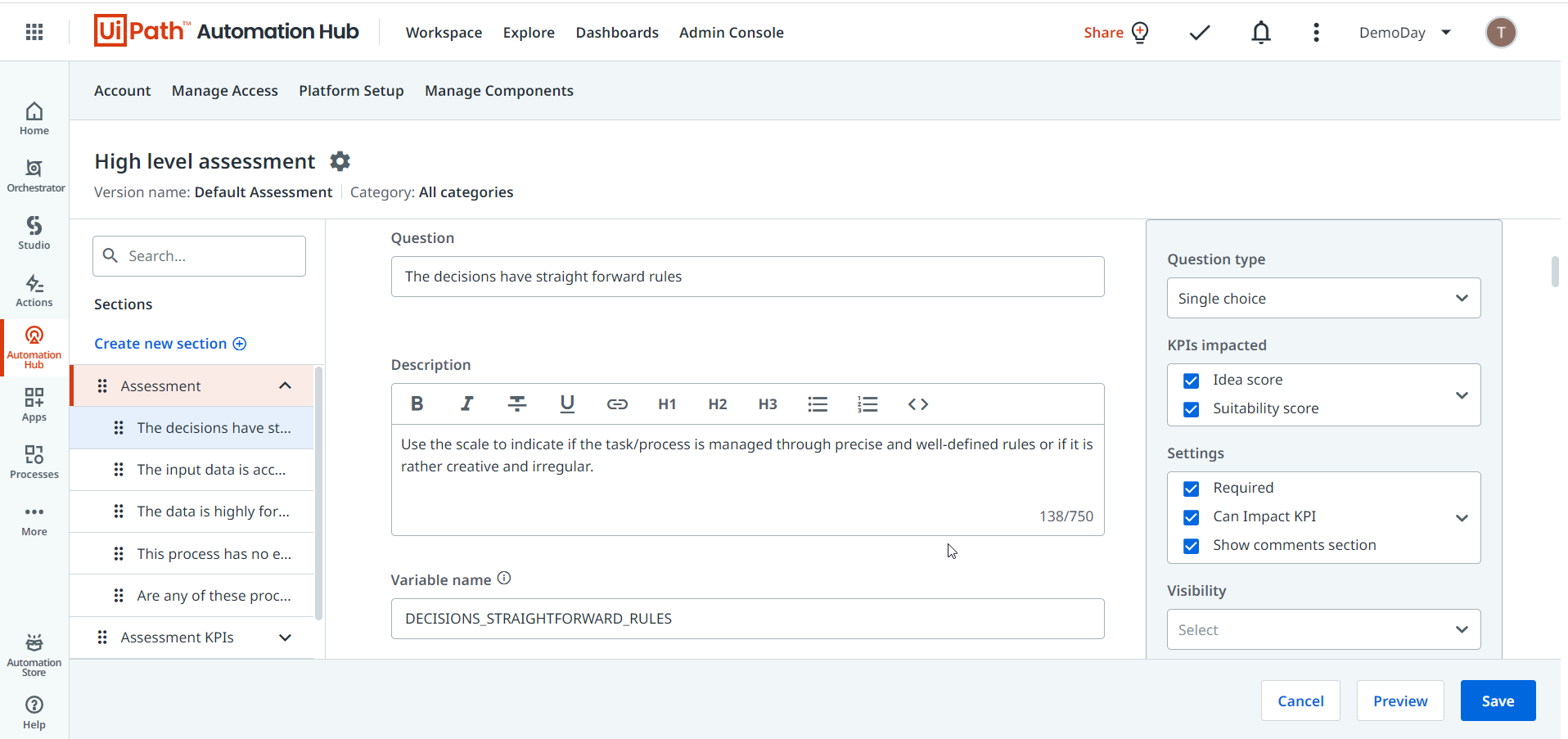 One of the more important ways that assessment data can be segmented is by the different areas of your business, or line of business—and that's why we've added the ability to customize assessment by category.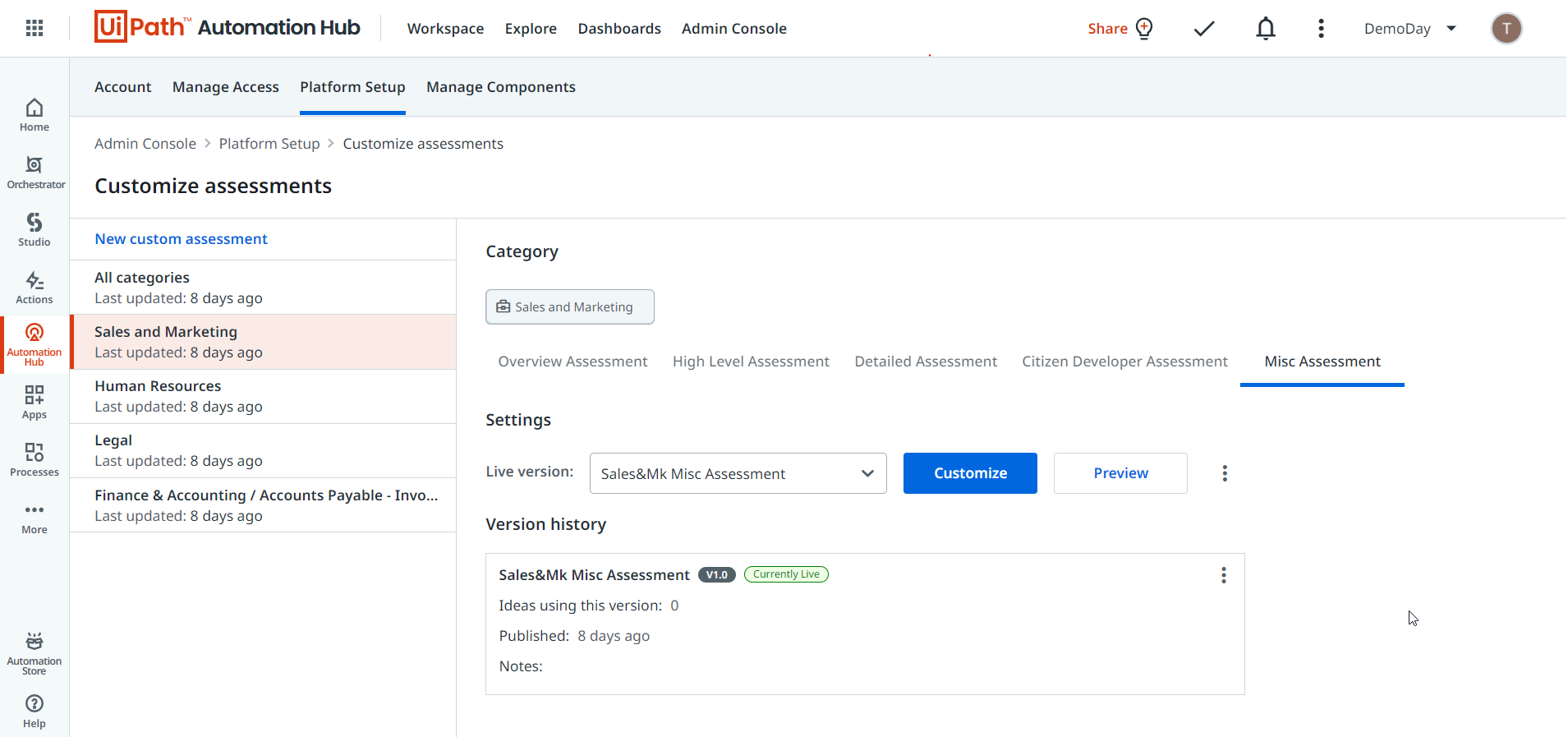 We know that this level of assessment customization will empower your organization with the data needed to improve transparency, prioritization, and reporting within your automation program.
UiPath Apps: better, more complex apps
The latest UiPath Apps release makes it even easier to build automation-powered, user experience (UX)-friendly interfaces for your automations.
We're happy to introduce Tabs, a new display control. Tabs make it easier to display a lot of information in an easily readable manner. You can now spread information across multiple sections (tabs) in your app.
For better and more complex apps check out the new integration with Queues in UiPath Orchestrator. Queues enable you to create large automation projects underlined by complex logic. Queue store multiple types of data, such as invoice information or customer details. This information can be processed in other systems - SAP or Salesforce, for instance. Now that Apps are integrated with Queues, you can easily create engaging front-end interfaces for your users to interact with Orchestrator Queues.
Get step-by-step guidance on implementing Queues and Tabs in your apps.
We are looking forward to your feedback and thoughts on these capabilities. Keep the feedback coming through the Insider program.
And I'll be sharing more about new product capabilities during the Reboot Work Festival on April 12, 2022. The virtual event is free to attend and open to the public. See you there!