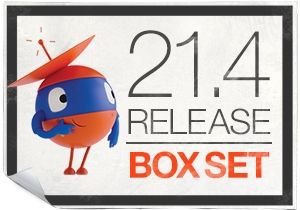 Short implementations? Check.
Immediate outcomes? You bet.
Fast payback periods? Certainly.
Self-funding projects? Yes.
We know that automation can transform the workplace, but where do you start? How do you decide what to automate and do it in a way that will maximize your ROI?
Your enterprise is an elaborate system made of people, processes, and technologies working interdependently, and each has a story to tell about how work gets done. There are traditional, manual approaches to understanding the big picture to spot inefficiencies and discover what's worth giving to robots. Still, such methods are inexact, time-consuming, expensive, and they mostly happen in silos.
If seizing the benefits of automation at speed and scale is what you're after, relying on guesswork to identify—and justify—automation potential just won't cut it. You want science. You want complete, 360-degree visibility into your processes, a detailed step-by-step blueprint of how every task gets performed, and most importantly, a way to identify and prioritize those automation opportunities that drive your most important key performance indicators (KPIs).
Today, with the launch of UiPath Task Mining and new integration scenarios for all our process discovery products, you get all of that—and more.
AI-powered UiPath Task Mining is now generally available
Task Mining is our newest discovery product and uses artificial intelligence (AI) to reveal patterns and variations in how day-to-day tasks are performed. Identify a set of people working on specific tasks or specific types of tasks and invite them to record their actions with Task Mining. Gather the activity data and analyze them. You will discover that, say, four of the people perform thousands of unique actions across dozens of different tasks. That's hot automation potential right there. And everything is visual and documented. With one click, you export the findings to process definition documents (PDDs) or directly to UiPath Studio for speedy bot building.
Over the last several months, we've been working with customers from our Insider Preview Program to road test Task Mining. Here's what they're saying:
UiPath Task Mining was able to identify eight unique processes which occurred more than 5,000 times in a proof of concept at Paychex. Applied to the entire department annually, this single Task Mining project has allowed us to understand one-third of the team's work. The ability to easily view variation, visually normalize data, and define and search for best practice processes from inside the task mining application differentiate UiPath from the market.

Cassy Dunn, Business Process Improvement Manager, Paychex
We were drawn to Task Mining because of its ease of use. You just install it, and it works. When we put it to the test, we got the results back from just a few days of recording. Task Mining's sophisticated AI model identified our invoice classification process as a top automation candidate and gave us hard data points to confirm this—20% of our users' time was spent on this task alone, equating to over 14,000 manually processed invoices per year. We had a hunch this was a good target and now we have confirmation with real data. Manual process discovery would have taken us months. With Task Mining, we're building an automation pipeline that's quantifiable that we can easily prioritize. We're already deploying Task Mining to other departments like HR.

Jan Willem Tiemessen, RPA & BI Expert, Sensire
With Task Mining, we are impressed how it discovered not just automation opportunities but also necessary process improvements, all of which would likely have gone undiscovered without such a powerful tool. Additionally, the wealth of metrics provided on all the traces discovered has helped us prioritize all the opportunities, ensuring we focus on what will generate the greatest value.

Bettina Lang, ROC Change Manager, Miba AG
Leave nothing to chance and no opportunity behind
While Task Mining helps you understand how people work, Process Mining complements it by analyzing the digital footprints from your business applications like enterprise resource planning (ERP) and customer relationship management (CRM), to show you where automation potential is hiding within end-to-end business processes. Together, they turn every task and every process inside out to reveal where the bottlenecks are—so you can also optimize your processes—and which potential automations will have the most impact on your top-line KPIs.
You'll know what to automate, how to do it, and what the return of your efforts will be.
Add Task Capture to automatically document attended processes as you work, detail out your unattended processes, and then export the build-ready workflows directly to UiPath Studio for RPA developers to start automating.
Bring everything under one roof in Automation Hub. It's where you gather automation suggestions from employees with a simple submission form—another great way to scale automation—and where you centrally manage your entire automation pipeline. Think of it as the operating system for your center of excellence (CoE). See and control everything from idea to production, from visualizing automation complexity and payback costs, to documenting and sharing automation opportunities across the business.
Leverage the power of integration with an end-to-end automation platform and convert these insights into action with accelerated automations and optimized processes.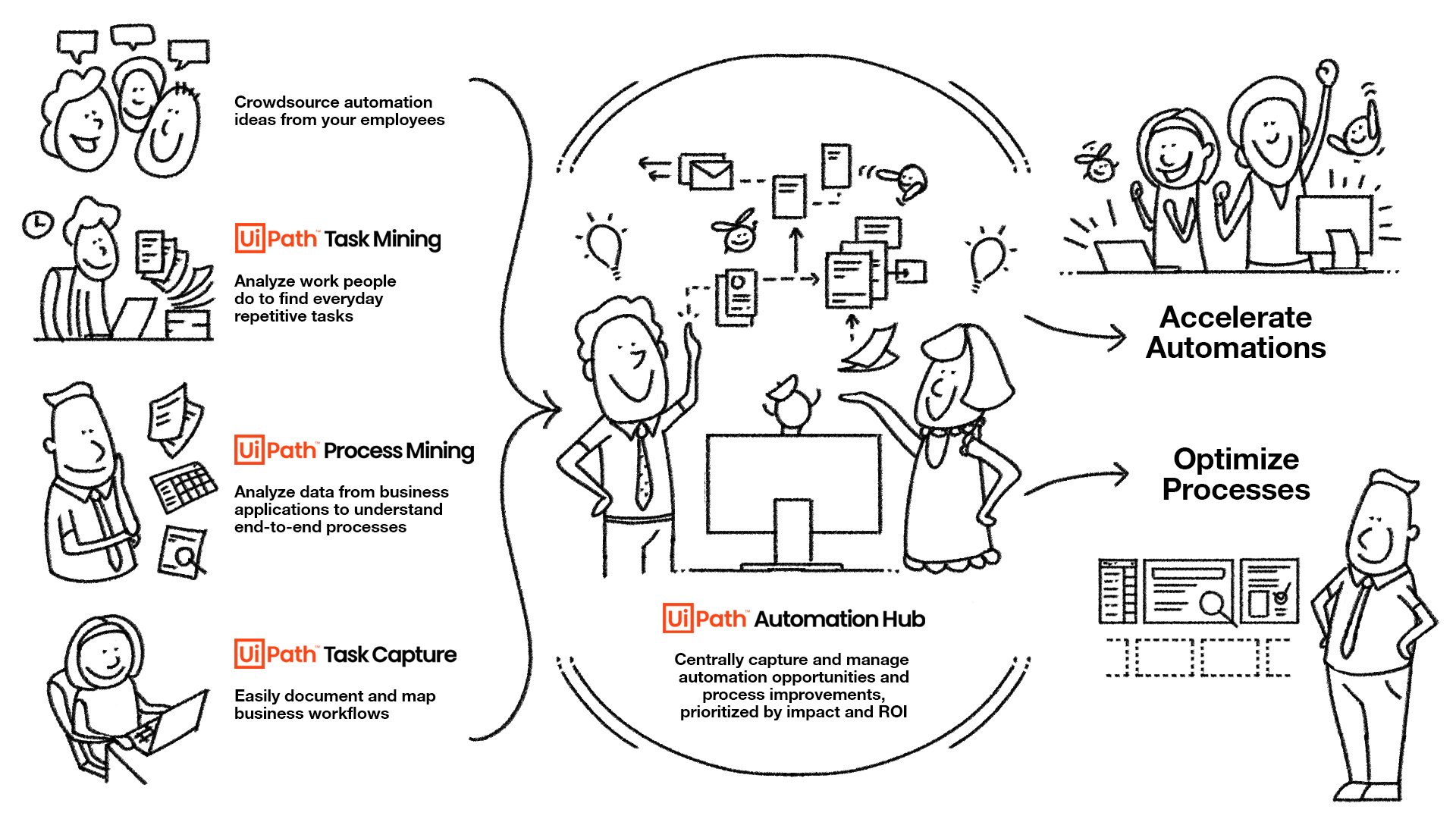 Process discovery highlights from the UiPath 21.4 release
UiPath Process Mining gets a boost in 21.4 to help you turn all that process complexity into purposeful, KPI-driven opportunities to automate and optimize work continuously:
P2P and O2C Discovery Accelerators: plug-and-play process mining to discover automation potential and monitor KPIs in the purchase-to-pay (P2P) and order-to-cash (O2C) processes

Process Mining Connectors: seamlessly transform raw data into process mining steps. Get the right data and get the data right

Process Mining and Automation Hub integration: send automation candidates identified with Process Mining straight to Automation Hub

Process Mining root-cause analysis: discover what causes undesirable behavior in your end-to-end processes, understand where the bottlenecks are, and identify where to leverage automation
UiPath Automation Hub is at the heart of any automation program, offering a central location to capture automation ideas, prioritize opportunities, and inform developers. It's also a great way to evangelize automation to the business teams and get executive support for the program.
In 21.4, Automation Hub becomes available as a service in Automation Cloud™, joining the other UiPath cloud services such as Orchestrator, AI Center, Apps, or Data Service. And with the new Automation Store, you can more easily share ready-to-use automations with your organization, along with all the necessary governance tools.
Automation Cloud integration: enables multiple tenants under the same Automation Cloud account and manage user access more easily through cloud.uipath.com

Automation Store: offers a central location to publish, discuss, and download your organization's ready-to-use automations

Process Mining integration: send identified automation candidates from Process Mining straight to Automation Hub to prioritize them based on their impact and ROI

Customize 'Submit an Idea': change the questions for the high-level assessment and their scoring weight

Additional updates: import automation ideas by uploading a CSV, download user activity via Audit Logs, Spanish and Portuguese localization, and new hosting options for Japan, Canada, and Australia
UiPath Task Capture reveals a new interface and finer control over the process details you want to capture. When it comes to business processes, they can vary greatly, from simple to overwhelmingly complex, so we've focused the last few months on providing a documentation experience that works for both!
New interface: a redesigned and more intuitive interface layout

Capture settings: customizable capture settings so you can select the level of recorded detail – made even easier with recording hotkeys

Improved grouping: overlay 'swimlanes' to add visual structure to groups of elements within a diagram map

Interactive sign-in: easier sign-in for Automation Cloud customers
We hope you'll find our latest offering valuable and inspiring as you start, grow, or expand your automation program. Continuously discovering, optimizing, and managing an organization-wide pipeline of high-ROI automation opportunities will get you as far as possible, as fast as possible.
Take a deeper dive into these exciting updates and join us for our Intelligent Process Discovery: Use AI to Prioritize and Accelerate Automations webinar on May 26, 2021 at 11:00 am EST.
Even if you can't join us live, be sure to register in advance because we'll send you the webinar recording after the event.
Special thanks to Yiannis Broustas, Ana Chiciu, and Cameron Mehin for their assistance with this blog post.