Param Kahlon is chief product officer at UiPath.
It's been a busy month at UiPath as we gear up for the 2019 LTS release and FORWARD III, both happening in October. 
I am delighted to announce that the UiPath SAP BAPI Activities are now SAP certified. This approval certifies that UiPath technology integrates seamlessly with SAP solutions. Get more confidence in your investment decision as our integration technology went through stringent qualification procedures to earn this certification. Learn more about the benefits of SAP Certification.
Before we dive into this month's 2019 preview, we want to share an update on the localization front - the Community Edition (Beta Channel) is now available in the following languages:
Portuguese (Portugal)

Spanish (Spain)

Spanish (Latin America)

Turkish
High Availability add-on for UiPath Orchestrator
UiPath now offers a High Availability add-on, a native solution for high availability of UiPath Orchestrator. The High Availability add-on assures business continuity without risk of data loss as you scale RPA in your organization. Find out how you can benefit more from the High Availability add-on.
UiPath 2019 public preview
This month is the last preview before the release, and we have worked on improving the attended automation experience and delivered exciting activities to integrate with frequently used business applications.
Activities update
In this release, we have added enhancements to the existing Forms activity, introduced integration with Slack, and expanded the IT automation activity.
Callout activities
The Callout activities is an extension to the Forms activity delivered last month and lets developers easily design pop-up screens. For an attended automation user, these pop-up screens can provide contextual guidance and speedup regular tasks. Please ensure you are on the 2019 Community Edition (Beta Channel) to get Callout. Join the Insider Preview Program to learn more.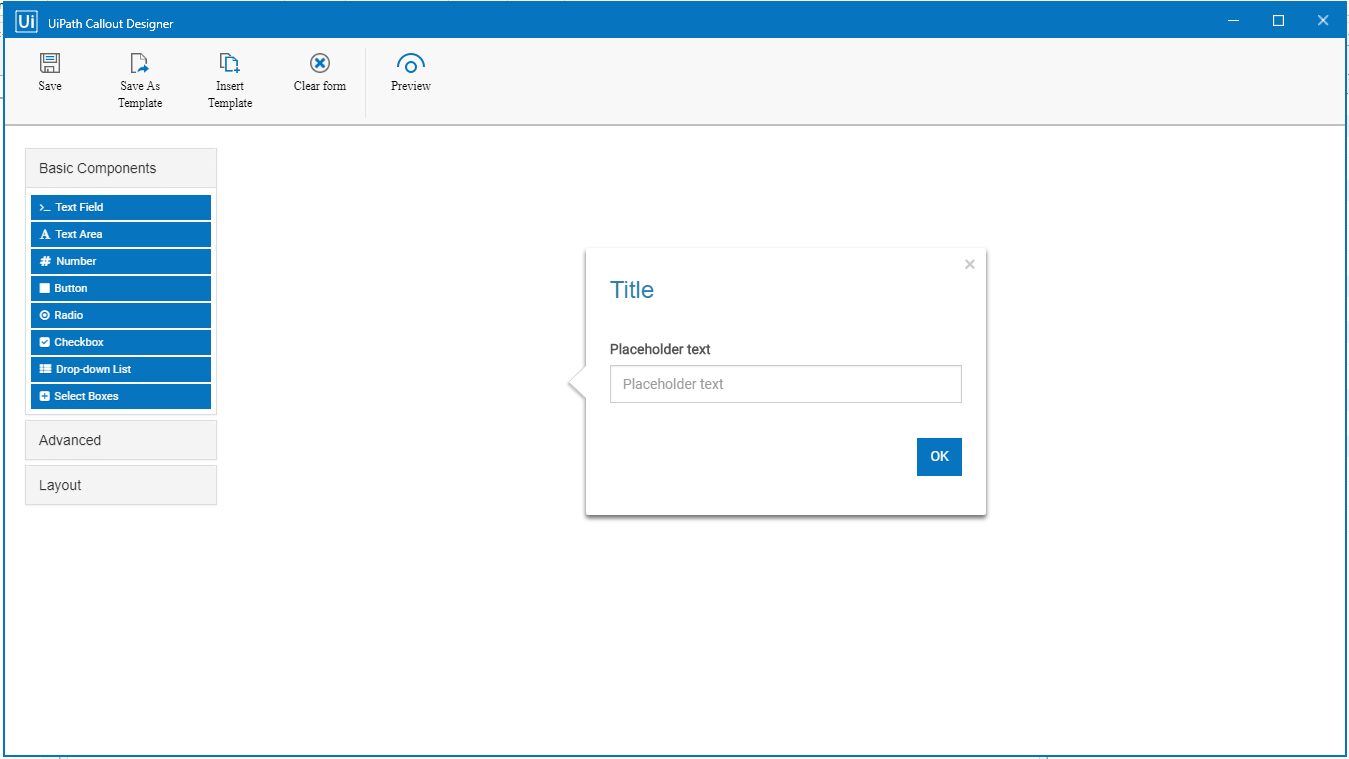 Callout Designer
Slack integration
Slack is widely used by over 85,000 organizations, including 65 of the Fortune 100 companies, and 10 million active daily users. UiPath now offers two-way integration with Slack, allowing Slack to start a robot, and a robot to post messages to Slack. Additionally, a robot can also manage Slack with actions such as creating channels or adding users to a channel.
IT automation activity
Last month, we introduced the IT automation activity to make life easier for our friends in the IT department. We have now added support for Citrix Hypervisor and Microsoft Azure. Typical use cases for Citrix Hypervisor include green computing, robot provisioning, infrastructure management, and several others. With the Microsoft Azure activity, users can automate Azure operations in storage accounts, virtual machines, and app services. Learn more in our release notes for IT automation support for Microsoft Azure and Citrix Hypervisor.
Orchestrator Mobile App
We continue to work on the Orchestrator Mobile App to give you more flexibility in monitoring your digital workforce on the go. Use Favorite Processes to save frequently used processes and run them as required. For implementation details, check out our product guide.
Sign up for the Insider Preview Program to try these features and keep that stream of feedback flowing.