This month we are following on from the 2019 Fast Track Release of the UiPath Enterprise RPA platform with another important milestone in the 'automation first' era, the Public Preview of the UiPath Enterprise Cloud Platform.
There is no doubt that the cloud delivery model is now mainstream with 91% of enterprises now using the public cloud1. The line of business (LOB) applications frequently at the heart of your automations are also commonly cloud-based including CRM (75%)2 and ERP (69%)3.
We have a cohesive vision we are working toward that allows you to use the UiPath Platform in alignment with your information technology (IT) and cloud strategy. Whether your preference is on-premises, private, public, or some hybrid combination we believe you should be able to easily utilize the power of the leading Robotic Process Automation (RPA) Platform.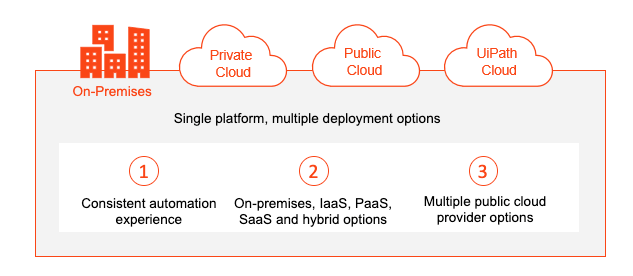 The journey began in 2017 with our Community Cloud offering that, today, has more than 17,000 tenants. In February 2019, the Community Cloud offering celebrated the milestone of managing more than 35,000 Robots. In 2017, we also enabled support for Infrastructure-as-a-Service (IaaS) deployment in leading public clouds such as Amazon Web Services (AWS) and Microsoft Azure. Today, we have many large customers that have deployed via public cloud IaaS including financial services and government organizations.
Recently, at Microsoft Build we announced the first complete RPA automated deployment solution on Microsoft Azure, significantly speeding RPA initiatives with reduced DevOps and data center infrastructure costs. The new 'auto-deploy' completes in a few minutes, rather than the previously required hours for a small implementation—or days for a large enterprise installation.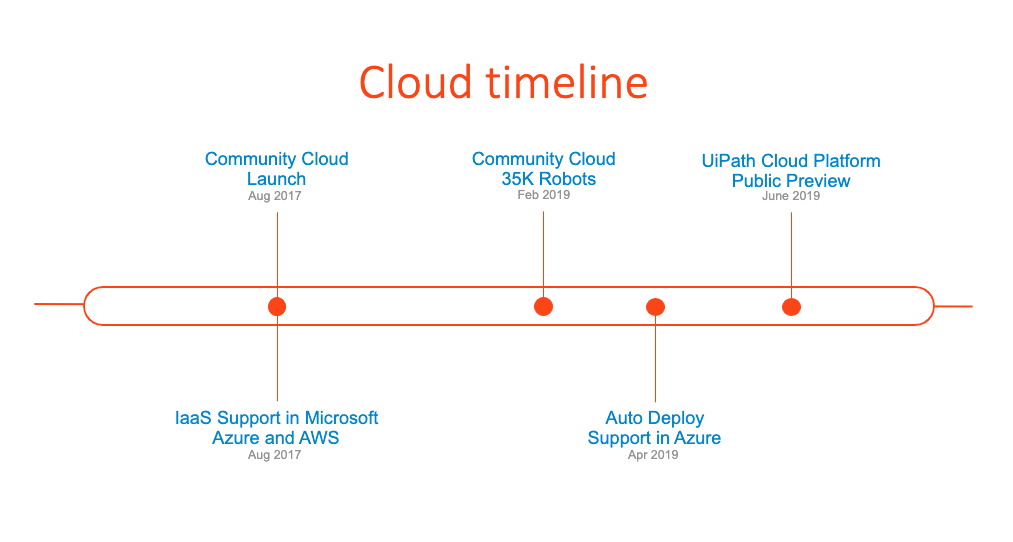 Today, with the announcement of the Public Preview of the UiPath Enterprise Cloud Platform, we are delivering a full Software-as-a-Service (SaaS) solution that allows you to focus on automation and leave the IT to us. Customers involved in the private preview leading up to this moment have told us they particularly value the following aspects of the services:
First, the Cloud Platform allows you to start automating instantly. You can begin a proof of concept (POC) in seconds and move to production in days. The Cloud Platform has a very simple sign up experience, reduced set up time, and automatic license management.
Second, it allows you to scale easily--moving from automating one process to hundreds of processes with just a few clicks. The Cloud Platform delivers the same power of the on-premises RPA platform including the flexibility to add tenants when needed.
Third, the Cloud Platform simplifies your IT environment allowing you to focus on your business and leave the IT and updates to us. You will also have the advantage of being the first to get the newest UiPath Platform features. It delivers reduced total cost of ownership (TCO) with no upfront hardware and less dedicated IT infrastructure for automation.
Finally, your trust is always on our mind. The UiPath Cloud Platform will be your trusted platform for secure automation and simplified compliance. Our support for industry standard cloud standards will ease buy-in with your internal teams such as IT, security, privacy, audit, and legal. A highly available architecture, guaranteed uptime, and disaster recovery ensure you can meet your business goals with confidence.

The Public Preview includes Cloud Orchestrator, a new UiPath portal providing simple user and license management and a Resource Center.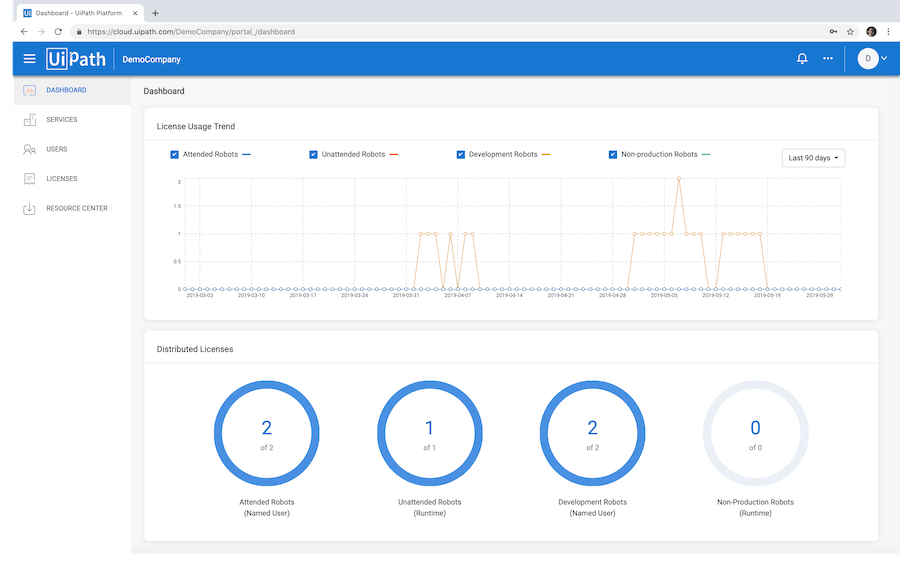 Moving ahead we will deliver continuous innovation through monthly updates as we move toward General Availability later in the year. Over time you will see us add new capabilities including fully managed Cloud Robots, AI Fabric, Analytics, and service orchestrations to name a few.
Sign up now to try the Public Preview and experience all these new capabilities for yourself.
We will keep listening to your suggestions and working hard to advance our roadmap; please continue to let us know how we can improve.
Andra Ciorici is a Product Lead at UiPath.
1 RightScale 2019 State of the Cloud Report from Flexera
2 Gartner blog: Cloud to Represent 75% of Total Spend on CRM in 2019
3 New Cloud Security Alliance Study Finds Cybersecurity Incidents and Misconceptions Both Increase as Critical ERP Systems Migrate to Clouds