UiPath Live: The 21.4 Release Show was packed with information and insights for everyone from on-the-ground robotic process automation (RPA) developers all the way up to enterprise CEOs.
We had two sessions so more attendees around the world had a chance to see the show. Both sessions were live and covered the same information (with the exception of the Q&A, which took questions in real time from audience members).
Did you miss them? Don't worry, we have you covered.
Here, we've gathered four key takeaways from the shows. These takeaways cover:
Highlights from the 21.4 release

Insights from our chief information officer (CIO) panel with guests from Autodesk and KUKA AG

Perspectives from people using automation in their daily work at Spotify and The University of Sydney

A vision for the future of automation from UiPath CEO and co-founder Daniel Dines
And if you want to watch the whole thing, including the live audience Q&As with Dines, you can catch up by watching the full recordings (yes, catch up on one or both of the shows with on-demand viewing).
1. UiPath 21.4 release makes automation easier to manage and scale
The UiPath 21.4 release (also called 2021.4 release) has new products and over 100 new features. All of which were developed from the feedback from more than 100 companies as part of our Insider Program. There are four main themes to this release (our first of two major releases this year), but the announcement of UiPath Task Mining stole the show (more about that below).
The four themes included:
Enterprise-scale governance and management: as automation spreads in the enterprise, and business users and citizen developers are using it more in their daily work, automation sprawl becomes a concern. UiPath Automation Ops addresses this challenge and gives enterprises the ability to control automation without limiting users (more on this in a moment).

Artificial intelligence (AI)-powered discovery: UiPath Process Mining received improvements and UiPath Task Mining debuted to general availability. Task Mining looks at desktop user activity and helps individuals identify automation opportunities. Process Mining looks at application logs and helps system owners identify process bottlenecks.

Upgraded user experiences: every person who interacts with automation gets user experience improvements in this 21.4 release, from RPA developers to automation end users.

Rapid expansion of Automation Cloud™: more and more customers are choosing to deploy in the cloud, and this release features more services available in Automation Cloud—including Cloud Robots. There's even a new migration tool to make it easier for existing UiPath customers to move to Automation Cloud.
Read more: UiPath 2021 FTS Release Series: Everything You Need to Know About The 21.4 Release
The first theme, enterprise-scale governance and management, came up again and again throughout the show.
Scalability is a constant quest for us. As customers expand to citizen development and attended scenarios, governance becomes a top priority.

Param Kahlon, Chief Product Officer, UiPath
The potential for automation sprawl, according to UiPath VP of Marketing Diego Lomanto, is the top concern, the "number-one thing" we're hearing from our current customers. With Automation Ops, you can set up a targeted policy and deploy it across your organization. Now, a centralized team can manage everything a user is doing across the UiPath Platform.
Even with the excitement around Automation Ops, UiPath Task Mining was the clear audience (and customer) favorite. And they weren't alone.
During the Q&A, Dines called Task Mining the "most exciting part of the release" and shared that it has been "in the works for three years."
"It's one of the biggest technical challenges that we've solved. It's also the project where we have invested the most in terms of AI," he said.
Task Mining is the type of technology that is accelerating adoption of automation enterprise wide.

Daniel Dines, Co-Founder and CEO, UiPath
There's an entire blog post that dives into the benefits of Task Mining, Process Mining, and other UiPath products that identify your processes that would have the biggest impact if automated. Here's the short version (see a larger version of the image below):
2. CIOs are embracing the automation imperative
During UiPath Live, CIOs from Autodesk and KUKA AG revealed the levels to which CIOs are embracing automation. The insights shared made it clear that CIOs are taking on the automation imperative and making it a priority to deploy, scale, and manage the resulting transformation.
Prakash Kota, Senior Vice President (VP) and CIO of Autodesk, said that "having a governance structure, especially as you scale, is important" but, he cautioned, you don't want to use governance to "[lock] people from being able to do anything." The key for Autodesk has been designing a lightweight process that gives users guardrails without making them feel "starved from doing things."
Automation Ops helps you do just that.
With growth comes growing challenges. The only way we can scale is through automation.

Prakash Kota, Senior VP and CIO, Autodesk
Your automation strategy, however, as big as it eventually needs to be, shouldn't start big. Our CIO panel agreed: organizations should start small before scaling big.
The panelists advised organizations to optimize processes and start your automation journey with small, simple use cases. Or even one use case.
The tasks you target first should be both simple and compelling. These tasks should be relatively easy to automate, but once automated the results should demonstrate the potential of automation at scale.
Start small, scale fast. That's really important: pick one use case that is promising but not too complex.

Dr. Quirin Görz, CIO, KUKA AG
Your simple, single use case is the first step on a journey—a journey that a range of partners and technologies can help you accomplish.
Read more: Overview of RPA for the C-Suite: The Quick Guide to Getting Started
Once you, your company, and your stakeholders understand the power of automation and RPA, you can combine it with AI and data science to do more.
"We started with a heavy focus on finance automation," Kota said, "and now, we are doing it across all divisions."
It's not only about saving labor, Kota emphasized, it's about reducing time spent away from the customer and increasing employee engagement.
3. Business users are pursuing automation opportunities
Automation is becoming easier to use and business users now have the tools they need to pursue and develop the automation solutions they can imagine.
Sidney Madison Prescott, Global Head of Intelligent Automation and Gian Marco Annese, Product Manager, Business Excellence and Transformation—both from Spotify—joined our first session. Steve Blunt, General Manager of Automation and Innovation and Ian Buswell, information management expert—both from the University of Sydney—joined our second session of UiPath Live.
The University of Sydney had a compelling reason to introduce automation.
At the beginning of each semester, Blunt explained, the university onboards thousands of sessional lecturers. "The problem was getting these lecturers into the payroll system before classes start," according to Blunt. "Every semester, they have to re-onboard the academics and it was a brutally manual exercise. The risk for the business was that we wouldn't have the academics in the payroll system before the semester started."
According to Buswell, this process was the perfect candidate for automation. "It's not a lot of discretion or value-add," Buswell added, explaining that "it's just processing through a system." Leading with processes like these, the University of Sydney started on the path to pursuing automation across, according to Blunt, "every nook and cranny."
Even a digitally native company like Spotify has opportunities suited for automation. There were still many manual internal processes and reporting, giving Spotify the chance to optimize, said Prescott, "our internal capacity as a workforce."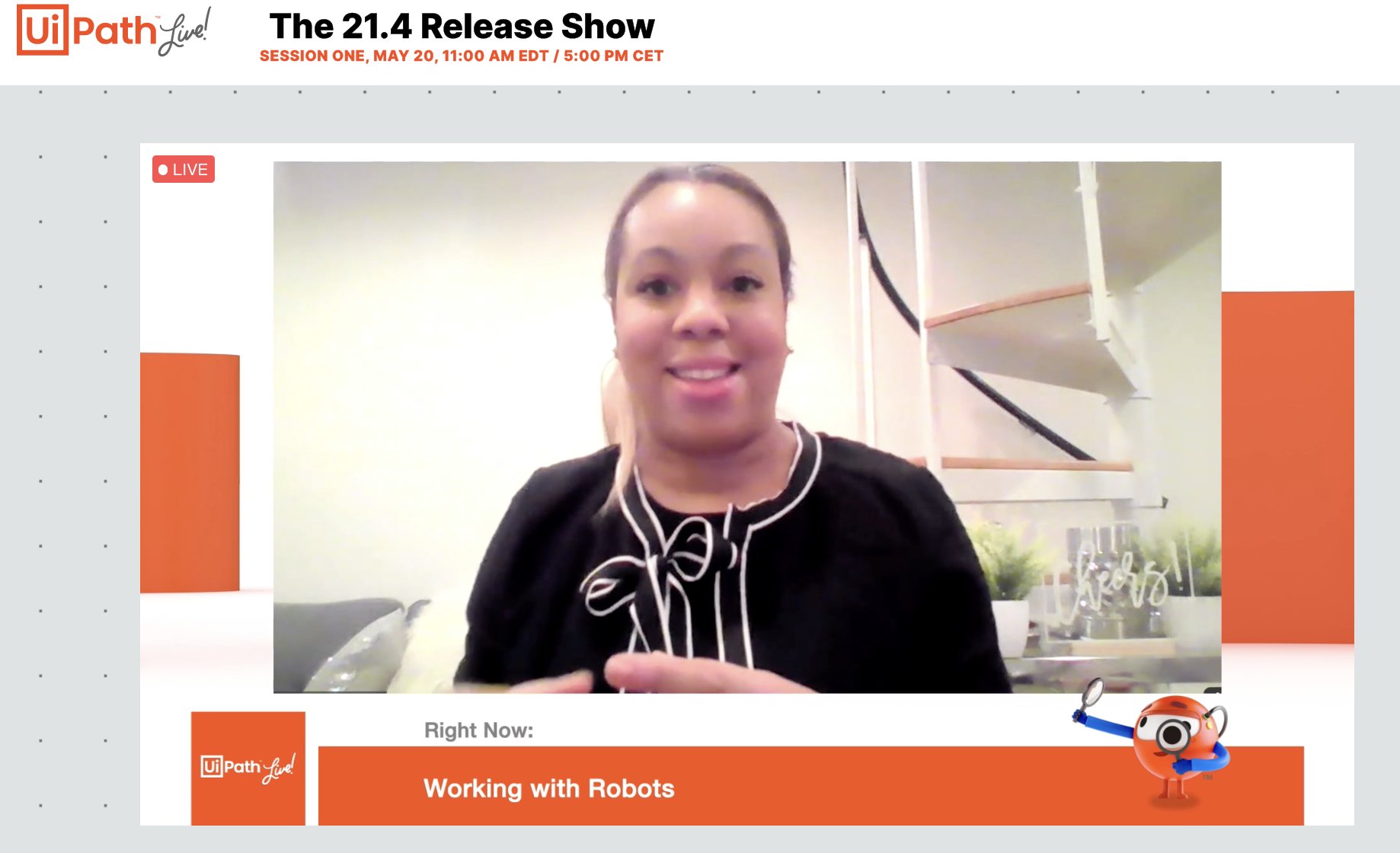 Spotify, according to Prescott (pictured above), embraced both top-down and bottom-up approaches to automation adoption.
"We created one workflow where we have our developers-by-trade building out those enterprise-wide, more complex automations," said Prescott. "And we have a second workflow where we are upskilling and training our business users to build their own low-level, personal automations."
Read more: The Difference Between Personal & Business Workflow Automations (and Why You Need Both)
Spotify needed both top-down and bottom-up approaches to create the foundation for digital transformation. "It has been challenging to manage both," Prescott said, but it was worth it because they were able to "bring along our fellow Spotifyers on this automation journey." Blunt agreed: "The top-down and bottom-up just brought everything together."
Annese, a Product Manager in the Business Excellence and Transformation department at Spotify, joined UiPath Live as a model of business user upskilling.
Annese, working with the accounting department at Spotify, "had the opportunity to be part of this first group within accounting that had the opportunity to start from zero and learn what UiPath and RPA are and how they can help us in our day-to-day work."
Annese was concerned at first, acknowledging that he didn't "have a technical background at all." But that concern didn't last: "The more we worked with RPA and UiPath, we realized this was something you could learn."
If you focus on low-hanging fruit, Annese said, and as our experts in the CIO panel recommended, you could apply UiPath, change your work, and begin to scale automation.
Annese shared a real-life example of low-hanging fruit: regression testing. A couple of times a year, Spotify does regression testing to test processes from a user acceptance testing (UAT) perspective after system upgrades. "That was the angle I used to leverage automation," said Annese. "If I'm doing all this manual work a couple of times a year, I could bring in UiPath and automate some of those different processes."
Now, Annese can focus on reviewing the results of the regression tests while a software robot performs the processes and navigates all the different systems and applications. And this is only the beginning, said Annese: "I started with something simple, automated it, and the more I learned, the more I challenged myself to go after more complex automations and processes."
Starting with simple, quick use cases is also good for change management.
Buswell explained that The University of Sydney was "able to incrementally build this technology where the end user could see the progress, could see the outcomes we were going to achieve. We incrementally built that trust so that when it was able to be delivered and it met all of their expectations, it changed the perception of the technology."
4. The future of automation will revolutionize the enterprise tech stack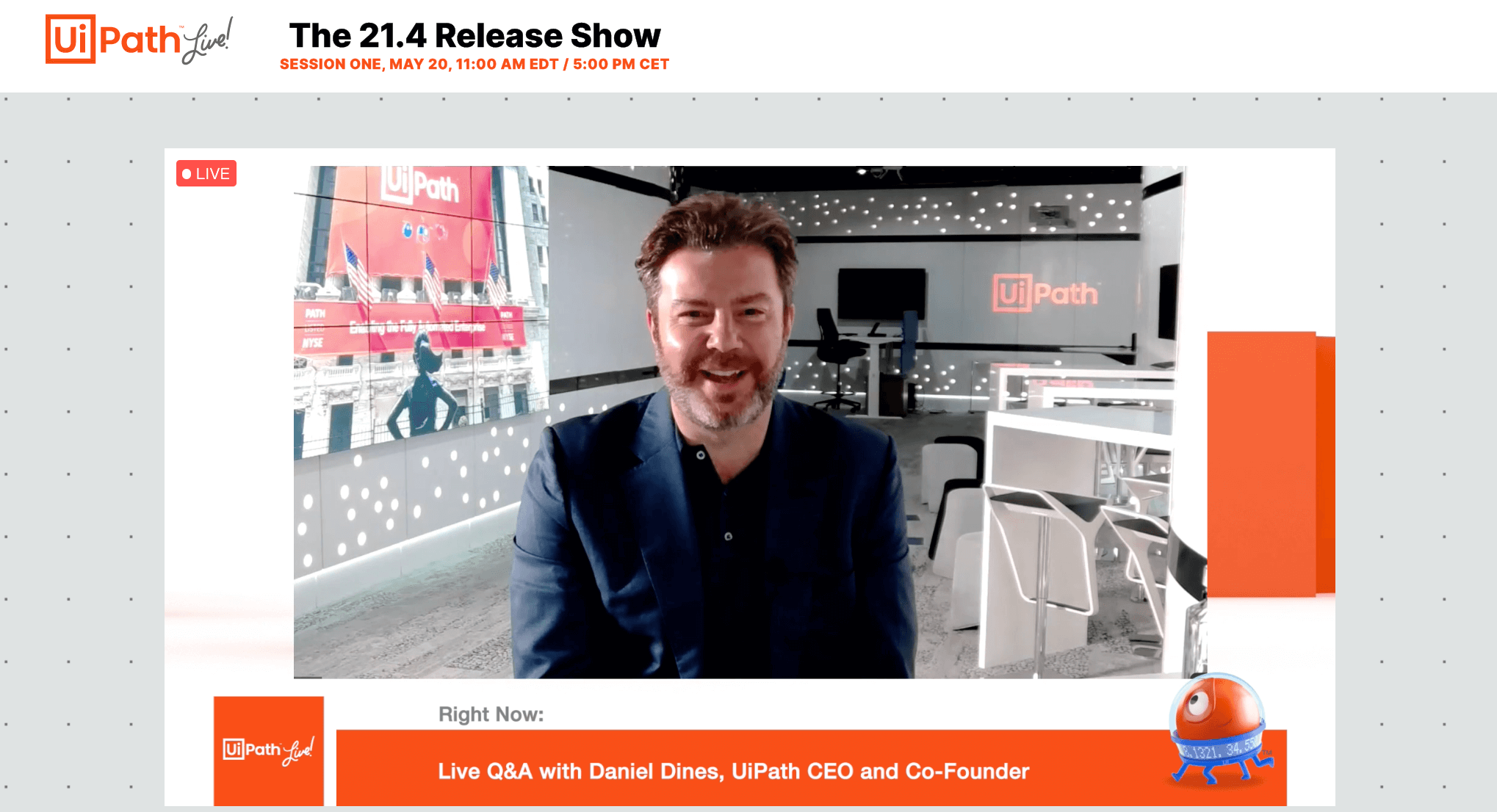 UiPath CEO Dines closed out the shows by answering questions from audience members (different questions during each session). Many of those questions led to an inspiring discussion about the future of automation.
One idea Dines focused on is where automation sits in the enterprise tech stack—and where it will sit tomorrow. "Traditionally, automation sat below applications," Dines said. "Automation was more of an infrastructure play." Soon, however, with a platform like UiPath, automation will take a new place and in so doing, revolutionize the enterprise tech stack.
We have introduced, with our vision to emulate people, a new layer into the enterprise stack, where this automation layer sits above applications. This fulfills our vision that everyone will connect to their software robots, which will, in turn, connect to the application and do manual, repetitive jobs.

Daniel Dines, Co-Founder and CEO, UiPath
"This is our ultimate vision," Dines said. "We are seeing a future where all new processes will be designed on top of our platform in an automation vision from day one."
Automation, rather than a variety of different business applications, becomes the place where users engage with their workflows. Users will not only operate applications at this layer, but design processes–all with 'automation first' principles in mind.
"Imagine a business user," Dines said, "using a modeling tool—a nice drag-and-drop canvas—where they sketch the process and indicate which application they're using. But the work is 80% done and then you can put it in production directly from the canvas space."
From this foundation, businesses can be more agile and more adaptable, better able to handle the disruptions of an increasingly digital world.
Dines, commenting on a question regarding Automation Ops, said that "we believe in bringing in more and more governance." He listed run-time governance as an example, which would enable organizations to control what kinds of activities software robots are allowed to do, such as allowing or preventing software robots from sending emails to certain domains.
"We are benefiting from a flexible, powerful technology behind the scenes," Dines said. "It's easy to instrument it and give our customers the ability to have full control over how the technology is used."
Dines also teased, "We'll have some interesting announcements in the second part of the year."
One audience member even asked what Dines is currently reading. It's Range: Why Generalists Triumph in a Specialized World by David Epstein. The book lays out "two ways to build a career: one is hyper-specialization and other is broader knowledge," explained Dines. The author "makes the prediction that more people will take the broader view, which is also more applicable to the world of AI and automation."
The information he covered in the Q&A of both Live sessions could fill a few blog posts. If you didn't get a chance to watch, here are some of the other questions Dines answered:
Coming off your IPO, what are your biggest expectations and your biggest concerns?

How does low-code/no-code interact with RPA?

Where does this market end up?

Can you tell us more about the centralized governance capabilities and what it looks like in a year or two?
You can watch both on-demand recordings to find out Dines' answers to the questions above and many others.
The automation industry is maturing, and UiPath is leading the way
The automation industry is reaching an inflection point where fewer companies are asking how to get started with RPA and more companies are asking how to scale and manage RPA. Automation presents a high-leverage opportunity: invest in business agility and earn a business that can outrun the threat of disruption. The returns speak for themselves.
And with the release of UiPath 21.4, businesses can do even more with an industry-leading automation platform.
Did you miss UiPath Live: The 21.4 Release Show? Catch up with the recordings.