A Leader in task mining
We're proud to announce that, for the first time, UiPath has been named a Leader in the Everest Group Task Mining Products PEAK Matrix® Assessment 2023. UiPath received high scores for both "market impact" and "vision & capability".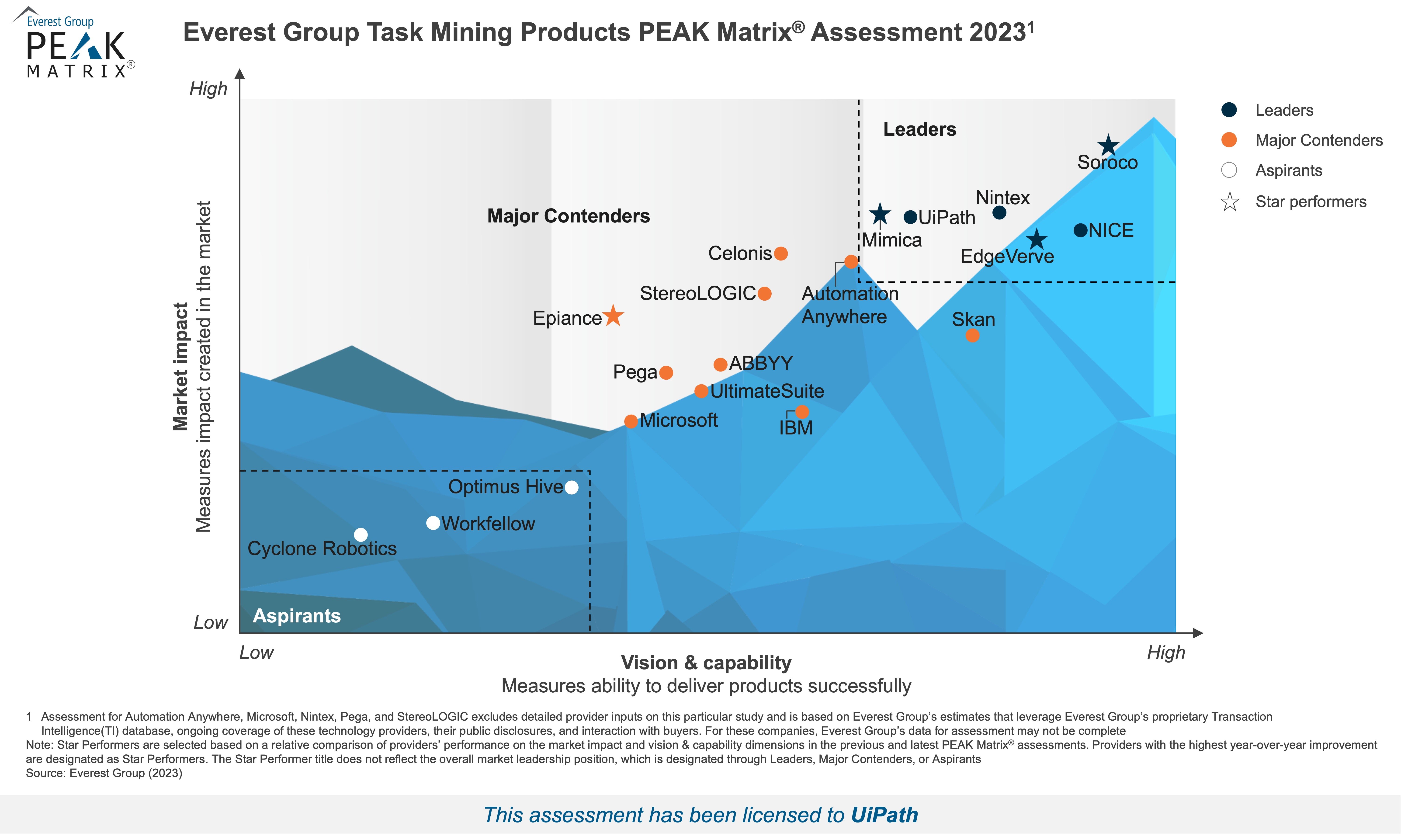 What is the Task Mining PEAK Matrix Assessment?
The Everest Group's Task Mining PEAK Matrix is a comprehensive framework that evaluates task mining vendors based on their ability to deliver value and drive impact across various dimensions. In the report, UiPath received the highest scores for "Value delivered", "Data collection and integration", and "Implementation and support". The report mentions that: "UiPath aims to empower enterprises to gain a comprehensive understanding of their business processes and achieve a state of continuous discovery and improvement by combining task mining, automation, process mining, and communications mining."
Task Mining capability—an integral part of the UiPath Business Automation Platform
UiPath Task Mining helps you analyze your employees' desktop activities to determine the best automation and process improvement opportunities. You can leverage Assisted Task Mining to empower your employees to capture variations of a known task and easily merge these into a comprehensive picture of the existing workflow. Alternatively, to mine the unknown, Unassisted Task Mining lets you record your employees' desktop activities and leverage artificial intelligence (AI) to gain workforce insights and discover repetitive tasks.
The key to both approaches mentioned above is actionability. UiPath Task Mining not only enables you to visualize the data, analyze variations, patterns, and bottlenecks, but also provides you with a way to act on the insights through process optimization or automation.
Task Mining is just one of the capabilities available on the UiPath Platform that help you discover automation opportunities. UiPath Process Mining, Task Mining, Communications Mining, and Automation Hub work together and are complementary, enabling you to continuously uncover opportunities and transform your processes, achieving desired business outcomes.
Claim your complimentary copy of the report
Get your complimentary copy of the Everest Group's Task Mining PEAK Matrix® Assessment 2023 and discover why UiPath is a Leader in task mining.