We are excited to announce the release of the UiPath Orchestrator Mobile App. On January 7, 2019, we released the beta version of the app to our Community users. The response was overwhelming: over 850 downloads on Google Play and over 500 downloads on Apple App Store.
Kudos to the UiPath team for such an innovative initiation. Monitoring the process from mobile phone is really cool... Thanks team!

Android user
Using this new app, administrators can now supervise their entire RPA environment from anywhere, at any time, using an iOS- or Android-based device.
It's kind of a big deal. This release represents our ongoing commitment to delivering innovative new technology that works for you, but it is also evidence of how UiPath is creating new industry standards for automation software.
Complete, "on-the-go" visibility into your RPA environment
We developed the UiPath Orchestrator Mobile App to help those of you who need complete visibility into your RPA environment, even when you're not at your desk or in the office.
Now it doesn't matter where you are. With the UiPath Orchestrator Mobile App, you can monitor all the critical aspects of your RPA environment—quickly and easily using your own mobile device.
For example, you can configure UiPath Orchestrator to trigger real-time alerts on the performance of your Robots or provide critical scheduling and licensing information. You can also view detailed at-a-glance dashboards to quickly understand exactly what's happening in your RPA environment as it happens.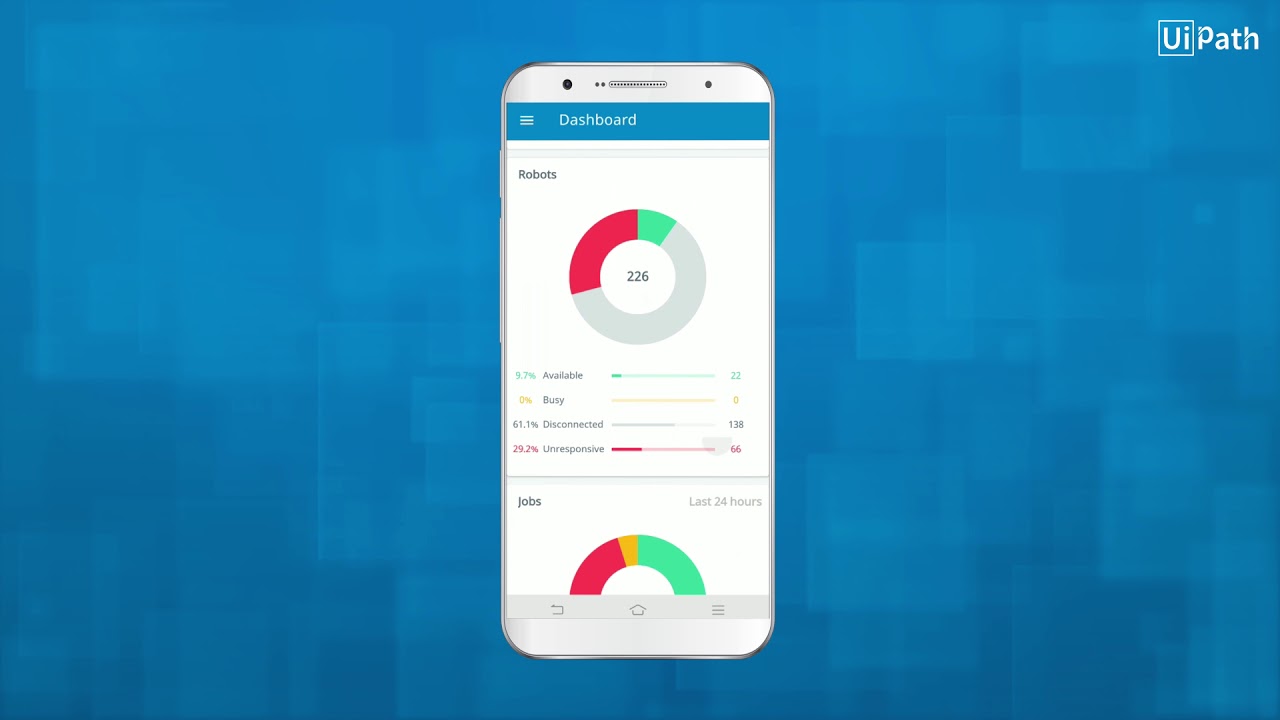 Key features
Real-time alerts and filtering
Receive real-time alerts on the status of your automation health and the overall RPA system. You can also filter and search alerts based on criteria such as severity, message, component, and time.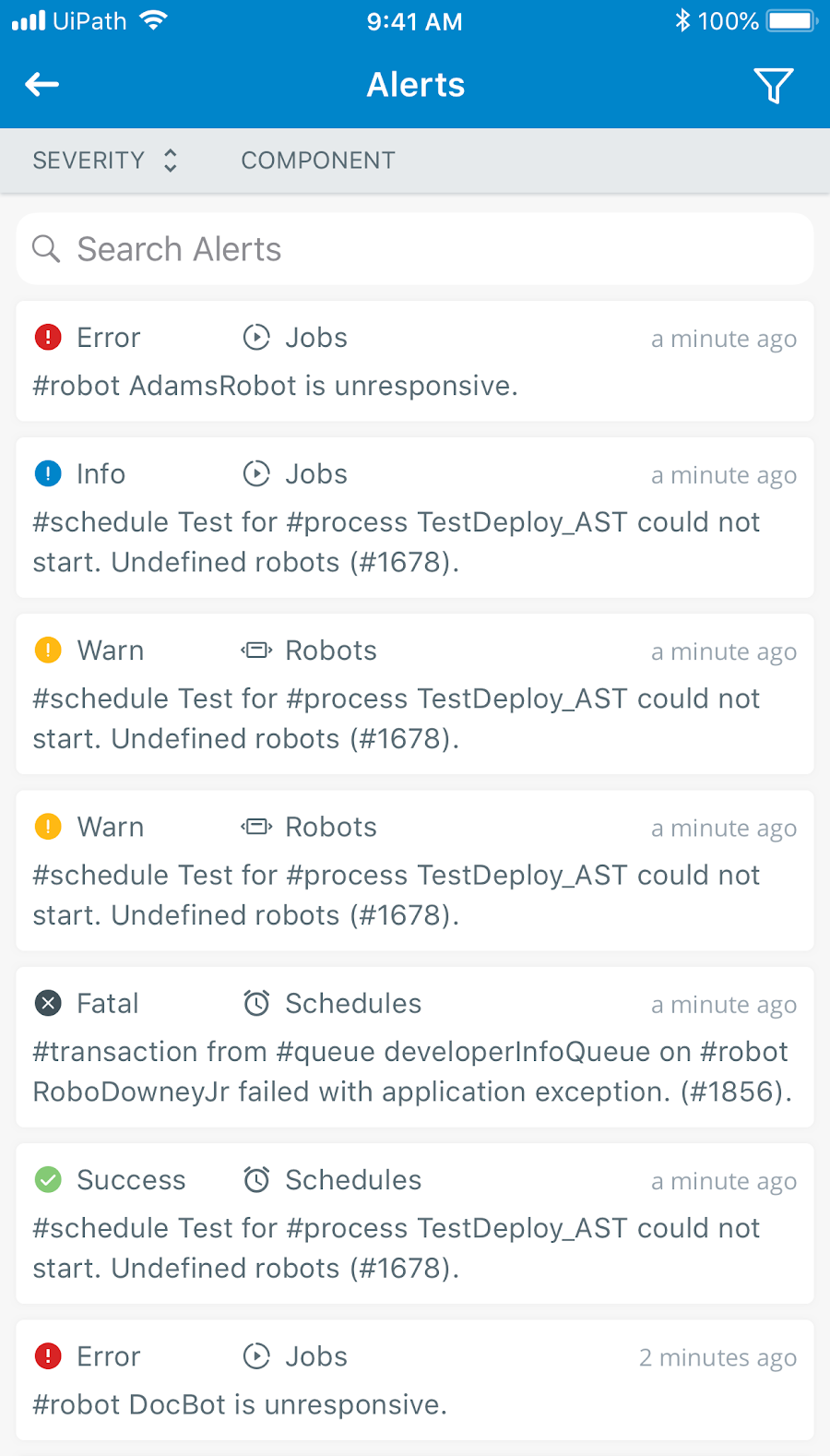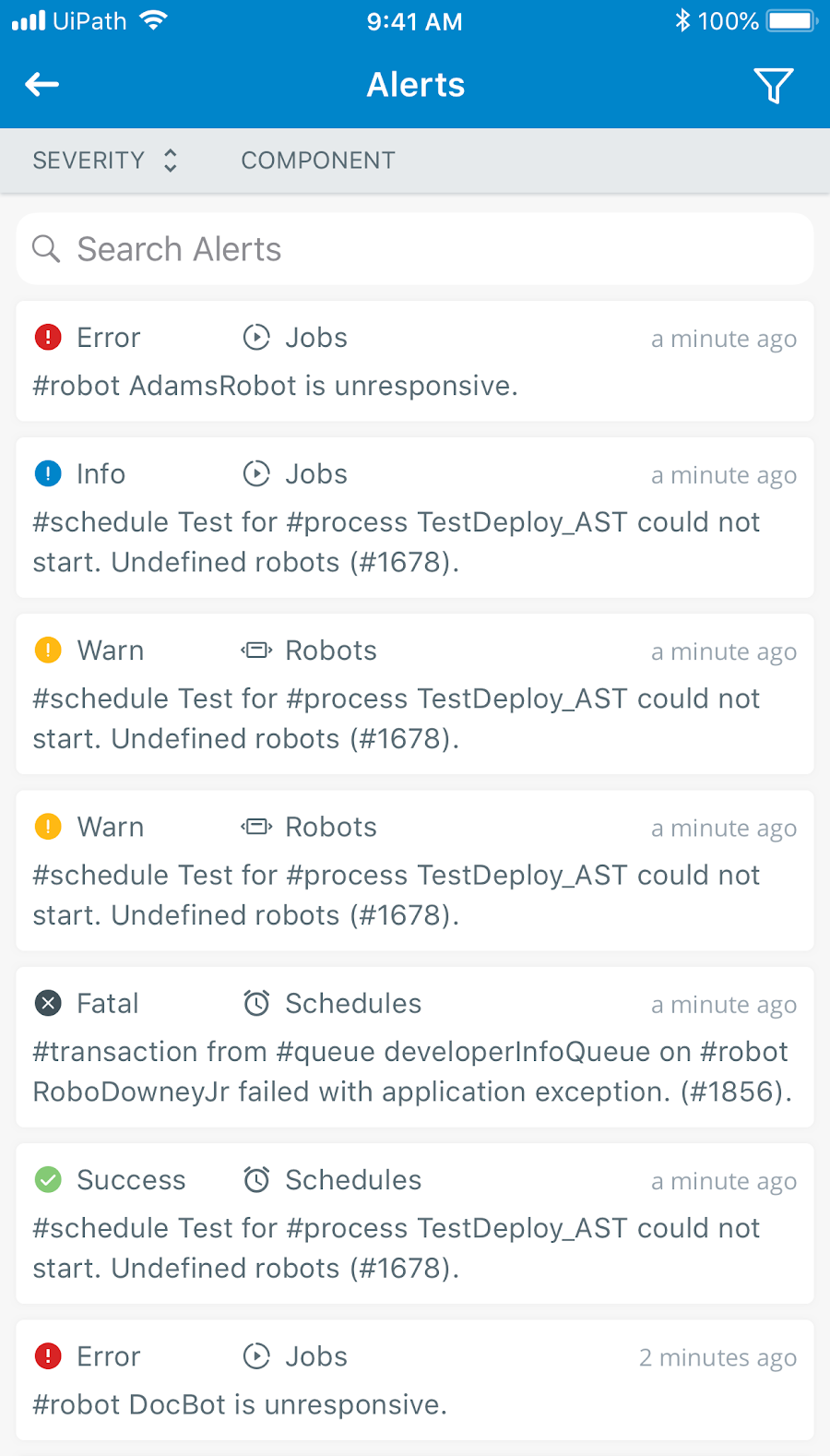 Powerful analytics
The mobile app delivers many easy-to-understand visuals. You can quickly view a comprehensive array of data and status updates, including current jobs (running and pending), Robots (available, busy, disconnected, unresponsive), job history (successful, faulted, stopped), and transactions.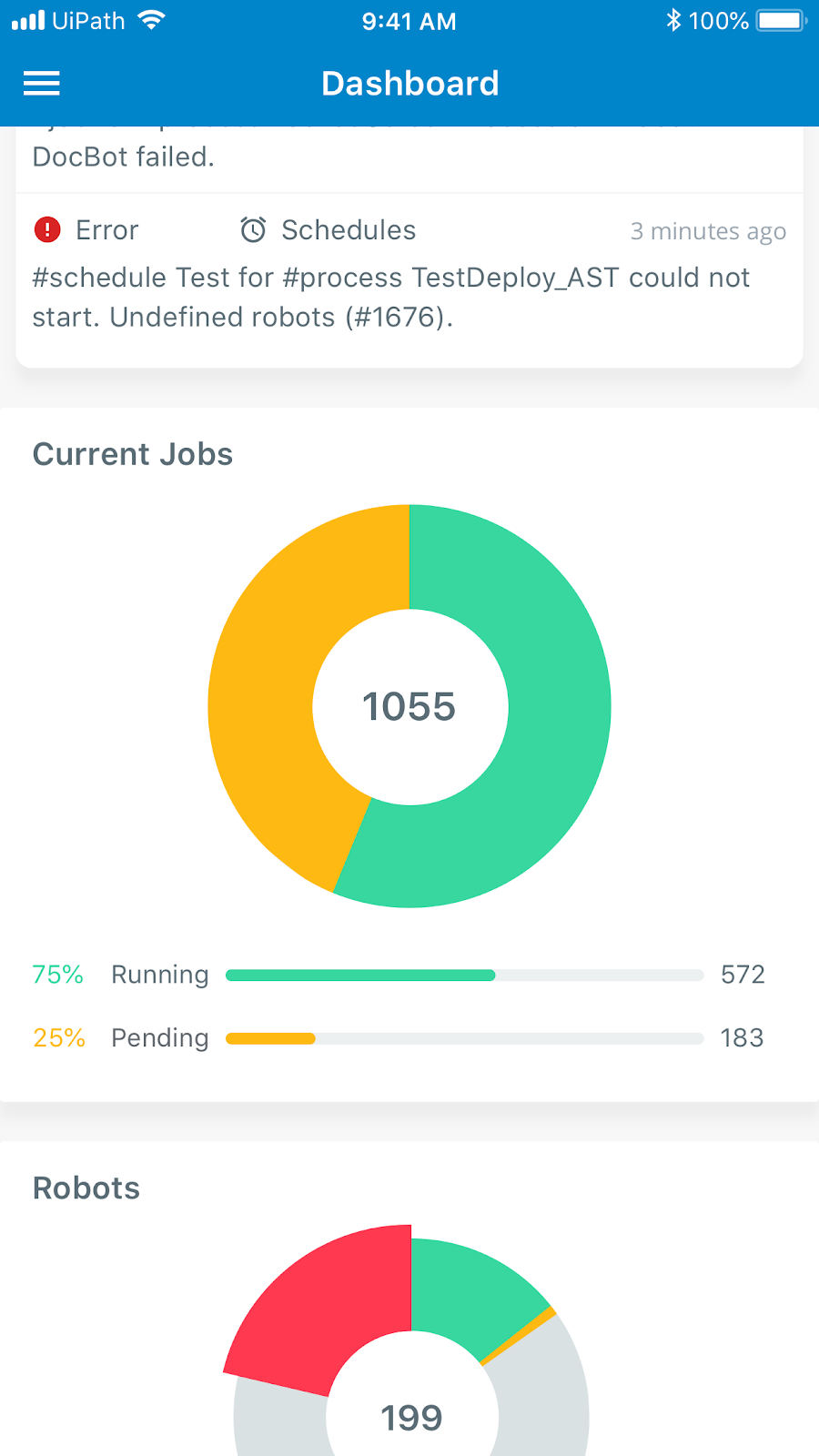 One-touch, on-demand performance monitoring
You can effortlessly drill down into status and performance data on Robots, machines, jobs, and schedules—all with the touch of a single button.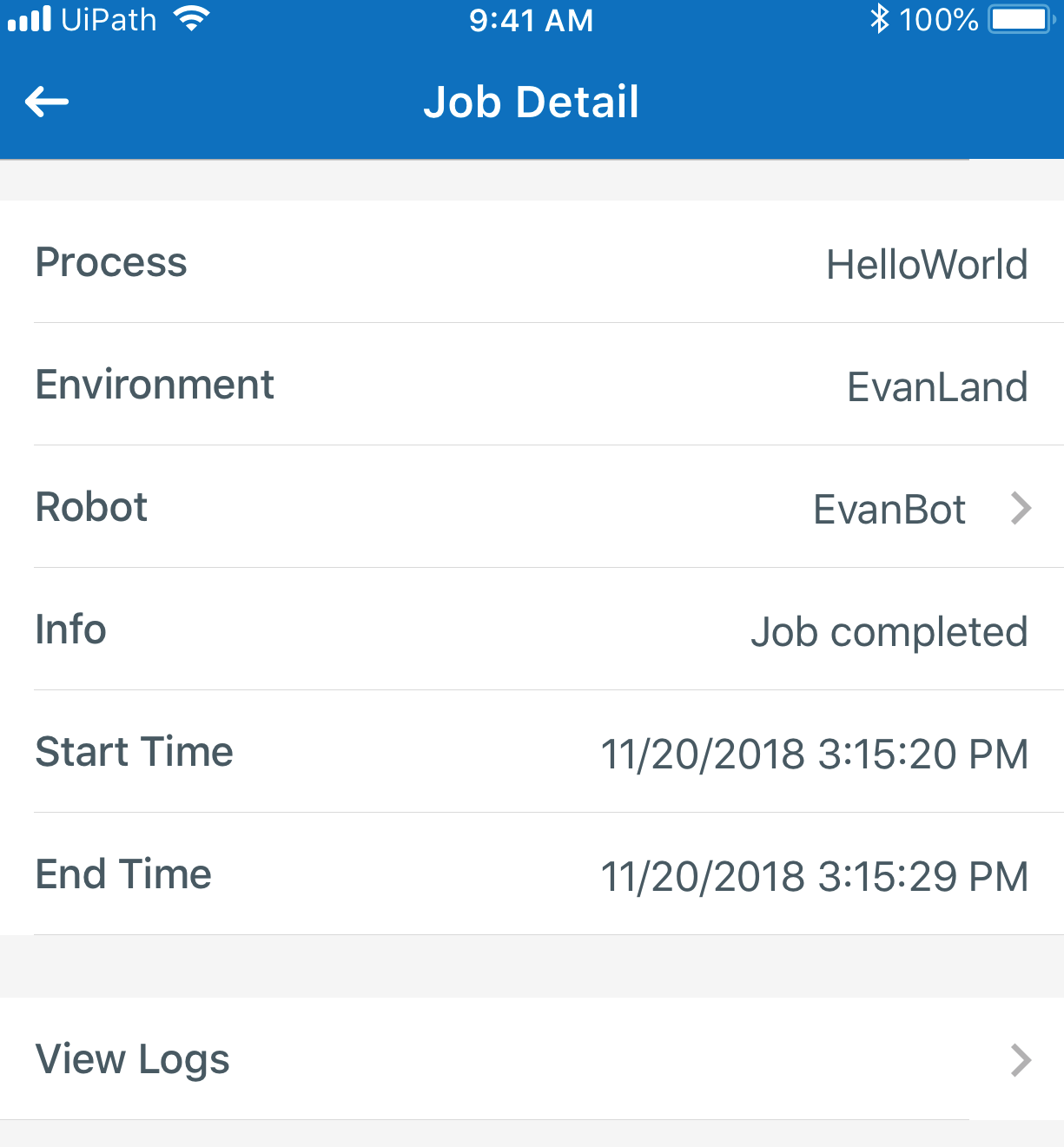 License-usage efficiency
Updated license-usage information is presented in an on-demand, easily consumable format in the app. Now you can view important license details such as the number of:
an attended Robots exclusively,

unattended Robots executing back office processes simultaneously,

developers using a development Robot exclusively, and

Robots executing non-production processes simultaneously.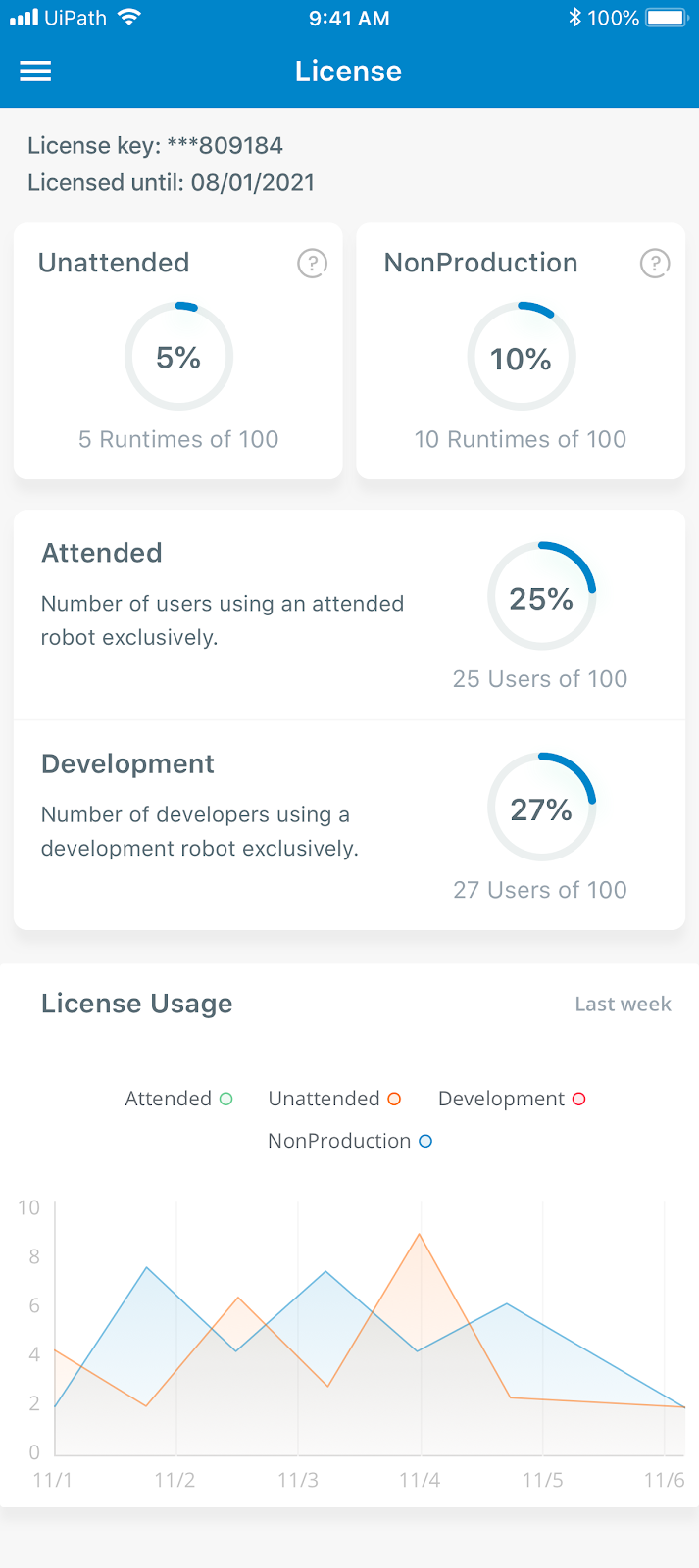 Benefits
The UiPath Orchestrator Mobile App delivers anywhere, anytime access to powerful tools designed to help you achieve better business results:
Real-time alerts on the overall status of your RPA system for faster response times.

Alert filtering and search capabilities that provide fast, easy access to the information you need.

Visual, easy-to-understand dashboards and charts that provide performance insights and the data to make better decisions.

Complete visibility into job and Robot status to minimize surprises and maximize productivity.

Detailed drill-down data related to Robots, machines, jobs, and schedules.

A graphical view of license usage improves overall license management practices.
Availability
The UiPath Orchestrator Mobile App can be used with the UiPath Enterprise RPA Platform Edition or the UiPath Community Edition and is available now in the Apple App Store and from Google Play.
Or if you're new to UiPath, we encourage you to start your digital transformation journey now with a free UiPath trial.  
The release of the UiPath Orchestrator Mobile App is our way of continuing to give you the tools you need to work in the way you prefer, but also, to continue to get the most out of your RPA platform. We hope you will take advantage of all that it has to offer, and as always, we welcome user feedback. Please let us know how we can make your UiPath product experience even better.