Digital transformation initiatives within businesses have fundamentally changed how organizations operate and deliver value to customers. Savvy organizations are using automation to streamline business workflows, which makes organizations more profitable, flexible, and responsive. Automation also increases employee satisfaction, engagement, and productivity by removing mundane tasks from the typical workday.
To get the most value out of robotic process automation (RPA), enterprises should test their automations to ensure that automations work correctly and consistently. Enterprises need a platform that can aid in the following:
Building and delivering automations quickly

Continuously testing to uncover underlying issues

Proactively resolving issues to prevent business disruptions so that testers can focus on scaling
So which solution can do it all?
UiPath Business Automation Platform seamlessly converges RPA and testing, as the Intelligent Automation team at VMware discovered. The UiPath Platform powers Test Suite, a resilient testing solution. In 2022, VMware stood out as a notable model for using UiPath Test Suite to transform their RPA testing practices.
How'd they achieve success?
The power of resilient robots at VMware
VMware, a cloud computing and virtualization technology company, had been engaging in manual testing and smoke testing (testing to ensure stability of critical functions) for their RPA program. They needed a way to validate their RPA program more quickly, as well as deploy new and existing processes. Additionally, VMware wanted the ability to detect and address changes occurring within automations before they went into production.
"When we started our UiPath Test Suite initiatives, the objective was to get from reactive to proactive maintenance and try to understand how to fix things before they break," said Julio Viquez, Director of Intelligent Automation at VMware. "We also wanted to improve the automation uptime [the percentage of time that automated processes are available to be executed] to ensure that our external and internal customers have a better customer experience."
Along with proactive maintenance and improving automation uptimes, VMware wanted to focus on automation quality improvement and automation deployment speed.
Improving quality is definitely a key important factor—as you grow and scale your center of excellence, quality matters the most because it gives you confidence in your CoE. If you can gain your business' trust and gain their confidence, then they will start to give you more and more end-to-end processes for automation.

Julio Viquez, Director of Intelligent Automation, VMware
Improving speed and quality with Test Suite
To achieve their RPA testing objectives, VMware partnered with Auxis, a leading management consulting firm.
"When working with VMware, we really wanted to focus on trying to test as much as we could with reusable components and try to be extremely proactive to get the results faster," said Eduardo Diquez, Managing Director of Intelligent Automation at Auxis. "Then we looked at end-to-end testing for key automations—the ones that are constantly running, the ones that are providing significant value to the organization, and the ones that we can continuously test in lower environments to make sure that if there is something coming, we can tackle it really quickly."
VMware and Auxis built a Jenkins Continuous Integration/Continuous Discovery (CI/CD) pipeline, a plug-in for delivering new versions of software, for about 400 RPA workflow projects. They focused on aligning with the VMware IT teams and making sure that they had access to lower environments that they could continuously test. By leveraging Jenkins, GitLab, and UiPath Test Suite, VMware automated manual work to achieve a fully deployed automated environment.
"There is a big component that we want to reinforce which is the human component. Our testing teams really want to focus on the most important things and the things that they enjoy. Using UiPath for repetitive work helps us increase retention and increase motivation within the team," said Viquez. "This human component is critical when working under stress."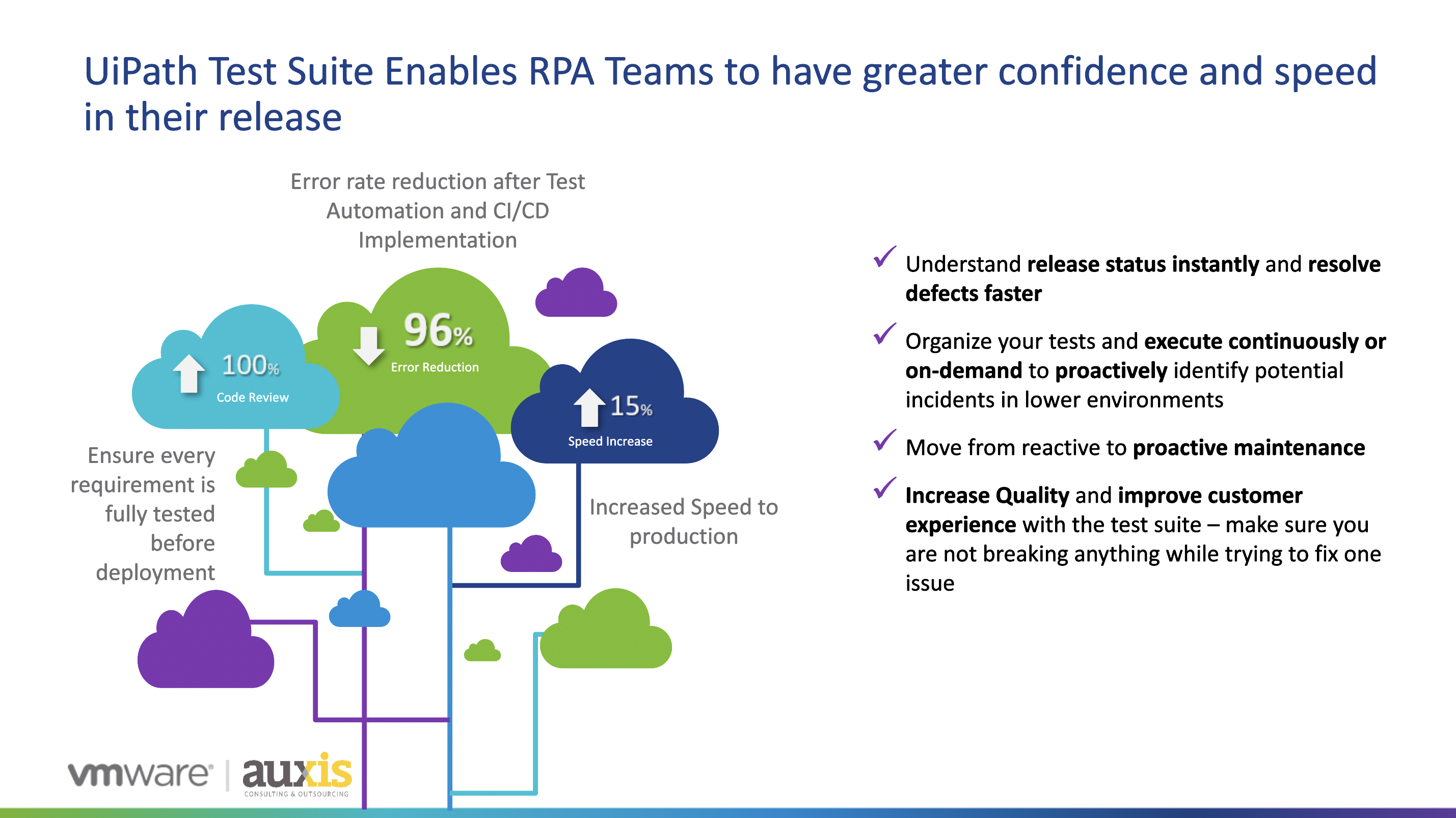 Source: "The Power of Resilient Robots at VMware" UiPath FORWARD 5 session
VMware also leveraged UiPath Test Suite as a framework for faster deployment and better quality in production. This framework has increased the efficiency of their RPA operations.
"This has been a way for us to confidently move new code and new versions of existing automations into production. These automations are tested automatically with great confidence," noted Diquez.
After implementing automated testing along with a CI/CD pipeline, VMware has experienced a 96% reduction in error rates. UiPath Test Suite, powered by the UiPath Platform, has also enabled them to understand release statuses instantly and resolve defects more quickly. These benefits have aided in a 15% increase in speed to production.
"With UiPath Test Suite, we are able to increase the quality of customer experiences by ensuring that nothing is breaking while trying to fix an issue," said Viquez.
Looking to the future, the VMware Intelligent Automation team plans to leverage UiPath Apps and UiPath Task Mining (also available on the UiPath Business Automation Platform) to further enhance their automation capabilities.
Interested in diving deeper into VMware's RPA testing success story? Register for our Best of Test Bundle to watch a recording of VMware and Auxis sharing their testing tale.
Feeling inspired by VMware? Get started with UiPath Test Suite today and see how you can transform your RPA testing practices.