It's easy to get jaded about New Year's predictions; that time of year in late December and early January when editors (perhaps on vacation) let articles on the imminent arrival of passenger-carrying drones slip into print.
But every once in a while forecasts at the beginning of the year are vindicated by events – and 2015 was one such year for robotic process automation (RPA).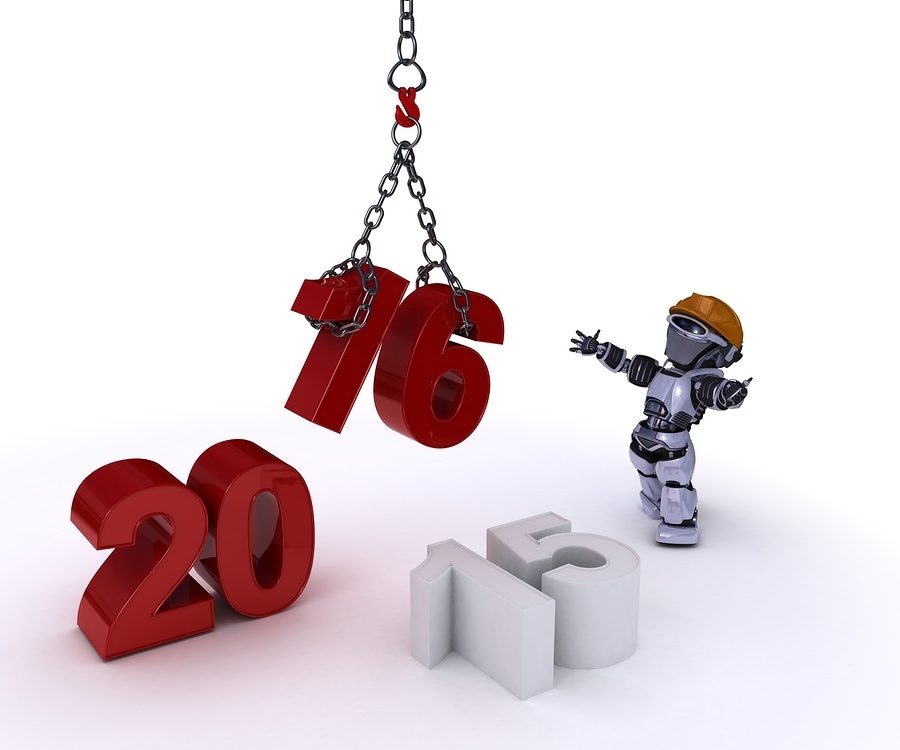 For example, on the final day of 2014 Horses for Sources proclaimed, "we think 2015 will be the year that a few BPO service providers institutionalize their RPA capabilities"  In fact, that's exactly what happened and that institutionalization was stirring even as the article was written. At UiPath, for instance, collaborative work was underway with Capgemini on the first phase of their BPO Automation Program and other service providers were hot on their heels.  
Predictions for 2016 have been bold and attention-grabbing, including these representative samples:   
By combining automation and artificial intelligence, robotic process automation will transform business process management and deliver innovative business capabilities.

Robotics process automation software will simplify and digitize critical processes, and also leverage self-learning and self-healing capabilities to improve business support services.

Robotic process automation will become part of intelligent automation, incorporating real time self-learning techniques; predictive analytics; and cognitive computing.
Other 2016 predictions were less dramatic.
Offshore captives will be coming back home.

RPA will find a larger role in keeping government programs cost effective and streamlined.
The question is: will these predictions come to pass in the next twelve months?
Why most 2016 Predictions will be wrong
There are three reasons most, if not all, of these predictions will be wrong. The primary reason is the majority of them were never intended to be correct in the first place. Instead, they were published to attract readership, provoke thoughts and possibly start discussions.  A second reason is some are too vague to be either right or wrong. For example; will offshore captives be coming back home? Given the number of captives, it would be remarkable if some didn't. But enough to warrant notice or signify changing business models? That's a different matter altogether.  
The third reason is a general absence of standards in the robotic process automation industry which, frankly, makes it difficult to know what different companies mean when they use terms such as:  AI (artificial intelligence); self-learning; cognition or machine learning.
As an example, Dell appears to define machine learning as a capability not far removed from predictive typing, "Dell's PRAs [personal robot assistants] have gone beyond traditional AFTEs [automated full-time equivalent] to incorporate machine learning (similar to how a smart phone's auto-populate function continually learns more words that the user frequently types in sequence)." While Deloitte states, "Machine learning refers to the ability of computer systems to improve their performance by exposure to data without the need to follow explicitly programmed instructions."  Are Dell and Deloitte talking about the same thing? Perhaps, but it's impossible to be sure with any degree of confidence.
The lack of standards in the robotic process automation industry is a more significant issue than the accuracy of 2016 predictions; it has the potential to undermine the credibility of robotic automation technology in the marketplace; and, it causes confusion which will only slow adoption among prospective customers.
 As long as major industry players are using loose terms, there's no objective measure for measuring accomplishments or capabilities. Going back to the example of Dell and Deloitte, how is a customer seeking machine learning functionality supposed to even assemble a qualified group of vendors, much less implement evaluation and selection steps? Yes, they could allocate some number of internal resources to clear up ambiguities, or bear the time and expense of a third party advisor, but it's never a good idea to have obstacles in the marketplace – particularly if they were avoidable in the first place.
These are some of the reasons the IEEE pioneered work in open standards development, "Standards make it easier to understand and compare competing products." "It is only through the application of standards that the credibility of new products and new markets can be verified."
The most consequential 2016 RPA Prediction
2016 will be the year leadership emerges in this industry to address the use of standardized terms in product development and technology innovation. It will happen for two reasons:
Collective self-interest: unless the industry moves in a unified way to address the question of standardized terms, the image of its technology will be diffused and confused by a gaggle of other acronyms such as IPA (intelligent process automation), SDA (service delivery automation); IA (intelligent automation) or IBPA (intelligent business process automation).
In this context, "a diffused and confused image" isn't a trivial concern. If the industry wants to experience a breakout year in 2016, it needs to send clear, unambiguous, innovation and capability messages to the marketplace, anchored by standard terminology.
Industry Collegiality: the robotic automation industry is still a relatively close community, providing the basis for swift, focused, collective work by its leadership to set necessary standards. The landscape is not dissimilar to the days when Bill Gates, Larry Ellison, Steve Jobs and Scott McNealy could get on the phone or in a room to discuss and address common industry issues.
The effect of this prediction coming to fruition will be significant and beneficial for everyone in the industry.
The 2016 momentum from BPO providers institutionalizing robotic automation capabilities is already accelerating the growth and visibility of this technology. With a clear and consistent framework for communicating the software innovations incubating within leading vendors, the opportunity for turning 2016 achievements into game-changing 2017 growth trajectories is very real.
This is a moment for industry leadership to seize the day.