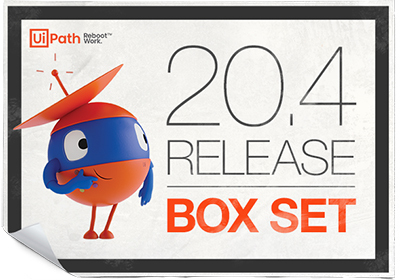 Hello there! My goodness, do I have some exciting updates for you. As hopefully most of you know, UiPath Insights made its debut into the Robotic Process Automation (RPA) analytics world a little over three months ago. I'm back and even more thrilled than before (who knew that could be possible?) to let you know that the 2020 FTS release (aka 20.4) of UiPath Insights is live! (A quick recap for some of you who might not know the UiPath release structure can be found here)
Let's get right to it and talk about the major upgrades that UiPath Insights 20.4 has in store for you:
1. License utilization
Your eyes are not deceiving you. This is happening. Starting with this release, we are supporting tracking historical robot license utilization. The icing on the cake? We're giving you an out-of-the-box dashboard to do it for you.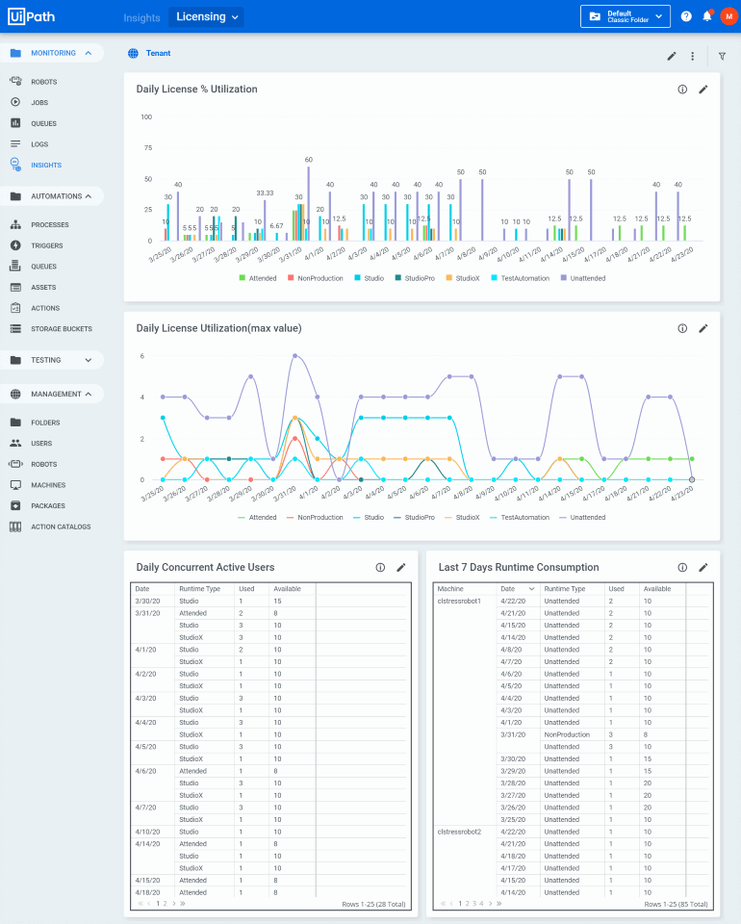 View your:
Daily license utilization percentage
Highest number of licenses utilized daily
Maximum runtime consumption per machine
Maximum daily concurrent active users (if you're using this licensing model)
All metrics are broken down by specific runtime type so that you can ensure you're making full use of the licenses you have and can plan for scaling when you're maxed out.
Let's be real, this is a game changer. There's no way to view this information in any business intelligence (BI) tool you're currently using, even if you're querying the UiPath Orchestrator database directly (which is, by the way, unsupported but I know some of you brave souls are doing it anyway). The UiPath Insights engineering team took on this monster of a feature and created the only correct way to calculate proper license utilization based on new logic we built into Orchestrator and Insights. Needless to say, you will not be sorry you upgraded.
2. Long-running workflow support
Speaking of something you won't find anywhere else, we've added full support for long-running workflows! If you don't know what long-running workflows are and you're curious to understand what they're for, you can get some answers here.
Long-running workflows offer the possibility of putting a process into a suspended state, meaning the job technically doesn't end but no software robot is working on it at that moment. The job can sit that way for hours until the right conditions are met for a robot to pick it up and continue working on it. Sometimes this cycle can even happen a few times! The UiPath Orchestrator database (and every other tool out there) counts the start to end of that process as the run time, including however long that job was suspended for. There are a lot of consequences to treating the data like this during analytics, most importantly culminating in ridiculously inflated robot utilization values.
Are you using long-running workflows and seeing robot utilization values of something absurd like 72 hours per day? Is it driving you crazy trying to figure out how this is even possible when there are only 24 hours in a day?? Don't worry, we've got this figured out for you.
In UiPath Insights, we've added custom logic to ensure that we only count active processing time towards robot utilization, and you can see exactly how long the process spent in each status and which robot worked on each step. That's pretty significant because the entry in the Orchestrator database only notes the first robot that picked up the long-running job. Without Insights, you're missing the true end-to-end picture.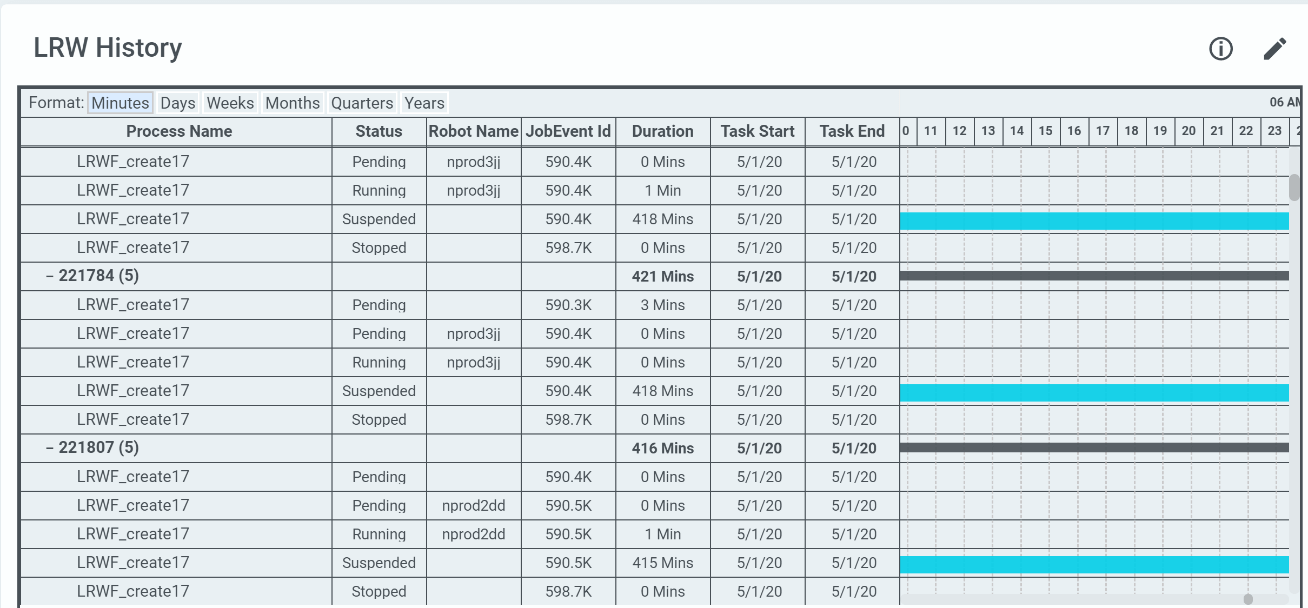 3. Full Folder Support
Wow, yet another feature you won't find anywhere else! The original release of UiPath Insights offered folder support in the sense that you could filter by org unit, the previous version of what is now known as folders. This only worked for top-level folders though, so those of you leveraging the hierarchical sub-folders missed out.
Starting with 20.4, we are offering full folder support. Say hello to filtering by folder, sub-folder, multiple sub-folders, only a sub-folder, multiple top-level folders, or all of the folders! All previous out-of-the-box (OOTB) dashboards now have a folder filter included by default, so don't worry about updating those to leverage this improvement. Use this feature to take advantage of what folders are meant for – filtering your data in the same tenant by groups that make sense to you. Whether it's a business unit, a department, a "pod" as the cool kids are calling it these days, etc., UiPath Insights has you covered.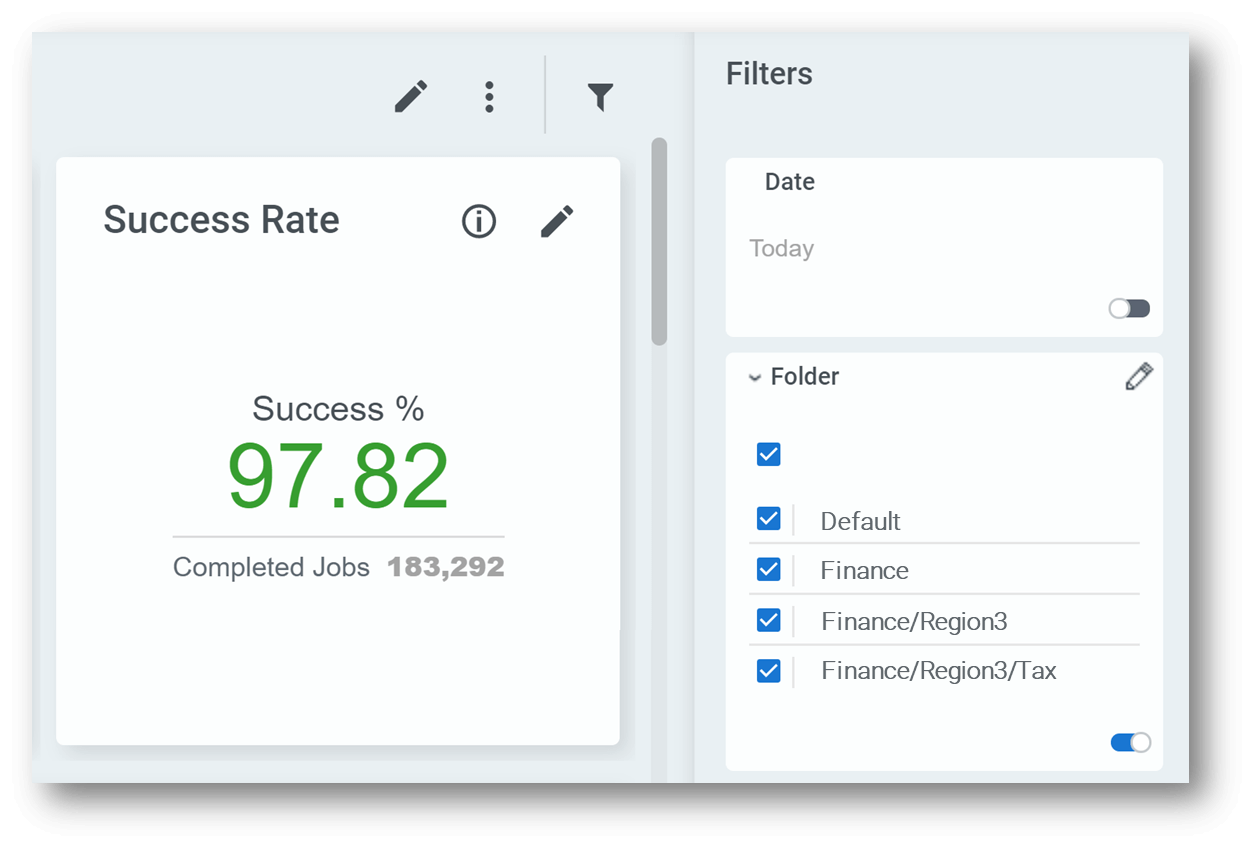 4. Support for new robot types
A few things here – first, we've added the ability to identify jobs run on robots for all of the new products integrating with the on-premises Orchestrator in 20.4. UiPath StudioX, UiPath Studio Pro, and UiPath Test Automation all have unique robot types that you'll be able to pick from and visualize to your heart's content! Here's a sneak peek at a robot type filter on one of our demo instances: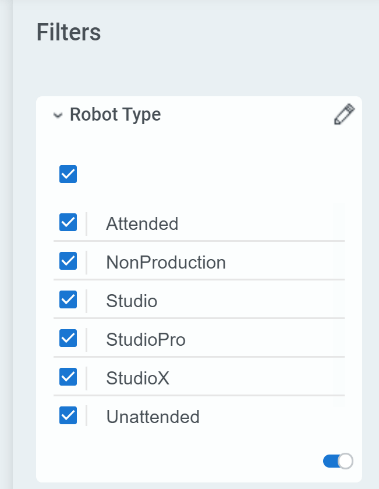 Now that we have that out of the way, let's talk about the UiPath Studio robot type you see above. Previously called Development robots, in 19.10 we kept that nomenclature. We've made the change to now read in new entries run on those robots as Studio, and also made sure to update all old entries with the modern name during the Insights upgrade process. If you're just coming to UiPath Insights now, don't even worry about this bit - you'll be all set right from the start.
5. Better install experience
We had to make some tough decisions for 19.10 to make sure that we could get the product out on time, and some of those meant sacrificing nice-to-have installation features. We doubled down on our efforts to improve the install experience, and I'm thrilled with what 20.4 now offers you:
GUI Uipath.InsightsAdminTool – remember the tenant admin command-line tool? You won't be seeing that again. We've revamped the tool to work completely as a graphical user interface (GUI), meaning that all you need to do is click some buttons. You can easily check on the health of your cubes, trigger rebuilds, enable tenants, upload/change the language of your OOTB dashboards, and more, all in a few clicks!
Hardware/software pre-req checks – you'll know if your machine is incompatible from the moment you try to install the product. No more waiting for the whole install to attempt completion to find out that you're missing a hardware/software requirement.
Upgrade support – This one goes without saying; you won't have to reinstall the product just to get the newest version of it.
Clean uninstall – Back to those tough decisions I mentioned earlier…We know it wasn't ideal to have to manually delete some things/stop some services to finish uninstalling. We've cleaned this up - no more manual steps post uninstall to actually uninstall.
Documentation – We know the docs were a little tough to find while hidden under the UiPath Orchestrator section, sorry about that. Starting with this release, we've moved them into their own project so this should help a lot. We've also added a very detailed troubleshooting section to help you get through all of the roadblocks we could think of. Check them out!
And finally, we have a few housekeeping items while I have your attention. The UiPath Insights Academy training has been live for a few months and I've heard great feedback, so give it a shot! We also have a webinar on May 19, 2020 to talk about how the UiPath Platform is built for hyperautomation, and I managed to snag a spot to talk about how Insights fits in to the story. Register here if you haven't already.
Whew ok! We covered a lot of things in this post. Honestly, it feels a little weird celebrating hitting major milestones and continuing work as usual with all of the things going on in the world right now. Many of you readers are currently automating key things like accelerating 2019 novel coronavirus (COVID-19) testing capacity for test centers, processing loans, getting test results out to patients, processing COVID-19 related data, and so much more. It's humbling to be in the center of an RPA company, watching in awe as our technology gets applied, and meanwhile being responsible for capturing the data that comes out of it. I've also been watching as our UiPath community members have stepped up to offer free automation to hospitals, nonprofits, and for-profit organizations assisting with the fight against this pandemic. Thank you for reminding us that amidst the chaos, there will always be someone to lean on. If nothing else, I hope that UiPath Insights can help you understand what your automations have done and how to make sure they keep moving smoothly. Stay safe everyone, and hope to catch you all again soon.
Michelle Yurovsky is global lead for analytics products at UiPath.
---