Throughout the history of humankind, communities have been the number one enabler in all evolutions. The Internet has revolutionized communities by multiplying the connections between individuals and by making social networks grow faster and wider across the globe. Today, technology and automation are making social skills even more relevant in our day to day jobs.
UiPath openness and democratization initiatives for automation, learning, and support/collaboration (through UiPath Community Edition, Academy, and Community Forum) have provided the building blocks of the UiPath Robotic Process Automation (RPA) Community. UiPath Connect! social platform comes into the picture with the purpose of accelerating the career path of any UiPath user willing to follow a passion for automation.
We commit to providing our users with a social platform and a set of programs meant to recognize their performance and offer hands-on growth and experiences through hackathons, challenges, projects, and other Community events.
Connect! works as a wrapper and catalyst for the UiPath Community digital infrastructure via these features:
1. Single sign-on
We have built Connect! in such a way that all your activity from the UiPath Community Forum, Academy, ACME System, and UiPath Go! is brought in one place. Through a central single sign-on (SSO) across the UiPath cloud ecosystem, we aim to unify your experience with your UiPath accounts across our Community platforms. The UiPath Community Forum and UiPath Academy will soon be a part of this unified SSO experience.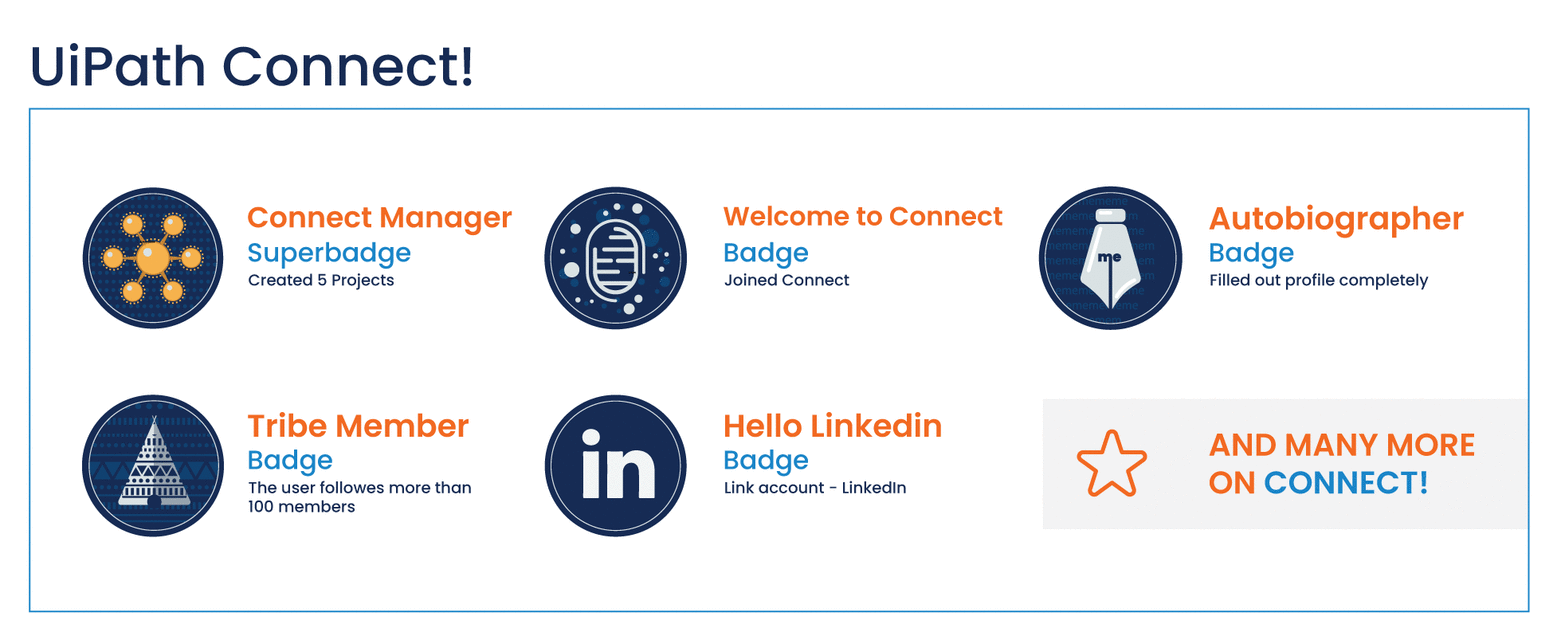 2. User and company profiles
Connect! is open to everyone. You can either sign up as an individual or to represent the company you work for. Companies can also create company profiles, which may be a UiPath Partner, UiPath customer, or an RPA community business.
3. Gamification system
Depending on your achievements and level of engagement with UiPath, you will be rewarded with a bunch of cool badges and points, and have a "rank" in our Community. You can grow from being a Robo Explorer rank to Robo Cadet, followed by Robo Seer, Robo Elite, Robo Overload, and a Robo Titan rank.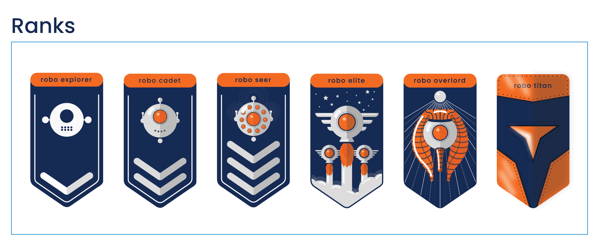 4. Centralized information and resources
Valuable Community interactions can also happen offline and the Connect! team is actively supporting/organizing local and global events, programs, meetups, and hackathons. Our goal is to provide Connect! members with live guidance, a more hands-on experience, and the opportunity to share your success stories.
5. Projects space
You will also be able to create cool RPA projects and reusable components, and collaborate on them with other Community members from all over the world. We want the projects space to be your playground for automation innovation and experimentation. Our goal is also for Go! to be your trusted marketplace for sharing, contributing, and discovering a full suite of reusable automation components, APIs, and services.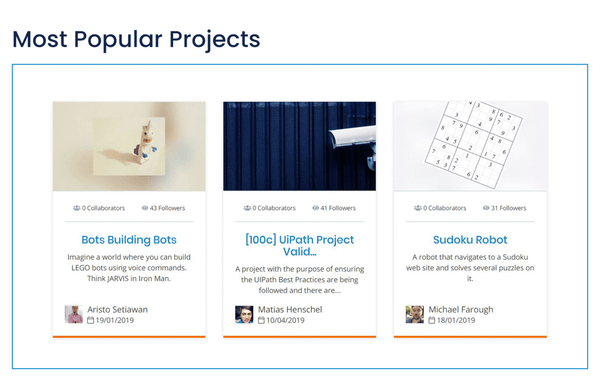 This is just the beginning. As the UiPath RPA Community grows, so does Connect!. Stay tuned to find out about new features and enhancements.
There are many opportunities for you to grow in your RPA journey. Connect! is a place for RPA community members at all levels of experience, with resources to help you continue to grow in your RPA career development:
Beginner RPA developers: Go to UiPath Academy for the "Level 1 RPA Developer Foundation Training" course. You'll also want to check out the great posts on the Community Forum for everything you need to know to start your first automation projects.

Advanced RPA developers: Pass the advanced trainings on the UiPath Academy, get the RPA Developer Advanced Certification, be an active contributor on the Community Forum, and submit your components on UiPath Go!.
Professional RPA developers: Be an overachiever and become a UiPath Most Valuable Professional.
Or, feel free to create your own UiPath journey and define your own goals.
To put it in simple words: the aim of the Community ecosystem is to be useful for everyone involved. We want our platforms to be open and available for all users.
Feel free to be innovative. Don't be shy. Be authentic. Last, but definitely not least, have fun using all these resources available to you!
Ioana Ungureanu is a project manager at UiPath.
---