I'm Indra Kumar S and, thanks to one lucky find, I'm currently working as a Robotic Process Automation (RPA) developer at Integra Micro Software Services.

I started my development journey in 2015. In 2017, while thinking about following other career opportunities, I got an interview offer. That was when I heard about RPA for the first time.
Intrigued by this technology, I started searching for more details. More by accident than by design I hit on the tool that would change my life: UiPath Studio.


The thing that caught my interest at first was the UiPath Platform Community Edition, of course. Imagine my excitement when I found UiPath Academy and all the opportunities that these courses opened for me.


The Level 1 - RPA Developer Foundation Training course proved to be very helpful in understanding and using all the Studio activities. Even now, this course can be a turning point for anybody in search of a new start.


The next natural step was my involvement in the UiPath Community Forum activity. Shy at first, since so many RPA legends were there sharing their solutions, somehow, I found the courage to add my first posts and queries.
When the Community Awards were announced I made a goal of having my name on the winners list. To make this happen, I started to share solutions until I became a Forum addict. Every morning, my priority was to check the Forum. Finally, I got notified that one of my posts was on the award-winning list.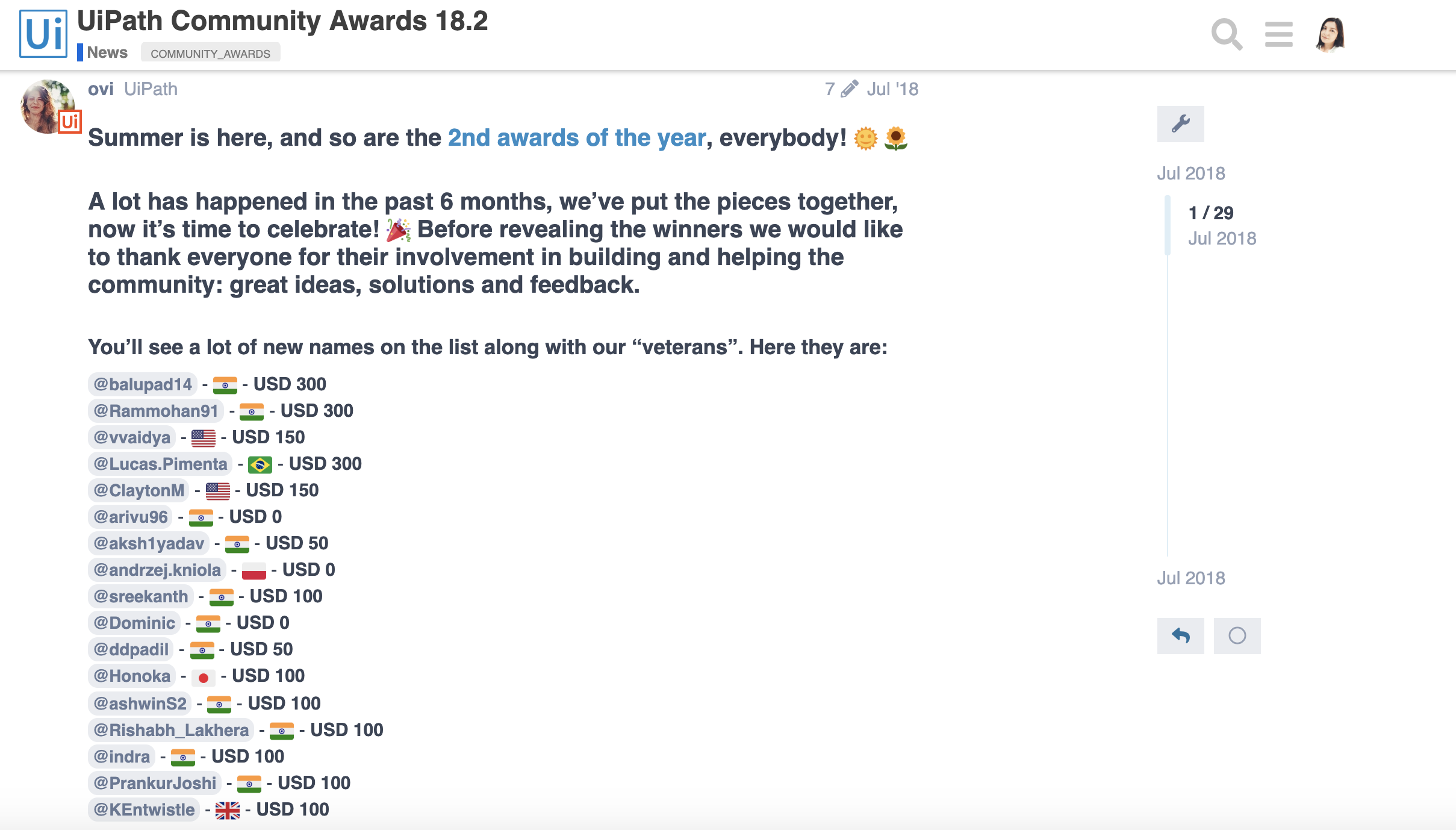 Currently, I'm contributing to the Forum as much as I can. If I know the solution, I can help somebody. If I don't know the solution to a question, I'm sure other members do, so I look forward to their answers. This is a continuous opportunity to learn new things.
My new goal is to become a Forum MVP (Most Valuable Professional).
In 2019, I got another lucky chance: to attend the Developer Conference in Bengaluru. What an opportunity it was! I actually met Community friends, MVPs, and UiPath team members - people I look up to.
Thanks to UiPath, I finally found my own path.
Indra Kumar is an RPA developer at Integra Micro Software Services.
---