My first passion was early childhood education, although I did enjoy attending technology classes. Why did I not follow my first passion? After completing the admission tests, there were only a couple of days to decide what to study. For me, this was computer science.
The year that followed, I decided to switch to an early childhood education module. I ended up studying higher computer science.
In addition to my studies, I worked part-time jobs in fast food, clerking, or babysitting. When I got a full-time contract job opportunity, I paused my studies and worked until the contract ended.
Going back to school was not easy, but I passed all the pending subjects. Two part-time jobs occupied my entire summer. As a result, I lost the focus needed for my final project. Seven years after finishing my university studies, I was notified that I needed to submit a final project. Otherwise, all the efforts made during my university years would be lost. In the end, I got my degree in computer technical engineering with an outstanding project.
My career in technology started as a need for change. Tired of part-time contracts, I started looking for a job. Capgemini was the opportunity to start a new project with a new tool – Robotic Process Automation (RPA).
The beginning was hard. Between my first interview for the role and when we formalized the contract, I was training at home. Within a month of entering Capgemini, I was already developing my first software robot. I spent many hours investigating how to do things or the reasons behind process errors. In these moments, when I did not understand why something did not work, part-time jobs did not seem so bad. Thankfully, good teammates made it worthwhile.
After long days it was completed - my first "robosito" as we baptized it. Working on my first robot reminded me of college and having to rely on your notes and your practice to understand things.
I started as a plant manager soon after returning from maternity leave. This was another challenge, and again, the team stood by me. I started by controlling six robots and looking for possible incidents. Now, I'm in charge of 14 robots. Plant management was an important challenge, and I am proud of it. Our work leads us to be considered by our customers as one of the best factories.
Thinking about mother-work balance, there are many similarities between being a mother and being a controller. You have to be multitasking and decisive in times of stress. My daughter is who I love most but being a very active person drove me to return to work as soon as possible.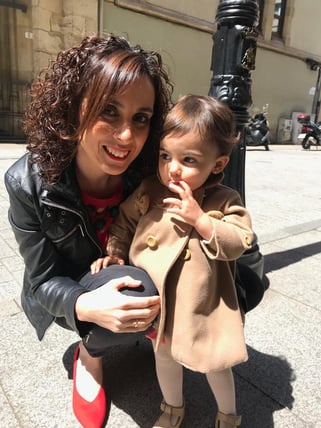 I love my work, with all its moments of tension and frustration. The truth is, if you like to investigate and learn, there is nothing like management.
Getting pregnant at the beginning of my new role wasn't easy. I'm not going to lie - I was afraid that they would not renew my contract. I had doubts about announcing my pregnancy but my boss' response reassured me.
Two and a half years later, here I am. There are nights without sleep, days when I'm exhausted, and these can come together. Yet, my family is right beside me. To be honest I do not know how the future will look like. I love challenges. I love where I am now and what I do, but I am open to a change and always ready to learn something new. I am the kind of person who grows when faced with challenges.
When I think back on the first time I accessed the UiPath Academy and Forum, I'm struck by how much the Community has grown since then.
For anyone interested in RPA, I recommend starting with the free Academy training and joining the UiPath Forum. The Community there is welcoming and quick to help out.
María Rubiera Martinez is an RPA consultant at Capgemini. Capgemini is a UiPath global business partner.
---