The idea of taking part together with my team in the RPA League Hackathon organized by UiPath in Bucharest seemed to be a real unmissable challenge for us. Everything became more and more exciting when we started to think about our team name and the idea for the project we were going to develop during the hackathon. All these small tasks we had to think about made us even more curious about what was going to happen at the hackathon.
The day of the contest came very fast and everything was going to become an unforgettable experience. We were going to go through 12 hours full of amazing surprises, emotions, excitement, and curiosity. All of these things made us forget about the amount of the time we had to finish our project.
During those 12 hours spent at the UiPath Bucharest office, we learned how to move past the idea of individualism and instead use our contributions to create a strong community focused around Robotic Process Automation (RPA).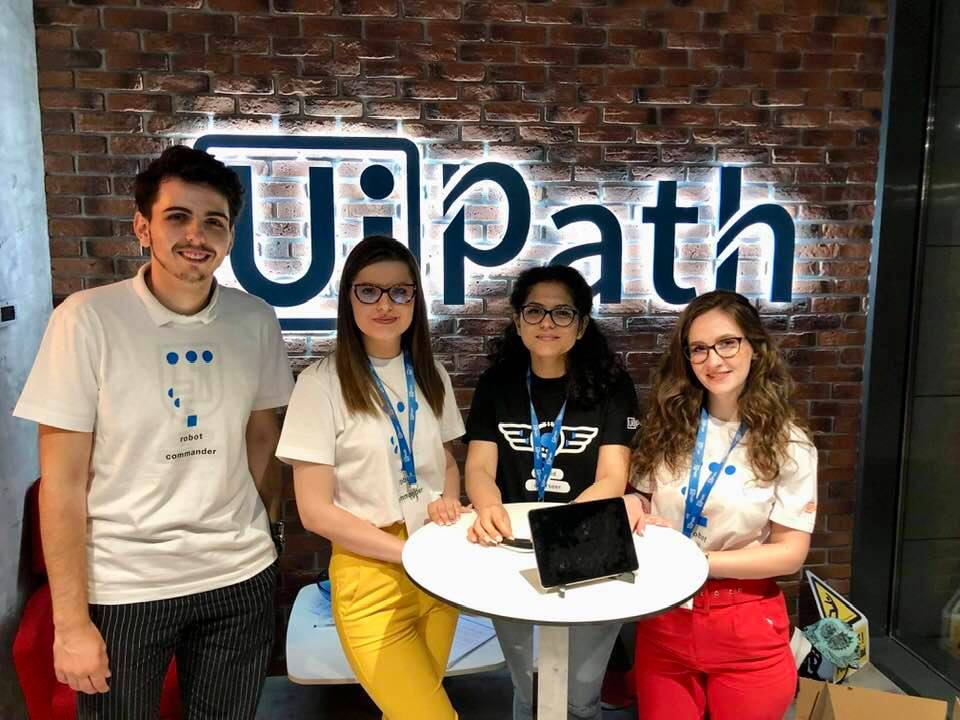 The hackathon atmosphere had been fully completed when the timer had started. Since that moment, Power Explorers (the name of our team) received the highest level of motivation we needed to bring our idea of automation idea to reality. Even though we realized from the start that the time for developing a real medical assistant was not enough, our desire to successfully end the project became more and more attractive.
We started our research with the essential information which says that in Romania there is one doctor to 345 patients. Moreover, we asked a few doctors in Romania about what their needs are and they gave us some ideas that led us to the conclusion that there is no such software to help them. And, unfortunately, this is a bad situation that gave us an impulse to create a software robot to handle some of the doctors' repetitive, time-consuming activities.
Our robot, named "Med Assistant," was inspired from real needs of doctors and other medical staff in Romania. We wanted this to be a real aid for doctors to be able to give qualitative medical services to their patients.
The robot we developed started from a simple idea which became a real component by the end of the RPA League event. During the contest, our smart Med Assistant app included a variety of functionalities combined into a reusable component useful for medical staff who need to give more attention to the patient's condition and spend less time filing papers.
The Med Assistant robot provides the user the possibility of adding the patient's relevant personal data into the institution's database. With a user-friendly interface (created using various programming languages as JavaScript, HTML and CSS), the robot waits for the user to input important data about the patient.
Furthermore, the robot is programmed to send SMS notifications to patients one day before the patient's scheduled appointment. The robot also provides medical staff with essential information about their medical appointments during the day.
Taking into consideration all the information about the patients' data stored into the database, Med Assistant creates statistics which shows the evolution of the treatment on different age categories via an Excel graph.
Our enthusiasm started to become more and more overwhelming by the time we succeeded in completing each of the proposals we made before the contest. Also, knowing that difficulties are unavoidable in every project, the mentors took part in our adventure throughout the hackathon and helped us to solve every issue we had in developing our ideas.
At the end of the RPA League Hackathon, we had to pitch our ideas and present the components we created so far in front of the jury.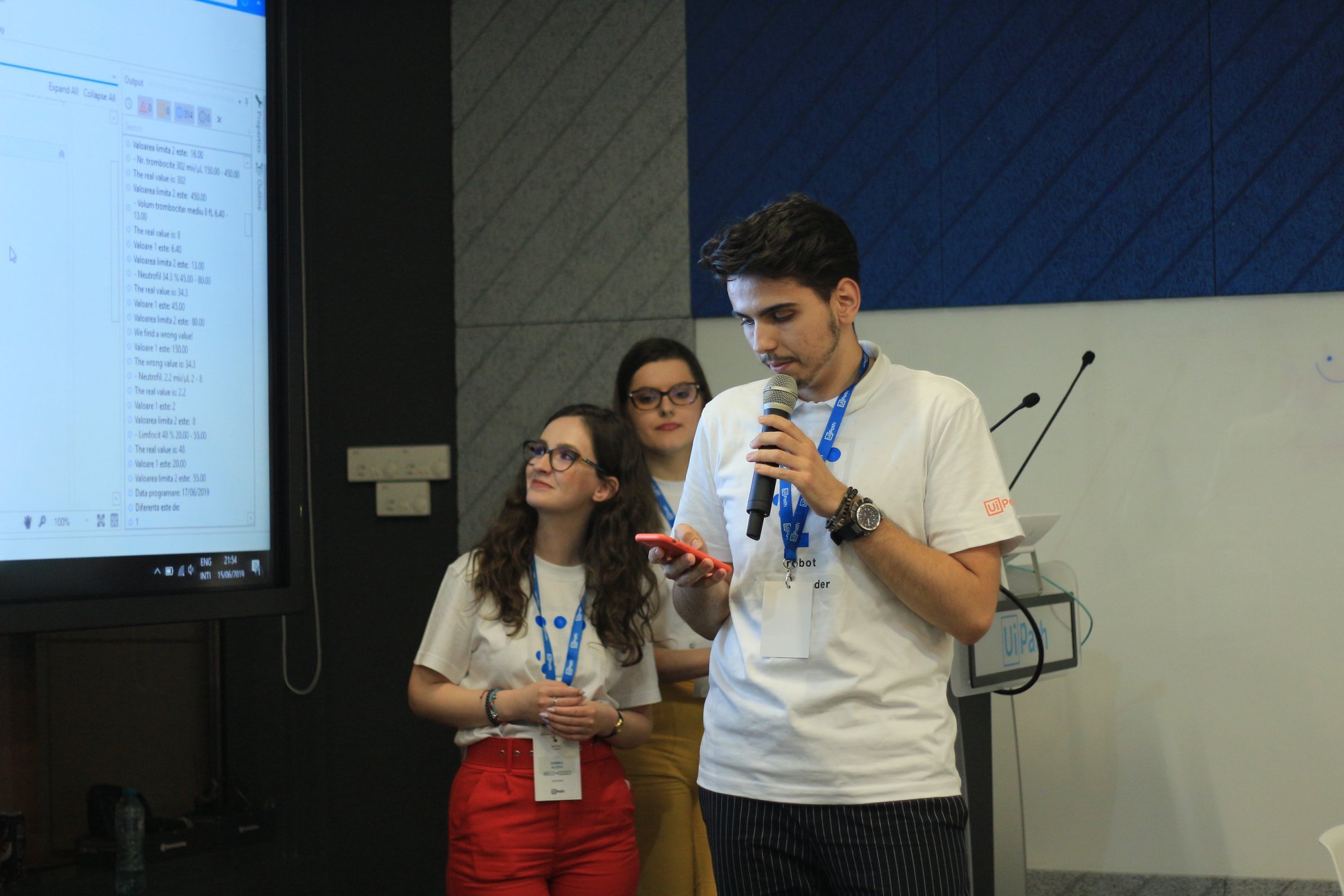 After we had the chance to pitch our ideas, we took a short break and had the opportunity to talk with UiPath employees and with the other competitors. We heard a lot of stories about the challenges they had during the contest and how they managed to solve them. We had no idea what was going to happen next, but after the break, the jury started to talk about the awards. The atmosphere became intense, and everyone was curious which teams are going to win because they also told us the competition had been tight.
We just found it hard to believe the words "And the grand prize is going to.." were for our team. That moment made us forget how tired we were at the end of the day and made us realize we really had a good and useful idea that deserved to be supported and developed more.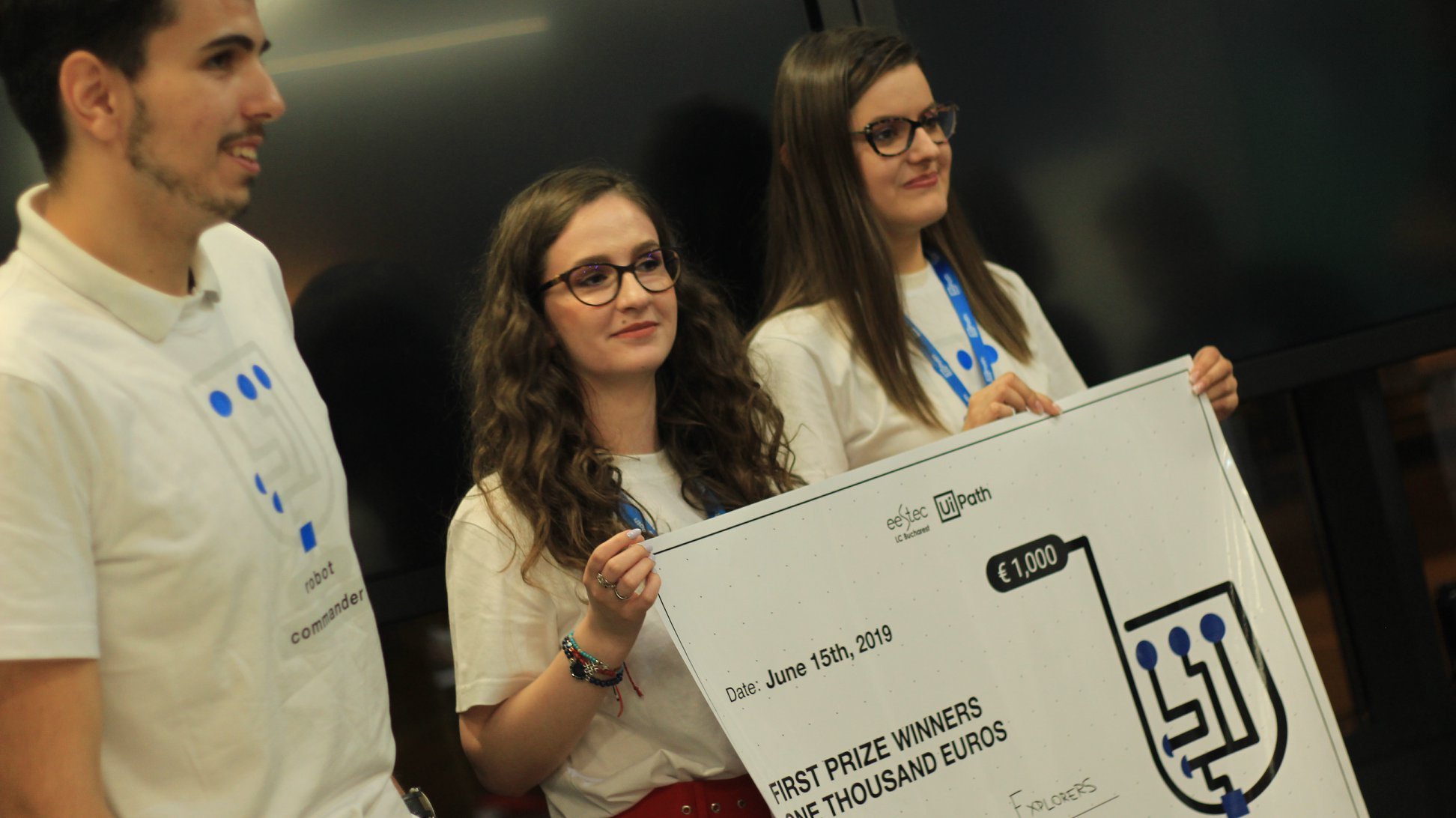 After this RPA League hackathon, we learned that is essential to believe in your thoughts and ideas because they can become reality, especially if they are completed with work and research based on the subject. We decided to start our journey into the hackathon with our idea, which consisted of a robot that can be considered a medical assistant, and during the event we succeeded in making the foundation of our robot.
We also kept in mind that every challenge we had during this journey was considered a step towards success. Even though there were moments that made us think it was impossible to jump over some obstacles, we decided not to turn another way and stick to our ideas. And this is how Med Assistant came to life.
Alexa Sorina is an RPA developer at Huawei Technologies Romania.
---