Back in February, the UiPath Community Team sponsored one of the biggest developer events in the United States—Developer Week San Francisco! The conference originated 8 years ago in San Francisco (SF) for developers (devs) and engineers alike, to network, and share ideas and tools—without the pressure of sales.
This network of people was exactly where the UiPath Community Team wanted to showcase our Platforms and programs to accelerate the adoption of Robotic Process Automation (RPA) and automation!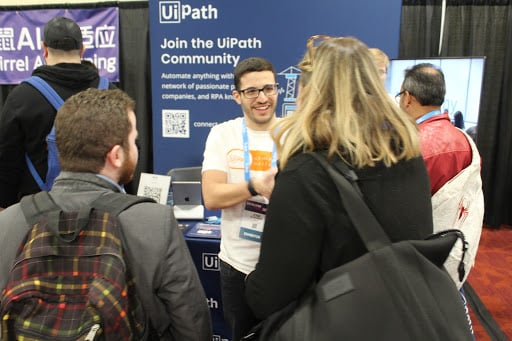 Over 4,000 people attended the 2019 Developer Week SF! The conference spanned 3 days, with over 150 workshops that devs could pick and choose from to expand their career growth.
Alongside engineers of varying career levels, there were some famous tech gurus in the building, including Cal Henderson, the co-founder and now renowned CTO of Slack. Hundreds of attendees poured into the auditorium to listen as Henderson shared stories about how he founded the extremely popular messaging application.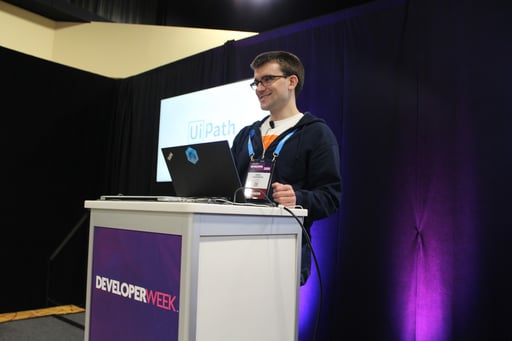 On the second day of the conference, Jose Gonzalez, RPA developer at UiPath, met with a variety of attendees and built a Robot onsite which displayed the visiting attendee's name in huge glitter text on our large TV. This was done through a simple work-flow component he created using UiPath Studio only. He even showed off his chops by conducting RPA demos in Spanish for all of our Latin American event attendees.
On the last day, one of our Senior RPA Engineer Specialists, Eric Eisenberg, gave a presentation on the Expo stage. During his presentation he highlighted how easy it is for devs to use the UiPath Platform:
"Oftentimes, people who work with Excel formulas or macros find UiPath easy to use; if you've ever programmed before, you'll learn our Platform effortlessly. The UiPath Platform also allows you to quickly build user interface tests for your CI/CD [continuous integration and delivery] pipelines."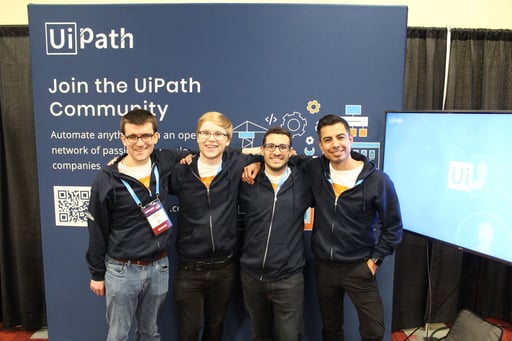 (Pictured, left to right: Eric Eisenberg, Evan Bruns, Jose Gonzalez, and David Lujan)
Overall, it was a wonderful event that left our UiPath devs with full hearts. They not only saw over 500 people stop by the UiPath booth, but had valuable one-on-one interactions with our Community members.
As we expand our communities in the United States, we can't wait to meet more and more of our Connect! users.
Diana Morgan is a regional Community manager at UiPath.
---