We have had an exciting first half of the year 2019 at UiPath, delivering deeper integrations across Microsoft Azure to achieve advanced automation capabilities. The second half of the year will deliver even more innovation starting with the release of native automation capabilities built into the UiPath Enterprise RPA Platform for Microsoft Office 365, Dynamics 365, and Common Data Service.
UiPath is a globally managed "Gold Application Development Competency ISV," as well as a "Global Co-sell Ready" partner with Microsoft. Both companies have been collaborating to deliver significant value to customers adopting capabilities across the three Microsoft clouds. Recently, the automation capabilities were enhanced with the addition of both Microsoft Office 365 and Dynamics 365 activities to UiPath Studio.
While UiPath has long had native integration to Microsoft Office such as Excel, Word, and Outlook, these new activities bring core capabilities to their online versions in Office 365 and extend to SharePoint and OneDrive for Business as well.
This removes the need to have the Office client installed on the Robot computer for many scenarios and provides our joint customers best in class integrations and freedom of deployment choice.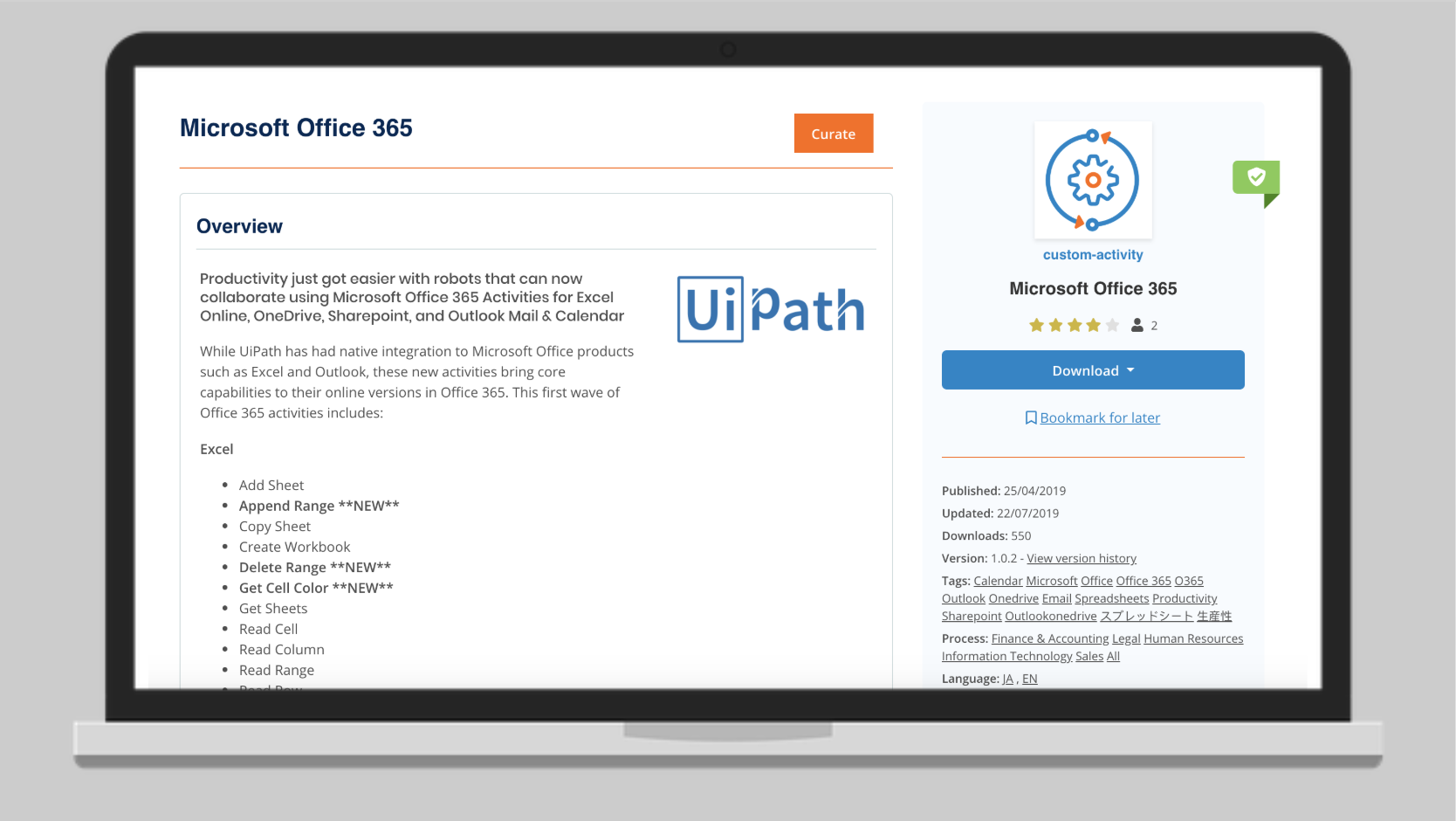 With the new Microsoft Office 365 activities customers can use UiPath Robots to deliver capabilities such as:
Read and write Excel data and create new Sheets and Workbooks online

Send and receive email from any provided account without the need for Microsoft Outlook to be installed on the

R

obot's machine

Manage Files and Folders in OneDrive

Automate downloading, uploading

,

and searching of Files and creation and searching of Folders. This allows

R

obots to work with the online storage platform.

Create and manage events on the Calendar and automate the searching of available meeting times
Getting started is easy! Check out our Microsoft Office 365 Quickstart guide.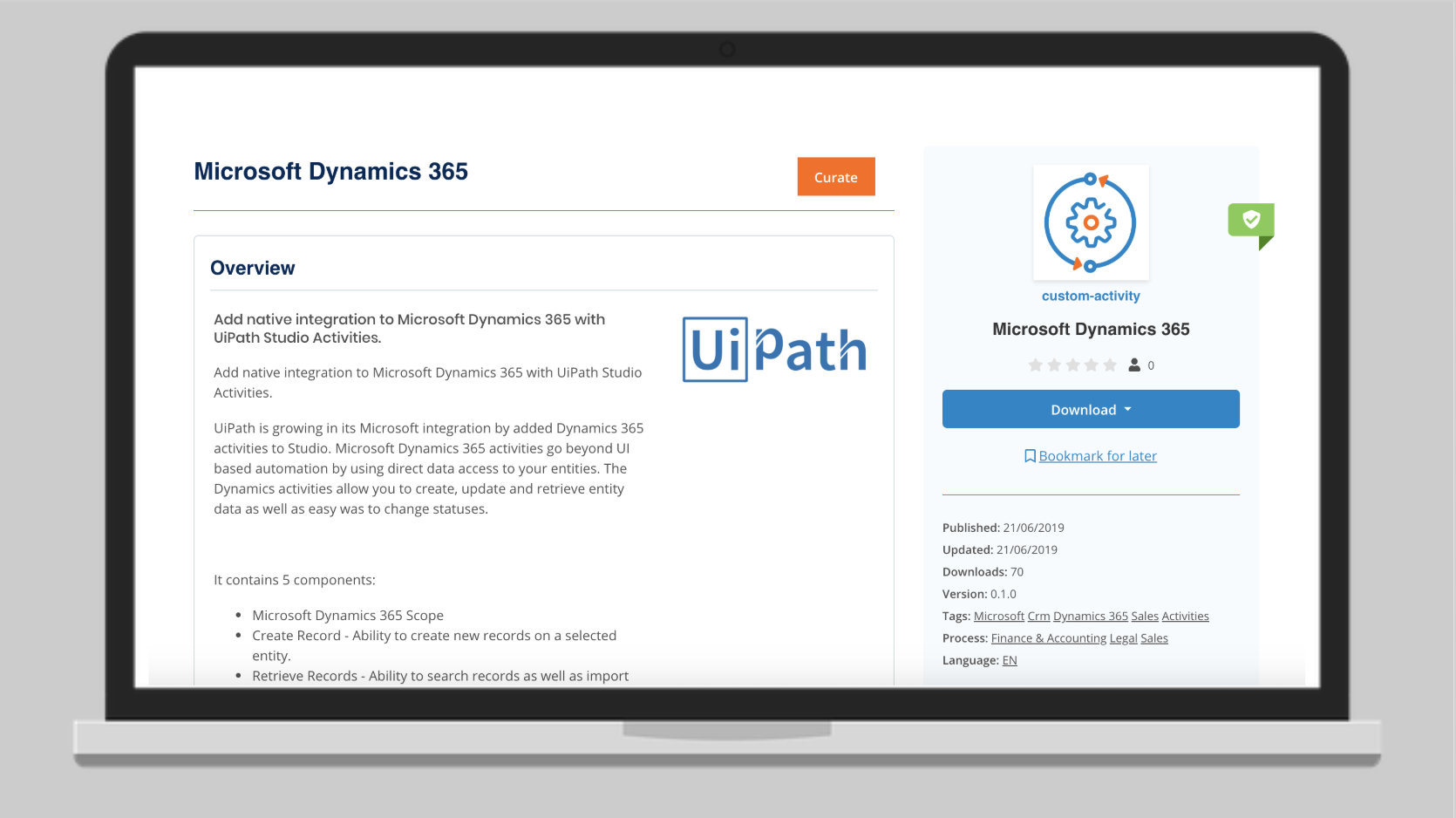 The new Microsoft Dynamics 365 activities go beyond just user interface (UI)-based automation by using direct data access to your Dynamics 365 entities, both standard and custom, and also enabling native integration to Microsoft Common Data Service.
The Dynamics 365 activities allow customers to create, update and retrieve entity data, and help easily change statuses. Using Microsoft Dynamics 365 activities customers can:
Create new Records on a

ny

selected

business

entity

Search and retrieve records and also import advanced searches via

FetchXML

Update one or more properties on a given record

Change or update the status of a given Sales Opportunity
Check out our Microsoft Dynamics 365 Quickstart guide!
Customers can increase productivity with the Office 365 activities by allowing their users to automate core Excel functions online and collaborate with other users. This enables both humans and robots to interact with Excel sheets simultaneously and improve efficiency.
Another very useful automation that Robots can now do is dynamically use different accounts to send or get emails with Outlook 365.
Similarly, using Dynamics 365 activity, users can enable the Robots to perform sales operation functions like quote to order processes, field operations, and customer service scenarios.
With Microsoft as our strategic partner, we have plenty of new integrations and drag-and-drop features in the development that would be made available in the coming months.
More Microsoft Azure-based automations and Cognitive Services integrations are being built into the Uipath Enterprise RPA Platform to supercharge your productivity.
Stay tuned to the UiPath quarterly updates to know more about the innovative ways of automating Microsoft applications and deploying the Cognitive Services both on-premises and on-cloud to scale your Robotic Process Automation (RPA) initiatives.
David Marcus is vice president of product and technology alliance management at UiPath.
---