Two days, two regional events, more than 25 virtual presentations. Strategic talks from UiPath product executives and our CEO, Daniel Dines. Best practices and lessons learned from Most Valuable Professional (MVP) practitioners. Deep dives into new things you can do with the UiPath Platform. Even deeper dives into demos from experts in our Expertsville sessions.
All watched online by a huge global audience hailing from more than 100 countries—representing a UiPath global RPA developer community that's now 1.5 million strong.
Yes, last week's UiPath DevCon 2021 definitely did not disappoint. More than 19,000 signed up to join us for this once-a-year, "can't miss" developer event.
That said, maybe you did miss it—or at least parts of it—anyhow. That's OK—we know from our State of the RPA Developer 2021 survey how incredibly busy you are and how much you're juggling each week. The good news is that all 25 of our DevCon sessions are now available on demand. And given that they truly are full of information you don't want to miss, we thought we'd give you brief recaps of five of the "absolutely-must-see sessions" along with quick links to let you watch the full presentations on demand.
1. Know the score for 21.4
DevCon 2021 kicked off with "The UiPath Platform Today and Tomorrow," with Ted Kummert, UiPath EVP of Products and Engineering, and Param Kahlon, UiPath Chief Product Officer. The session focused on what's new in the 21.4 release and demonstrated how it makes building great automations and managing an enterprise-scale automation program even faster and easier. Kummert kicked things off with a review of the release themes: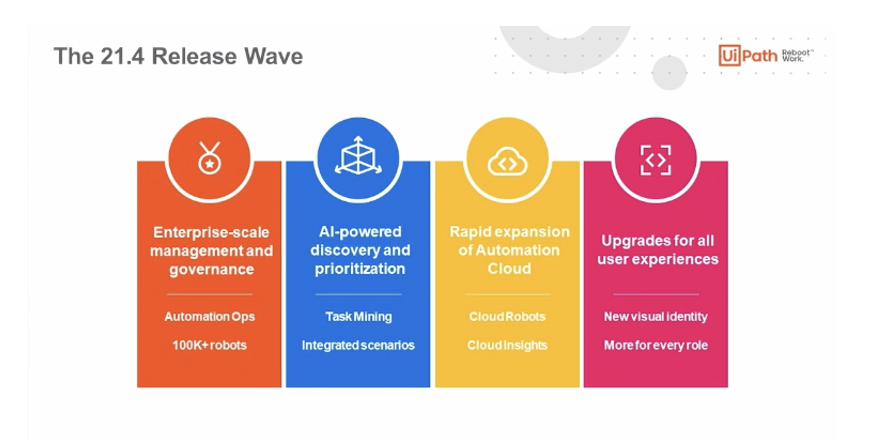 Providing more detail, Kummert noted that:
The presentation shifted to Kahlon spotlighting some of the great new capabilities that make building resilient, high-performing automations even easier. These include things like a super-easy way to add a verification step; automatic application of workflow analyzer rules; and one-click elimination of unused workflows, dependencies, and variables.
But wait, there's more.
Kummert gave us a sneak peek into the next release, showing that 21.10 is on track to incorporate even more flexibility and intelligence into your discovery, building, testing, deployment, and governance activities.
Case in point: a new AI-powered capability, demo'd by Kahlon, that automatically recommends the 'next best action' for the tasks that you're doing: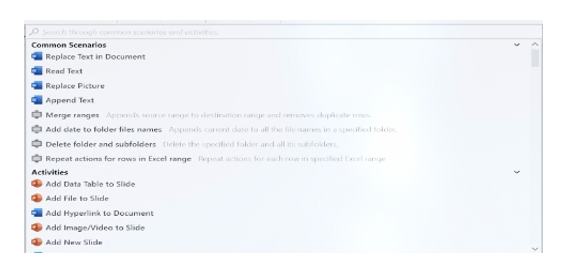 And, as Kummert said, "we can't do it without you"—we really value your suggestions and feedback. Kummert and Kahlon covered a lot more in their presentation; check out their full video:
2. Get App-Happy with new enhancements for UiPath Apps
Ever since its launch last year, UiPath Apps has been generating big buzz and even bigger uptake (for instance, as of this writing, nearly 1,000 of you have completed the Apps course offered through UiPath Academy).That's because UiPath Apps offers a fast, low-code way to build and share beautiful and welcoming user interfaces (UIs) for your automations. That can drive higher adoption and usage of your automations, enhance the happiness and engagement of end users, and result in a more productive workforce.
In this presentation, Evan Cohen, UiPath Senior Product Manager, walks through three scenarios:
End-user experience: Using an app to help a customer obtain a new safe deposit box—and shrinking a 10-minute process down to less than a minute along the way.
Build experience: Building a loan application app in mere minutes, using the Apps drag-and-drop building interface that allows developers to rapidly bring in design elements, configure fields, and add in Excel-like expressions. The demo also highlights some 21.4 enhancements that make it easy to use existing apps as build templates for new ones—and that dramatically simplify app deployment and sharing across the organization.
End-user experience: Using the new app to complete a loan application, aided by a combination of attended and unattended robots that access databases and post relevant data. The bank is able to provide a decision to the customer in a matter of minutes.
The great thing about Apps is that it just keeps getting better with every release. At the end of the presentation, Cohen walked us through some of the great new capabilities and functionality in store for the UiPath 21.10 (also referred to as 2021.10) release. Watch Cohen's entire presentation:
3. Get the real intel on the AI now enriching UiPath Document Understanding
In this presentation, Tony Tzeng, Senior Director, Product Management, and Alexandru Cabuz, UiPath Product Manager discuss the large and growing role that artificial intelligence (AI) is playing in Document Understanding. They also walked us through the major 21.4 release highlights, which include: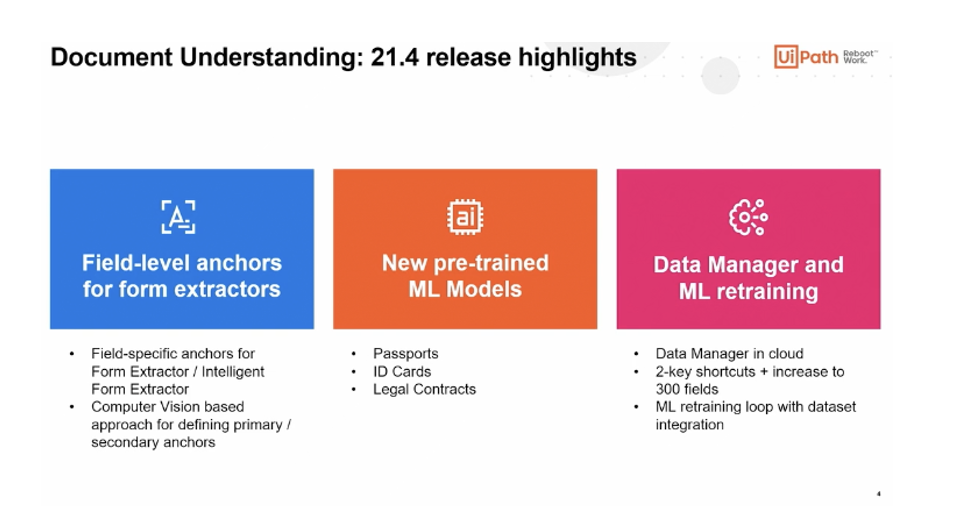 Watch Tzeng and Cabuz as they delve deeper AI and Document Understanding:
4. What advice would UiPath CEO Daniel Dines give himself as a young developer?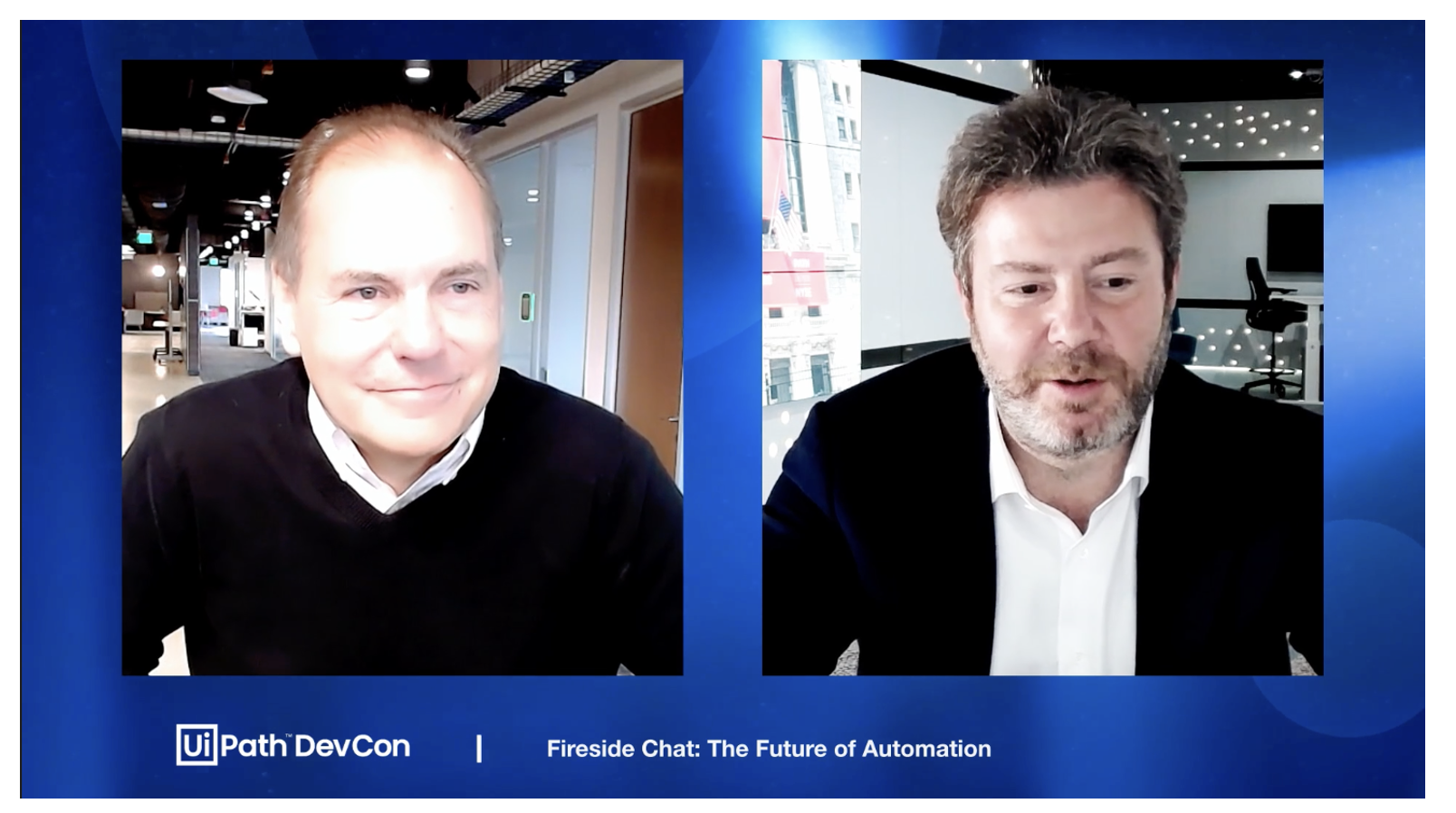 In this relaxed, intimate conversation between EVP Products and Engineering Ted Kummert and UiPath CEO Daniel Dines, Dines said he may have missed some opportunities to learn and grow as a young developer (like learning SQL Server) and that the best advice he could give to himself as a young man—and by extension, to RPA developers everywhere—is this:
"Be open to new things. Learn not only mainstream, but also niche things and more esoteric frameworks that will increase your value—not only to yourself, but also to the market."
Dines also discussed how the acquisition of Cloud Elements was so critical in supporting the UiPath strategy of "UI, API, and AI in any combination." Catch the full discussion:
5. Who Won the Hyperhack Awards: Automation for Good?
This year, we asked Hackathon competitors to focus on using automation to make the world a better place. And they truly rose to the challenge: we received 47 submissions from 38 different countries, involving more than 350 participants—33% of them women. Ideas ranges from healthcare to non-governmental organizations (NGOs) to education and beyond.
So, which three teams who got a portion of the $10,000 in prize money? Take a look:
Catch up with all the main stage sessions
These are just some of the highlights from two DevCon days packed with news you can use and things you really have to know: product information, new capabilities, industry and peer perspectives, expert technical advice, and deep dives into all aspects of our latest UiPath Platform release.
Yep, it's a lot to grasp. But lucky for you, all the main stage sessions are now available on demand.
So go on, stop, look, and listen to your heart's content. Meanwhile, we're turning our attention to the 21.10 release—and we can't wait to tell you all about it!
---