Kitty Li is a software engineer on our Artificial Intelligence (AI) Fabric team in our Bellevue office.
"I am working on AI Fabric (on Kubernetes) and specially on a new product called AI Fabric Lite. It is a mini or entry version of the larger product and it is meant to be more simple, easier to use and addresses needs that the larger version would be too complex for." Kitty heavily works on the front-end on both of our AI Fabric products and is a valuable member to her team. Funny enough, she almost didn't become a software engineer.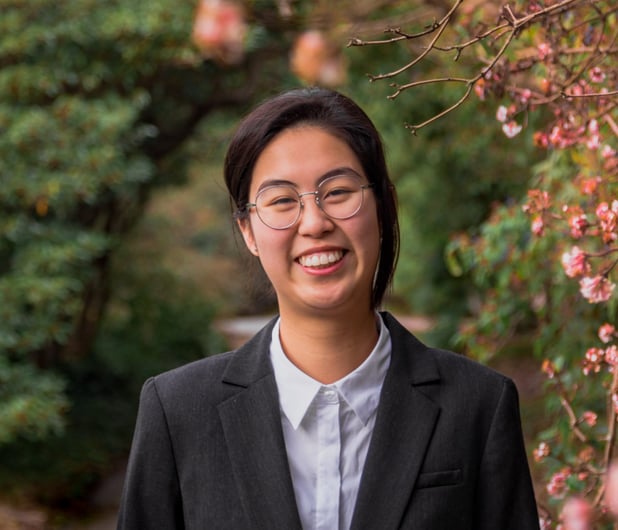 After receiving a double major in Computer Science and Biochemistry as her undergrad she went on to earn a Master's in Computer Science from University of Washington. While she was really interested in computer science, her plan was to go to medical school. During her interview at one of the nation's top medical program she had an epiphany, "I realized I hated it, and this isn't what I want to do. It all just felt wrong at the time. After the interview, I came back to Seattle and started looking for job. I was reached out by a recruiter at UiPath and honestly, I had never heard of them before. So, I applied, and the interview went absolutely awesome! After talking to the people here, I could really tell that they like working here"
At UiPath, we fully believe and embody the idea of growth through exploration. Our teams strategically work together to nurture innovative products and empower each other. "My manager is great and the team is awesome. They are so kind to me considering that I didn't know anything about industry programming prior to joining UiPath. They have truly taught me from the ground up."
We continue to build and refine a culture that allows our employees, like Kitty, to flourish through hands on experience in a fast-paced environment. "I have a lot of classmates that work at companies in Seattle. My best friend works at a large enterprise software company and she doesn't get to do a lot of work there and her company moves at a slow pace. I feel very lucky to be here, learning a lot and getting hands on experience."
Although Kitty is very young in her career tenure, she is already thinking about what her future may hold. "I actually would really love to move into research. I don't have a PhD currently so that is a problem at the moment but I want to continue my career in AI. The experience I am getting now will help me to get into research one day."
---
Are you looking for a job at UiPath? Check out our Careers Page!
---