Dexcom, a leading manufacturer of continuous glucose monitoring devices, embarked on a digital transformation journey to leverage intelligent automation and improve their manufacturing operations.
By unlocking the potential of AI-powered automation, Dexcom aimed to enhance efficiency, reduce manual work, and drive overall process improvements. 
According to Stephen Sikes, Director of Operational Excellence at Dexcom, they initially focused on robotic process automation (RPA) but expanded to leveraging AI to ensure long-term growth and continuous improvement. In 2019, Dexcom faced a unique opportunity to rebuild 80% of their robots due to a platform switch. They seized the chance to evaluate their existing automation platform and explore alternatives. After careful consideration and a thorough comparison, they made the strategic decision to transition from their previous RPA vendor to UiPath.  
We took a thorough comparative look at UiPath and our current RPA vendor, and while there was no real difference in cost, UiPath brought to the table a superior track record and integrated capabilities across their platform. From continuous process discovery and analytics to attended bots to AI-powered document processing, it proved to be a much better way to go.

Stephen Sikes • Director of Operational Excellence at Dexcom
Since this was new technology to the Dexcom team, they brought in one of the most experienced UiPath business partners, Ashling Partners. Ashling Partners is a 4-time UiPath partner of the year and has helped Dexcom leverage newer aspects of the UiPath ecosystem before they bring it in house. This allows the Dexcom team to benefit from the lessons learned of someone who has already implemented the technologies but also a team that can turn it over to the very capable hands of the internal Dexcom team once complete. 
By switching to UiPath, Dexcom achieved substantial improvements in efficiency and user experience. Sikes highlighted the implementation of automation with various departments of the company, such as Tech Support, Customer Advocacy, Finance and Accounting, HR, IT and Quality.   
Transforming processes with AI-powered automations 
One of the primary processes Dexcom was looking to automate was the prescription intake in Germany. These prescriptions came in via a dot matrix printer and involved agents manually entering the information at a rate of around 300 per week—but with the company growing at a rate of 50%, that 300 quickly turned into 600 per week and continually expanding. 
Dexcom first started by working to optimize their process, using Task Mining to better understand how employees perform their work—the steps they are taking and the applications used. This gave the automation team a blueprint of what the core workflow looked like, and the ability to analyze variations, patterns, and bottlenecks. They turned these insights into next steps—making decisions on what to improve in the existing processes or where automations should be built. 
As part of building the automation, they used Document Understanding to extract and process all the information from each prescription – no matter how bad the handwriting was. The use of Action Center allowed for adjustments or corrections to be made before processing the letter of authorization request or fulfilling the order. As time progressed, the system's accuracy improved, enabling the team to handle variations and higher volume of prescriptions more efficiently.  
There was no additional headcount added. When we were growing at 50% per year, from 300 to 600 prescriptions a week. We didn't have to hire additional help because we had Document Understanding able to manage the intake.

Stephen Sikes • Director of Operational Excellence at Dexcom
Dexcom used Insights and PowerBI to diligently track their impact, including the ROI in terms of time-savings of their automation program.  
I was reviewing the progress we've made so far on our bots. And we are tracking to a 200,000 hour target this year of savings impact. So, we are on pace to reach that goal. And so far, so good.

Stephen Sikes • Director of Operational Excellence at Dexcom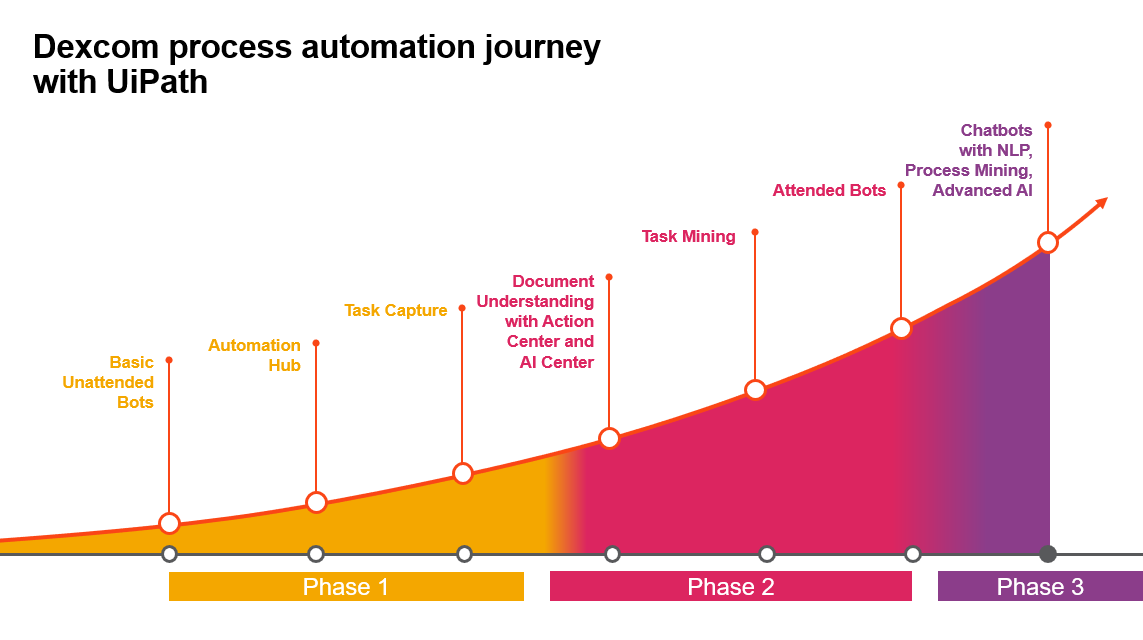 Dexcom's automation journey evolved through different phases. According to Sikes, phase one focused on building capabilities and stabilizing the platform, while phase two involved transitioning development and support in-house. In phase three, they aim to explore chatbots with natural language processing (NLP) and introduce process mining. The company envisions leveraging advanced AI technologies in the future to further enhance their automation capabilities and drive continued productivity.  
Dexcom's successful digital transformation and adoption of AI-powered automation have led to significant process improvements, increased efficiency, and a strong foundation for future growth. Through their dedication to innovative technologies and ongoing expansion of automation initiatives, Dexcom has emerged as an industry leader, setting new benchmarks in the manufacturing sector.  
 Dive into the on-demand AI Summit recording to hear Dexcom's AI and automation journey firsthand and uncover valuable insights.