As highlighted in their initial success story, İşbank began their automation journey in 2016. Since then, they've scaled their automation program to 133 robots operating across 550 tasks, resulting in an impressive 57 million automated transactions. As İşbank's automation program progressed, their aspirations and objectives expanded alongside it.
When we thought about the point we reached in RPA, we realized that we now have different goals, such as higher productivity. We aimed to measure the effectiveness of our automated processes and further scale automation to the processes that would generate more business value.

Meltem Vural, Head of Enterprise Architecture Division 
İşbank's strong focus on automation as part of their digital transformation journey led them to UiPath Process Mining. Their main objective was to use Process Mining to gain insight into their existing manual processes before improving them and transitioning them to automated states.
26 processes mined so far (and counting) 
In early 2022, İşbank got started on their first Process Mining project for mortgage loans applications and in the first year they completed the analysis of 11 processes. Fast forward to June 2023, and they've bumped that number up to an impressive 26 processes. Those processes include:  
Invoicing

Pricing

Customer complaints

Retail credit underwriting

Corporate credit underwriting
Before embracing Process Mining, the team at İşbank relied on traditional methods like interviews, manual spreadsheet updates, and reactive troubleshooting to optimize their processes. However, these approaches weren't just time-consuming, they were often expensive, and resulted in low-impact process improvements.  
The introduction of Process Mining revolutionized İşbank's approach to process analysis. With its objective, continuous, and near real-time capabilities, Process Mining empowered İşbank to take a proactive stance towards process improvement. It used to take the team at İşbank two months to analyze one process, but thanks to Process Mining, process analysis can be done in just two weeks, representing a 75% improvement.  
A key part of their success was creating a process improvement framework, which allowed them to swiftly and effectively mine new processes. This framework played a pivotal role in their ability to systematically scale their Process Mining efforts to 26 processes with great results, including saving 116,000 hours by removing an approval step that was a bottleneck in one of their core processes.  
Bridging the gap between process owners and automation leads 
To spearhead the implementation of Process Mining, İşbank positioned it within their Enterprise Architecture Department, responsible for both process analysis and automation. With the automation and Process Mining teams under one umbrella, İşbank has been able to link process improvement with automation efforts. Another way they've been able to link process improvement with automation is through empowering and involving business units and process owners at all stages of process transformation.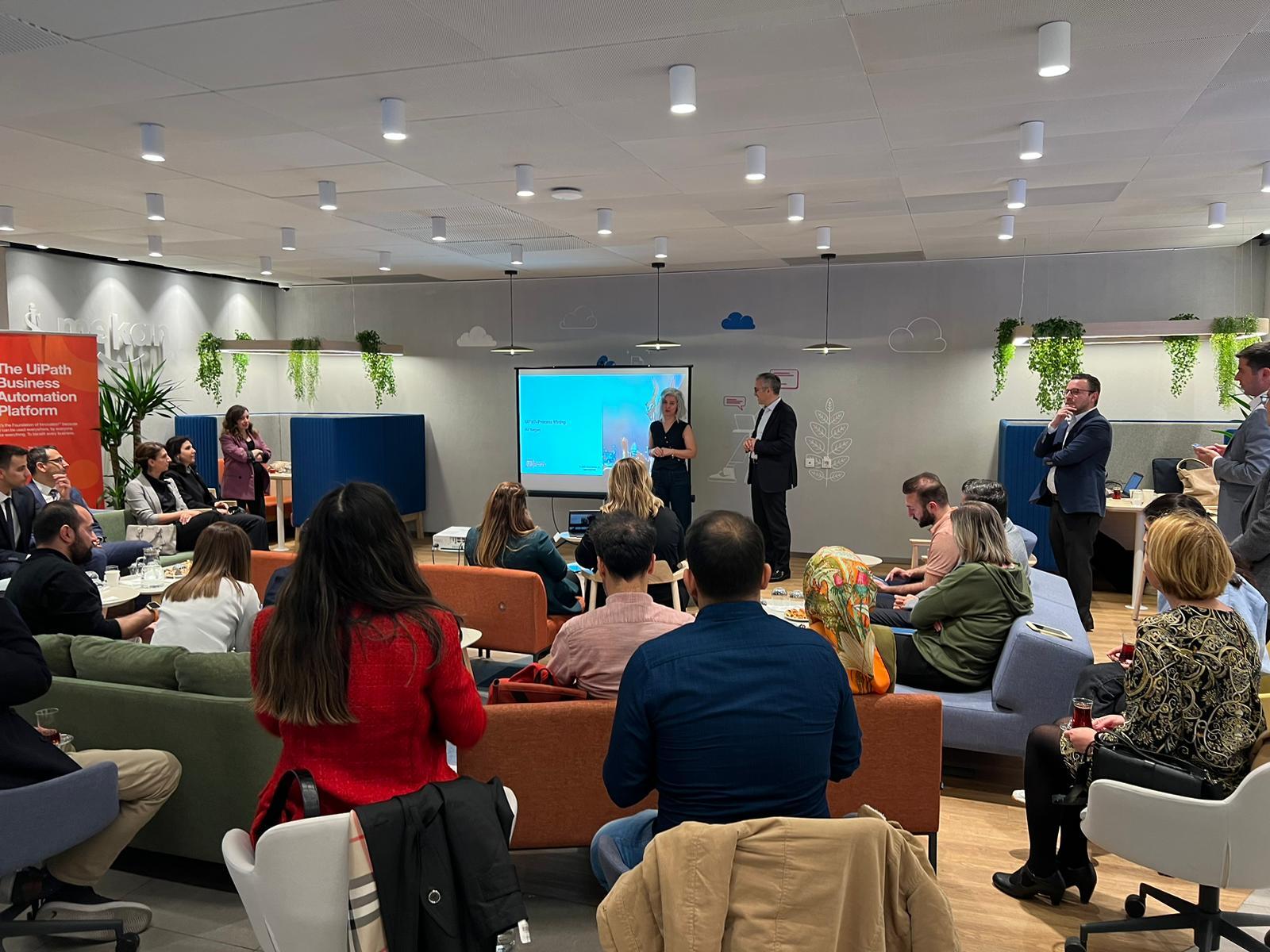 Our Process Mining team plays a key role in bridging the gap between the automation team's technical expertise and the process owners' deep understanding of the processes. We want to make sure that innovation and operational efficiency are always aligned.

Aslıhan Yılmaz , Manager Responsible From Corporate Process Improvement Team 
Finding pockets of value within processes 
Before introducing automation, Process Mining helped İşbank discover pockets of value within processes, value that would otherwise remain hidden. This allowed them to provide impactful recommendations to the business. Here are just a few examples:  
In one process, 61% of cases underwent a review and an additional approval step, with each step taking 20 minutes each. İşbank removed the unnecessary approval step to optimize 61% of cases and save 116,000 hours. 

The team discovered that only 9% of cases adhered to the 10-minute service-level agreement (SLA). By re-engineering their processes and relaxing the SLA to a more realistic 11 minutes, they were able to improve 65% of cases.   

Peak times in one process were identified as 8:30-9:00 and 13:30-14:00, enabling İşbank to optimize staff allocation for improved performance. 
Benefits of Process Mining go beyond automation 
In addition to the results outlined above, İşbank use Process Mining for the following benefits:  
Identifying bottlenecks and automation opportunities 

Monitoring processes end-to-end, measuring transaction volumes, and analyzing transaction times 

Performing process discovery based on objective data, facilitating continuous monitoring rather than one-time process mapping 

Monitoring compliance rates with process models and identifying process flow differences 

Tracking different key performance indicators (KPIs) on product, team, and individual levels 

Determining control points in the process, and ensuring effective monitoring of these points 
Process Mining helps with streamlining processes before transitioning them to automated states, I highly recommend organizations leverage Process Mining to streamline processes even before automating. 

Hatice Dedeler, Product Owner Of R&D and process Mining Team 
Looking ahead 
İşbank's success with Process Mining has set the stage for further growth and innovation. In the coming year, they plan to expand the application of Process Mining across their organization, making it more visible and widespread. By combining Process Mining with Task Mining, İşbank aims to unlock even greater potential and drive continuous improvement, ensuring they remain at the forefront of technological innovation.  
In line with our bank's vision and goals, we also want to benefit from the Process Mining application in terms of strengthening employee value proposition and high-performance management. With Process Mining, we aim to emphasize the data-driven aspects of KPI, and objectives and key results (OKR) design. We also aim to create a center-of-excellence (CoE) function, serving as a hub for customer experience teams throughout the enterprise.

Ozan Gürsoy, Deputy Chief Executive Officer