Automated by UiPath
Guiding adoption and uncovering best-practice approaches with the world's leading automation innovators.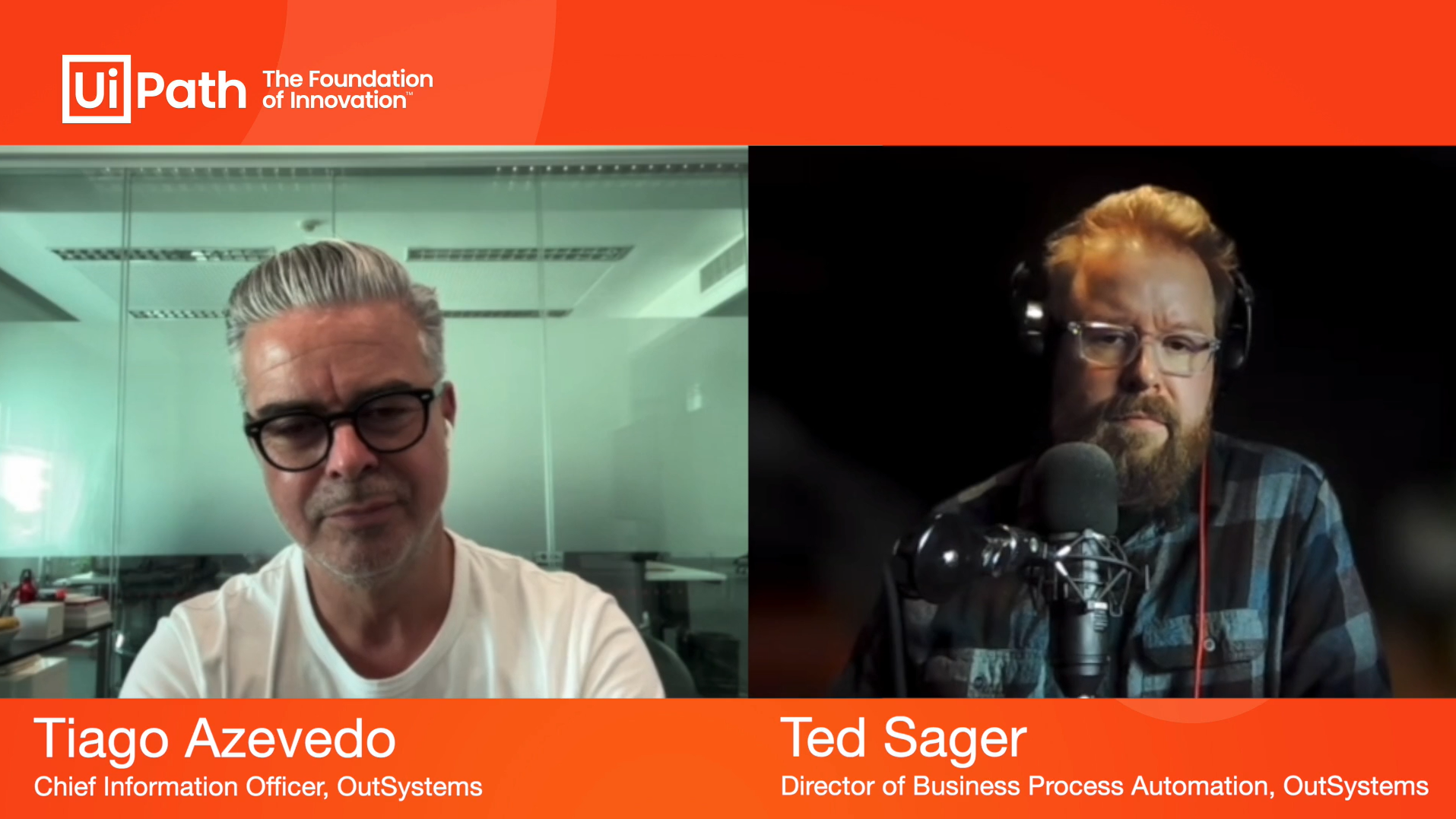 Project Goals
OutSystems sees intelligent automation as a strategic imperative—driving improvement across its fast-growing business. Delivering innovative tools to accelerate its customers' digital transformations means the company needs to deploy new capabilities fast. It has to automate its processes to do it—removing manual interventions and boosting productivity. But automation isn't just about improving internal performance. By operationalizing AI through automation, OutSystems aims to enhance its own platform and deliver even more value to customers.
We want to make sure that any industry whatsoever is able to perform like a digital native, like a tech giant. And in order to do that, we bring over these tools that allow them to be incredibly productive and have access to a skill set.

Tiago Azevedo • Chief Information Officer, OutSystems
Deployment Strategy
Process automation is part of the company's DNA, but integration issues and a large backlog were standing in the way of operational improvement. OutSystems needed help from UiPath—and a dual-track approach—to punch through that backlog and achieve its automation objectives.
OutSystems' center of excellence (CoE) and citizen developer practice form the cornerstones of the company's automation strategy. Its Most Valuable Professionals (MVPs) bring their UiPath expertise to help all parts of the organization work through automation ideas and problems. Velocity is the key word here. Success is all about showcasing the benefits of automation in action—and citizen developers are pivotal in spreading the word and making progress visible. It's helped automation become part of OutSystems culture. People across the business are identifying opportunities to improve their productivity. And however big or small the idea, UiPath experts are right there to help them make it happen. The CoE adds another dimension. The central function not only supports widespread adoption. It tackles the more complex, multisystem automations. This is the catalyst for helping OutSystems embrace and effectively operationalize artificial intelligence (AI) across its business.
Our developers don't just develop. They run enablement sessions. They do training. We have Slack channels where people can come and ask for help. MVPs are go-to resources for the business, to have their questions answered, to explain concepts and concerns.

Ted Sager • Director of Business Process Automation, OutSystems
The focus of the CoE is to enable, to evangelize, but also to take on the more critical processes […] As folks who know UiPath know, you've got a lot of different ways to solve the same problems. The CoE is here to make sure we're delivering automations in the best possible way.

Ted Sager • Director of Business Process Automation, OutSystems
Adoption and Evolution
The adoption of automation in OutSystems has been an organic process. A project might begin with an enquiry from a product owner or business leader who's seen the results achieved in another department. Supported by citizen developers and the CoE, and with access to UiPath training, anyone can start automating. The feedback has been unequivocal: the transformation is "amazing," giving people their time and productivity back. As the pipeline for automation has grown, OutSystems has defined a centralized approach through its Automation Hub. This helps ensure best practices are followed and each new automation benefits from the experience of previous ones. Time to value falls and return on investment increases. This combination of Automation Hub and the growing automation-first mindset across OutSystems actively drives a cycle of continuous improvement. Automating across systems has always been a significant challenge for the software-as-a-service provider. Using built-in UiPath capabilities such as activity packs and message queues cuts out integration issues and ensures architectural compatibility when connecting to existing and new systems and apps.
Three key use cases
Front-end storage requests. Zendesk tickets taken and front-end storage requests automatically fulfilled.

Database user requests. Zendesk tickets taken and database user requests automatically fulfilled.

Internal moves notifications. Data extracted from internal onboarding app, report uploaded, and recipients notified.
From an architecture perspective, we have several digital foundational platforms. OutSystems is one and UiPath another. In combination they allow us to achieve the level of automation we're looking for.

Tiago Azevedo • Chief Information Officer, OutSystems
Outcomes and Ambitions
For OutSystems, automation is about unlocking value. Looking to the next phase of digital transformation, it's exploring ways to use Generative AI to make automation even more accessible, interactive, and intuitive. Ultimately, this'll have a massive impact on internal productivity and external service delivery—helping everyone achieve the best outcomes faster. To capitalize on this potential, OutSystems has created a console—called the Playground. This allows business users and analysts to experiment with models and data sets, and test for improvements in processes. As Azevedo says, "The opportunities are endless. When you start to change lives, make people so productive…that's what makes us get out of bed."
We're seeing the power of uniting knowledge bases from different parts of the company to resolve any problem we have. And we're packaging this all up and making it available to our customers to use within their own environments. We're going to see an explosion in efficiency and productivity improvements across the world, in multiple industries and organizations.

Tiago Azevedo • Chief Information Officer, OutSystems
Key Learnings
Access to UiPath in-built tooling such as integration services and queuing systems enables connections to all platforms.

Citizen developers, backed by CoE, ensure the benefits of automation are recognized and replicated company-wide.

New capabilities such as Generative AI combined with automation are set to bring new levels of digital transformation to OutSystems and its enterprise customers.
When we're investigating AI vendors, I don't have to ask the question "can I connect to it?". I already know we can. Because UiPath is already there with us.

Ted Sager • Director of Business Process Automation, OutSystems