Aiming to improve business quality well beyond the framework of operational efficiency
Trust banks address a wide range of needs, including banking, trust, and real estate operations. Sumitomo Mitsui Trust Bank (SMTB) has been working to improve its operational efficiency for some time, and the full-scale introduction of UiPath in 2018 resulted in a significant reduction in required working hours. Now, the bank is moving beyond traditional automation and working on initiatives related to test automation and visualization of business processes.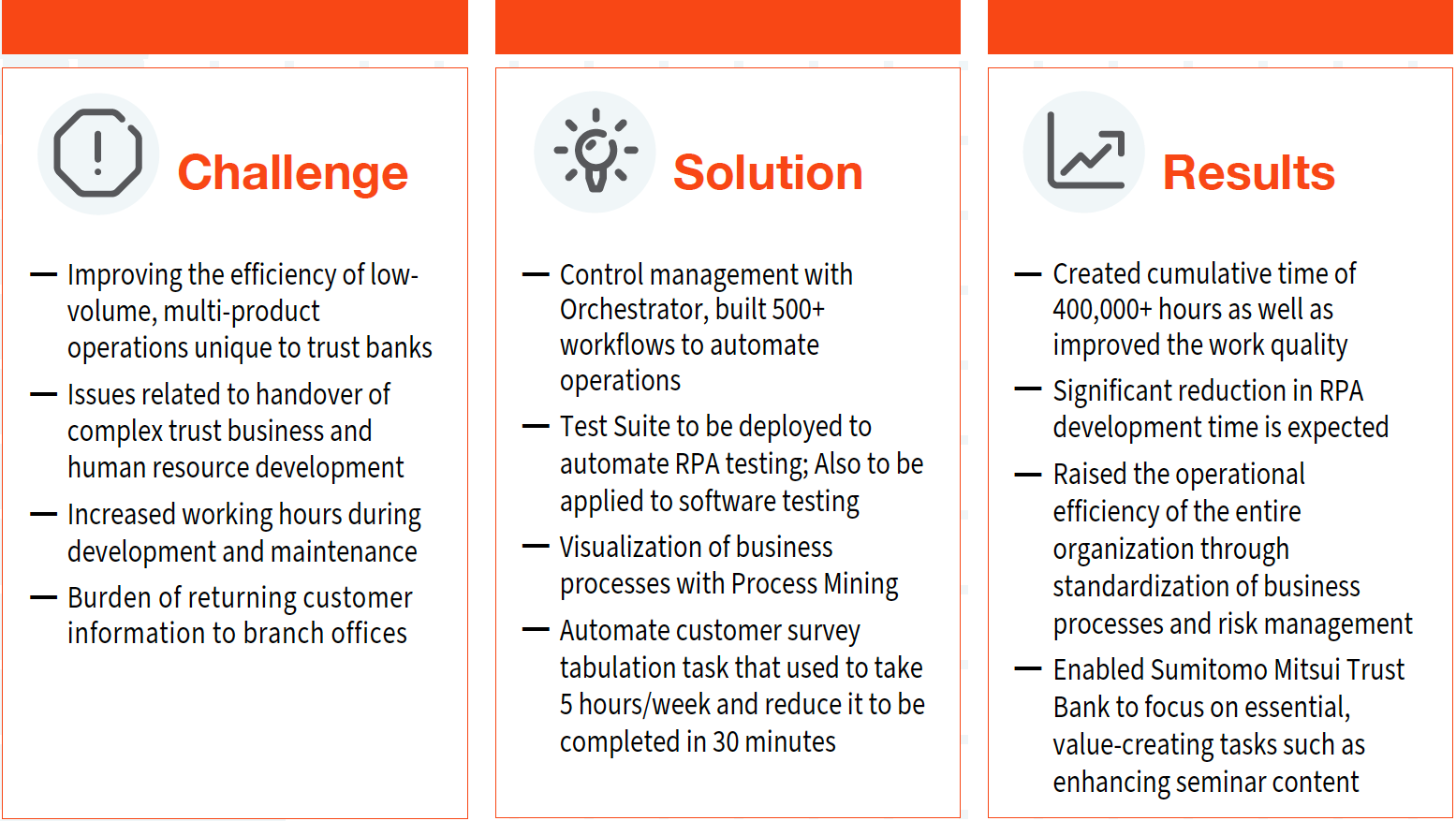 Trust banks must improve the efficiency of low-volume, multi-product operations
As a specialized trust bank, Sumitomo Mitsui Trust Bank takes custody of clients' assets and is responsible for a wide range of investment and management activities. The scope of services spans a wide range of operations. Services for individuals range from the savings asset formation stage (including asset formation through mortgage loans) to the arrangement of wills and inherited estate liquidation. For corporations, they address needs ranging from corporate pension plan management and benefits, to shareholder registry management, real estate management, and vehicle and vessel trusts. Improving the efficiency of such low-volume, multiple-product operations is a major challenge.
Control and manage numerous automation processes with Orchestrator
At Sumitomo Mitsui Trust Bank, the Digital Planning Department oversees and manages automation. The team controls and manages their increasing number of RPA processes with UiPath Orchestrator. "Orchestrator provides us the information about the operating status of each robot," says Hisato Hirakata of the Digital Planning team.
Even if the number of workflows increases from the current 500 to 1,000, or even 10,000 in the future, we now have a system that can scale without much effort. As automation and other technologies increasingly become cloud-based, it's become clear that we can manage all of our needs in a similar manner.

Hisato Hirakata, General Manager of Digital Planning Department, Corporate Planning Department, Sumitomo Mitsui Trust Bank, & Director and COO of Trust Base Co., Ltd.
Sharing the same corporate philosophy and ideology with UiPath
Sumitomo Mitsui Trust Bank's decision to deploy UiPath was due in part to an alignment with UiPath on basic design philosophy and principles. "UiPath is more than just a robot to handle paperwork and make it more efficient, but it is flexible in its design," says Toshio Masui, Managing Executive Officer. "We can also utilize RPA in conjunction with AI for marketing purposes to quickly detect customer convenience and demands. It was consistent with our vision of delivering higher value to customers in a forward-looking manner."
Great tools lead to a robust system
In addition to its low-code and easy-to-develop features, the superior operational UI accuracy unique to UiPath enables organizations to shorten the development time over traditional scratch development. Junpei Koike, who is in charge of development at Sumitomo Mitsui Trust Systems & Services Co., Ltd. says, "Comparing to the development with Java or C#, we could develop in a very short period of time." According to Yosuke Shimizu, also in charge of the development at Sumitomo Mitsui Trust Systems & Services, UiPath's compelling advantages that give developers a peace of mind include the "UiPath Studio" development tool, debugging feature & static analytics, and componentization of common processes -- all of which are the ones developers want to have in a development environment. He points to scalability as another compelling characteristic. The ability of UiPath to offer products that enhance end-to-end automation capabilities, including AI and Process Mining, is attractive, too. "Automation is a first step towards a larger goal of expanding our own capabilities," noted Hisato Hirakata, General Manager of the Digital Planning Department.
Applying test automation to system development
RPA can be affected by changes in the UI of the system to be automated, which can suddenly render the robot unable to run. Therefore, testing is essential to continuously maintain and improve the quality. At Sumitomo Mitsui Trust Bank, plans are underway to automate many of the tests, with Test Suite, which currently take a lot of effort. The bank determined that UiPath can be used for other development projects as well, and has begun to use it in the development of overseas account systems which are not directly related to RPA.
Bringing a new perspective and approach to operations that goes beyond efficiency
The bank is also recently looking to utilize the system in conjunction with AI and data science technologies. In data science, it is important not only to acquire, format, process, and accumulate data, but also to aggregate and visualize the data for effective use after analysis. However, the challenge here is the heavy workload required by the analysis and feedback per case. Therefore, the bank is proceeding to connect AI, BI, and the data infrastructure in a single integrated process, using RPA as well. By lowering the analysis effort per case, the bank intends to accelerate the expansion of data science use within the organization.
They are also utilizing "Process Mining," a tool that visualizes work from the actual work logs.
Trust banking operations are complicated due to the nature of meeting the diverse needs of customers, and there are many operations that cannot be fully described in manuals. However, Process Mining makes it possible to visualize what steps each person is taking in his or her work. As a result, the most efficient and correct work flow can be seen, and it can also be used for risk management since it visualizes any situation in which work is being done out of the ordinary flow. In addition, the entire process can be standardized by analyzing it with Process Mining to improve the operational efficiency of the entire organization.
UiPath develops and provides us with a variety of advanced technologies, including Process Mining and Test Suite, while keeping RPA at the core. This is not just about improving efficiency through RPA, but also providing a new perspective and approach necessary for business transformation.

Hisato Hirakata, General Manager of Digital Planning Department, Corporate Planning Department, Sumitomo Mitsui Trust Bank, & Director and COO of Trust Base Co., Ltd.
Reducing work from 5 hours to 30 minutes
The Personal Planning Department has introduced automation to tabulate survey results. The team used to hold face-to-face seminars to provide information on asset building and investment management for the future, but with the COVID-19 pandemic, it quickly moved online. During the face-to-face meetings, each agent was able to answer questions on the spot and follow up with customers according to their concerns, but with the online format, each branch department was unable to understand the results of the viewing survey unless the results were compiled and returned by the headquarters.
Since multiple online seminars are always run in parallel, the workload of the headquarters staff to return the results of each customer's survey was so overwhelming that they could only return the results, at best, on a monthly basis. Delays in returning survey results make it difficult for the branch staff to follow up accurately and lead to subsequent contracts. This led to the deployment of automation to achieve the timely return of survey results.
As a result of the deployment, a process that used to take about five hours per day, once a week, can now be completed automatically to the end in about 30 minutes, with just the push of a button.
Not only saving time, but improving the follow-up approach
"Of course we wanted to cut down on time, but since we are basically in charge of planning, we wanted to spend more time on, say, creating better content or promoting better follow-ups, rather than spending our time on operations that are already routine," says Masako Ono of Personal Planning, Sumitomo Mitsui Trust Bank.
One of the biggest benefits is that by having automation handle routine operations, we are able to spend more time on the value-added tasks that we should be focusing on.

Masako Ono, Personal Planning, Sumitomo Mitsui Trust Bank
Keiko Sone of the team adds her perspective about the use of RPA not only for this work, but also for the future. "In addition to customers who view our online seminars, we believe that providing timely and ongoing information tailored to the attributes and needs of each customer will lead to a more sophisticated customer approach. We hope that by utilizing RPA, we can create such a system."
She also expects to further analyze the information using AI and use it as a means of marketing and proposals to be sent to appropriate customers.
Raising the level of automation and connecting everything with automation
By deploying UiPath, a cumulative total of 400,000 hours have been created, which goes beyond a simple reduction in work hours and leads to improved work quality and customer satisfaction. According to Hirakata: "With RPA at the core, we would like to expand various automation tools and raise the level of automation more and more. Right now, we're kind of letting them do just some parts of the work, but we want to make sure that the robots are running automatically as much as possible and change the human role to monitor and use make good use of them."
Deployed Products
SMTB is improving value to its customers and employees by adopting the UiPath Business Automation Platform:
UiPath Studio

UiPath StudioX

UiPath Attended Robots

UiPath Unattended Robot

UiPath Orchestrator

UiPath Test Suite

UiPath Process Mining
Translated from story originally published in Japanese.