A Robotic Workforce for Faster Automation
of More Front Office or Back Office Tasks
UiPath Robots are software robots programmed to execute processes modeled with UiPath Studio and controlled by UiPath Orchestrator. They can either run unattended in a VM on a datacentre (Back Office Robots) or share the same desktop with a human agent (Front Office Robots). A robot is capable of executing any processes created with Studio but can execute only one process at a time.
Robots are 100% accurate and reduce human error. They can refer the exceptions they find to a specialized human agent for processing. UiPath software robots perform fine detailed automation regardless of the data source. They work with legacy systems, cloud and web-based applications, are fully compatible with SAP, Citrix, and Java apps, and can read and write any kind of document.
The Front Office Robots share the same workstation with an employee who has control over where and when it is used.
The Back Office Robots run unattended, in batch mode, in virtual environments. The Back Office Robots send heartbeats to the server, so that it knows instantly when a robot is down.
Choose your robot: Front Office or Back Office Robot?
Front Office Robot
Definition: The Front Office Robot (FOR) is a robot that works side by side with human agents and assists them to automatically complete the processes.
General use: in manual, repetitive, highly rule-based activities containing decision points that require human intervention (either due to pure judgement calls required or due to high complexity and volatility of process inputs).
Best fit for: Service desks, helpdesks, and call centres.
Communication with Server is bi-directional:

Robot to Server: execution logs, automated process upload.
Server to Robot: automated process version deployment only.

Features:

Release management (automatic update/rollback)
Agent assisted mode
Centralized logging, reporting, and auditing tools
FORs can be triggered only from the local machine (either from triggers generated by humans in other apps, via a scheduled task in Windows Task Scheduler, or manually).
Back Office Robot
Definition: The Back Office Robot (BOR) is a robot that works in an unattended manner, independent of any human interaction.
General use: in manual, repetitive, highly rule based back office activities not requiring any human intervention.
Best fit for: any type of back office activity prone for automation.
Communication with Server is bi-directional:

Robot to Server: execution logs, automated process upload, robot status.
Server to Robot: automated process version deployment, start or reset robots.

Features:

Release management (automatic update/rollback)
Centralized logging, reporting, auditing, and monitoring tools
Remote control
Centralized scheduling
Queue/robot workload management
Credential management
Unlike FORs, BORs can be triggered both from the local machine (either from triggers generated by humans in other apps or via a scheduled task in Windows Task Scheduler) or directly from the server.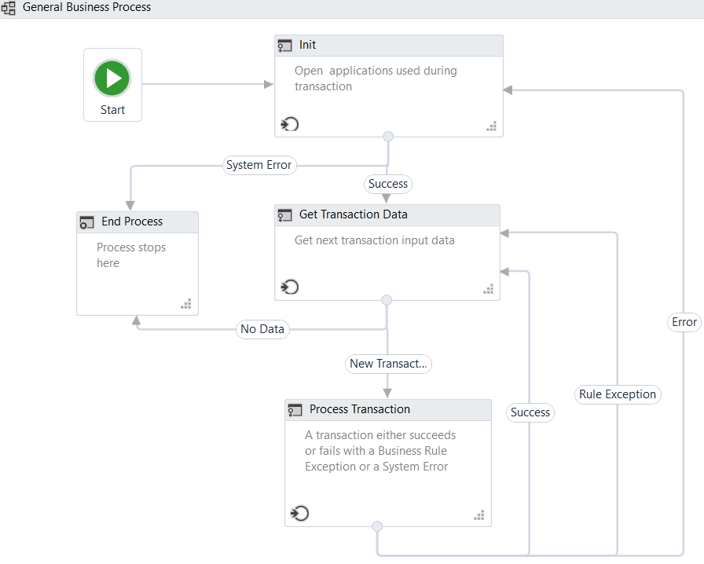 Front Office Robots Help You Achieve:
Decreased AHT
With UiPath front office automation, data entered once by the employee can be populated across other related applications. This means one act by an employee can trigger a multitude of - formerly manual, but now automated - steps, while the employee is working on other tasks. Taking a step in one application can trigger steps across several other. Creating a single view of the customer accelerates the agent's comprehension and decision-making.
Dependable Accuracy
Replacing cut-paste with automated steps not only speeds work, but it also eliminates human error. Automate faster and automate more - only possible through technology.
Operational Consistency
Despite continual training, one of the greatest challenges to improvement in end-to-end process performance is differences between individual employees. UiPath process automation, by ensuring mandated rules and steps are always followed, can error-proof workflows and minimize variations caused by varying levels of ability and performance.
Higher Morale
By building automation that self-navigates, authenticates, and self-populates data, employees not only improve the customer's experience – they free themselves of morale-killing repetitive drudgery.
Back Office Robots Are Better Used in Scenarios Where You Need:
Rapid Completion of Large Work Volumes
Back Office Robots can queue large transaction volumes. UiPath Orchestrator can then clone, schedule, and deploy hundreds (or thousands) of back office software robots to dispatch those queues with amazing speed.
Error Free Transactions
Driven by highly tested and version controlled robotic software, these hundreds (or thousands) of relentlessly efficient software robots are incapable of human error. Rules that must be followed are followed, and steps that must be executed in a precise fashion are always done so. QA teams are able to focus on more vulnerable operational processes.
Infinite (Almost) Scalability
UiPath's Back Office Robots can run in the background without causing capacity issues. Orchestrator provides a robust solution for scaling with robots that can be cloned and deployed when more are needed and de-activated when demand changes. Software robots are also quite willing to work 24 hours a day, on weekends and holidays.
Secure Central Monitoring & Analytics
Monitoring and analytics are provided. You can keep track of processes as they happen and harness actionable insights that the robots report back. The robots log everything they do on the server. UiPath uses Elastic Search to sort through all the logs collected and Kibana to build visual analytics.
What Our Customers are Saying
"I lead the Global Technology Innovation team for Capgemini Business Services and I became familiar with UiPath after their RPA product surpassed five other vendors in the selection process of our RPA programme, becoming a Capgemini automation technology of choice.
Their product's robust intuitiveness, and unsurpassed ability to seamlessly integrate with Citrix at the presentation layer, were absolutely essential to the success of the project. UiPath's refreshing spirit of collaboration was equally vital to our development of innovative RPA implementation and deployment solutions for Capgemini Business Services. Both contributions led to Capgemini and UiPath signing a three year technology partnership agreement."
Dr. Marcus Esser,
Global Lead Technology Innovation, Capgemini Business Services
"Volvo operates SAP and found that processing supplier invoices through the system required a number of manual interventions, in terms of reading, validating, registering and posting invoices. As part of the efficiency drive, it was decided to try out automation in one of the accounts payable (AP) teams which processes around 2,000 supplier invoices every day. Volvo managed to almost completely eliminate human intervention from the AP process. UiPath is a front-end automation software, which mimics human actions. It operates on top of the existing applications in a non-invasive way, which means there is no impact on the core applications used. The robot logs into the necessary systems, reads the invoice image, registers the invoice in SAP, performs all the necessary validation, including cross-checking against other systems, and ultimately decides whether to post, park or block the invoice. Having the same robot following the entire process flow and communicating with all the systems involved brings much higher automation benefits than the traditional mix of humans and partial automation."
Case Study, Robots in finance: Volvo leads the way,
Joakim Abeleen, KPMG: Strategic Visions on the Sourcing Market 2016
UiPath Robot Features:
Desktop Automation
The automation of rules based process by mimicking human actions on user interfaces of applications.
Web Automation
The automation of rules based process by mimicking human actions on browser interfaces with HTML pages.
Business App Automation
The automation of rules based processes for specific business applications, such as SAP, Oracle, Siebel, PeopleSoft, SharePoint, Dynamics.
Mainframe Automation
The automation of rules based processes for mainframe applications, by means of customized interfaces with terminal emulators such as: Attachmate, Rumba, IBM PCCOM and BlueZone.

Citrix Automation
UiPath features a powerful image recognition and computer vision engine that is optimized to find images on screen in under 100 milliseconds. The most important thing is that, despite the inherent difficulties of automating Citrix, you can still achieve great productivity, almost the same like in desktop automation.

Computer Vision Based Automation
The automation of rules based process by means of computer vision techniques to identify user interface objects. Our Computer Vision group conducts research and development of algorithms for image processing.
Screen Scraping
The automation of data extraction, with 100% accuracy, from screens of desktop and web applications. Screen scraping is a very important technique in data migration and integration scenarios and has enabled modern apps to talk with legacy apps that don't offer an API.
Data Automation
Create, filter, merge, structure and analyze data. The entire .NET capabilities are integrated in a visual, easy to use way. UiPath Robots are able to understand and operate with any Visual Basic expressions and functions.
Web Automation and Scraping
Automate web apps or extract pattern based data that spans on multiple pages.

Email Automation
Whether it is Outlook or Exchange or any other email provider, robots can receive, read or send email. This is useful for scenarios where work is assigned using emails.
Office Automation
Many scenarios include Word or Excel automation. Text or data can be pulled in or out of those applications. To facilitate working with the most common Office apps you can integrate actions that know how to read or write any kind of Office document format.

IT Automation
Automate IT management and configuration tasks by integrating PowerShell commands into workflows with simple cmdlets or more complex scripts.
Invisible Automation
UiPath's runs in the background while users pull up new screens and do other work. Automation without disturbing the user, works when the applications are hidden.
Text Based Automation
Robots can be easily trained to find relevant text and use it as anchors for their actions.
Agent Assisted Robot Mode
Robots are capable of executing business actions when certain events or agents inputs are triggered. These agent assisted robots share the same workstation with a human employee, reducing average handling time (AHT) and increasing agent productivity.

Robotic API, RESTful web service
Robots expose a REST service endpoint which you can use to control processes from external applications and remote systems. A simple API allows you to leverage Robot execution power into your own application or trigger it remotely.

Autologin Windows Session
The Robot can auto-login a Windows session and run automated processes in a completely unattended deployment.

Run Processes Under Locked Screen
The Robot can run automated processes behind a locked screen, improving data privacy.

Batch Execution Mode
Run the process in batch mode without human intervention.