The UiPath Continuous Discovery Summit brought together some of the top minds in process transformation and innovation. The goal was to explore how automation, artificial intelligence (AI), machine learning, and process discovery are changing the process transformation and innovation landscape. In this blog post, we're sharing some of the biggest insights and highlights from the virtual event.
If you weren't able to attend the summit, you can still watch all the recordings on demand.
1. Organizations are getting better at linking analysis and action
UiPath Process Mining is a technology that helps organizations do just that—create a strong link between process analysis and actionability. And İşbank, the largest private bank in Turkey, is one such organization that leveraged the power of Process Mining to great effect. It all started with robotic process automation (RPA).
İşbank used RPA as early as 2016 in their core operations, then expanded it to branches and headquarters. Now, 120 robots work on 550 processes, involving 57 million transactions. For İşbank, Process Mining was a way to evolve their automation program and use information gleaned from process data to create tangible value for the business.
When we thought about the point we reached in RPA, we realized that we now have different goals, such as higher productivity. We aimed to measure the effectiveness of our automated processes and further scale automation to the processes that would generate more business value.

Hatice Dedeler, Assistant Manager of the Enterprise Architecture Division, İşbank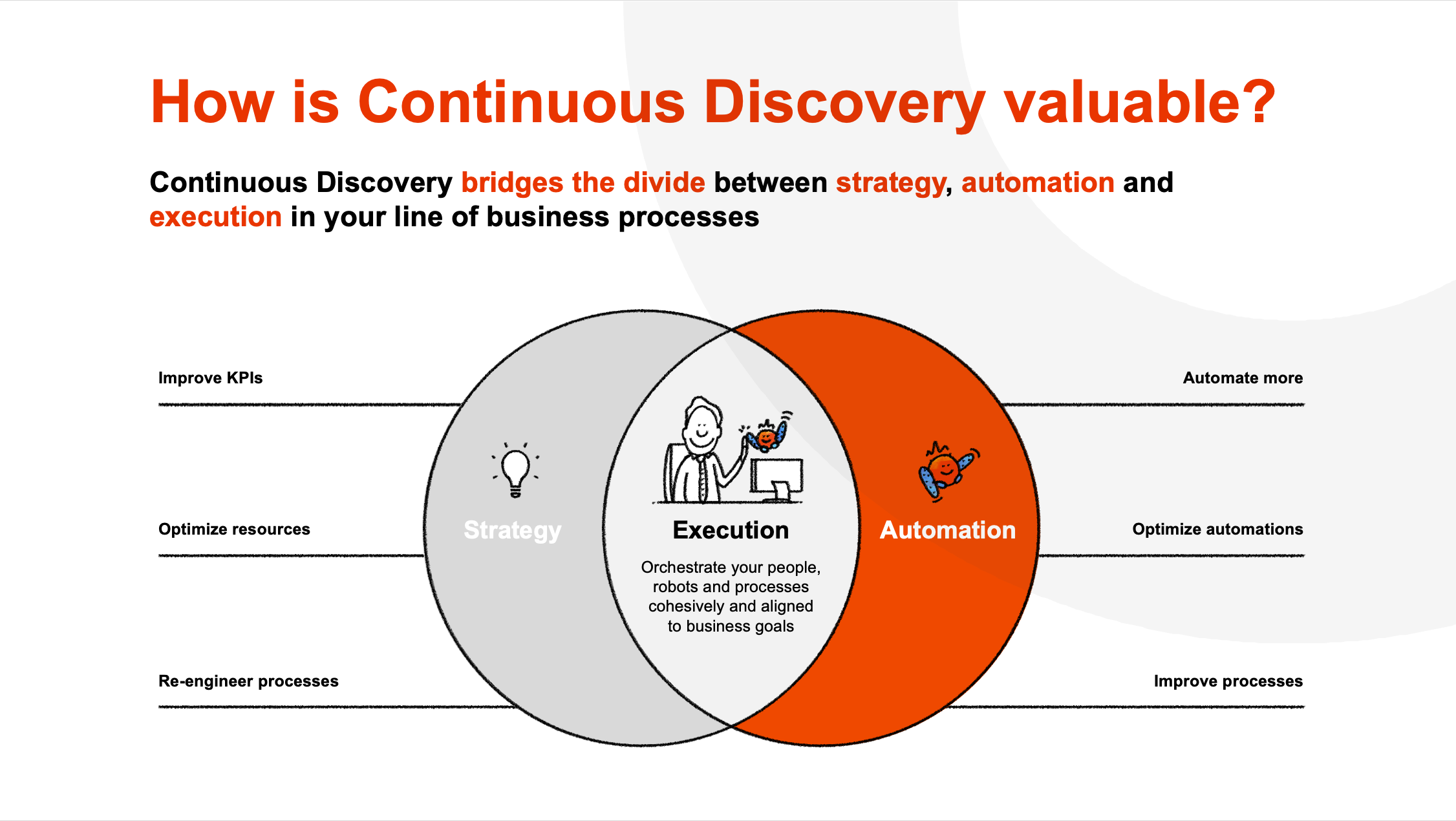 İşbank is moving fast. They've implemented Process Mining on 11 end-to-end processes in the first year, including mortgage loan applications and customer complaint processes. You can hear more about their story in the recording of their Continuous Discovery Summit session.
2. Continuous Discovery is a process, not a single step
Automotive manufacturer Stoneridge shared some great best practices. But the one that stood out was that while technologies like UiPath Task Mining can accelerate end-to-end automation project time, organizations need to practice patience regarding automation discovery.
Stoneridge advised that, when leveraging Task Mining, prepare for (and embrace) process variation. In their experience, you'll likely uncover quite a bit of process variation. Task Mining capabilities are available as part of the UiPath Business Automation Platform.
Bob Hartman, Chief Account Officer from Stoneridge, said, "Although process variation might seem to complicate the automation process, it makes automation even more impactful. As we're standardizing through the process of automation, we get more bang for our buck."
Learn how Stoneridge slashed their automation implementation time in half.
3. A healthy idea intake from multiple sources is key to scaling automation
Another key takeaway from the Continuous Discovery Summit was that organizations can achieve great scale by getting automation ideas from multiple angles and then prioritizing them effectively. Pharmaceutical giant, Takeda, achieved this with UiPath Automation Hub (via the UiPath Business Automation Platform). For Takeda, Automation Hub provided a centralized place for employees to share automation ideas, with the proper management and governance guardrails in place.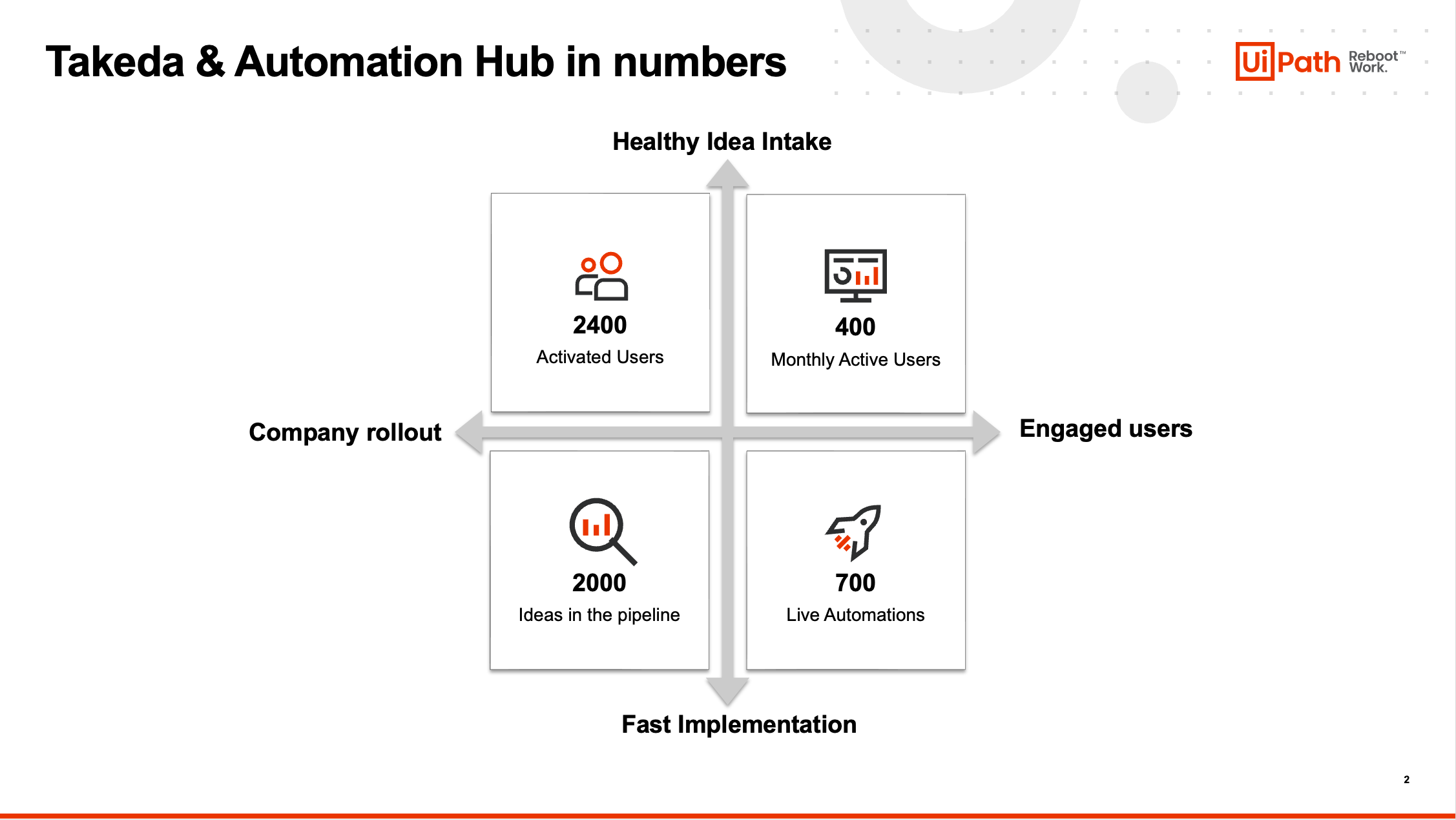 "Automation Hub played a vital role for us to scale fast and engage many people at the same time," said Sumit Shrestha, RPA Service Owner at Takeda.
As Takeda matured in their automation journey, they needed to look beyond the low-hanging fruit and go after some of the "big-ticket items," like business transformation opportunities. That's why they added Process Mining to the mix.
We've delivered eight process mining projects so far, and the results from those are phenomenal. We've built a backlog of opportunities for automation as well as identified areas where the process can be improved before even getting into automation.

Sumit Shrestha, RPA Service Owner, Takeda
Takeda credits their success to a broader approach of finding automation and process improvement ideas across the business. And, with Continuous Discovery capabilities via the UiPath Platform, they have the tools they need to turn their ideas into action.
4. Business conversations hide many new opportunities for automation and continuous improvement
UiPath Communications Mining is a relatively new member of the Continuous Discovery family of capabilities available via the UiPath Platform. But it's already making big waves across the financial services and insurance industries.
Communications Mining turns business communications like customer emails, chats, and support tickets, into structured data for analysis and automation. It helps businesses gain new insights into customer needs, business challenges, and opportunities for improvement. It also enables the end-to-end automation of some of the most common service processes, like email triage and case creation.
Marco Rodrigues, Head of Service Centre, Efficiency and Automation at specialist insurer Hiscox, was part of the summit. He explained how his team used UiPath Communications Mining to transform client experience. Hiscox was able to reduce process lead time in its broker services function by 300% and saved 91,000 hours for its highly skilled underwriters in year one alone.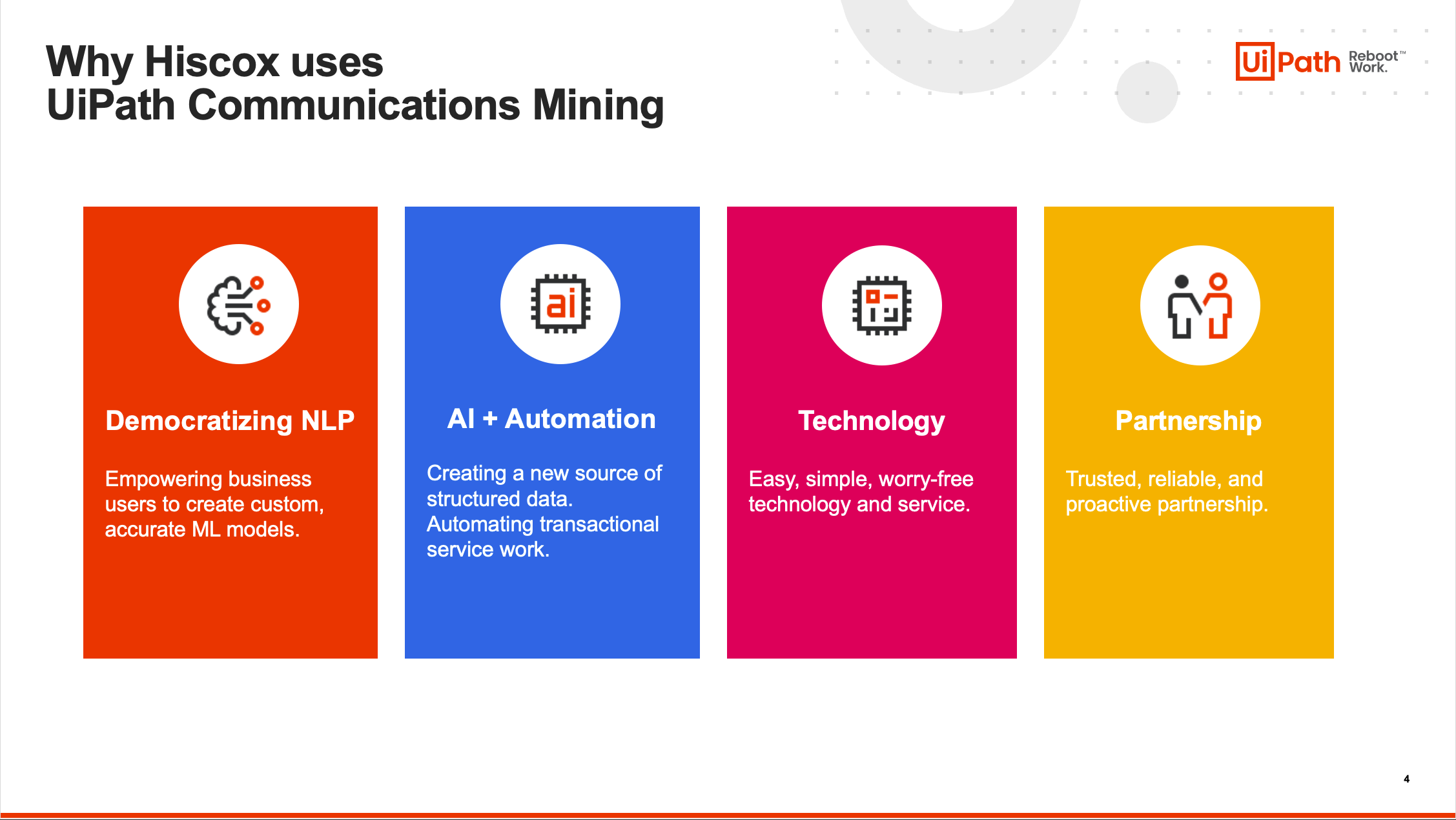 For Hiscox, UiPath Communications Mining gave the business total visibility into its client service and the data needed to automate conversational processes.
What before would have taken us one day, we find now is taking us 15 minutes. And everything is being done by the technology. The work reaches the right team member immediately, meaning we can provide an answer to our clients much faster than before.

Marco Rodrigues, Head of Service Centre, Efficiency and Automation, Hiscox
You can hear the full story by accessing the recording of Rodrigues' Continuous Discovery Summit session.
It can be tricky to know where to begin. That's why Veronica DeSalvo, UiPath Solution Engineer, explained how to choose which discovery product is best for you based on your business goals. She also shared practical tips on how to kick off your Continuous Discovery journey. You can watch all recordings from the summit at your leisure.
We'd like to thank all the speakers and attendees who made this summit a success. To all those who joined us, we hope that you learned something new and were inspired by hearing what other companies have achieved with Continuous Discovery.
This blog post was co-authored by Maria Andrukh, Product Marketing Manager at UiPath, and Aaron Crossey, Product Marketing Manager at UiPath.