In many developed countries, there will soon be more grandparents than grandchildren to take care of them.
Birth, death, and retirement trends show that populations are aging unevenly across the world. This demographic projection has a variety of names: the retirement crisis, the demographic time bomb, the silver tsunami. All point to economies that will require more workers than they have available.
More people are aging and retiring than our systems—public and private—can handle.
As the baby boomer generation retires, organizations won't have the workforce they need to keep growing. In addition, governments will have lower tax revenues to fund a growing number of people in need of public services.
The pressure of these trends will make it necessary for organizations to rethink their workforces. The solution will be for companies and governments to take a holistic view of the future of work. This vision must include leveraging automation, reskilling employees, and scaling programs quickly enough to address these trends.
The global retirement crisis is here
Japanese population trends are a canary in the coal mine for other countries.
Between lower-than-average birth rates and higher-than-average death rates, the Japanese population has been shrinking since 2010. A higher proportion of retirees to new workers and deaths to births has created just such a demographic time bomb. Existing workers are stranded in the middle, desperately trying to fill the gap.
Twenty-two percent of Japanese employees currently work 50 hours or more a week. Stress, and its seeming inescapability, has made work strenuous at best and deadly at worst. Japanese workers increasingly face karōshi, or, death by overwork.
What is happening in Japan today will be replicated in every industrial and post-industrial nation in the coming years. Other countries facing similar trends, include the United States (U.S.), Spain, and China.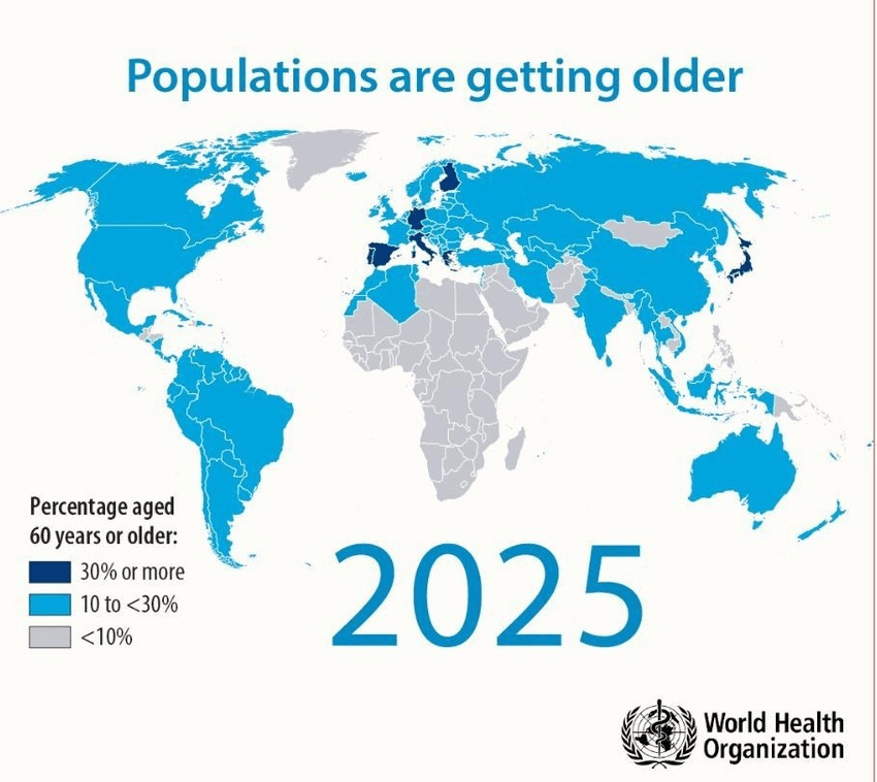 A shortage of health care workers in the U.S., for instance, is already revealing strained systems. As the population of retirees grows, healthcare organizations will need even more employees. Demand, however, is already outstripping supply.
Shifting more people to fill that demand only delays the problem. The younger workers there are caring for retirees, the fewer there will be to produce goods and services and grow the economy. The productivity gap then widens on both sides as older workers retire and younger workers tend to their needs.
We're facing, in a sense, a human shortage.
This shortage creates an opportunity, if not a necessity, for automation.
Though it might seem counterintuitive, augmenting humans with software robots is one of the best ways to address the issues around aging populations.
The silver tsunami meets the automation wave
Some worry that automation will save economies at the expense of people. The fear is that organizations will turn to robots to fill human shortages and in so doing, replace their entire workforce.
Looking through the history of technological development, however, shows that fears of replacement rarely come true. Consider an example we've come to accept as normal: ATMs.
When banks first developed ATMs, people feared bank tellers would lose their jobs. The introduction of ATMs reduced the number of times bank tellers handled deposits and withdrawals but also allowed customers to access ATMs any time, day or night.
With more customers using banking services more often, banks could reallocate human tellers to more cognitively challenging work, enabling them to customize services to each person's needs.
ATMs created more jobs than they replaced.
Current research is showing automation will likely have the same effect. A study from Deloitte showed that automation technologies helped create 3.5 million new jobs in the United Kingdom (UK) between 2001 and 2015. On average, these jobs were also higher skilled and better paid.
It turns out that the fear of automation is a symptom of a different problem: a skills shortage.
The World Economic Forum has stated that "We need to reskill more than 1 billion people by 2030." Those enormous numbers require a methodical approach to reskilling. This approach has to be two sided—focusing on both older workers and new entrants. Older workers will need the technology skills to adapt and new workers will need the technology skills to keep up.
Workers see the gap. According to Forrester research, 41% of organizations reported that their employees worry their current digital skills won't be enough to fill the needs their roles will eventually demand. At the same time, over 50% report that employees see the increasing complexity of tasks they have each day as a threat.
This might appear threatening, but it's a huge opportunity for forward-thinking organizations. Accenture research shows that $11.5 trillion of economic growth is possible if we can take advantage of intelligent technologies. All of this could be lost if reskilling can't keep up.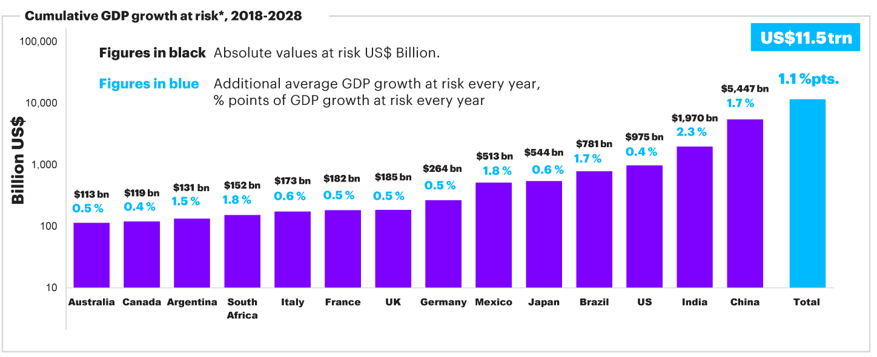 (Source)
Organizations that do keep up, however, will get the lion's share of these returns.
Just as ATMs enabled bank tellers to focus on customized financial services, rather than depositing and withdrawing money, automation enables workers to focus on more meaningful, strategic work; which in turn helps them to be more engaged and happier.
The future of work: slowly, and then all at once
As the retirement crisis looms, organizations will have to prioritize their future of work plans.
Watch the webinar: Forrester on the Impact of Automation and the Future of Work
Robotic Process Automation (RPA), which I've predicted will be the central platform for enterprise automation tools, is a leading indicator of automation uptake.
Deloitte research shows that 53% of surveyed organizations have already adopted RPA and another 19% plan to do so in the next two years.
"If adoption continues at its current level," Deloitte researchers say, "RPA will have achieved near-universal adoption within the next five years."
The RPA market, in general, is on track to be a $3.7 billion industry by 2022.
RPA faces a logistical problem, however. Uptake is wide but not deep. The same Deloitte study showed that only 3% of organizations have scaled to having more than 50 robots.
This missing scale means that there's potent power hiding just below the surface in many organizations. The retirement crisis might be one of the best incentives enterprises have to scale automation quickly.
Read more: The Successful Path to Scaling RPA
Implementing RPA creates a flywheel effect. Early deployments demonstrate potential, which encourages organizations to scale it further. Companies are investing in this potential and reaping the returns. Sixty-six percent of companies will be spending more on RPA in the next year and the research by Deloitte indicates why.
Respondents to the Deloitte survey said they expected that RPA would save labor hours equivalent to 20% of their employees' normal capacity. After scaling RPA, however, that number jumped to 52%. This isn't exclusive to productivity: Eighty-five percent said RPA outperformed expectations on accuracy, timelines, flexibility, and improved compliance.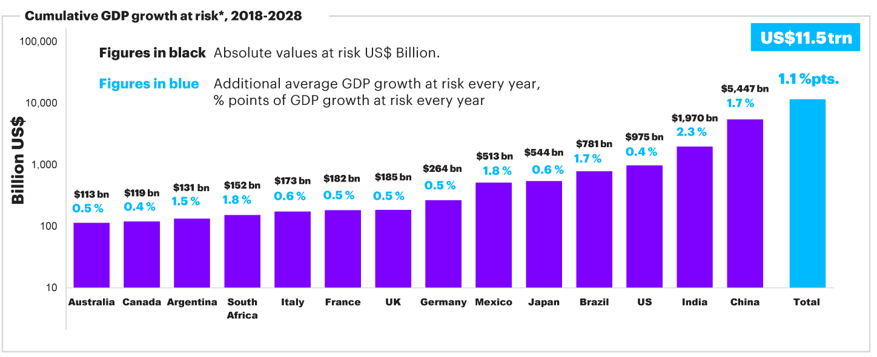 In the same survey, nearly one-fifth of respondents (17%) cited employee resistance to RPA. After implementing or scaling RPA, this dropped to 3%.
Employee resistance tends to come from inherited fears of automation. Once people actually use robots, they fall in love with them.
Leslie Willcocks, professor of technology, work, and globalization at the London School of Economics, says that "We need automation just to relieve the stress that is created in companies. Every organization we have studied reports that it is dealing with bigger workloads."
As people retire, the workloads only get bigger.
As Japan's karōshi worries show, when productivity needs outstrip the supply of human labor, mental health will suffer. Automation helps humans avoid overwork and engage in more rewarding, interesting work.
You can see why, for this reason and many others, 64% of enterprise users now report that RPA is a "strategic or enterprise-wide initiative." A year ago, only 15% said the same.
Ensuring no one is left behind
The research I've cited here indicates that once organizations adopt RPA and cross a threshold where they begin to scale and see benefits, the incentives to scale further become exponentially more powerful.
Companies that are still tentative about RPA may soon be surprised by how fast their competitors scale RPA, even in the next year.
The primary challenges to scaling RPA tend to involve change management and process discovery. The advantage to these being the main problems is that once organizations solve them, scaling can be almost limitless.
The overlapping problems of mass retirement, overwork, and productivity create an opportunity for forward-thinking business leaders. The key to both societal and business success will be developing reskilling programs that empower everyone to use software robots and find a place in the future of work.
Get your free copy of the Forrester future of work report and learn how firms are preparing for the future while still considering employee experience.