The way we live and work is being transformed through automation. Augmenting human workforces with digital workers to enhance performance and reduce costs using Robotic Process Automation (RPA) is fast becoming the norm. A Deloitte survey of more than 520 organizations found that well over 90% of respondents see significant value in intelligent automation.
Yet, while many organizations have started their journey towards the 'automation first' era, fewer have successfully scaled their intelligent automation programs.
While it's great to see the usage of intelligent automation growing, when compared to the total population, few organizations are maximizing the benefits of RPA at scale.
Why are so many organizations thriving, while others struggle to scale their intelligent automation programs? At Deloitte, we've found that there are six crucial keys to help unlock the barriers to scaling intelligent automation.
Many successful organizations are using RPA to overcome these barriers, reimagining their business processes from a holistic standpoint, and aligning the entire organization through a clear and compelling vision.
Key #1: Mindset
Automation has the power to transform entire organizations and bring exponential business benefits—but without the right mindset, companies will likely continue struggling to scale beyond a proof of concept (POC).
To unlock automation at scale, executives and leaders need to encourage an automation first mindset across the organization.
Instead of thinking about how humans or software can address business problems, those following an automation first mindset first consider the desired business outcomes. They then work backward to create a hybrid workforce that achieves those outcomes.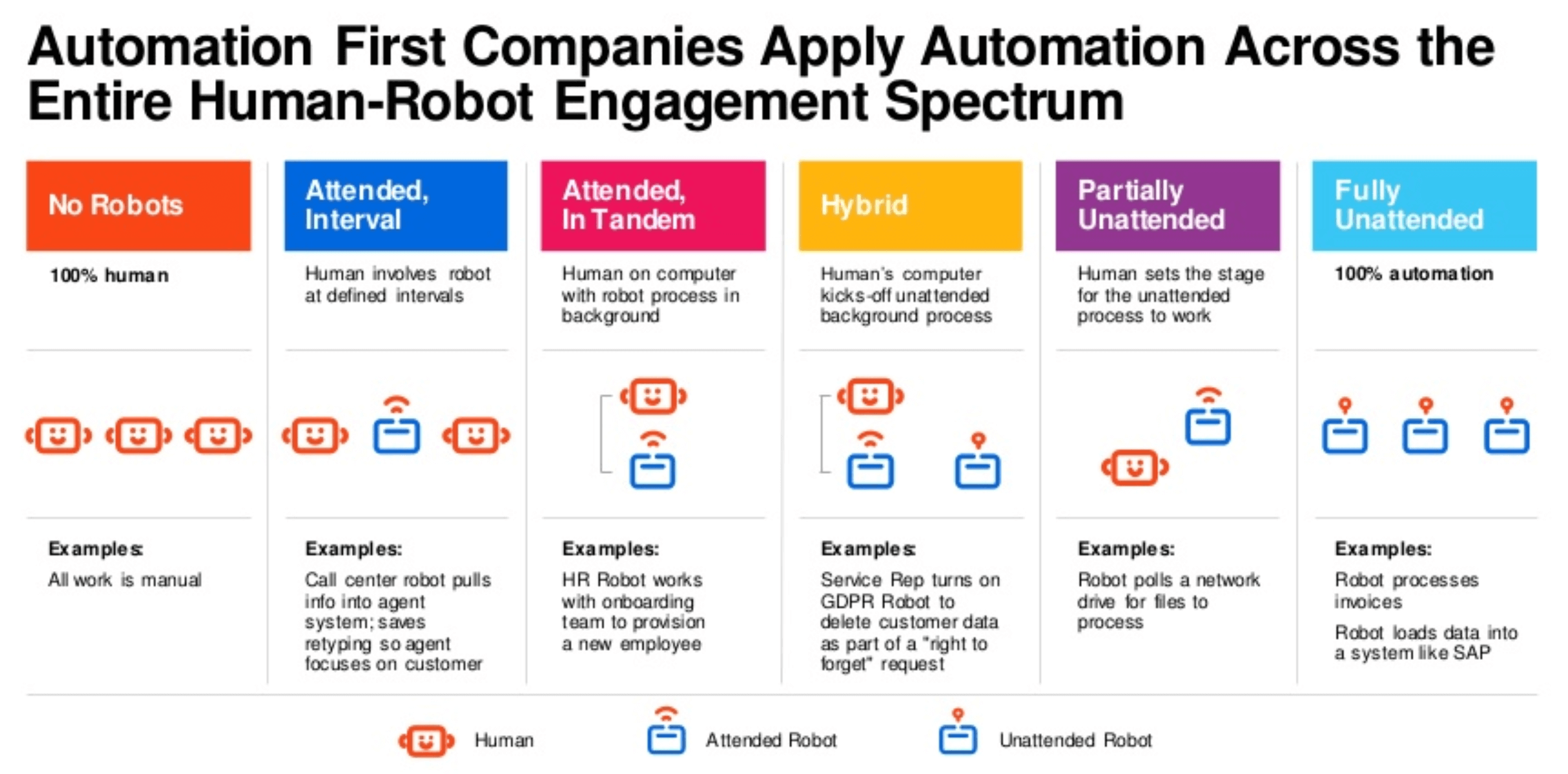 Source: Welcome to the Automation First Era: Your Guide to a Thriving Enterprise
This goal-oriented approach requires that executives and leaders fully understand what automation means for the organization, which tasks are ripe for automation, and how to harness RPA at scale.
Developing this mindset can be more difficult than it might sound on the surface. Leadership must be comfortable letting employees experiment with new technologies, explore boundaries, and take risks, even when the outcomes might be uncertain. Without executive buy-in and the right tools, it can be a struggle to automate work.
Key #2: Goals
It's important to establish a clear and agreed-upon set of goals across the organization in order to be able to scale intelligent automation. When creating clear goals, here are some examples of questions organizations ask:
What are the goals for the RPA program?

How do these program goals help the organization achieve its long-range corporate goals?

How will we measure progress and ensure we're maximizing the value of our investment?

Will these goals materially improve the business as a whole, or should we set our sights higher?
Your chosen automation goals should be sufficiently ambitious relative to your organizational size. For example, we worked with executives of a global pharmaceutical company to scale their intelligent automation program. Leadership began with an initial target of $10 million in business value from their automation program, which we quickly determined would not make a significant impact on their business.
Once the organization realigned their automation goals to an exponentially greater $500 million in value, they were able to generate significantly more internal focus on intelligent automation. The increased focus helped align the entire organization and ensured teams allocated sufficient resources to the digital transformation.
Key #3: Value
To unlock intelligent automation at scale, organizations must have consensus on how and where value will be captured from automation and how they will prioritize investments in automation.
Adoption of RPA is growing rapidly—but it's still a relatively new technology. The fast pace of innovation can make it difficult for executives and employees alike to see beyond the current set of processes.
By staying on the task level and only automating the processes that currently exist, organizations can hit a local maximum—processes become fragmented, scale becomes constrained, and value remains limited.
To truly unlock significant value from an intelligent automation program, companies should consider moving to an end-to-end view across the entire automation lifecycle.
At Deloitte, we have the privilege of working with organizations spanning every sector and domain. As these organizations become more mature in how they deliver automation, we're seeing more and more workflows being completely reimagined.
Stepping back to our pharmaceutical company example: their automation program originated within the finance group. While $10 million in business improvements might have been achievable through improvements in a single business group, boosting those automation goals to $500 million necessitated expansion of the program. The broad scale of their automation goals naturally led to the engagement of senior executives from other areas of the business, such as research and development (R&D) and operations.
Key #4: Ownership
Effectively scaling your intelligent automation program means moving beyond an employee-led approach. Organizations must establish concrete roles and responsibilities within their automation program and have clear priorities for which processes should be automated. Some important questions organizations must answer around ownership:
Who will ultimately be responsible for ensuring the program meets its goals?

Who is in charge of implementing and deploying software robots?

Who is in charge of vetting robot performance and approving widespread use?

How will we manage the support of our hybrid workforce?
For most organizations, the answers lie in establishing a robotic Center of Excellence (CoE). A CoE is a centralized unit tasked with the deployment, management, and support of software robots throughout the organization. The CoE takes inputs from relevant parties and departments, ranking tasks by their volume and time consumed—costly tasks performed frequently will offer the largest ROI once automated.
The core team at the center of your CoE should include an RPA sponsor to underwrite resources and RPA champions to drive adoption, along with business analysts, solution architects, infrastructure engineers, developers, and support staff.
Establishing clear roles and responsibilities of your CoE is key to scaling robot deployment without sacrificing quality and efficiency.
Key #5: Readiness
With automation technologies shifting so quickly, the talent gap becomes a real issue.
Many organizations lack the required foundations—the people, teams, processes, and technical capabilities—to support automation at scale. Closing this talent gap internally may require a significant investment, slowing adoption and increasing the time before companies see a return on their investment.
Many of our clients are shifting towards an 'as a service' model to counteract the talent gap and rapidly scale their automation programs. Automation as a service helps organizations to unlock business value quickly, while simultaneously bringing internal skillsets up over time.
Key #6: Momentum
Scaling an automation program takes significant momentum. A lot of organizations begin their RPA journey with a POC or pilot program. This approach is great for testing new technologies, but a piecemeal approach doesn't lend itself well to scale.
Unless you treat your automation program like the transformation it is, you may find yourself struggling to scale beyond the pilot stage, unable to unlock the true value of intelligent automation.
Creating this momentum requires a combination of the keys we've discussed in this post:
Having the right mindset across the organization

Creating ambitious goals

Properly resourcing your CoE

Leveraging the right tools to make rapid progress
If you don't have the momentum, don't try to force it. If your program isn't working, don't be afraid to pause, establish a strong foundation for automation, and relaunch.
At Deloitte, we've seen multiple clients pause and relaunch automation programs successfully. Once they relaunched, they were able to deliver the true benefits of automation at scale much more quickly.
Scaling automation is achievable
To drive intelligent automation beyond the pilot stage and unlock the true value of RPA, you must look across the enterprise. Scaling automation takes work: business processes must adapt, organizations must grow their capabilities, and teams must leverage smart automation solutions.
Did you miss your chance to hear industry leaders talk about how enterprises are scaling automation and rebooting work at the FORWARD III event? You can check out the sessions you missed in the free FORWARD III event pack and learn from the best in the business.
As used in this document, "Deloitte" means Deloitte Consulting LLP, a subsidiary of Deloitte LLP. Please see www.deloitte.com/us/about for a detailed description of our legal structure. Certain services may not be available to attest clients under the rules and regulations of public accounting.