UiPath wrapped up an exciting first day at the 2019 SAPPHIRE NOW and ASUG Annual Conference!
If you don't have time to read through this post, Peter Villeroy, our  Director of Global SAP Practice, shares a quick recap in this video: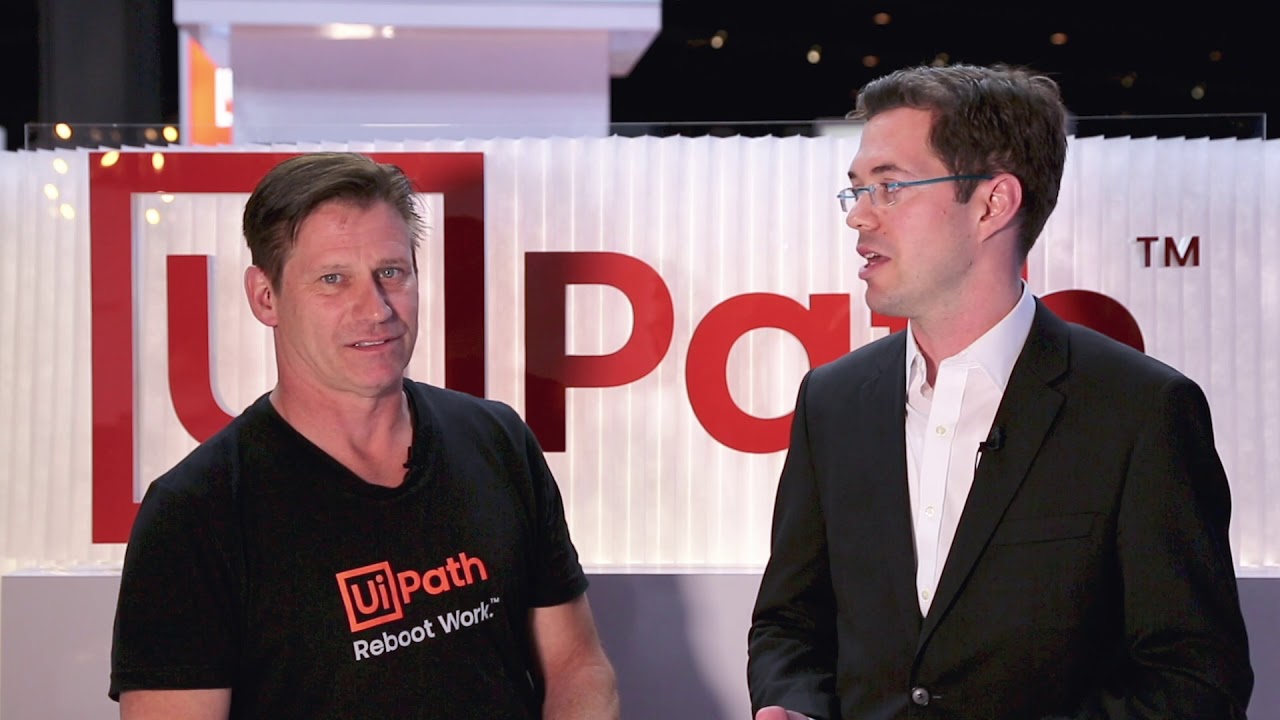 The keynote talk "Winning in the Experience Economy" kicked off the three-day annual SAP event. SAP CEO Bill McDermott set the tone for the event by explaining how customer and employee experiences relate to the economy:
"Experience is now the organizing principle of the global economy. The difference between what people expect and what they actually experience is the experience gap. These inputs should be guiding the operational systems of your company."
Qualtrics CEO Ryan Smith joined McDermott onstage and elaborated that experience has become a growth engine for businesses. Smith highlighted the need for businesses to consider both operational data (O-data) and "experience data" (X-data) when making any business decision.
A focus on improving both the employee and customer experiences is also an important part of the 'automation first' mindset, which Param Kahlon, Chief Product Officer at UiPath, discussed in his presentation "Robotic Process Automation: The New Enterprise Superpower."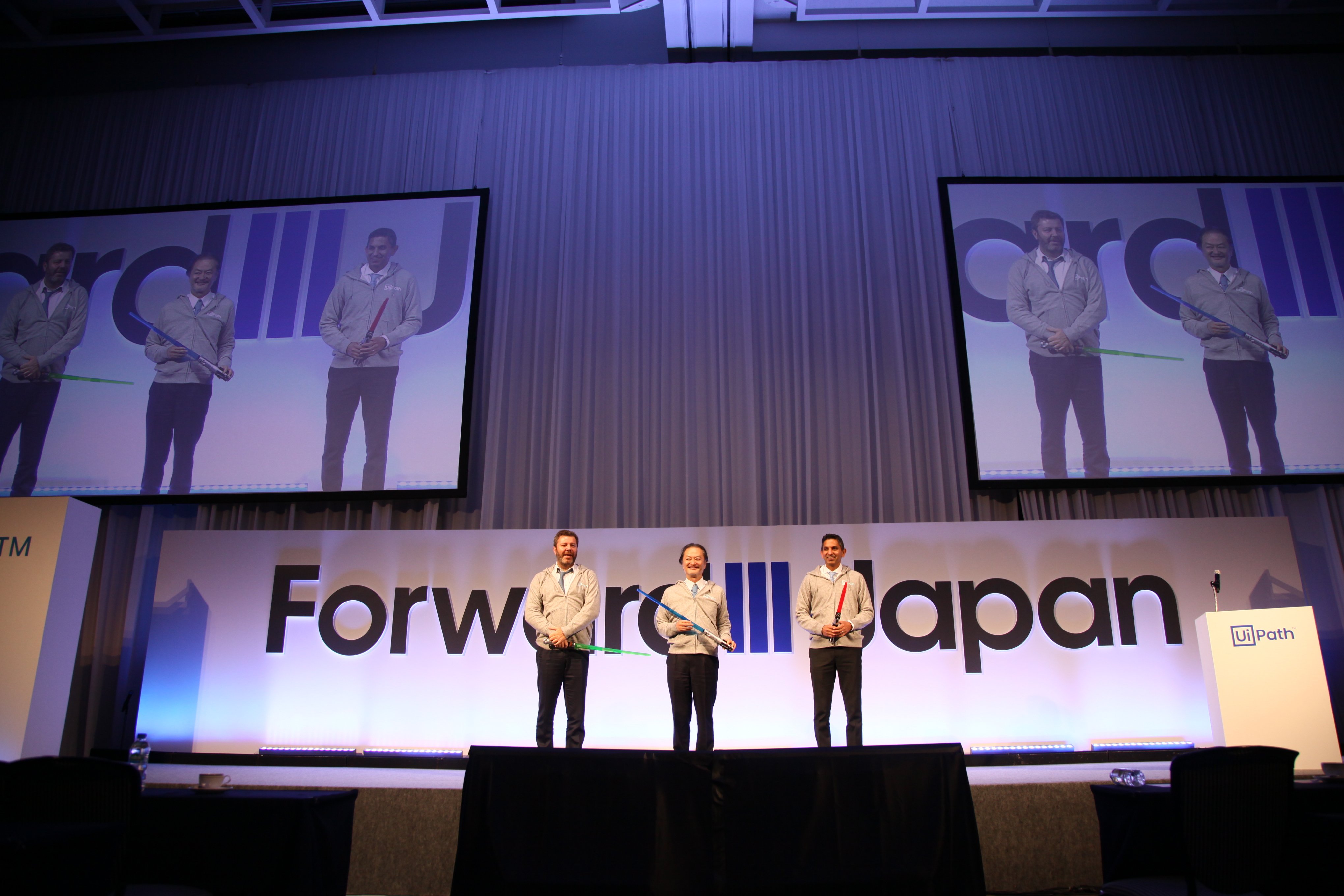 Param spoke to a standing-room-only crowd, explaining how UiPath delivers the ability to accelerate an organization's digital transformation with an interface that doesn't require any programming experience.
He described how robotic process automation (RPA) provides the intelligent enterprise with more returns from their SAP investment and gave examples of ways SAP customers can use the UiPath Enterprise RPA Platform to automate business processes.
To illustrate how automation can be used to improve the customer experience, Param gave a demonstration of UiPath, SAP, and a chatbot being used together.
The demonstration involved a customer engaging with a Facebook chatbot to inquire about the status of their order. A UiPath Robot did everything from escalating the order to sourcing the parts from an alternate supplier and updating the new order ship date. The chatbot then informs the customer of the updated status. The entire process is quick and seamless for the customer.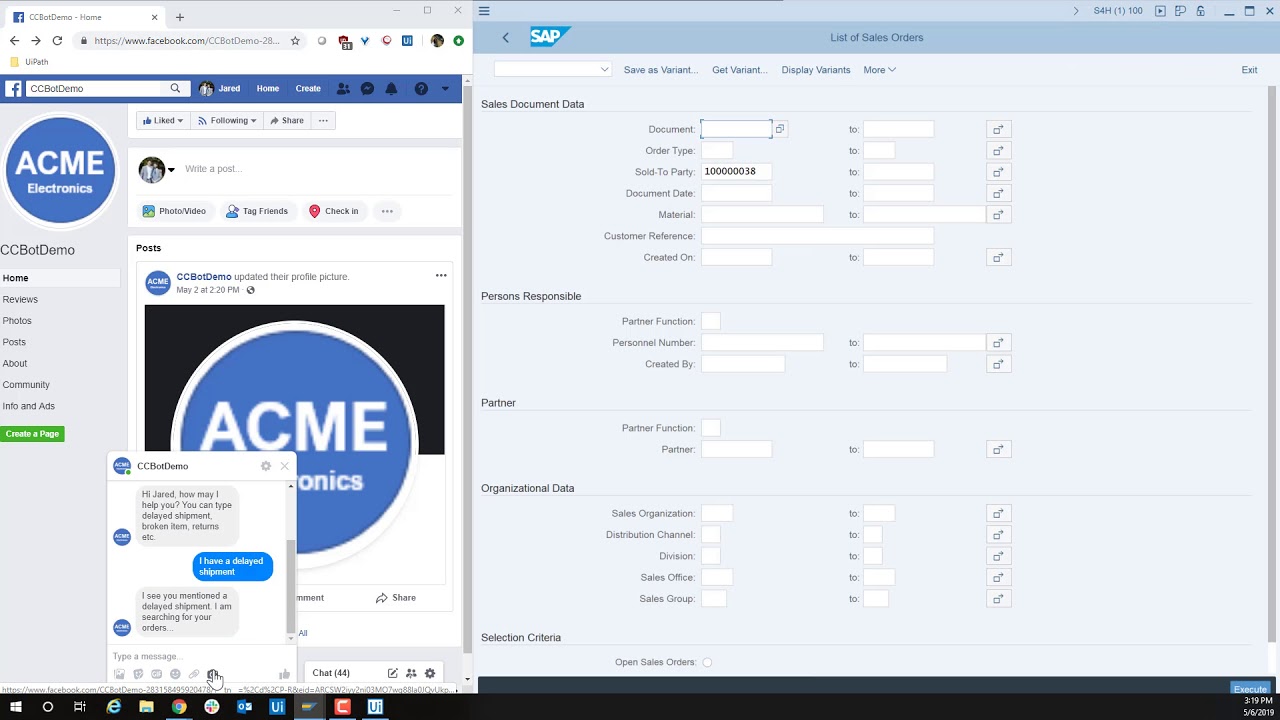 Back at the UiPath booth (#943), booth visitors were able to see just how quickly a UiPath Robot can be built when our CMO Bobby Patrick and pre-sales engineer Nadia Malik went head-to-head in a Robot challenge. The two raced against each other to build a UiPath Robot and the winner was the first to have their Robot successfully create a LinkedIn post with hashtags generated by a Microsoft text analysis service, linking to a UiPath blog article on an SAP topic. Malik was today's winner with a time just over 4 minutes and she'll defend her title in another Robot race on day two of the conference.
Satya Pathangi and Ann Delmedico, from UiPath Global Business Partner Cognizant, also gave a presentation on intelligent automation at our booth.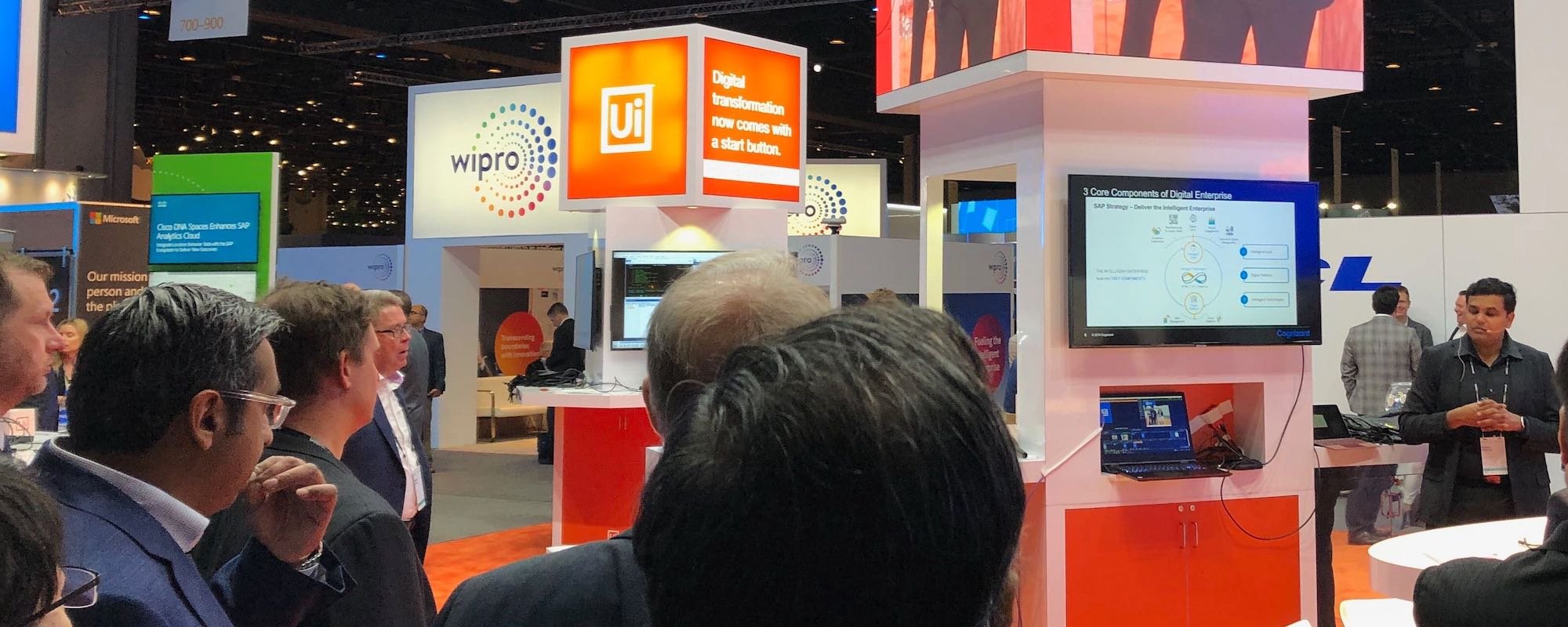 Later in the afternoon, Peter Villeroy joined Bill Hale, Digital Automation Leader at Ernst & Young, for their presentation "Accelerate Your SAP S/4HANA Migration with UiPath RPA and EY."
Hale walked (another) standing-room-only crowd through the benefits of using RPA when migrating to SAP S/4HANA. Together, Hale and Villeroy explained one example from the overall migration where applying advanced RPA capabilities can have a significant impact on the time and cost requirements of the project.
60% - 80% of what you're doing in SAP ECC 6.0 we can migrate to SAP S/4HANA with automation
"Using UiPath for the S/4HANA migration allows you to decrease costs, move to adoption and value faster, spend more on people enablement, spend less on technical enablement, and scale more efficiently with Robots."
We understand your business remains your business after you've migrated to S/4HANA and, ultimately, what you really want to gain from the validation phase is confidence that processes which worked before the migration will work the same after the migration.
With that in mind, Villeroy explained the action steps for using UiPath to expedite your SAP S/4HANA migration validation phase, including that a lot of effort can be minimized by using UiPath Robots and reusable components. If you missed our presentation, you can learn more from Villeroy's blog post Accelerate Your SAP S/4HANA Migration with RPA.
As an added bonus, after you've successfully migrated to S/4HANA, your Robots not only know how to validate your business but also how to run your business processes moving forward.
Thank you to all who came over to the booth to learn more about UiPath, cheer on the Robot race, and those who attended our presentations.
Come by booth #943 today to see the Robot race or build your own SAP Robot in just 20 minutes. We also look forward to seeing you at our next presentations:
Wednesday, May 8th, 11:00 AM
Using Robotic Process Automation to Transform Your Finance Department
Ashim Gupta, Chief Customer Success Officer, UiPath
Wednesday, May 8th, 3:00 PM
How to Improve Customer/Employee Experience Across the Enterprise with RPA
David Marcus, Product and Technology Alliance Management VP, UiPath
Tanja Breitling-Zboril, Global SAP Product Alliance, UiPath
We also invite you to join the following UiPath Business Partners at booth #943 today for their presentations and demos:
11:00 AM - 1:00 PM
IBM and UiPath: S4 Hana Migration Automation
1:00 PM - 2:00 PM
Celonis: Process Mining
1:15 PM - 1:45 PM
Ernst & Young and UiPath: S4/Hana Migration Validation
2:00 PM - 4:00 PM
Cognizant: SAP Automation Invoice Processing and SAP Inter-company Reconciliation
**Update** Read highlights from day two of UiPath at SAPPHIRE NOW 2019.