Epic. Excellent. Great. Fantastic. Exciting. Inspiring. Those are just a few of the descriptions I heard participants use to describe their experience at FORWARD III this week in Las Vegas, Nevada. I admit I'm biased, but I agree.
In his FORWARD III presentation, Forrester Vice President and Principal Analyst Craig LeClair said FORWARD has become "the primary conference in the industry."
A big "thank you" to all who attended FORWARD III – you make UiPath what we are and you were key to FORWARD III being the incredible event that it was. For those who weren't able to join us in Las Vegas, but attended via our Live Stream, you're included in that "thank you."
We packed a lot of information into two days (or three days for partners who attended Partner FORWARD), starting the event with customers and ending with a celebration of our Community members. With the event fresh in my mind, I wanted to use this blog post to recap what I see as the key takeaways from FORWARD III.
We're listening and innovating to support our customers' needs
We built a product just by listening to you.

Daniel Dines, CEO, UiPath
UiPath CEO Daniel Dines, CMO Bobby Patrick, and many other UiPath presenters were clear in their messages: We have always been, and remain a customer-centric company.
The first day of FORWARD III, Chief Product Officer Param Kahlon shared a multitude of new capabilities added with our 2019 Long Term Support (LTS) release.
Previously, the UiPath Enterprise RPA Platform addressed the build, manage, and run stages of the automation lifecycle:

This latest release brings the UiPath product together in a singular, end-to-end automation solution covering all stages of the automation lifecycle: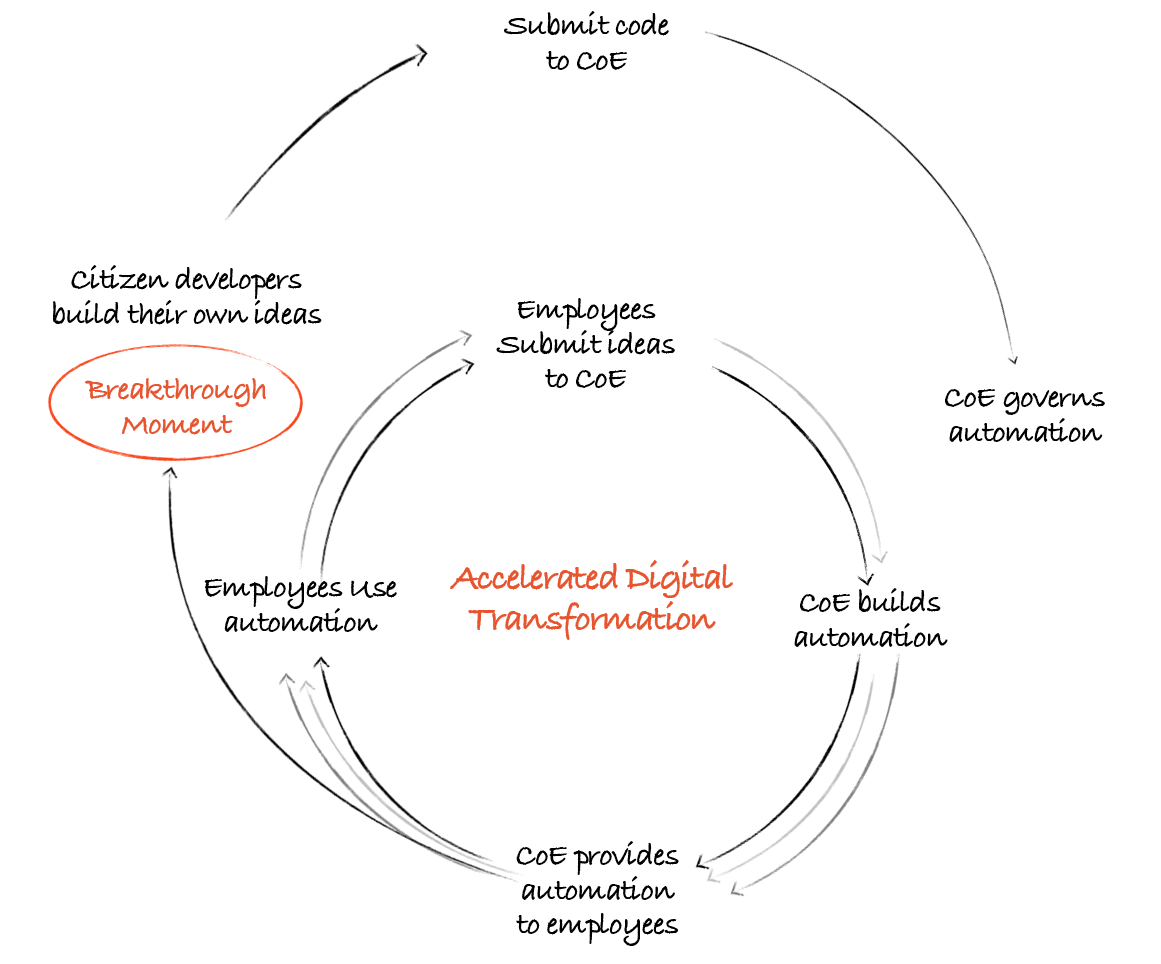 The release also extends RPA across the enterprise, making automation available to everyone from RPA developers to quality testers and business users.
Editor's note: Some of the product names in this article have evolved since the article was originally published. For up-to-date information, visit the UiPath Platform page.
With the new UiPath Apps family of products, human-robot interactions have been brought directly to the end user. In the 'automation first' era, automation is the application.
As Kahlon walked audience members through each stage of the automation lifecycle and the product portfolio associated with each, he was joined on stage by customers providing real-life automation examples and product team members who showed each capability in action.
When speaking to process understanding and artificial intelligence (AI), Kahlon also shared news of two key UiPath acquisitions: StepShot and ProcessGold. Together, the capabilities these acquisitions add enable customers to have a holistic view of their processes at both 'macro' and 'micro' levels.
With AI Skills, AI Fabric, and the ability to handle long-running workflows, RPA can now handle more complex processes than it ever could before.
The momentum of RPA is increasing quickly
Earlier this year, with the first-ever Gartner Magic Quadrant for Robotic Process Automation (RPA) Software, it was clear that RPA as an industry was at a tipping point. UiPath is one of the fastest growing enterprise software companies in the world and our partner ecosystem expands daily. If those things don't convince you that RPA is now mainstream, think about this:
RPA is expected to be a $16.2 billion market by 2023.
At this point, automation isn't just transforming businesses, it's changing the way business is done.
I thought it was particularly interesting to hear FORWARD III presenters' discussions moving beyond technology when discussing the impact of automation.
In the panel session "How the World's Most Disruptive Companies Are Adopting the Automation First Mindset," Amazon Assistant Treasurer Jonathan Finch discussed the $700 million commitment the company has made to upskill employees. 
Nonprofits are also using automation to impact lives. Members from the United Nations International Computing Centre (UNICC) and the nonprofit The New York Foundling joined Dines on stage to share how they're also using automation to save lives.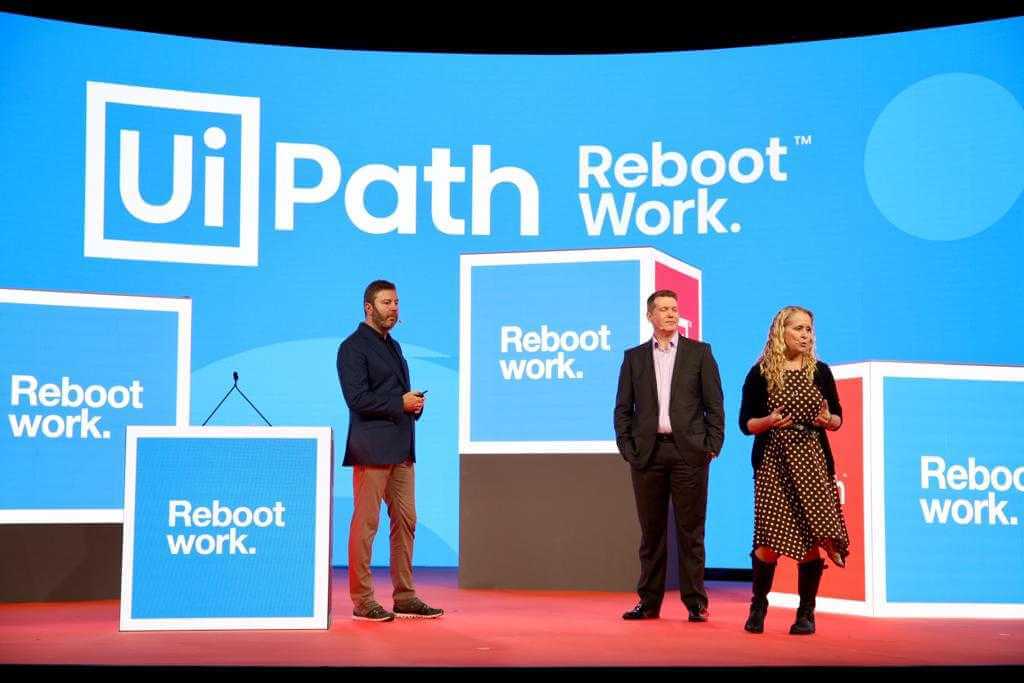 (left to right) UiPath CEO Daniel Dines; The New York Foundling CIO Arik Hill; and Senior Vice President, Evidence Based Community of Programs Dr. Sylvia Rowlands 
The New York Foundling is using UiPath robots to give clinicians back 16 hours each month – those are 16 hours clinicians can use to spend more time providing services instead of cutting and pasting data. The UNICC is using software robots to counter shrinking budgets and provide support for growing numbers of refugees.
These are stories of automation having an impact on humanity, explained Dines in his keynote speech.
You can get FORWARD III presentations, videos, guides, and more, straight to your inbox when you sign up to receive the FORWARD III event pack.
It's all about scaling
Scaling automation was a prominent theme throughout not only the FORWARD presentations but also questions asked by participants.
"FORWARD III is all about scaling. We have more than four dozen scaling stories being presented," said Bobby Patrick, chief marketing officer (CMO) at UiPath, when kicking off day one of the event.
(left) PwC FS Digital Workforce Strategy Leader Julia Lamm and (right) PwC FS Intelligent Automation Leader Kevin Kroen
PwC's Julia Lamm and Kevin Kroen took the stage to share the PwC vision of a "Robot for Every Person" (which was also the title of their FORWARD III presentation). The RPA pilot program in the United States (U.S.) was so successful the company is rolling out the program around the world. They also piloted a "digital accelerator" program that focuses on empowering citizen developers. In the first year, 1,000 employees went through the program and the turnover within that group is less than 1%.
Where PwC has a vision of a robot for every employee, the College of William & Mary is implementing on their vision of a robot for every student.
When we were looking for ways to make sure our students would be career ready, we found UiPath. It was obvious that the path forward should be a bot for every student.

Kurt Carlson, associate dean, College of William & Mary
The University of Auckland described to the audience how they initially selected UiPath to try RPA as a cost-saving initiative, but they've expanded RPA to a full-fledged educational course.
Read the full story: RPA Becomes a Driver Toward a Positive Future for University of Auckland Staff and Students
Stay tuned, we'll continue adding to the customer success stories section of our website so you can read full stories from customers who presented at FORWARD III.
When humans enjoy work, both employers and employees win
The truth is that automation is going to help employees be effective in what they do. People are most productive and happy when they equip themselves with the tools to take their work into their own hands. It's in the hands of every manager in every company to help make the bold vision of an engaged workforce a reality and exploit RPA's full potential.

Guy Kirkwood, chief evangelist, UiPath
Rebooting work was the theme of this year's FORWARD III event. To reboot work means to stop working in the same repetitive, tedious, old way of doing things that have been the norm for so long and start working faster, better, and more effectively.
David Eagleman, neuroscientist and New York Times best-selling author, shared fascinating information about the importance of moving beyond our automatic behavior to cultivate "cognitive flexibility" (what we non-neuroscientists call creativity) in his keynote "The Creative Company: How to Embrace Innovation and Lean into the Future."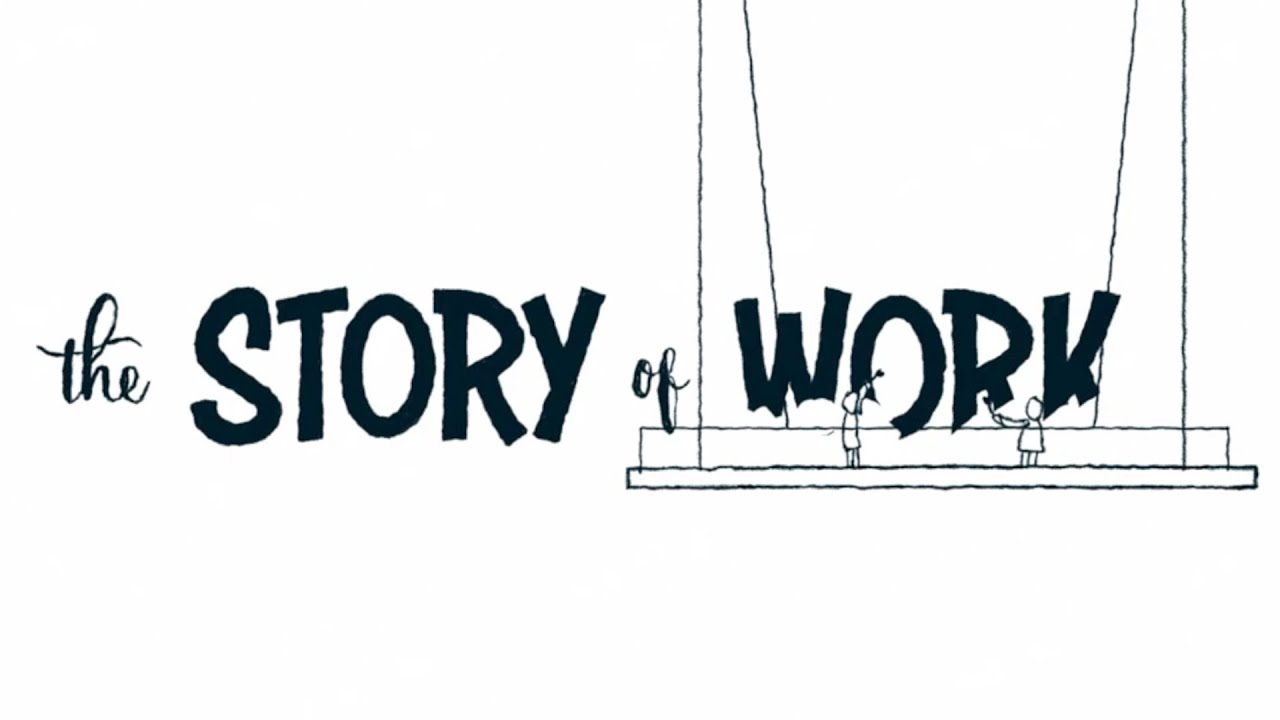 At UiPath, we see RPA robots as being the key to that important shift. While people often speak to automation affecting the future of work, UiPath customers presenting at FORWARD III made it clear rebooting work is happening now in industry-leading companies around the world.
People do fundamentally want to change the way they work.

Julia Lamm, FS Digital Workforce Strategy Leader, PwC
Thank you
The energy was truly amazing throughout the event. The "thank you" I started with bears repeating here.
Thank you to all our speakers and participants. Thank you to all UiPath employees who worked to create the event that our Community made such a success.