According to McKinsey research, 97% of large United States (U.S.) hospitals are facing a nursing shortage. And it's not a new problem. The World Health Organization (WHO) reported a shortage of seven million nurses in 2016, and the organization predicts the shortage will expand to 18 million by 2030.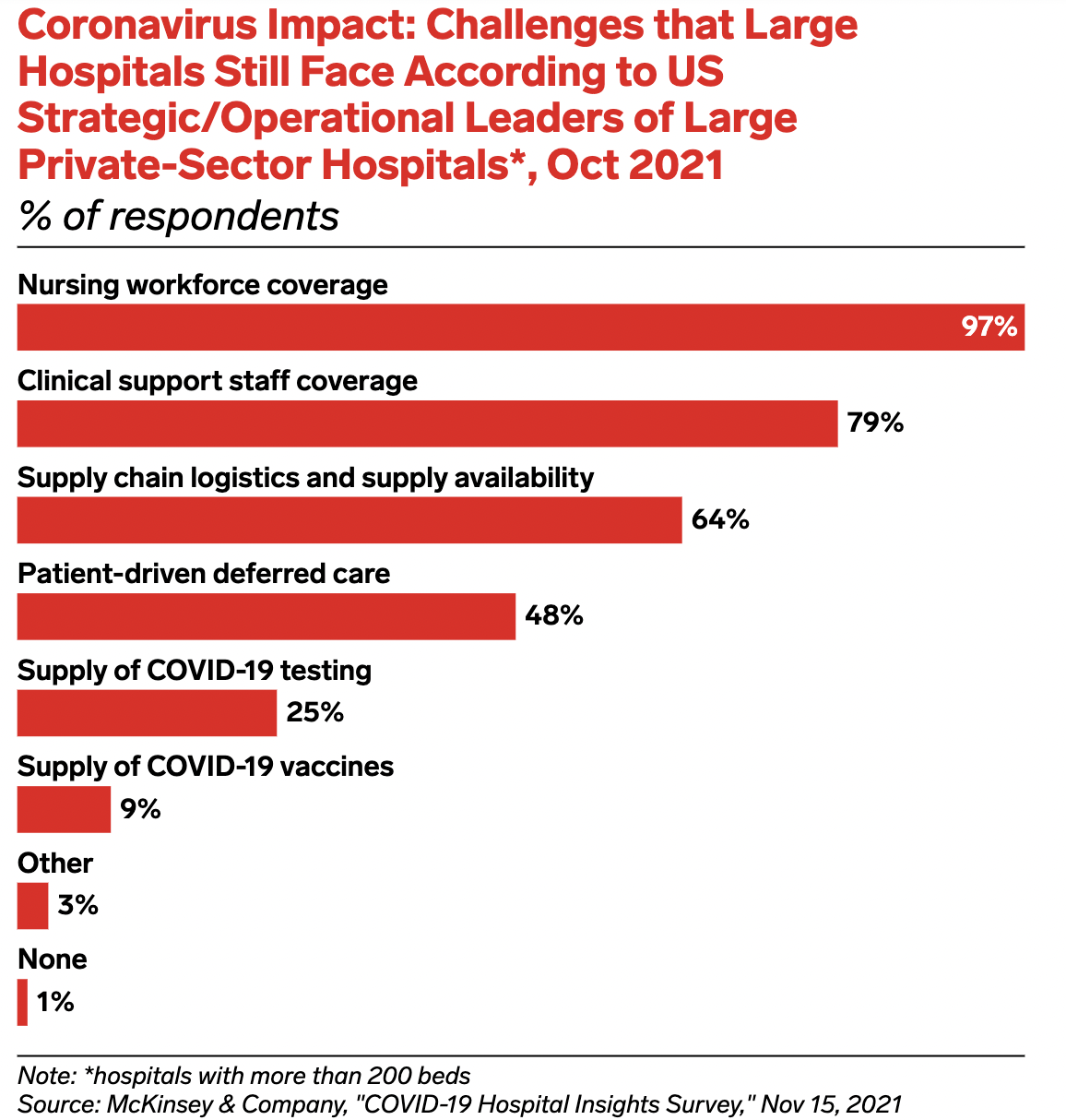 One obvious driver of this growing crisis is the pandemic. Increased demand for care, as well as high stress working environments and extreme burnout have led many nurses and providers to walk away from the field. A March 2022 American Health Association (AHA) letter written to members of the U.S. Congress stated, "To date, there have been approximately 4.5 million total reported COVID-19 hospital admissions, with 49% of those admissions occurring since July 1, 2021 during the Delta and Omicron surges."
The workforce is further dwindling, because the nursing population is aging with too few new professionals entering the field. And it's not just nurses focused on patient care. Retiring nurse educators are leaving gaps in the faculties of nursing programs.
Hiring, supporting, and retaining nurses is a major focus
The AHA's letter also describes the ways AHA member healthcare organizations are attempting to support nurses. Efforts include tuition reimbursement, assistance with student loan repayment, additional income, childcare, transportation, and programs to improve mental health and wellness. The letter highlights Geisinger Health System as an example: "In Pennsylvania, Geisinger provides $40,000 in financial support each year for employees who want to pursue a nursing career and make a five-year work commitment as an inpatient nurse."
All these efforts will help to weave a vital support system, ensuring nurses can rebound from the extreme challenges their profession has faced in recent years.
With employment packages that include higher incomes, as well as benefits like mental health programs, support for families, and loan repayment, nurses should be able to thrive, right?
Yet, 34% plan to leave by the end of 2022
Creating better benefits and incentives for nurses is a no-brainer. And yet . . . it's still not enough. The day-to-day reality of nursing isn't changing at most organizations. Nurses are still faced with a pandemic that ebbs and flows with new strains of COVID-19 and spikes in infections.
According to a recent report by staffing agency Incredible Health:
34% of nurses plan to leave their jobs by the end of 2022

44% say burnout and high stress are the causes

32% are planning to leave the field or retire
Nurses work long hours, performing difficult work that's both physically and mentally exhausting. And before, after, and in between seeing patients, they're expected to carry out time-intensive administrative tasks.
Hours spent entering information into computer systems cannot be spent taking a lunch break, calling home to talk to a child or partner, or going to a medical appointment of their own. For these care providers, self-care goes by the wayside. And no amount of funding, income, or tuition assistance will help if their daily work processes stay the same.
The missing thread: empathetic clinical automation
Remember Geisinger, mentioned above? While they've created a program to encourage staff to enter the nursing profession, they've also turned a lens on their internal processes across departments, such as employee health, pharmacy, contact center, and facilities and administration.
Automating outreach for COVID, flu, and RSV test results frees up our invaluable nursing staff to focus on critical patient care.

Emily LaFeir, Senior Director of Innovation Operations, for Steele Institute for Health Innovation at Geisinger
Resilience for nurses means crafting a better support system—one that removes friction from daily work processes while also providing the benefits highlighted by the AHA.
According to research carried out through a partnership between Guidehouse and UiPath, "empathetic clinical automation" is the new paradigm for workforce resilience. But what does this mean in the real world? Consider the following use cases.
Accelerating pre-admission nursing interviews
Creating a surgical chart is a confusing, manual, time-consuming process. Anesthetists and surgeons have differing requirements and multiple forms must be filled out by nursing staff for the patient to qualify for a procedure. This leads to confusion and overload. Nurses are also required to contact patients, compile the surgical chart, and identify any needed anesthesia interactions prior to surgery. Finally, repetitive telephone calls to patients can lead to extended conversations for routine information.
An automation platform can take the burden off nurses by:
Integrating into the electronic health record (EHR), lab, and health information system (HIM) systems to compile past medical history

Verifying current medications and doses with patients via text message and entering the information into the EHR

Reconciling information from the patient's medical history to the current planned procedure and providing an opt-in for a live call with a nurse
Easing communication between nurses and patients
Providing care instructions to multiple patients during their rounds is a daily challenge for nurses. Patients can be easily overwhelmed by the information, and caregivers often miss important instructions. The need to repeat this essential task can lead to delays in delivering instructions to other patients, resulting in gaps in patient education, information, and poor adherence to care.
An automation platform can take the burden off nurses by:
Automatically communicating discharge instructions to patient and family members when the discharge order is signed

Delivering the information to the patient's mobile device in their preferred language for easy reference

Simultaneously sharing instructions with the patient and their caregiver
True resilience requires layers of support
Workforce resilience requires an environment that fosters personal resilience—the ability to bounce back from emotionally and physically draining work—and sees the value in continuing to show up as a caregiver. Improving the factors that incentivize nurses to take jobs is just one layer of support.
Yes, programs that offer emotional support and counseling are imperative. But if healthcare systems don't change the way nurses are required to work, they're missing another vital layer.
Automating manual, time-consuming administrative and clinical processes allows nurses to focus on patient care and find the breathing room they need to care for themselves.
Is your healthcare organization taking a comprehensive approach to nursing workforce resilience? Learn more about how automation can support nurses in our on-demand webinar.