Param Kahlon is chief product officer at UiPath.
Last month, we announced the 2019 release (long term support) of the UiPath Enterprise RPA Platform, designed to support you through the entire automation lifecycle. The goal is to help you implement and scale automation across your organization, so you see ROI faster. 
This month, we have released our first preview on the road to the 2020 Fast Track release in April . The build version is 19.11 for Community Preview.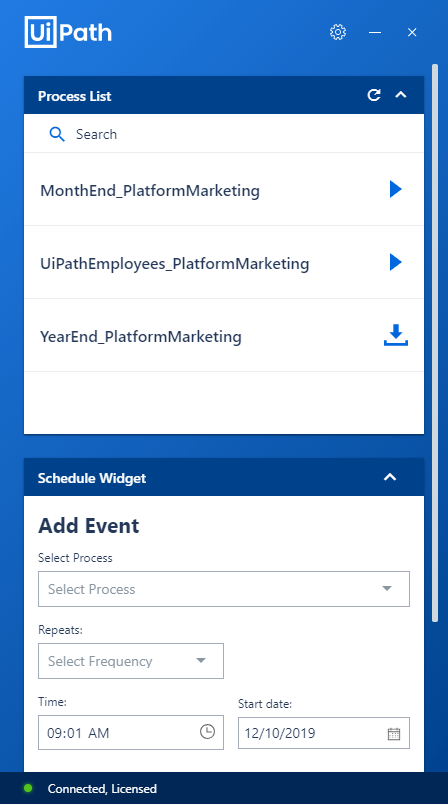 It includes the Agent Desktop with an enhanced user interface for attended automation.
This capability is built to deliver on a frequent customer request for more control, transparency, and flexibility in robot and human interactions.
This version of the Agent Desktop includes the ability to schedule attended processes. At the requested time the user will be reminded that a process was scheduled to start and the user will be able to grant permission for it to run.
In the upcoming months, we will deliver exciting updates in the Agent Desktop with features such as extensibility, an array of personalization options, and more.
We have also delivered new capabilities in partnership with some of our technology alliance partners. These can be used in your automations today with the 2019 release. Included in the new features is a new activity package that enables easy automation of numerous tasks in Microsoft Teams.
Microsoft Teams
UiPath is strongly committed to our partnership with Microsoft. Together, our goal is to help enterprises across the globe rapidly accelerate digital transformation with powerful cloud infrastructure, artificial intelligence (AI), and Robotic Process Automation (RPA).
To date, we have built integrations between UiPath Enterprise RPA Platform and Microsoft Cloud, including a robust integration with Microsoft Office 365. UiPath robots can easily collaborate on spreadsheets in Excel, access files in Word, and act on emails in Outlook.
This month, we are excited to announce an additional integration with Microsoft Teams, a Microsoft Office 365 application that helps companies across the globe communicate and collaborate effectively.
A new UiPath Activity Pack for Microsoft Teams makes it easy for companies to automate tasks in and around Microsoft Teams, including managing Channels, sending and receiving Messages, and interacting with Chats.
Why does this matter to you?
• Your employees can now automate personal tasks. For example, employees can use robots to send and receive personal messages.
• You can automate complex, enterprise-level business processes that require multiple steps, many systems in and around Microsoft Teams, and collaboration across disjointed teams. For example, consider the process to discharge patients from a hospital or the process of aligning on customer requests or support queries across teams.
• Your IT teams can automate common administrative tasks, like creating new Channels or adding users to existing Channels.
Check out this new integration and how it enhances our existing capability with Office 365.
Sign up for the UiPath Insider Preview Program to try these new features and share your feedback.