After an exhilarating time at FORWARD VI + TechEd Day, filled with engaging conversations with our customers, partners, and analysts, we're thrilled to share our latest innovations in the world of Continuous Discovery. During TechEd Day, we had the privilege of conducting in-depth technical sessions, offering a sneak peek into the developments in UiPath Process Mining, UiPath Task Mining, and UiPath Automation Hub. Now, it's time to unveil the exciting new features in the 2023.10 release.
Mine and monitor your automated processes
We're continuing to bridge the gap between automation and process mining in our latest 2023.10 update. As part of this release, we introduced the Automation Log Monitor, an app template designed to empower automation teams with process mining capabilities. This pre-configured app template ingests logs from automated processes that run within UiPath Orchestrator.
With the Automation Log Monitor, teams can visualize their automated processes from a process mining perspective, pinpointing bottlenecks and inefficiencies that might hinder automation performance. Most importantly, it offers continuous monitoring, enabling teams to track the impact of process changes on critical key performance indicators (KPIs).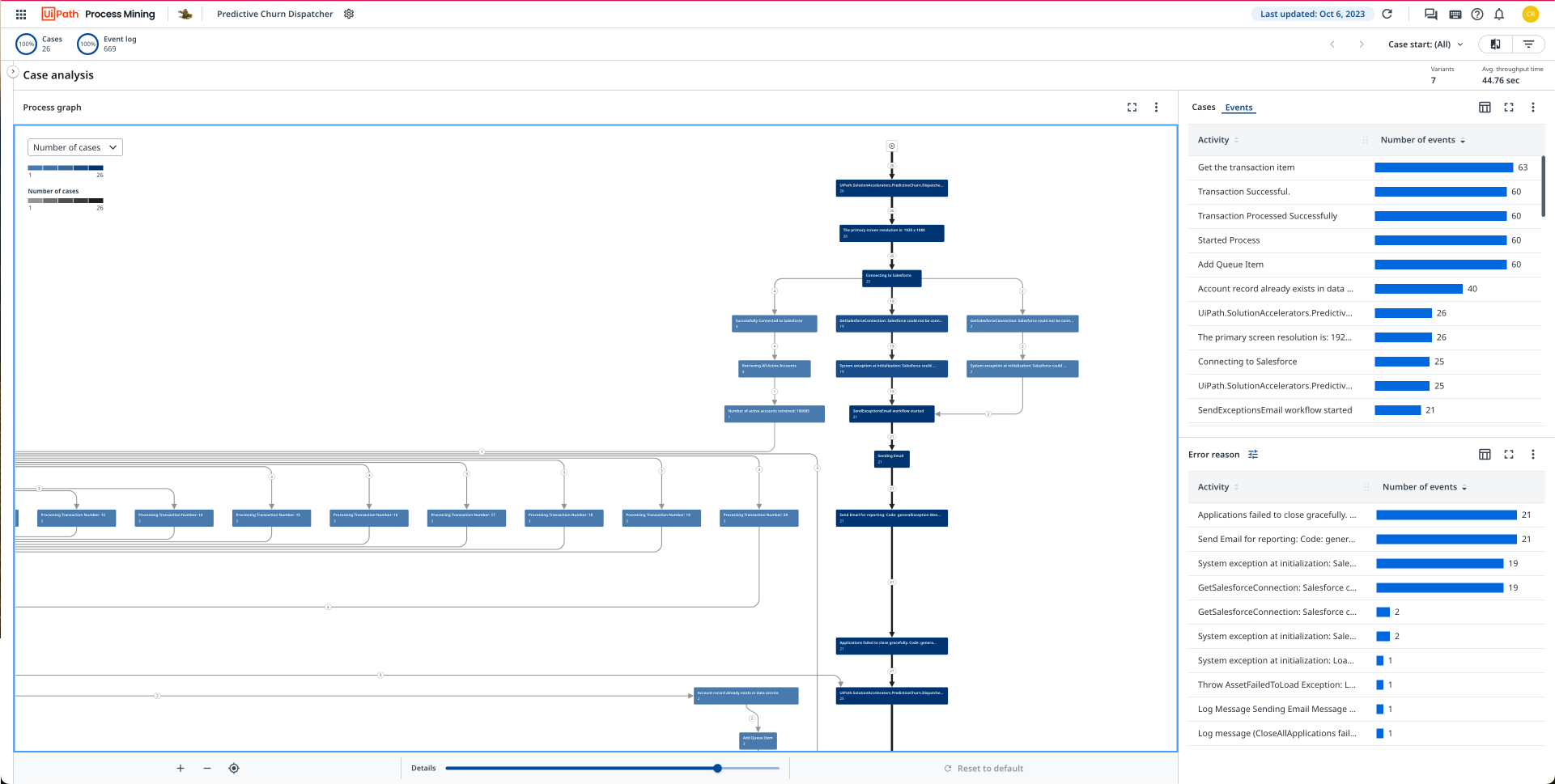 Process Mining data transformations made simpler
Developers, there's something for you, too! With the new Process Mining data transformations editor, you can effortlessly tailor data transformations right in your browser. This feature streamlines the editing process, accelerates data integration, and simplifies query testing—all without the need for a local development environment. Moving forward, you'll find it easier to gather and transform the data you need to define the metrics that will truly make a big impact on your processes.
Elevate Process Mining with AI-driven process modeling techniques
Ever wondered what happens when you mix process mining with process modeling techniques? You become even more process-savvy, that's what!
In the 2023.11 release, Process Mining will get an upgrade with several process modeling capabilities, designed to provide you with deeper and more accurate insight into your current and ideal processes.
The introduction of model-based Process Mining will take your understanding of processes to a whole new level. It will enable you to uncover key decision points, processes that run simultaneously, and rework processes using AI algorithms. The algorithms use advanced reasoning, learning, and data analysis to recognize patterns. For the business analysts and process improvement practitioners out there, this means you'll have an extra layer of process intelligence at your fingertips, enabling you to make smarter decisions on process optimization. Register to join the preview.
But the benefits for process improvement practitioners don't end there. In 2023.11, we will introduce the ability to import and export Business Process Model and Notation 2.0 (BPMN) models, which is a commonly used graphical method of visualizing business processes. This means you'll be able to import your BPMN 2.0 process definitions into UiPath Process Mining to compare real-world processes with BPMN 2.0 models.
Moreover, with BPMN export, you can transform your mined processes into a BPMN 2.0 model, facilitating easy comparisons of documented processes from other systems.
With process modeling capabilities integrated into Process Mining, it will be easier than ever to understand your processes, spot areas for improvement, and bridge the gap between your process goals and where your process currently stands.
Gain insight into how employees spend their time with UiPath Task Mining
We're excited to announce a private preview of Task Mining's new experience called Workforce Intelligence.
Workforce Intelligence enables you to capture event data from the operating system (OS), browser, and applications to gain insight into how employees spend their time. The data includes the apps they use most, docs they interact with, time spent switching between apps, etc. Always-on data capture at scale with little to no impact on performance lets you gain quick insights to drive actionability and business value. Register to join the preview.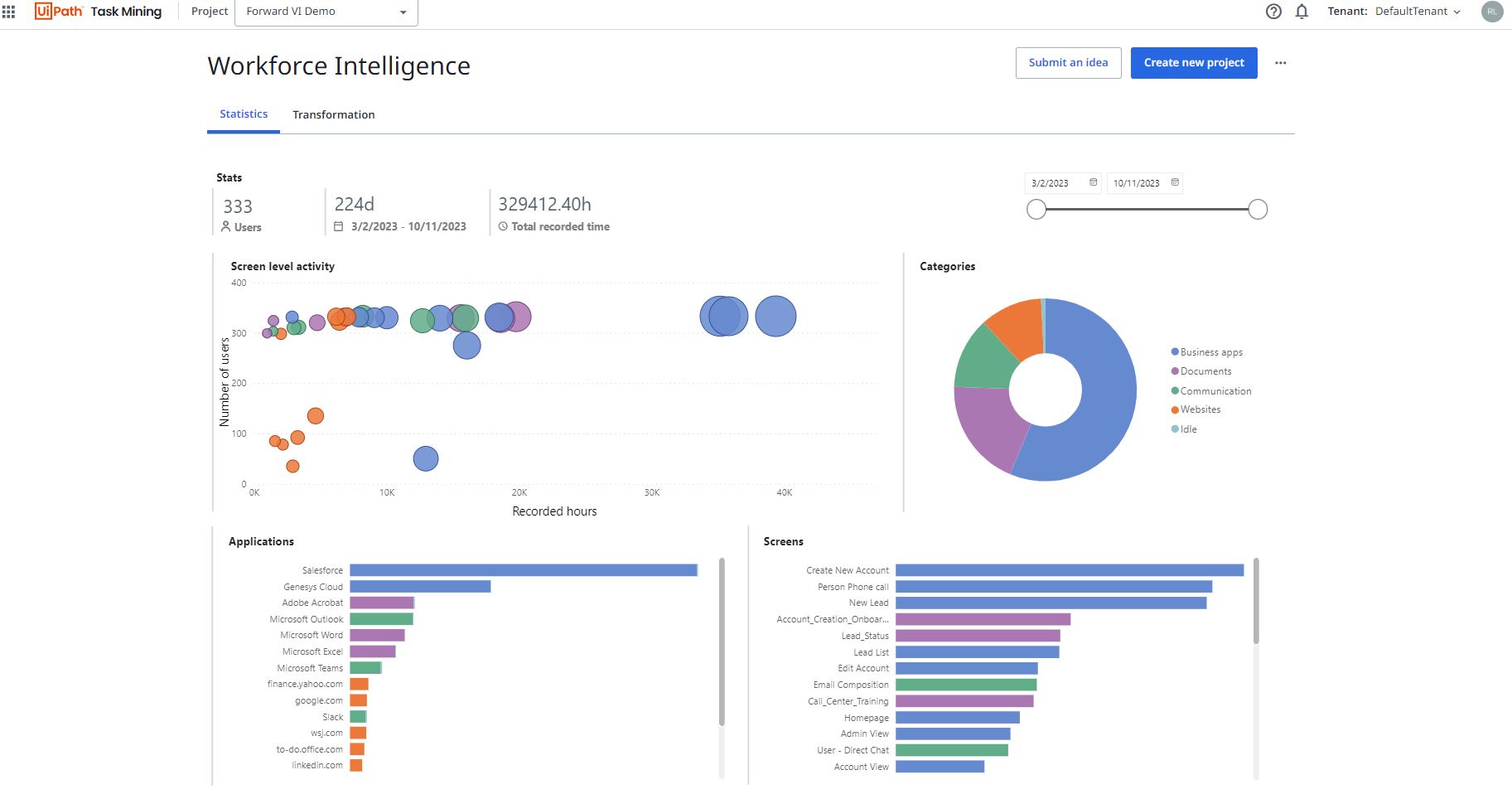 Customize idea flows in UiPath Automation Hub
We've also introduced a private preview of idea flow customization—a new Automation Hub feature that lets you customize your idea flows according to your own stages and needs by renaming phases and statuses, creating new ones, managing transitions, etc. With idea flow customization, you have increased flexibility in modifying default idea flows and involving the right stakeholders at the right time by deciding what role needs to approve ideas and when. Register to join the preview.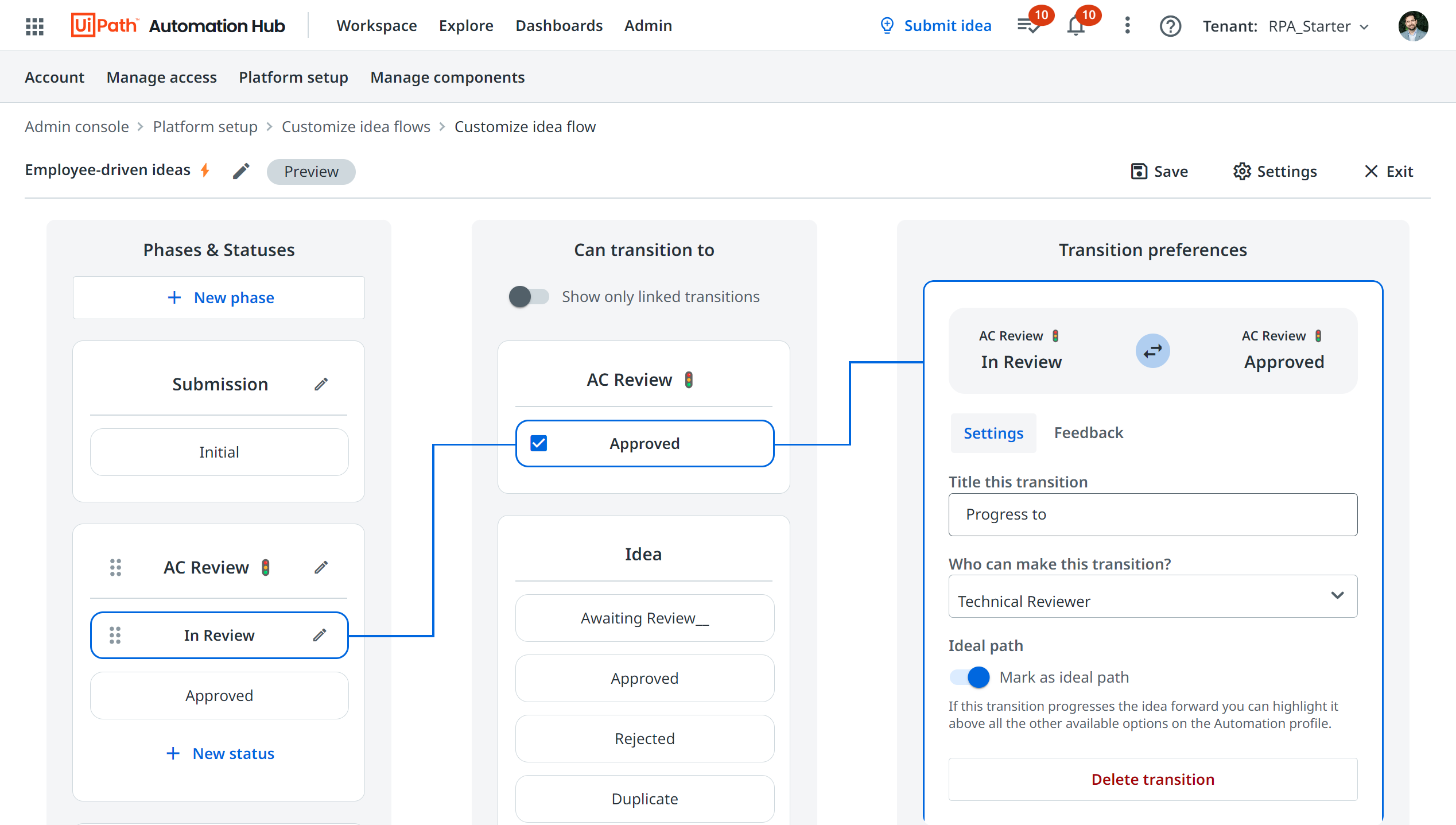 Join us on November 15, 2023, for a 2023.10 release virtual event to see these updates in action.
This blog post was co-authored by Maria Andrukh, Product Marketing Manager at UiPath.