It's a hot summer here in the northern hemisphere and the team has been hard at work to release new capabilities this month as we head into the FORWARD 5 conference in September. I hope to see many of you there as we take you through deep dive sessions from our product experts.
Now, let's start with the August release (2022.8) highlights in UiPath Process Mining.
UiPath Process Mining updates
With the 2022.8 release, new UiPath Process Mining capabilities enhance the Process Mining experience for business users and process analysts. The new capabilities provide users more interactions with the process graph for deeper analysis and process conformance.
New Process Mining filtering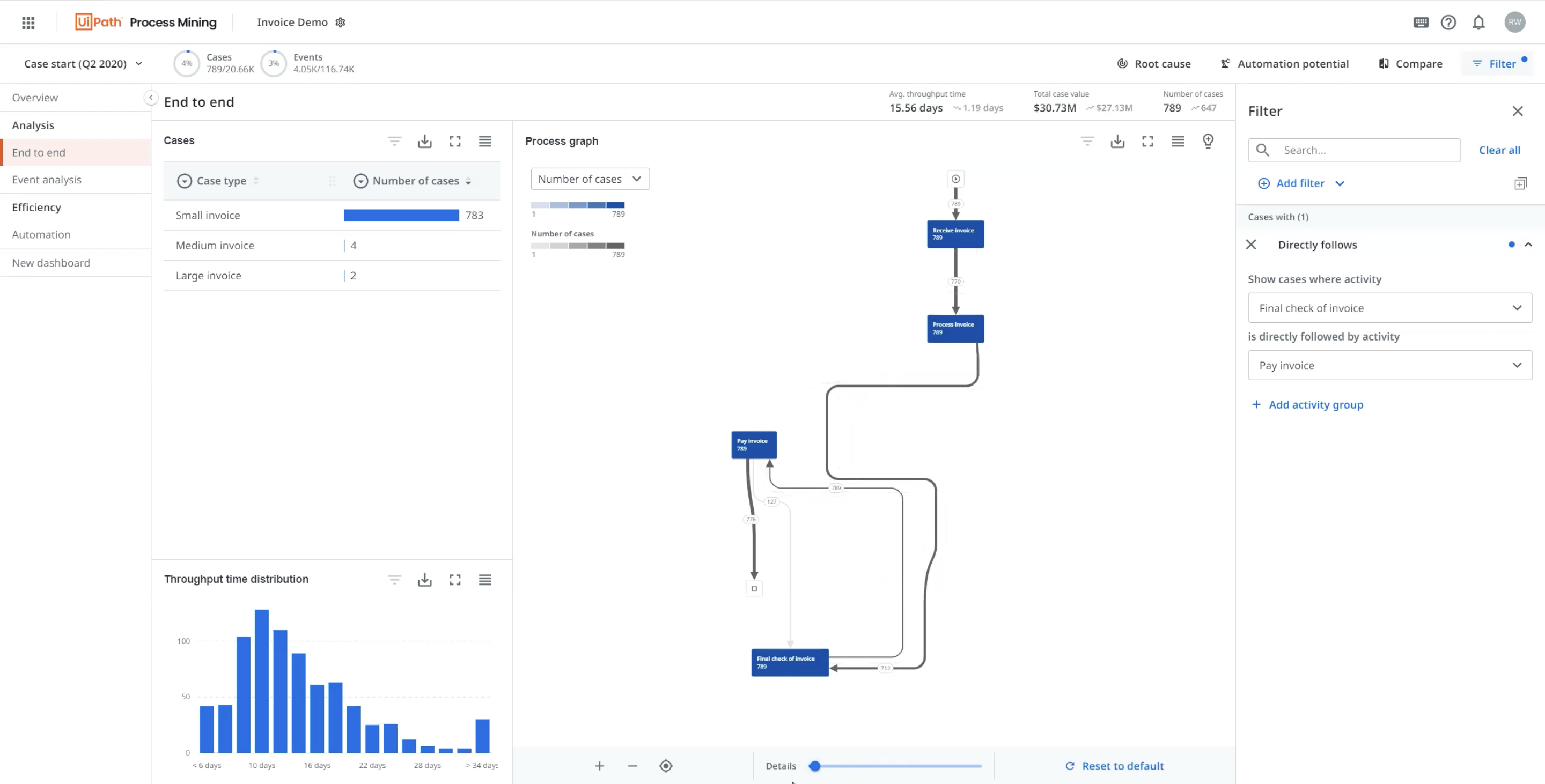 With this release, new features in the Filter panel include more selectors to enable single-click selection of listed options in the filter box and process filtering based on the sequence of activities. These new filtering capabilities allow business users or process analysts to narrow their data set quicker and enable interactive analysis based on a specific activity sequence.
Applying the new filters of 'directly follows' or 'indirectly follows' provides more interactions with the process graph to help you single out which activities are being executed out of order for compliance. For example, you can see how often a 'Payment of Invoice' activity occurs directly after 'Receipt of Invoice,' skipping the 'Approve Invoice' step.
Easily compare processes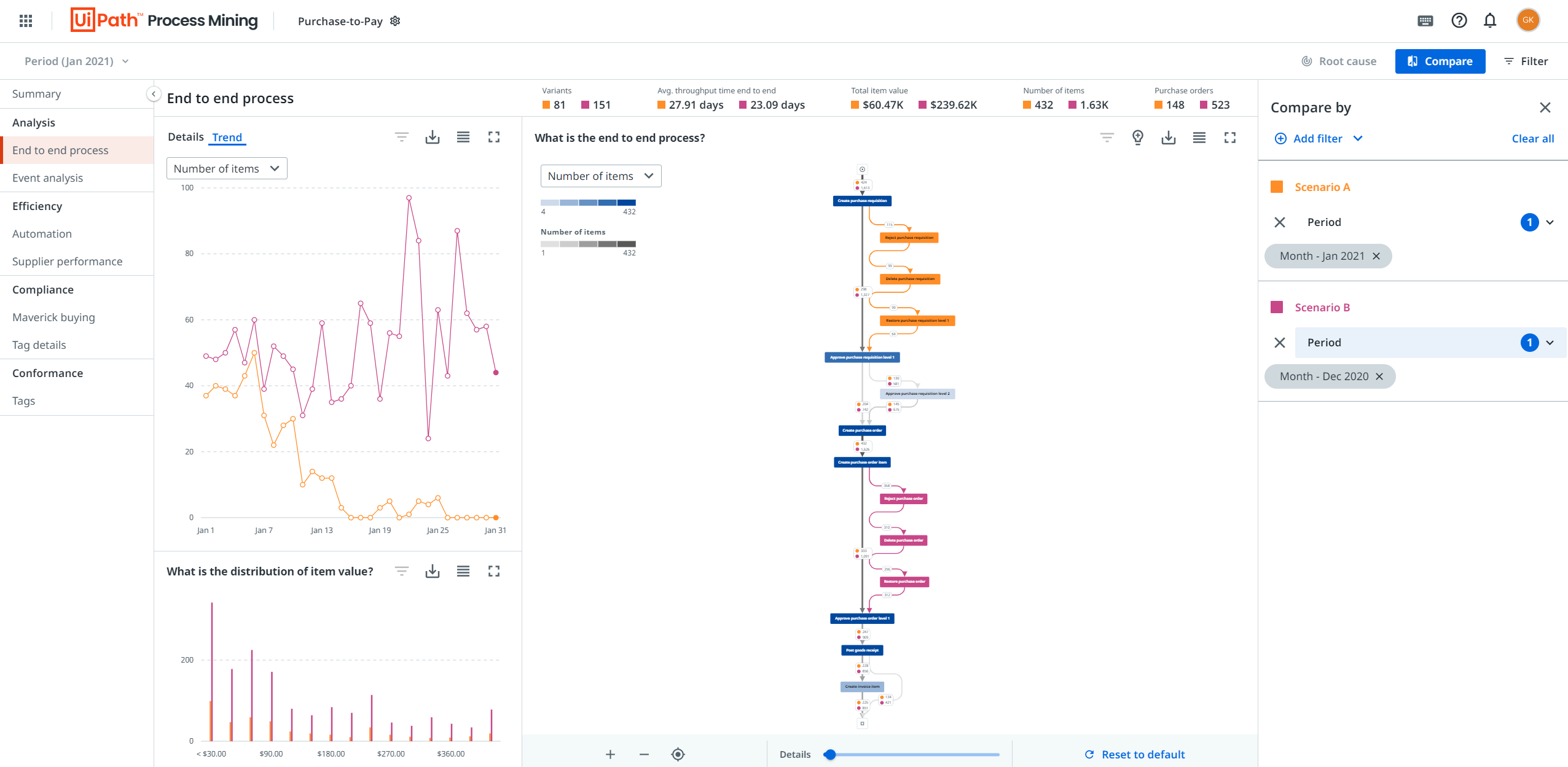 A brand-new Compare functionality makes it now possible to compare two sets of paths from the process. With this business users and analysts visualize, compare, and analyze the performance of a process and its variations. In the compare panel you can select the dimension or field to be used for comparison and each of the two scenarios will be presented in a different color.
Read more about this new functionality in the Compare support documentation.
Automation potential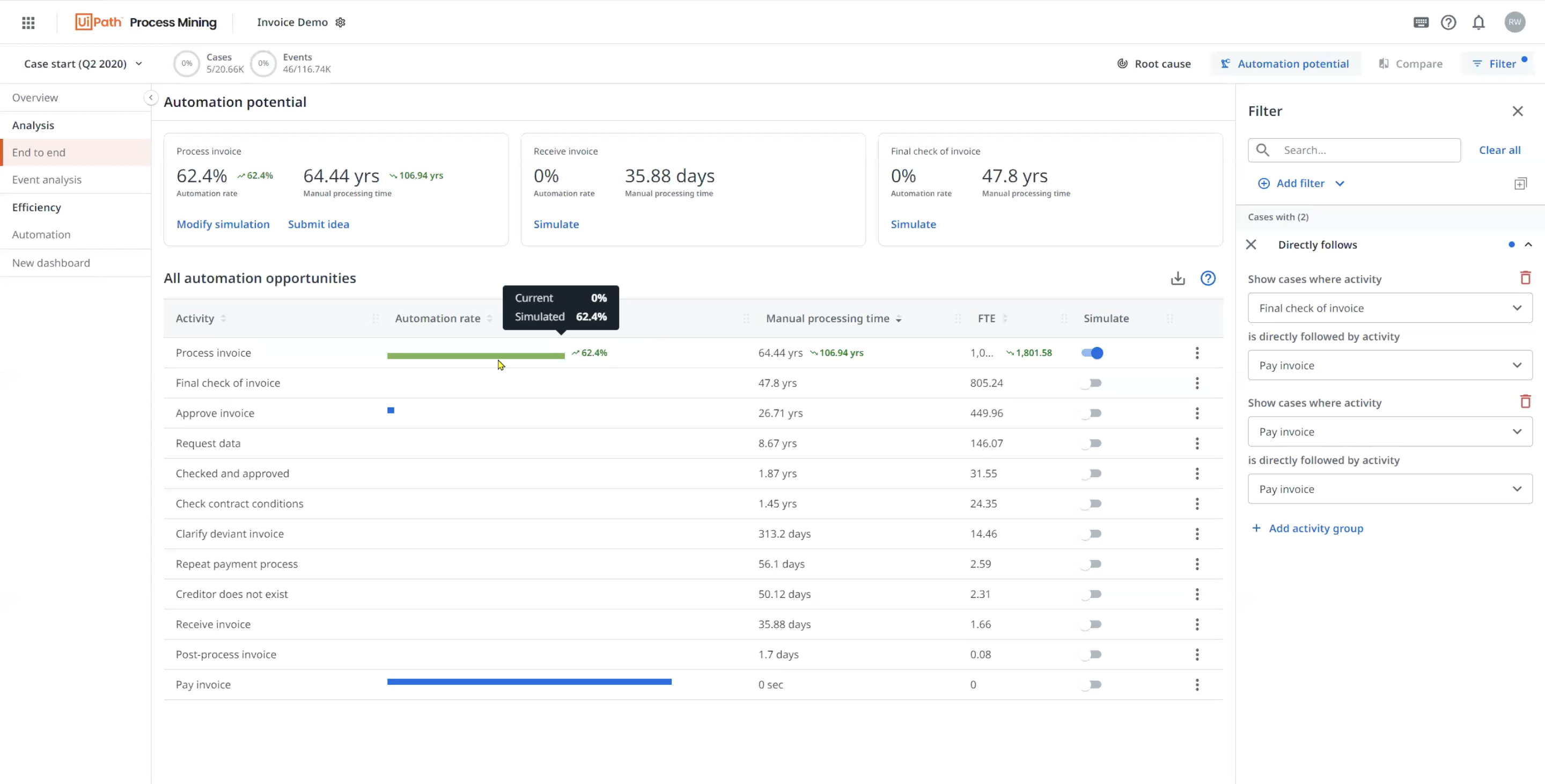 Automation potential is more than a dashboard. It's aimed at closing the loop on the integration of Process Mining and UiPath Automation Hub. The dashboard features the top three activities that a process owner should look at optimizing and also is able to rank all activities relative to their automation potential. By applying the simulation criteria used by Automation Hub, you can get an automation rate and the time that can be saved by automating the process.
UiPath StudioX updates
This month, we introduce a series of improvements to UiPath StudioX that help you kickstart your automation projects easier and automate without limits.
Quick guided tour
A quick guided tour will introduce you to the StudioX interface and functionality by navigating through the home tab, designer, activities panel, and other key elements of StudioX. Easily switch from one step in the tour to another, skip the steps, or completely dismiss the guided tour once you get familiar with the product. You can always get back to the quick guided tour later to refamiliarize yourself with StudioX when needed.
UiPath Marketplace template feeds
Creating an automation project from scratch is not always an easy feat. To make it easier for you, we've introduced a UiPath Marketplace template feed in StudioX. Templates offer an already established structure so you can boost your productivity and accomplish automation projects faster. The Marketplace template feed presence is governed and can be disabled from Automation Ops when needed.
Cross-platform automation
Now you can build automation projects without limits. With this 2022.8 release, cross-platform features are available in StudioX. The features allow you to build automations compatible with Windows, Mac, or Linux. To start a cross-platform project, simply create a blank task or choose a template, check the advanced options box, and opt for cross-platform in the drop-down menu.
New Attended Framework
We're excited to introduce UiPath Attended Framework 2.0—the new version of Attended Framework that helps you create engaging automations for every employee. It makes it easy to incorporate attended best practices into your automations and focuses on:
Providing a guided automation experience to every user

Sharing automation context with a user via status window updates

Enabling top-notch performance for your attended automations

Providing simple and easy-to-use development experience to your robotic process automation (RPA) developers
Watch the new framework in action using the example of 'take a screenshot' automation: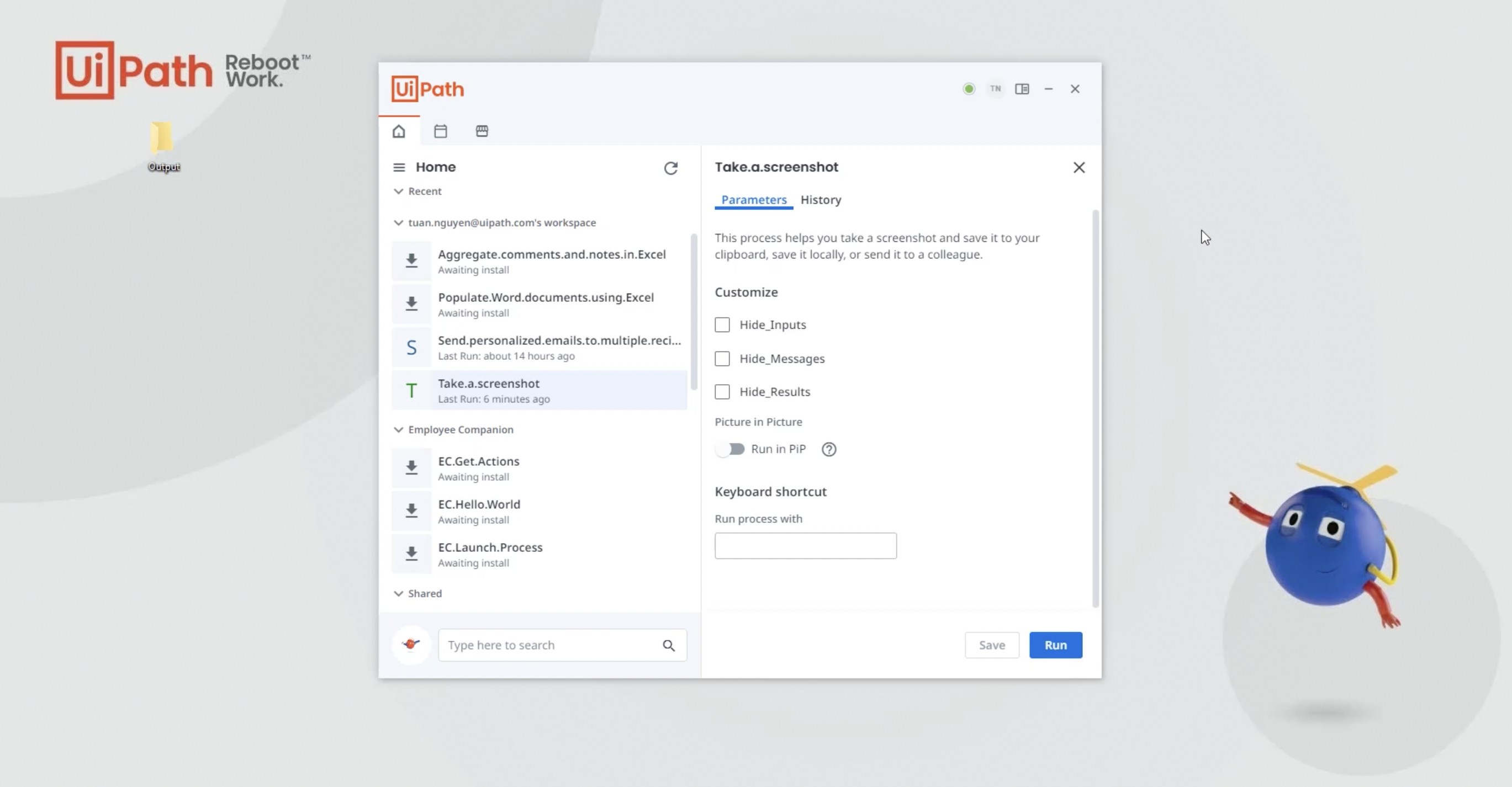 With Attended Framework, you can deliver a consistent—and engaging—automation experience, while applying a structured (yet flexible) approach across all your attended automations.
Check out Attended Framework in UiPath Marketplace to turn your next attended automation project into employees' favorite automation.
UiPath Integration Service updates
Integration Service expands document processing capabilities with new Box connectivity
UiPath has broadened our Box integration by introducing new connectivity for Box Sign. The Box Sign connector provides both curated activities and events. The new connector increases the ease with which users and teams can automate content collection, routing, distribution, and document e-signature processes.
UiPath integration with Box Content Cloud and Box Sign supports cross-platform automation for multiple lines of business (LOBs) and use cases. Companies can significantly reduce time and effort by automating any part of a standard human resources (HR) onboarding process. For example, creating multiple employee agreements: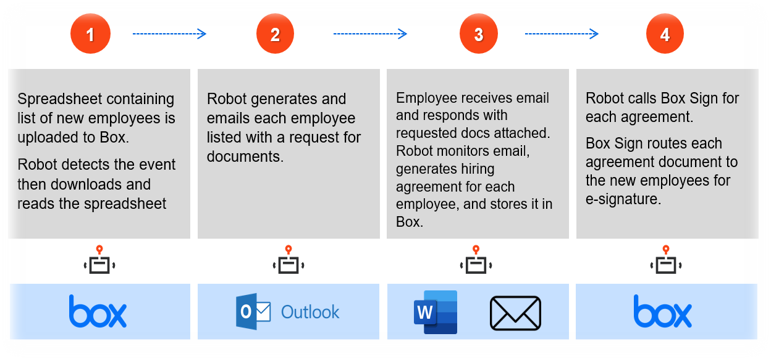 Learn more about Box integration on UiPath Marketplace.
UiPath Insights updates
Folder permissions and data restrictions
As automation programs grow in reach across an organization, so do the number of stakeholders that look to Insights for an understanding of the performance and impact of their automations. While program-wide visibility is great for center of excellence (CoE) teams and executive leaders it may not be a view you want every UiPath Insights user to have.
In 2022.8, you can now restrict data (at the tenant level) based on the Orchestrator folders that users have permission to. This feature will be of greatest help to organizations that depend on modern folders for segregation between business units, and those that have (or are building) citizen developer programs.
I invite you to try all the new capabilities and keep the feedback coming through the Insider program. And I look forward to seeing many of you at FORWARD 5, our industry-leading automation conference. If you've already registered for FORWARD, be sure and book your hotel room now (rooms are going fast!).