To build a robust application, regression testing is critical. And using modern automated testing technologies provides the best benefits possible. For SAP® applications and SAP S/4HANA migration processes, it's especially crucial to automate testing.
Why?
Automated testing for SAP can:
Ensure the quality of critical business processes

Streamline testing cycles

Improve testing accuracy
Along with these enhancements, SAP testers can leverage automated testing to streamline their day-to-day responsibilities and activities. Examples include:
Saving time on tedious tasks such as data entry and reporting

Achieving data consistency across various systems

Minimizing errors that arise from manual entries and efforts

Identifying key automatable processes that provide the fastest and biggest impact to the enterprise
There's one platform on the market that can address all these needs, including offering enterprise-wide automation and scalability across platforms: UiPath Business Automation Platform. UiPath Platform includes production-grade, low-code automation and artificial intelligence (AI) capabilities. And it powers Test Suite, a resilient testing solution.
In 2022, one of our customers surfaced as an exemplary model for using Test Suite to transform their SAP testing practices. What made them stand out? In this blog post, we're sharing how EDF Renewables, a global renewable energy leader and independent power producer, has been so innovative with their SAP testing.
EDF Renewables: automating everything SAP
Before diving into their test automation journey, EDF Renewables faced the challenge of performing manual daily regression testing for key processes within SAP. This manual testing resulted in long and tedious testing cycles and delivery bottlenecks.
"We wanted an automated testing tool that has a high level of efficiency and can achieve results with great speed as well," said Sameer Band, SAP Architect at EDF Renewables. "So, we looked out into the market, zeroed in on UiPath, and got help from The Silicon Partners. And they have been guiding us ever since."
In partnership with The Silicon Partners, EDF Renewables leveraged UiPath Test Suite to automate their daily regression testing of critical business processes within SAP. Using a library of 250 prebuilt test scripts for SAP test automation, EDF Renewables employed best practices powered by test workflows and robotic process automation (RPA) capabilities (all available on the UiPath Platform). These best practices included an SAP automated testing framework featuring test scripts, test coverage, test data, test results, test evidence, and deployment. With this framework in place, EDF Renewables targeted specific process areas within SAP to deploy test automation robots, including:
Financial accounting

Quality management

Materials management

Production planning

Sales and distribution

Human capital management (SAP SuccessFactors)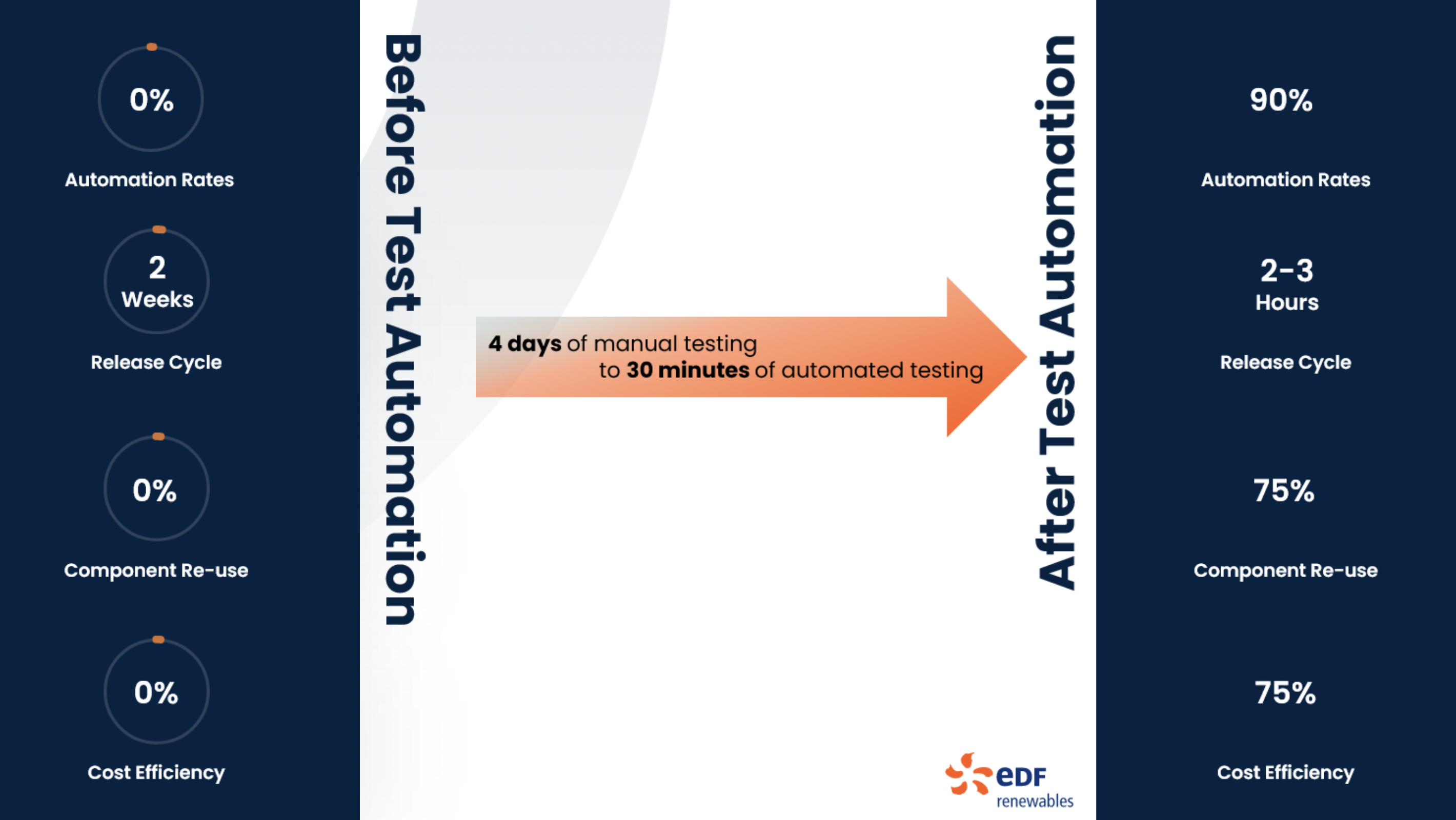 Source: "Automate Everything: (A)SAP​ Processes, Tests, and Migrations" session at UiPath FORWARD 5
"It's important to create evidence which can support the business or the change management team where they don't have to depend on any manual effort to approve those tests," noted Amit Tiwari, Vice President of Technology and Head of Digital Practice at The Silicon Partners. "You can move from one environment to the other environment simultaneously and into production."
EDF Renewables also used Test Suite for additional key testing opportunities, such as for SAP upgrades.
Everything used to be all manual and with this project we achieved close to 90% automation rate, which is absolutely amazing. Our deployment cycle used to take two to three weeks, and now the entire process takes just two to three hours because UiPath Test Suite has streamlined the way we configure and test.

Sameer Band, SAP Architect, EDF Renewables
Notably, EDF Renewables achieved this 90% automation rate within five months—a testament to Test Suite's ease of use and significant impact. They also reduced costs by 70–80% and increased their release speed by 6x.
"In five months, we were able to automate the whole process of deployment and releasing, inclusive of test automation, which includes all of the business processes," said Sameer.
Up next
What's next for EDF Renewables in their test automation journey? Looking forward, EDF Renewables plans to use Test Suite for their SAP S/4HANA migration efforts, as well as for RPA testing.
Interested in diving deeper into EDF Renewables' SAP testing success story? Register for our 'Best of Test' Bundle to watch the session recording of EDF Renewables and The Silicon Partners.
Feeling inspired by EDF Renewables? Try UiPath Business Automation Platform for free, including access to UiPath Test Suite capabilities. See firsthand how the UiPath Platform can transform your SAP testing practices.