A Leader in intelligent document processing
We're proud to announce that UiPath is designated as a Leader in the Everest Group Intelligent Document Processing (IDP) Products PEAK Matrix ® Assessment 2023; the report was released this week. This is the first time UiPath has been named as a Leader in IDP, and the only Leader recognized as a Star Performer for the biggest year-over-year advances. UiPath received high scores for both "market impact" and "vision & capability," which illustrates outstanding market expansion and product innovation.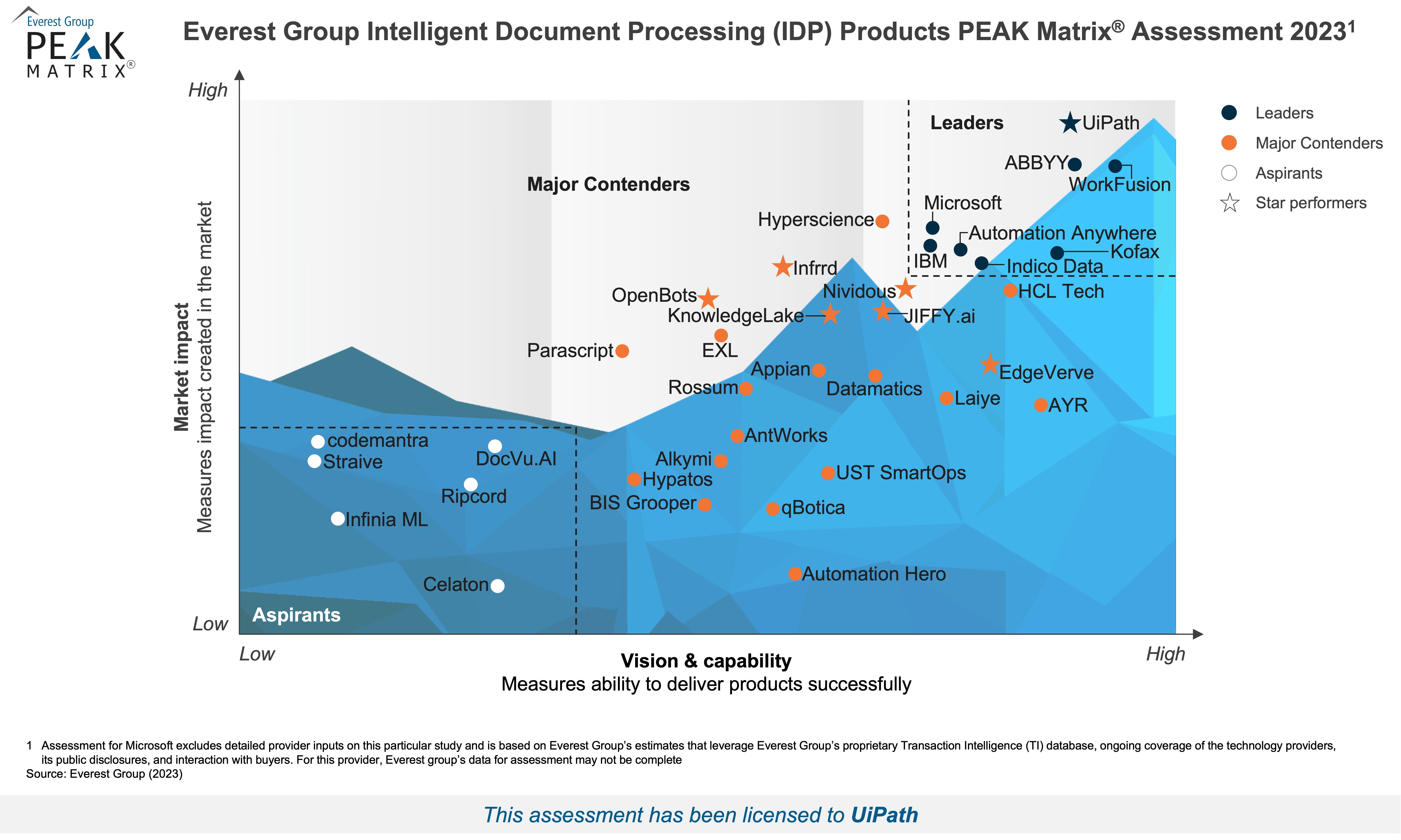 The IDP industry has evolved and matured during the past several years to meet the evolving business needs for automation. More recently, artificial intelligence (AI) has brought document processing to a new level of efficiency and accuracy. We believe that this Everest Group report highlights the maturity and latest enhancements of the IDP market. It also showcases the significant progress UiPath has made in bringing value to our customers with IDP.
What is intelligent document processing?
According to Everest Group, "IDP software solutions blend the power of AI technologies to efficiently process all types of documents and feed the output into downstream applications." An IDP solution can perform:
Pre-processing and digitization with optical character recognition (OCR) and computer vision

Document classification with text mining and machine learning (ML)

Data extraction with ML and natural language processing (NLP)

Post-processing that includes data validation
IDP capabilities available on the UiPath Business Automation Platform
UiPath launched our IDP product in 2020 with the introduction of UiPath Document Understanding. By harnessing the power of AI, Document Understanding has made a significant impact on customers across diverse industries, including banking, healthcare, manufacturing, and the public sector, by effectively processing a wide range of document types. To strengthen our IDP offering, we acquired Re:infer in 2022 and soon introduced UiPath Communications Mining as an AI tool for monitoring and automating unstructured business communications.
Our industry-leading IDP offering is powered by specialized AI, a targeted method for applying AI and ML to specific enterprise use cases. Document Understanding includes over 30 specialized AI models tailored for specific business use cases - like insurance claims reconciliation, know your customer (KYC), accounts payable and accounts receivable automation, and more. Additionally, extracting data from unstructured communications like emails is powered by the large language model (LLM) within Communications Mining. Harnessing the potential of specialized AI unlocks true differentiated value and competitive advantage for businesses.
Leveraging specialized AI capabilities available via the UiPath Business Automation Platform, you can automate document-intensive processes, reducing manual paperwork and increasing operational efficiency. The following UiPath customers exemplify innovative use of the extensive power of IDP capabilities offered by UiPath:
What Everest Group says about UiPath
"UiPath has continued to grow quite rapidly and has made significant investments in its AI-powered document processing solution, Document Understanding," said Vaibhav Bansal, Vice President, Everest Group. "The platform's AI Center component for pre-built ML models, its marketplace for reusable assets, verticalized packaged solutions, and focus on custom success and support are considered as the key differentiators. In addition, UiPath's acquisition of Re-infer has helped it improve its NLP capabilities for context understanding and communications mining, further contributing to its success. This has helped UiPath emerge as a Star Performer and a Leader on Everest Group's Intelligent Document Processing (IDP) PEAK Matrix® Assessment 2023."
Get your report
Download a copy of the "Everest Group Intelligent Document Processing (IDP) Products PEAK Matrix ® Assessment 2023" to discover firsthand why UiPath has been recognized as a Leader in intelligent document processing.