The speed and scope of business automation is accelerating, driven by artificial intelligence (AI). In the last few years, AI models have greatly advanced in their ability to understand human language and conversation. These advances were clearly demonstrated in the debut of OpenAI's ChatGPT chatbot earlier this year.
Natural language processing (NLP), once a specialist branch of AI research, is focusing people's attention on the tactical business benefits of AI. However, beyond the hype, challenges remain.
Today's large language models (LLMs) display a sophisticated understanding of human language. But the output isn't always trustworthy. Publicly available LLMs struggle to understand the specifics of a particular industry or real-world use case. Building an AI solution tailored for your business is as difficult and expensive as ever, with timescales running into years and costs of potential millions.
For many businesses, AI remains expensive, difficult to deliver, and impossible to scale if they decide to go it alone. Fortunately, the AI-powered UiPath Business Automation Platform understands and operates end-to-end business processes.
UiPath Communications Mining
In August 2022, UiPath augmented its AI capabilities with the acquisition of Re:infer, an NLP company focused on extracting value from unstructured business communications.
Commenting on the acquisition, ISG Principle Analyst Mark Purdy said:
"UiPath's acquisition of Re:infer makes eminent strategic sense, and seems set to bolster UiPath's already burgeoning position as one of the world's leading providers of intelligent automation solutions for enterprises...it prefigures the likely future convergence of conversational AI, intelligent document processing, [robotic process automation] RPA, and process discovery."
Re:infer's advanced NLP technology has since been integrated into the platform as UiPath Communications Mining. This new capability is now available for all UiPath Automation Cloud™ enterprise customers. Access is granted under a consumption-based pricing model, joining related capabilities like UiPath Document Understanding and UiPath Task Mining (all available on the UiPath Platform).
UiPath Communications Mining is a new capability to understand and automate business communications. It uses state-of-the-art AI models to turn business messages—from emails to tickets—into actionable data. It does this in real time and on all major business communications channels. The product helps businesses cut costs, improve service, and scale faster by removing inefficient processes and automating transactional customer requests. All through a simple, no-code platform anyone can use: UiPath Business Automation Platform.
UiPath Communications Mining harnesses the latest advances in AI and machine learning (ML) and makes them business-ready. Our LLM consistently and accurately extracts the most important information from masses of communications, and in a way that's safe and reliable for the enterprise. Business users then rapidly train the model, tailoring its output to the exact needs of the business. This is achieved through a simple training interface that guides users through the process from end to end.
Our ML models can be fully trained and put into production in a matter of hours. No coding or technical ability required.
UiPath Communications Mining offers three core functionalities:
1. Mine your communications
UiPath Communications Mining turns business conversations into actionable insights. It extracts the most important data from inbound messages: intents, reasons for contact, sentiment, and emotion. Communications Mining gives businesses insight into previously hidden processes and channels. This visibility enables them to identify problems, inefficiencies, and new opportunities for automation and improvement.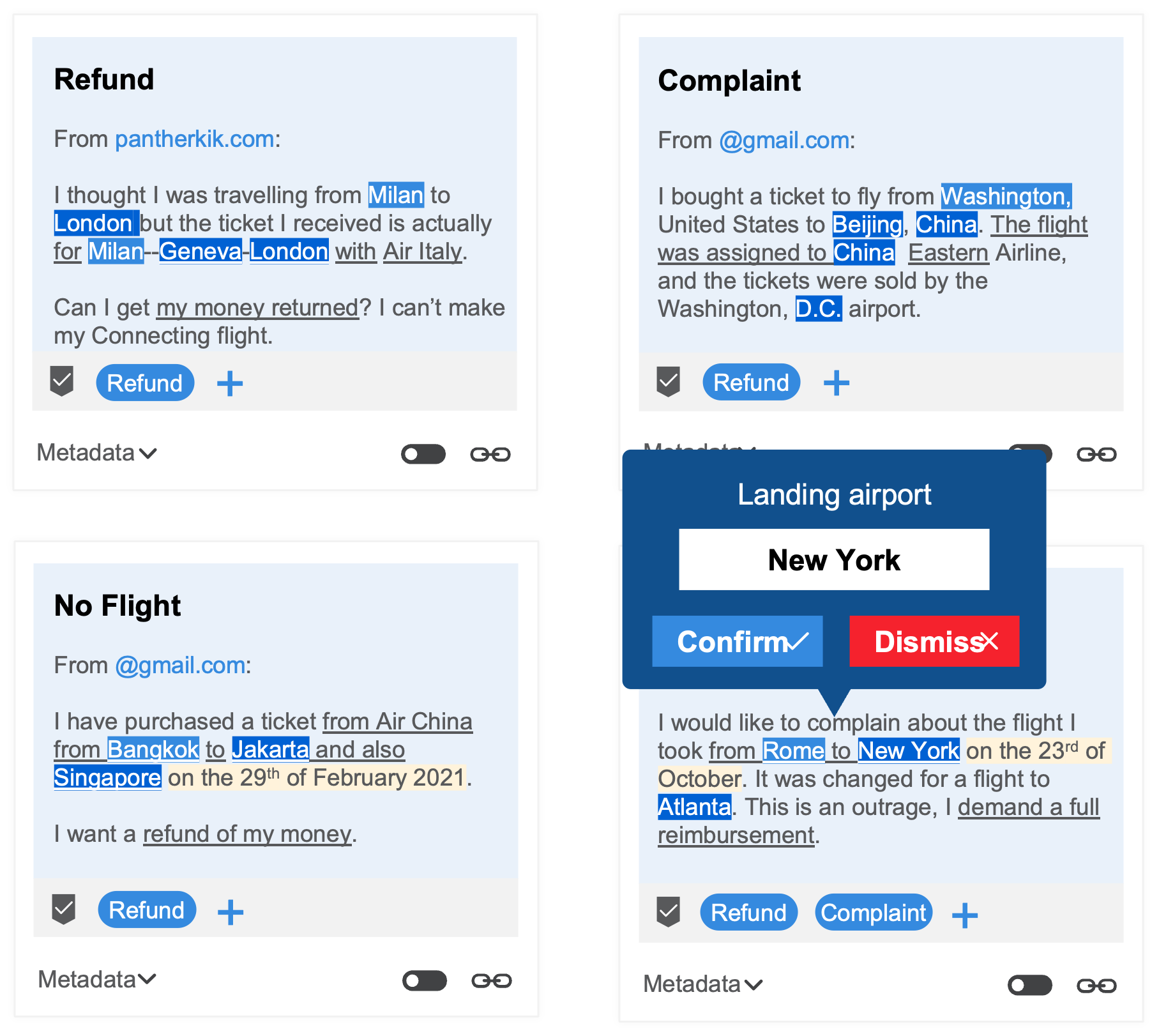 2. Monitor your communications
UiPath gives businesses a custom-filtered, real-time view of all service channels—extracting the information they care about most. Built-in analytics allow process owners to track trends and measure service quality and performance at all levels. Custom real-time alerts enable teams to respond to breaking issues in an agile way, driving continuous improvement.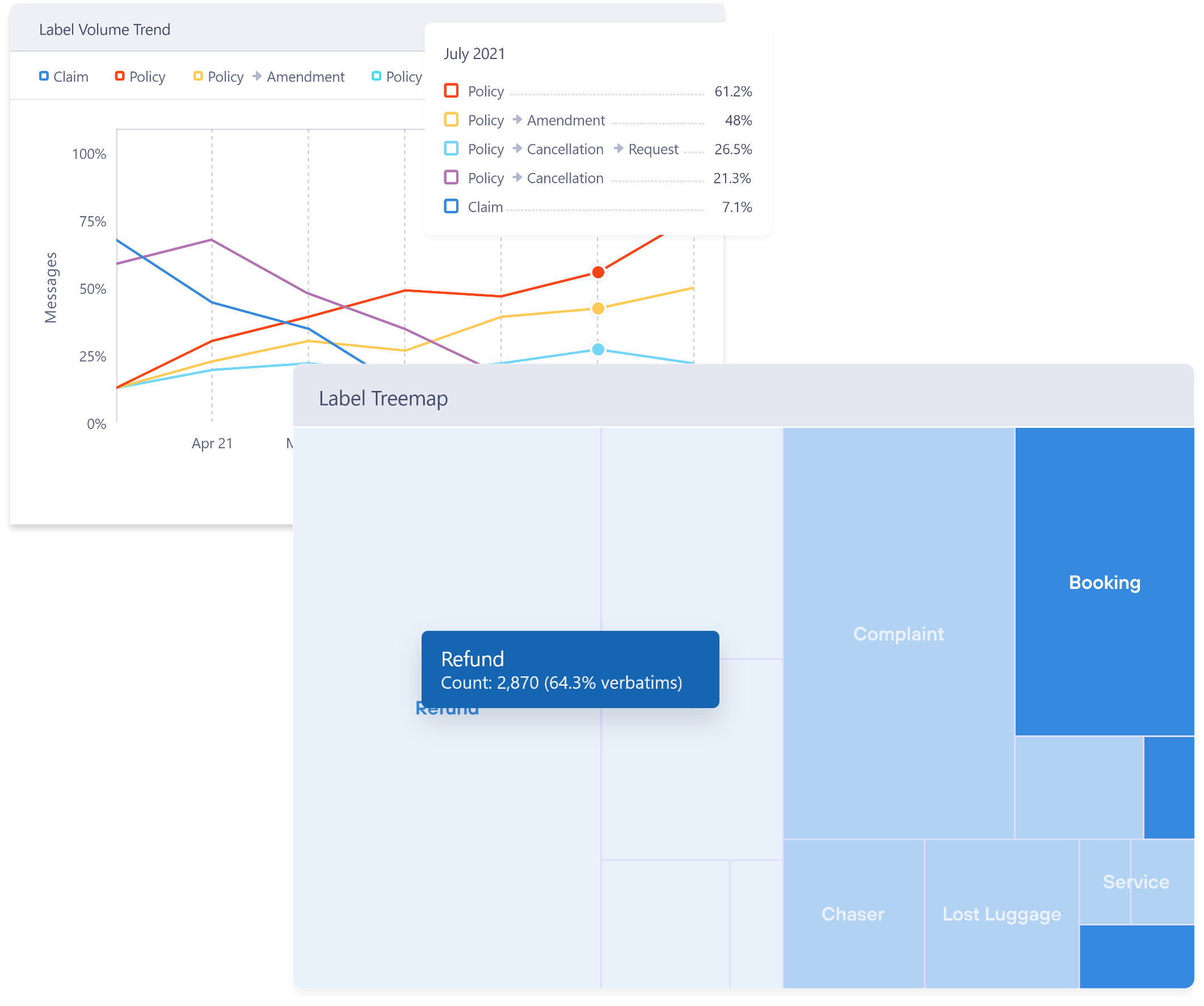 3. Automate your communications
UiPath Robots use the data created by Communications Mining to extend automation into service and conversation-based processes. This allows businesses to automate transactional requests and workflows. Tasks like triaging emails, updating customer information, and case creation are now automated from end to end by UiPath.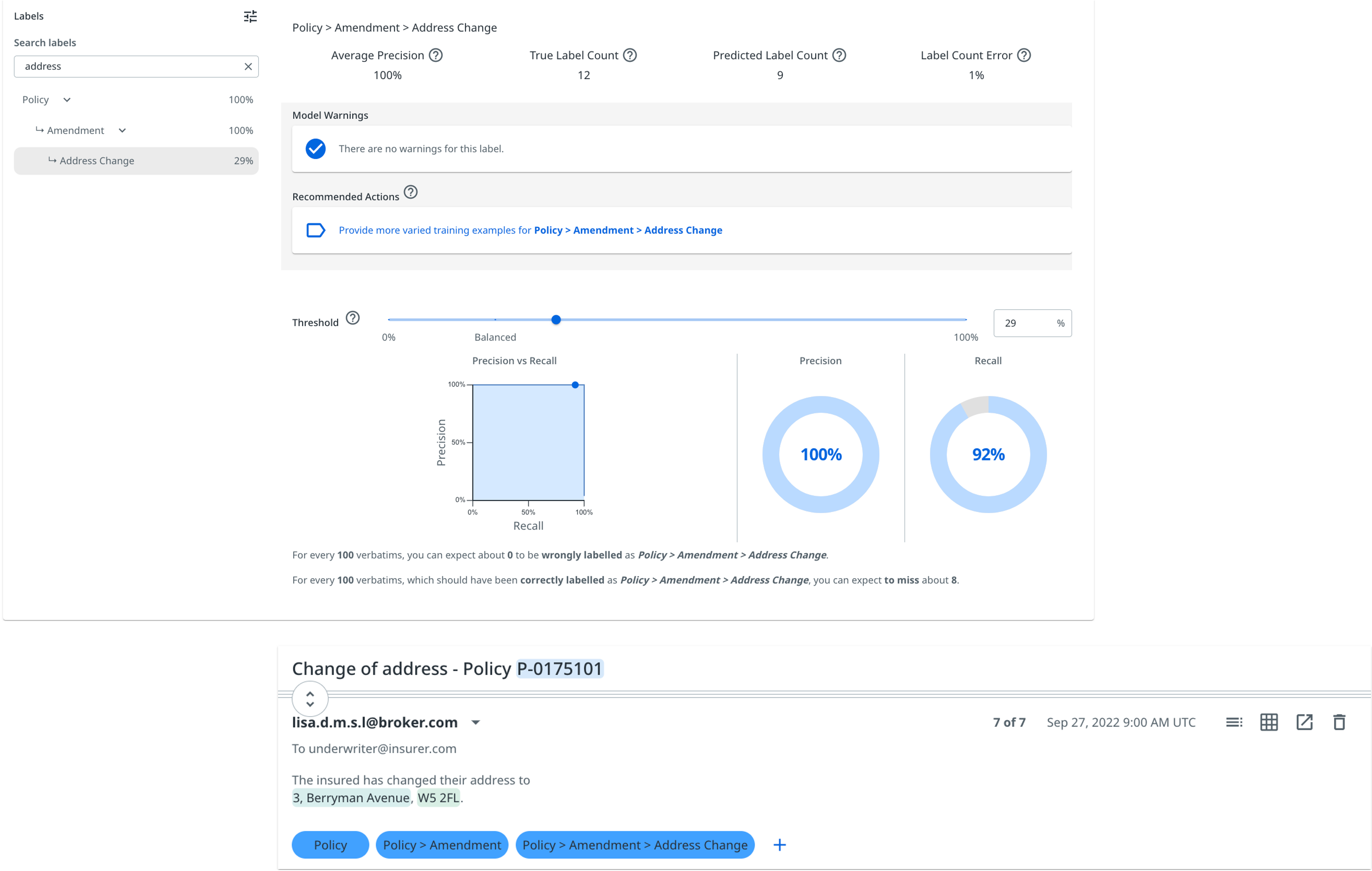 Communications Mining in action
UiPath Communications Mining is already deployed across major banks, insurance companies, and service providers. In a single year, specialist insurer Hiscox used the capability to reduce process lead time in broker services by 300%. It also freed up more than 91,000 hours for its skilled underwriters to focus on creating new business.
Speaking at the UiPath Continuous Discovery Summit, Marco Rodrigues, Head of Service Center, Efficiency, and Automation, said:
"At Hiscox, we have a motto for how we want to do service: 'easy, simple, and worry free.' I like to use this to describe UiPath Communications Mining: easy, simple, and worry-free technology. If I want to launch a new model, I don't need to ask for a new use case or budget, I just ask my team to start model training."
UiPath continues to extend the capabilities of the platform. UiPath Communications Mining currently supports all major European languages, but additional language support is coming soon. Deployment for on-premise users will be available through UiPath Automation Suite. The development team is also enhancing the product's ability to extract intents—like reasons for contact—from messages, and recognize the relationship between multiple intents and key data points like customer numbers, addresses, and dates.
Wayne Butterfield, Director Cognitive Automation and Innovation at ISG, said:
"The enterprise is built on communications. It should be no surprise that, to digitally transform, NLP is not just a nice-to-have, it is a must-have. UiPath Communications Mining allows us to extract customer intents and unlock understanding in unstructured processes across the business." 
Download The Ultimate Guide to Communications Mining for more information. You can also register for the UiPath AI Summit to see a live demo of UiPath Communications Mining.