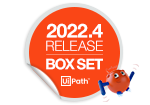 In this release, we've extended our software as a service (SaaS) leadership by offering Automation Cloud™ Robots as a new robot option. In keeping with our promise of cloud-first, customer choice delivery options, Automation Cloud Robots offer scalable robot capacity hosted entirely by UiPath in Automation Cloud. Which means that you can quickly get as much robot capacity as you need in any of our six regions, without having to build or manage any infrastructure of your own.
There are two Automation Cloud Robots released today: VM Automation Cloud Robot and Serverless Automation Cloud Robot. We're also introducing a flexible licensing approach - buy "Robot Units" in a bundle, then use those units to reserve a VM Cloud Robot, or to get Serverless Cloud Robot runtime minutes.
Let's take a look at the capabilities of each new robot, and when you might want to consider them.
VM Automation Cloud Robots
Functionally, VM Cloud Robot is a dedicated Windows virtual machine with an unattended robot automatically installed and updated. In most respects, once configured, a VM Cloud Robot behaves like any of your other unattended robots—we just host it for you.
From within the UiPath Orchestrator interface, you can choose the virtual machine (VM) size you want and make some other configuration decisions, such as preferred maintenance window. The VM is then provisioned automatically with a base image. And once you enable the VM to accept jobs, you can send it jobs in Orchestrator just as you would with other unattended robots. In practice, this means that you can have new, unattended robot(s) available in just a few minutes!
But the real power of the VM Cloud Robot is in its flexibility. Once the basic machine is provisioned, you can connect to it remotely and further configure the Windows environment. So, for example, you can add additional software, join it to your domain, and add VPN configurations back to your own network. This means that a VM Cloud Robot can be configured to take on most jobs that any other unattended robot can. But it does meet a couple of needs particularly well:
You can configure robot capacity within seconds and be provisioned in minutes in any UiPath region, without infrastructure expertise or third-party cloud access required. So VM Cloud Robots are a great option where automation is a high business priority but IT resources are stretched.

You now have a complete SaaS option for every server capability in the UiPath Platform, including unattended robots, whether you're a smaller customer without IT, or a larger customer with a "SaaS only" IT strategy.
Serverless Automation Cloud Robots
Serverless Cloud Robot is a Linux-based robot that is part of a robot pool run in Automation Cloud by UiPath. These robots are designed to be a cost-effective way to quickly run cross-platform jobs (browser and API-based) built with cross-platform activities in UiPath Studio or the upcoming Studio Web. With Serverless Cloud Robots, you don't have to manage a robot at all—you just send a job to the pool, and it almost instantly starts running on an available Serverless Cloud Robot. Multiple serverless jobs will therefore run in parallel and you are only charged for the execution time. Therefore, Serverless Cloud Robots are a great option when:
Users are automating public-facing applications that are browser- or API-based

There is a need for rapid execution and the potential for multiple jobs to be submitted at the same time
Summary
Since the launch of Automation Cloud just over two years ago, we've worked hard to make sure you can start instantly and scale infinitely with a comprehensive, secure, cloud-native platform you can trust. The launch of Automation Cloud Robots, offering flexible SaaS robot capability, is the latest milestone on that journey. Regardless of whether you choose to use VM or Serverless Automation Cloud Robots, run robots that you host yourself, or decide to combine all of them together as appropriate, you can manage your entire robot workforce from Automation Cloud Orchestrator.
With the 2022.4 release, every UiPath server product is now available as SaaS in Automation Cloud. You can now configure and run your entire enterprise automation environment, including Automation Cloud Robots, from just a laptop and a browser.
If you are one of over 3,800 UiPath Automation Cloud Enterprise customers already, thank you for coming on this journey with us!
Learn more about Automation Cloud at automationcloud.com.
We also invite you to join us on May 18 for UiPath Live: The 2022.4 Release show. UiPath Chief Product Officer Param Kahon will discuss how the next generation of UiPath Automation Cloud pushes enterprise automation into the future.