Editor's note: As the automation market continues to evolve, the UiPath Platform also updates to best serve the automation needs of our customers. As such, some of the product names in this article have evolved since the article was originally published. For up-to-date information, please visit our AI Center page.
Happy 2021 everyone. We took a break from this blog in December so there's a lot to choose from this time (covering our key product innovations from December and January). In today's post, I'll spend our time on three critical areas: security, progress in Automation Cloud™, and actioning your feedback.
Security
The security of the software development lifecycle is paramount to us at UiPath. Providing independently certified proof of our practices is the basis for trust with our customers, so we're happy to announce the expansion of our Veracode Verified™ Continuous Certification to include more products namely UiPath Test Suite, AI Fabric, Insights, Task Capture, and Process Mining.
Our Veracode Verified™ Continuous Certification requires constant adherence. For the core platform, it encompasses all versions of UiPath products released since we first achieved the certification with release 2018.4.4.
Application security program requirements for an application to achieve Veracode Verified™ Continuous are stringent, including (but not limited to):

Assessment of first-party code using static analysis

Documentation that the application does not allow Very High, High, or Medium flaws in first-party code or open-source components

Completion of identified secure coding training by members of the development team associated with the application that achieved Verified status.

Completion of Veracode's bi-annual mitigation review and establish a scanning cadence of at least 60 days
With the additional products now in scope, our certification is broken down into three categories with multiple applications included in each.
UiPath Platform:
Robot (Attended, Unattended, and Assistant)

Studio

StudioX

Orchestrator (including Identity Server and webhooks)2

Orchestrator Mobile Activities (all activities that are published by UiPath in the official feed)

Insights1 2

Test Suite1
UiPath Automation Cloud:
Portal

AI Fabric1 2

Marketplace1
UiPath Automation Hub:
Automation Hub

Task Capture1

Process Mining1
1 These products were added to the certification with this certification renewal.
2 Orchestrator, Insights, and AI Fabric are offered via multiple deployment methods (SaaS and customer installed). The certification includes all deployment types despite being listed once.
If you are a UiPath customer or looking to become one, ask your account representative for a copy of our Veracode letter of attestation. UiPath is happy to share our extensive security practices backed by the third-party validation of Veracode.
Automation Cloud progress
We continue to see huge enthusiasm for Automation Cloud and have been hard at work making it even better. This month we have the following key improvements.
Anyone who is interested in storing logs for compliance and audit purposes, as well as analyzing and visualizing log data in reporting or business intelligence (BI) tools can use our new Log Export feature. ​It allows you to export robot logs generated in your Orchestrator services to Azure, Amazon Web Services (AWS) S3, or Google Cloud Storage.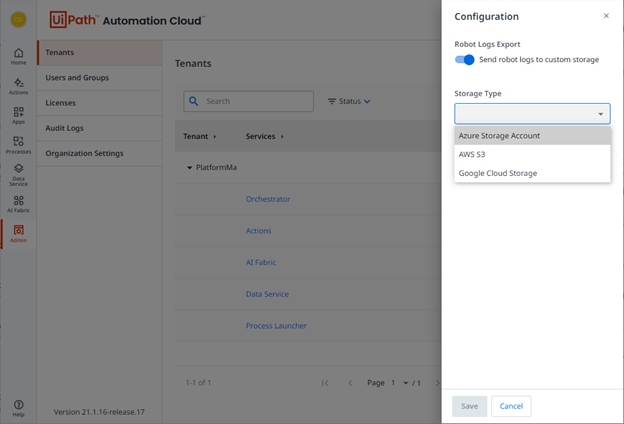 Previously, the only way to export robot logs from Automation Cloud was via an API, which many people are not comfortable with.
We've also updated the licensing tab in Automation Cloud to bring the names you see into line with the products you've purchased if you are an Automation Cloud for enterprise customer. This doesn't change your licensing at all, it just makes it easier to reconcile. You can read more about this change here.
Actioning your feedback
We have always deeply involved our customers in the development process and your input is a constant guide to how we prioritize capabilities and investments. Here are a few examples of recent improvements based on your valuable feedback.
Let's start with governance, which has been an extremely well received new capability. Many of you have asked for the ability to specify the governance policy from Orchestrator itself, so that it can be easily applied to all the instances of UiPath Studio under management. We love this idea and it's a part of the 20.10.3 update coming next week. Here's what it looks like.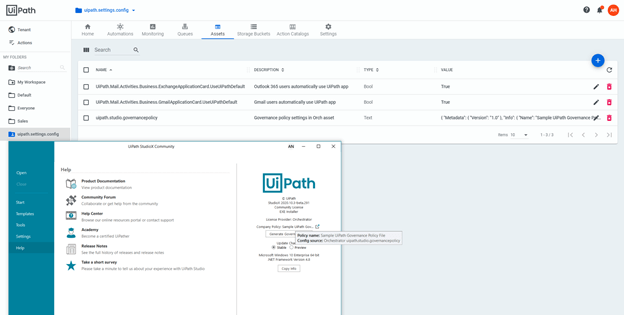 We have also added several highly requested features to the Microsoft Office Activities. For example, you can now launch Excel in application mode where add-ins are loaded in case you have automations that rely on them. You can also work directly with files in SharePoint using their URL. We added support for automating Excel charts and an HTML editor for easy inline creation of rich emails as you build automatons. We've also added support for shared mailboxes in desktop Outlook. All this (and more) can be found in the December Activity preview.
For our friends in IT that have been making their lives easier with our IT Automation activities, we now have support for Google Cloud Platform. We've also delivered several improvements to our Active Directory activity including support for Secure LDAP and multiple user experience (UX) improvements.
Our platform has always been built to be open and extensible. We spend lots of time providing support for the applications you rely on. This month, we've delivered new native integrations with Slack, Adobe Sign, and SAP SuccessFactors. We have also made updates to existing native integrations with Amazon Textract, ServiceNow, Workday, Google Vision, and SAP Business Application Programming Interface (BAPI).
We hope you enjoy these new capabilities as much as we enjoyed creating them for you. As always, we invite you to sign up for the UiPath Insider Preview Program to try new features as we build them and share your feedback.