You've put in the time and effort to automate your testing, but you're striving for more—more quality, more resilience, more durability. But how do you extend testing to the rest of your enterprise? According to GitLab's 2021 DevSecOps Global Survey results, test automation was viewed as the biggest bottleneck in the software delivery process. Why is this the case? There's an enterprise-wide challenge: the inability to scale automation.
Based on a UiPath survey of more than 1,500 respondents, the top three challenges to successfully scaling automation are:
Quality

Maintenance

Governance
While scaling automation can sound daunting, there's a solution: converged automation between software testing and robotic process automation (RPA) through sharing and reusing components. Let's take a closer look at what it is and how it works.
What does it mean to share and reuse automation components?
Centralized governance of components creates the opportunity to control and monitor automations throughout the entire enterprise. This centralized library then allows for sharing and reusing automations, infrastructures, and skills across teams. Anyone can access and leverage automations, including:
RPA developers

Digital testers

IT administrators
By sharing and reusing automation components, you don't need to support, manage, and develop automations using multiple tools and scripting languages. Instead, you can achieve all your automation goals with one universal platform.
How does the sharing and reusing of automation components work?
Through sharing and reusing components, users can transform software testing from a cost center to a value contributor. For example, if you create a component to test a log-in screen for an application like Salesforce, you can then add it to a component library so that others can use it. RPA and IT teams can then use that component as part of their workflows. They may end up automating more of the log-in screen, making the component more useful and resilient. Having a single automation platform where you can share and reuse components between testing and RPA teams creates key opportunities to coordinate crucial business processes.
The more components that are reused and improved, the more useful they become. Users can expand and scale with a robust component library that covers internal and packaged applications. Additionally, leveraging reusable component libraries empowers enterprises to combine tooling and training using one platform.
Why does sharing and reusing automation components work?
When you compare test automation and RPA, they're very similar in both creation of the automation and in the benefits. Test automation and RPA have many elements in common, including that they both:
Emulate a user

Navigate one or more applications

Run through a set of data

Execute a process or activity

Reduce risks and costs
However, one of the key differences between test automation and RPA is that test automation is used in test and staging environments, which occurs in pre-production. RPA, on the other hand, is used in production. What does this mean for testing teams?
Let's look at how converged automation enables reuse to improve the quality of the components while also accelerating scaling on both test and RPA teams.
The benefits of sharing and reusing automation components
RPA and testing both offer each other numerous advantages that allow for opportunities to share and reuse automation components.
How does RPA benefit testing?
Through RPA, businesses can enhance their testing quality, generate test data, and automate tests more quickly. UiPath production-grade, low-code automation enables testers and developers to execute testing more reliably and add resilience to automations.
And how does testing benefit RPA?
Businesses can improve the effectiveness of RPA by reusing automations to build a more efficient and durable environment. Holistic testing of automations and the applications that they depend on becomes vital to successful and consistent business executions leveraging RPA. Thus, by using both RPA and testing together, organizations are equipped to achieve their automation, business strategy, digital transformation, and innovation goals.
How can you use UiPath Test Suite to share and reuse automation components throughout your enterprise?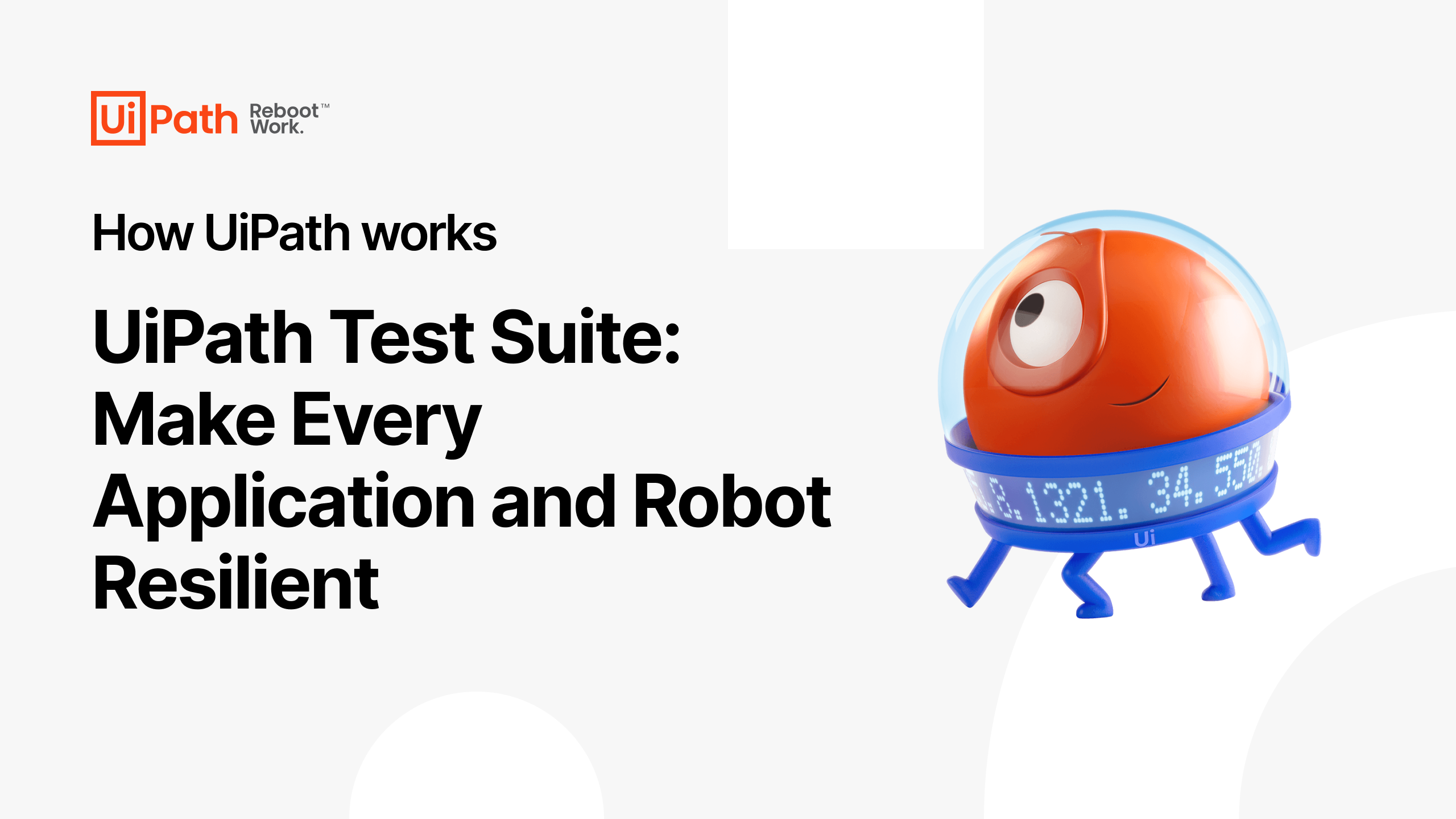 With the UiPath easy-to-learn, low-code integrated development environment (IDE), anyone in your business can automate. Furthermore, the UiPath Platform provides specific capabilities and tools to make every user successful, such as the following:
Purpose-built RPA test capabilities to enable RPA developers to continuously ensure automation quality

IT automation to enable testers and system administrators to automate environment management

Comprehensive functional testing capabilities to support web, mobile, API (application programming interface), and packaged application testing
It's all in one platform, creating a seamless converged automation experience for the entire enterprise. You can create RPA for your business needs, test your applications in your development space, and automate IT where you can set up complete environments and engage in RPA at the same time.
In fact, according to the most recent IDC MarketScape Report for Cloud Testing, one reference used both RPA and UiPath Test Suite to share and reuse components, saving time equating to $2.5 million in savings for the company.
If you have five minutes to spare, watch Impower.ai's presentation to see how Chipotle has shared and reused components to build more resilient automations and drive increased savings. Then, get started with discovering how you can transform quality assurance for your own enterprise by signing up for a free trial of UiPath.