Param Kahlon is the chief product officer at UiPath.
This month our product team has delivered a host of features with a focus on enhancing the attended automation experience, ease of integration with third-party applications, and many others. We have also expanded our localizations simplifying global adoption of the platform. Localizations for this month include:
Community edition of Studio is available in German, Korean, and Portuguese (Brazil)

UiPath Go! and UiPath Connect are available in Japanese

Android and iOS users can now use the Orchestrator Mobile App in Chinese (simplified)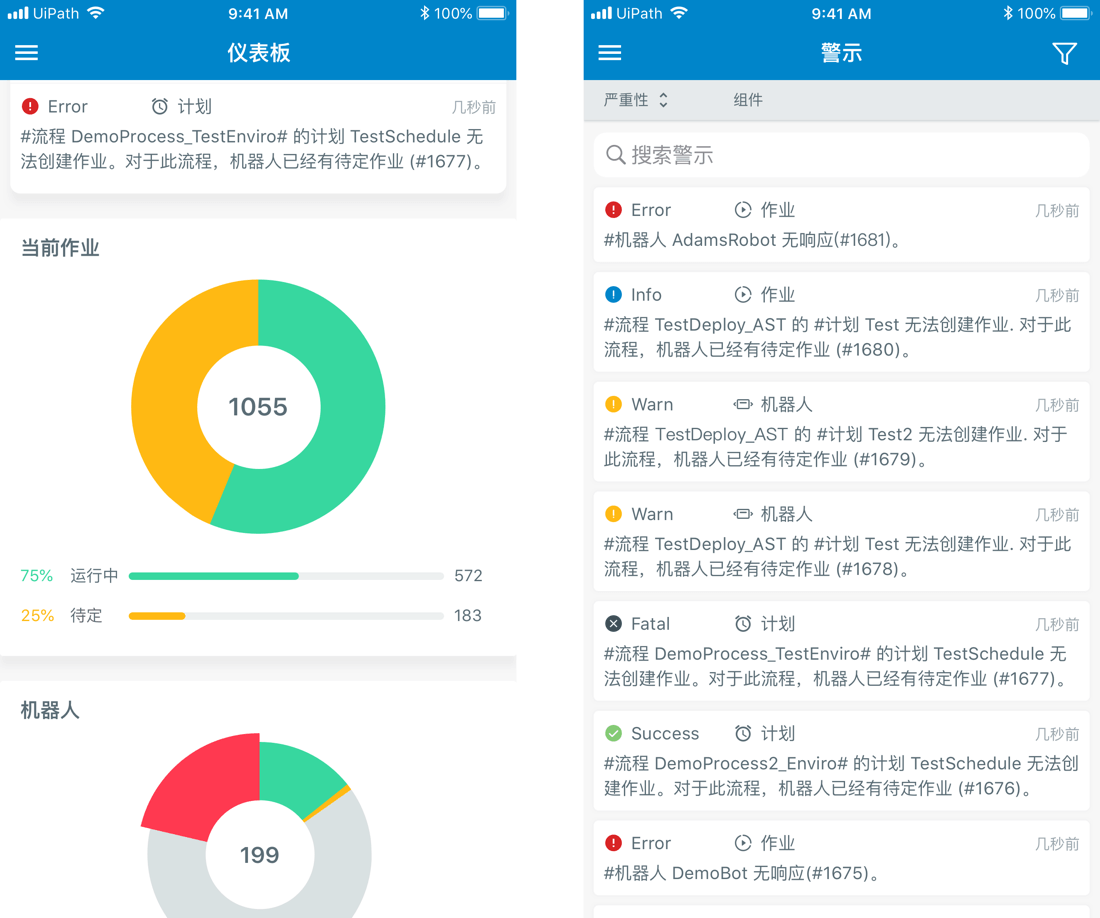 Automate more with AI-powered Visual Understanding
We have introduced three new artificial intelligence (AI) technology partner integrations to enhance our existing Visual Understanding offering:
These capabilities allow you to automate more complex tasks requiring recognition of individual elements which, previously, was not easy to do. For example, you could detect an image within an image, recognize faces, or extract text from an image such as labels, captions, or names.
Previously available in UiPath Go!, both Google Vision and Microsoft Computer Vision are now available in the official UiPath release feed. You can get an account for the chosen service and access the integration activity directly in UiPath Studio.
Improve your productivity with IT automation capabilities
We are on a journey to make work more inspiring for everyone by automating the mundane. For our friends in IT, now you can more easily leverage Robotic Process Automation (RPA) to automate common IT tasks.
We have new activities to automate VMware, Active Directory, and Exchange Server environments including server virtualization, cloud, and user management processes. These will bring the following benefits to IT teams:
Increased productivity

Decreased response time to IT infrastructure, services, and business rules changes

Simpler integration of new processes
Our long-term vision is to deliver a range of out-of-the-box holistic IT automation capabilities so watch for more in this area over the months ahead.
UiPath Platform Public Preview
We continue our progress toward our October 2019 LTS release with this month's Platform Public Preview, available later this week. Key new highlights include:
Forms activity pack for convenient attended automation
Attended automations frequently require human interaction to complete the task at hand. For example, a mortgage agent for a bank specializes in processing loans over $2 million. The agent receives a request for a $3 million loan. The Robot surfaces the background information of the loan applicant it has collected from disparate systems, and if there are no red flags the agent approves the loan for processing.
To enable you to easily build these kinds of automations we have added a new "Form Activity" to Studio. Now you can quickly design forms using a WYSIWIG editor without coding. You can start from a blank form or customize pre-built form templates provided out-of-the-box.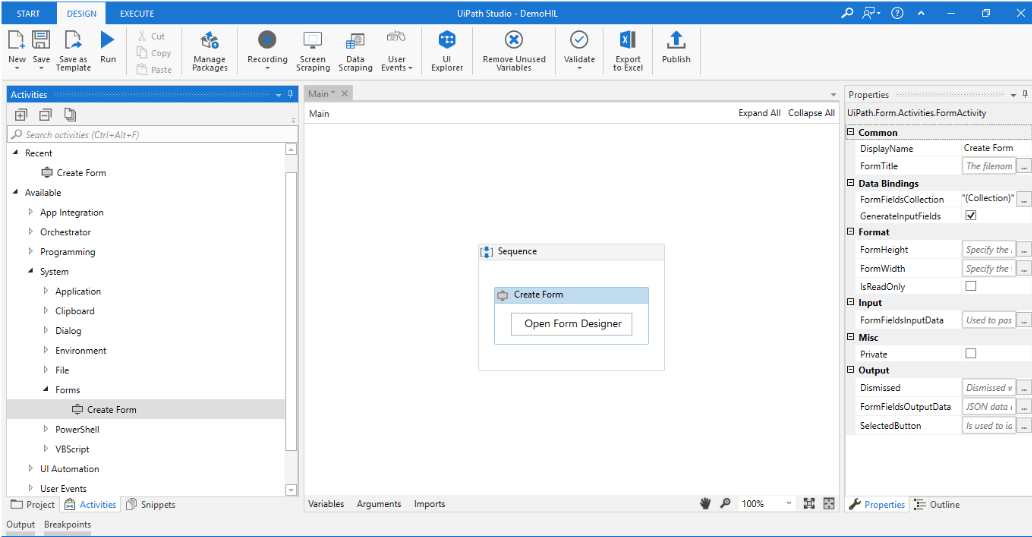 Form Activity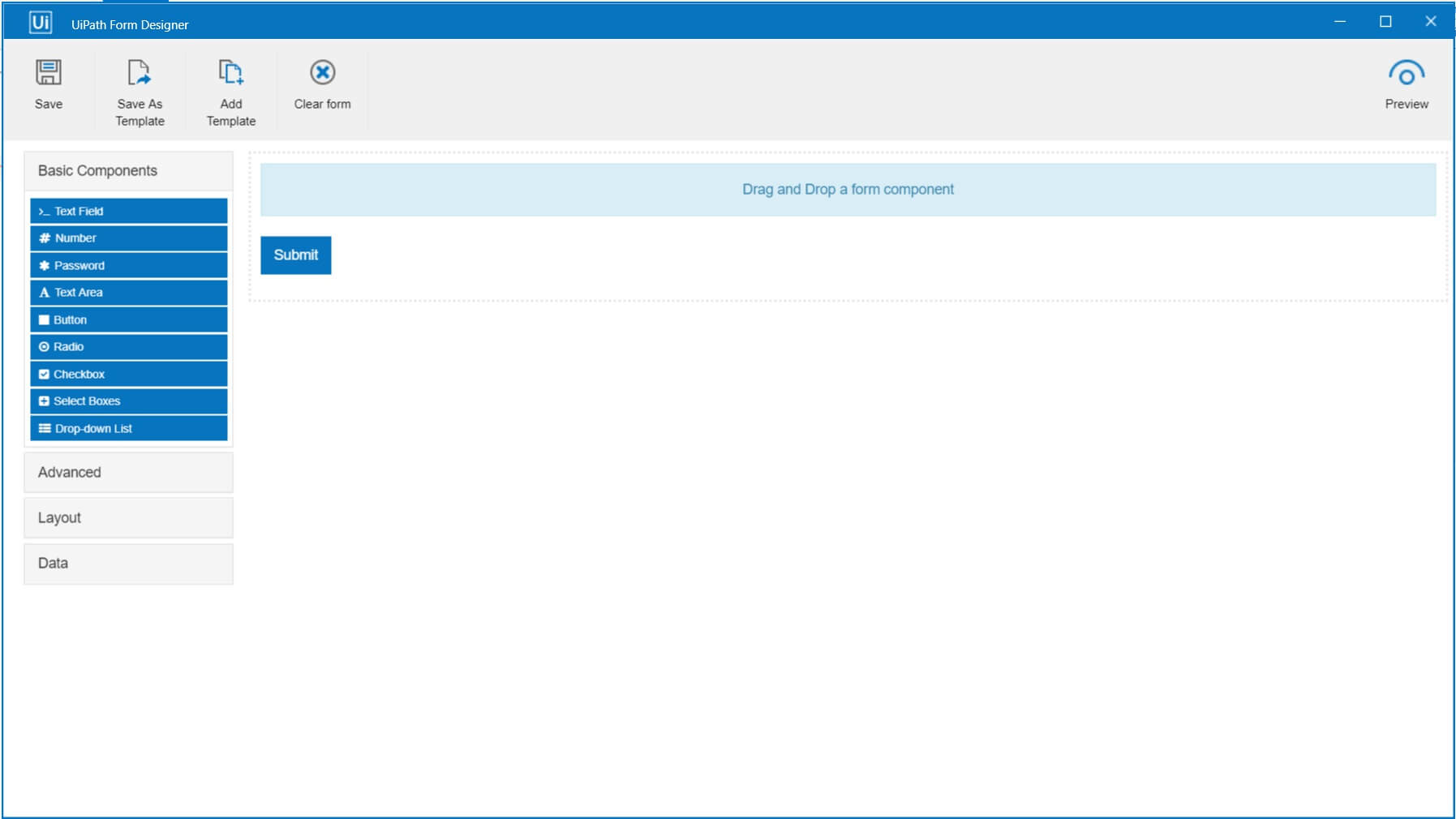 Form designer interface
Introducing Agent Desktop for improved human and Robot collaboration
Because we must respond to changing market conditions and are constantly evaluating the feedback received, Agent Desktop will be generally available in early Q2 of 2020. The capabilities delivered in the August release will be bundled post-2019 release with a new Preview date availability.
Flexible development experience in Studio
Over the last couple of months, we have been working on enhancing extensibility and the debugging experience in Studio.
With this preview version, extensibility takes a big step forward with a new set of APIs that allow you to build on top of existing capabilities and extend the integrated development environment (IDE) to the organization's requirements.
Personalize your development needs with the new API to create custom activities, wizards, and even panels. In debugging, the improved Global Exception Handler now breaks a new method when an exception is encountered and continues stepping. Or, simply start debugging from the top.
We also continue to enhance developer productivity. Now you can set default values for common properties used in a project, e.g., timeout value, user interface (UI) interaction type, API keys, and many more with Project settings in Studio. This feature improves speed of implementation by providing a central location to regulate activity setting. Studio also remembers the last used setting for a given activity and exposes a set of commonly used activity settings for troubleshooting.
These are a few of the key highlights. For more details about all the capabilities in this release, refer to the release notes. If you haven't already, sign up today for the Insider Preview Program to try these and more.