The biggest announcements from TOGETHER London 2023
TOGETHER London was Europe's largest automation and artificial intelligence (AI) conference. The conference brought together industry leaders and over 800 automation professionals to explore how AI-powered automation is driving cost transformation, profitable growth, and increasing customer and employee satisfaction.
If you couldn't make it to the event or need a quick recap, don't worry. We've compiled all the biggest AI news and announcements right here.
Unlocking the true potential of AI with UiPath business automation
There's enormous hype around AI, and it seems to be building every day. We're starting to see leading enterprises move out of the experimental phase and finally actualize and operationalize the technology. They're achieving this because they've combined AI with enterprise automation.
At TOGETHER London, I was delighted to take the stage and present to our customers and partners the UiPath strategy and approach to AI-powered automation.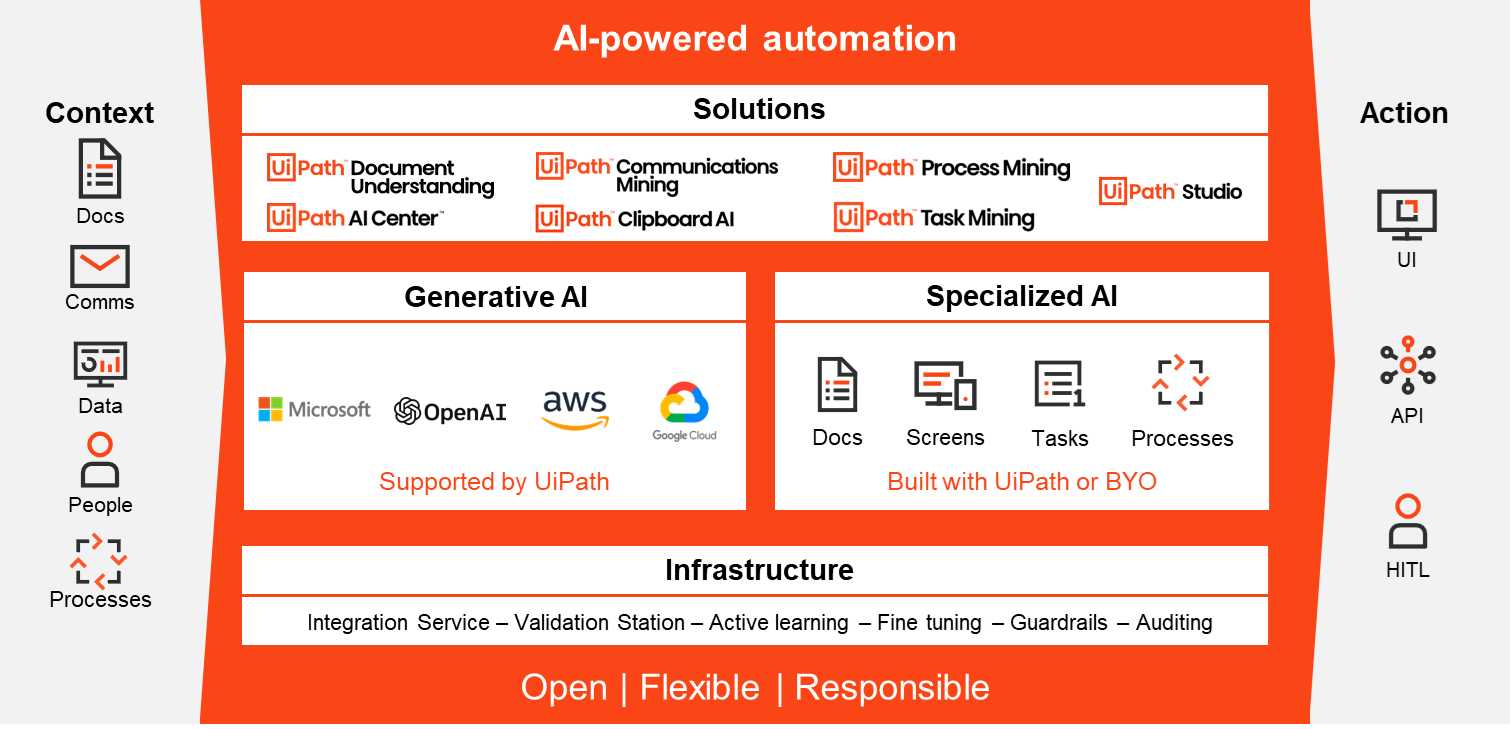 The UiPath Business Automation Platform is an industry-leading enterprise automation platform, designed to accelerate our customers' ability to discover, automate, and operate at scale. The platform delivers AI-powered automation built on our multi-year investment in AI. This includes Generative AI constructed on large foundational models, and Specialized AI we've built for specific business tasks.
Our AI technologies are underpinned by an open, flexible, and responsible AI architecture. We allow users to leverage and integrate the best models available, whether they're developed by UiPath, brought by users, or sourced from other providers. UiPath also prioritizes responsible AI practices. The platform provides guardrails and governance mechanisms to ensure AI models are used ethically, compliantly, and work exactly as intended.
UiPath delivers a comprehensive platform for implementing and harnessing AI-powered automation. Whether leveraging Generative AI, Specialized AI, or both via combined solutions. We provide robust, scalable, trustworthy, and customized automation solutions for your specific business needs. Giving AI the context and the ability to take action to drive real business impact.
Using Generative AI to enhance your automations
With OpenAI's ChatGPT hitting 100 million active users after only two months post-launch, it's fair to say the hype surrounding Generative AI is real. UiPath is fully invested in the Generative AI movement, and we've been using the technology in our platform for several years now.
We first integrated GPT models, such as those powering ChatGPT, to suggest the next logical steps in automation creation in 2021. We're very excited by the latest advances in the technology and see huge opportunities in expanding the use of embedded Generative AI in our platform. It's helping us build smarter robots and simplified automations.
Your automations should augment your unique business context. Gathering that context at enterprise scale requires Specialized AI, Generative AI, and humans in the loop. While Generative AI equips your automations with a general understanding of the world, Specialized AI gives them an in-depth knowledge and understanding of your business. And it's a real-time understanding that changes and evolves alongside your business context.
At TOGETHER, we were very excited to reveal several new Generative AI offerings, including the general availability of our OpenAI and Azure OpenAI connectors—with support for GPT-4. We also announced support for the Falcon large language model (LLM) via its Amazon SageMaker connector, and the preview of the Google Vertex connector with support for the PaLM LLM.
These new capabilities have generated a lot of excitement in our ecosystem. Since its preview release, our OpenAI connector has become the most downloaded component on the UiPath Marketplace with more than 1,500 customers and partners trying it out.
Early feedback has been very positive!
RPA is not just a stepping stone, it's the launchpad to a future where AI-powered automation is the norm, not the exception. That's why having an OpenAI connector is key to weaving RPA into the fabric of your business, turning data into insights, and insights into action. This is where the true value of automation shines, transforming the way we work and redefining the rules of success.

Yuval Keren, Managing Director, Itecor
Our Generative AI integrations reflect our open AI principles, enabling our customers to do more with their chosen, best-of-breed AI models. Watch the demo below to see exactly what our robots can do with OpenAI and GPT-4.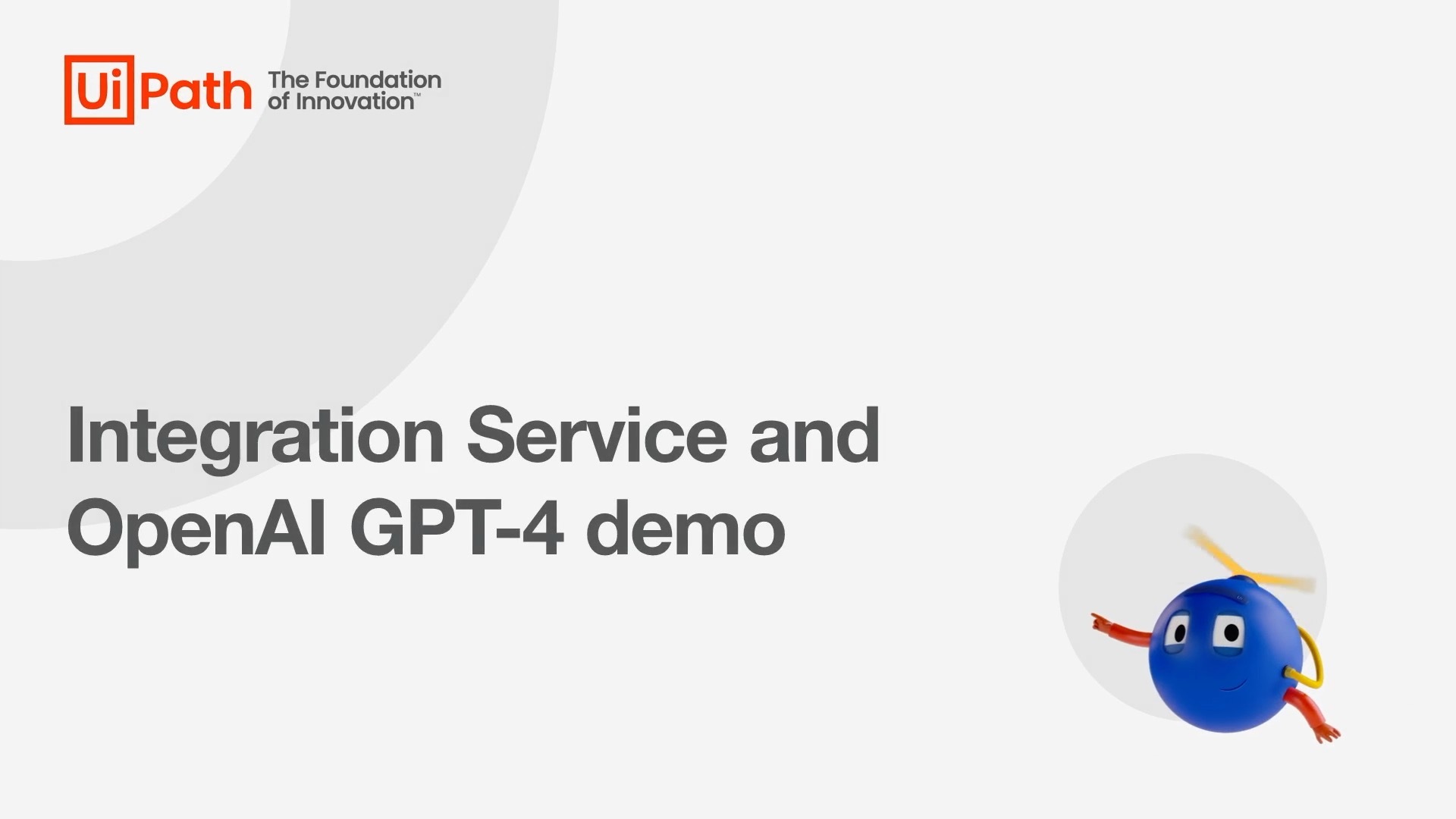 Delivering enterprise automation with Specialized AI
UiPath has also been busy pushing the envelope with our own Specialized AI models. Specialized AI is AI trained for a specific business purpose. Tailored and fine-tuned with a specific business goal in mind. Crucially, it can be securely trained with a customer's data and optimized for their specific needs. The result: more accurate and tailored solutions that are cheaper to operate and deliver higher processing throughput.
For many years, the UiPath Platform has boasted best-in-class AI capabilities. We deliver over 70 specialized models enabling us to understand screens, mine tasks, and process messages and documents. Each model utilizes our unique and proprietary data sets within enterprise workflows and automation.
At TOGETHER London, we showed how we continue to refine and enhance our Specialized AI solutions by incorporating the latest GPT-based technologies. We're using GPT to suggest label names created by our Communications Mining LLM. This enables customers to discover new intents more quickly, further speeding up the model training process in Communications Mining. That means faster deployment and faster time-to-value.
We're proud to announce that UiPath is designated as a Leader in the Everest Group Intelligent Document Processing (IDP) Products PEAK Matrix ® Assessment 2023. This is the first time UiPath has been named as a Leader in IDP, and the only Leader recognized as a Star Performer for the biggest year-over-year advances.
Our GPT integration for UiPath Document Understanding continues this trend, greatly enhancing classification and pre-labeling to shorten training times and enable faster implementations. With pre-labeling for example, we are making it 2-3x faster to build custom document models by leveraging GPT to automatically label the training set, reducing the effort to train a medium complexity Document Extraction model from one week to one to two days. We are also using GPT to support understanding unstructured documents, simplifying retrieving information from complex long form documents like contracts or financial statements.
Watch our demo to see how we're enabling seamless document classification, unstructured data extraction, and question answering with GPT: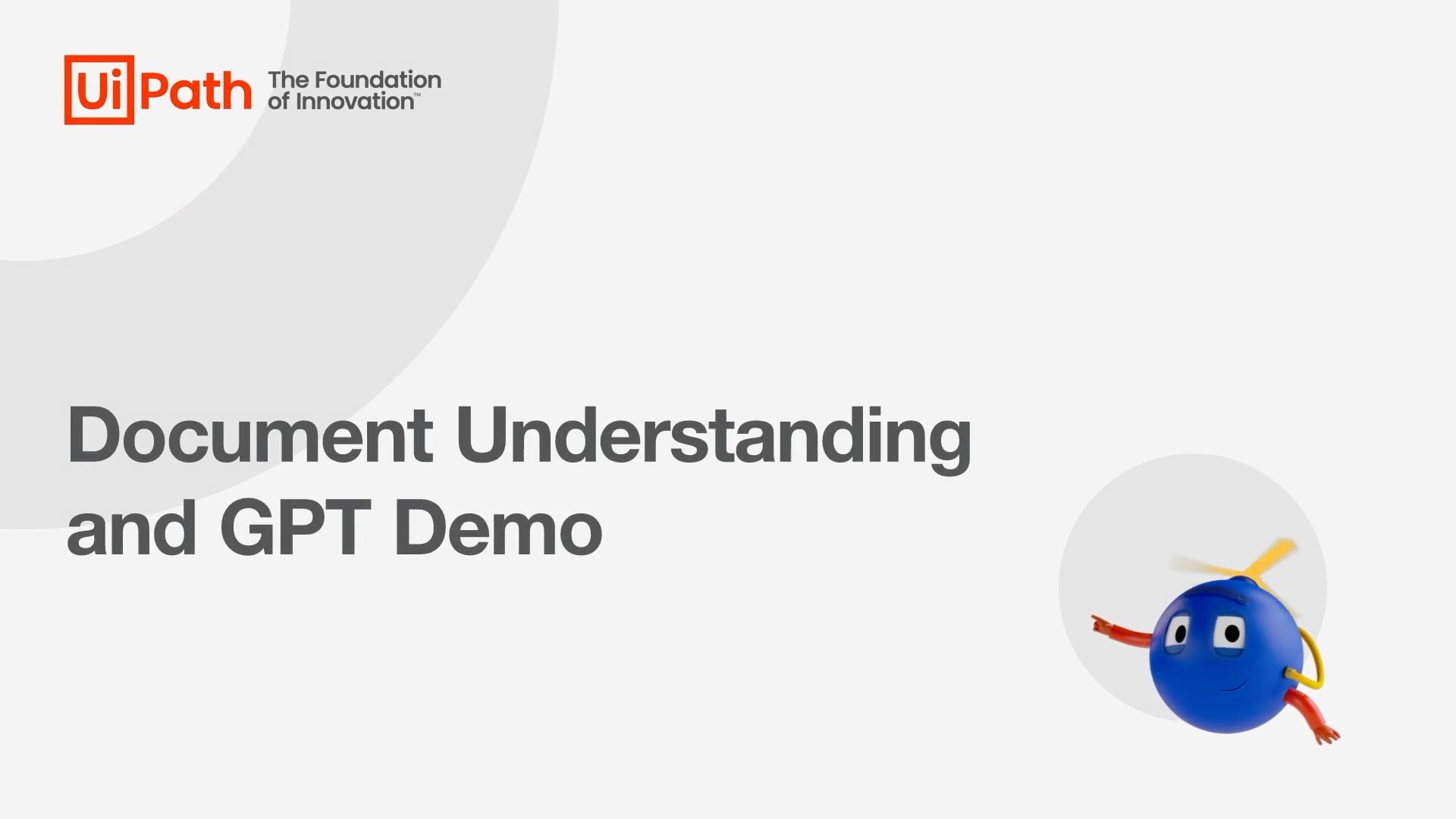 Generative AI and Specialized AI: better together
UiPath is uniquely positioned to combine the understanding of Specialized AI with the intelligence of Generative AI. To watch work happen, understand what is being done, and automate it end-to-end in our platform. We're combining both AI paradigms for incredible business outcomes.
The collaboration of both approaches solves unique business problems that neither can when working alone. Our AI Computer Vision capability is a great example. By combining its deep understanding of computer screens with Generative AI, we can create solutions like Project "Wingman" which creates powerful automations from simple natural language prompts.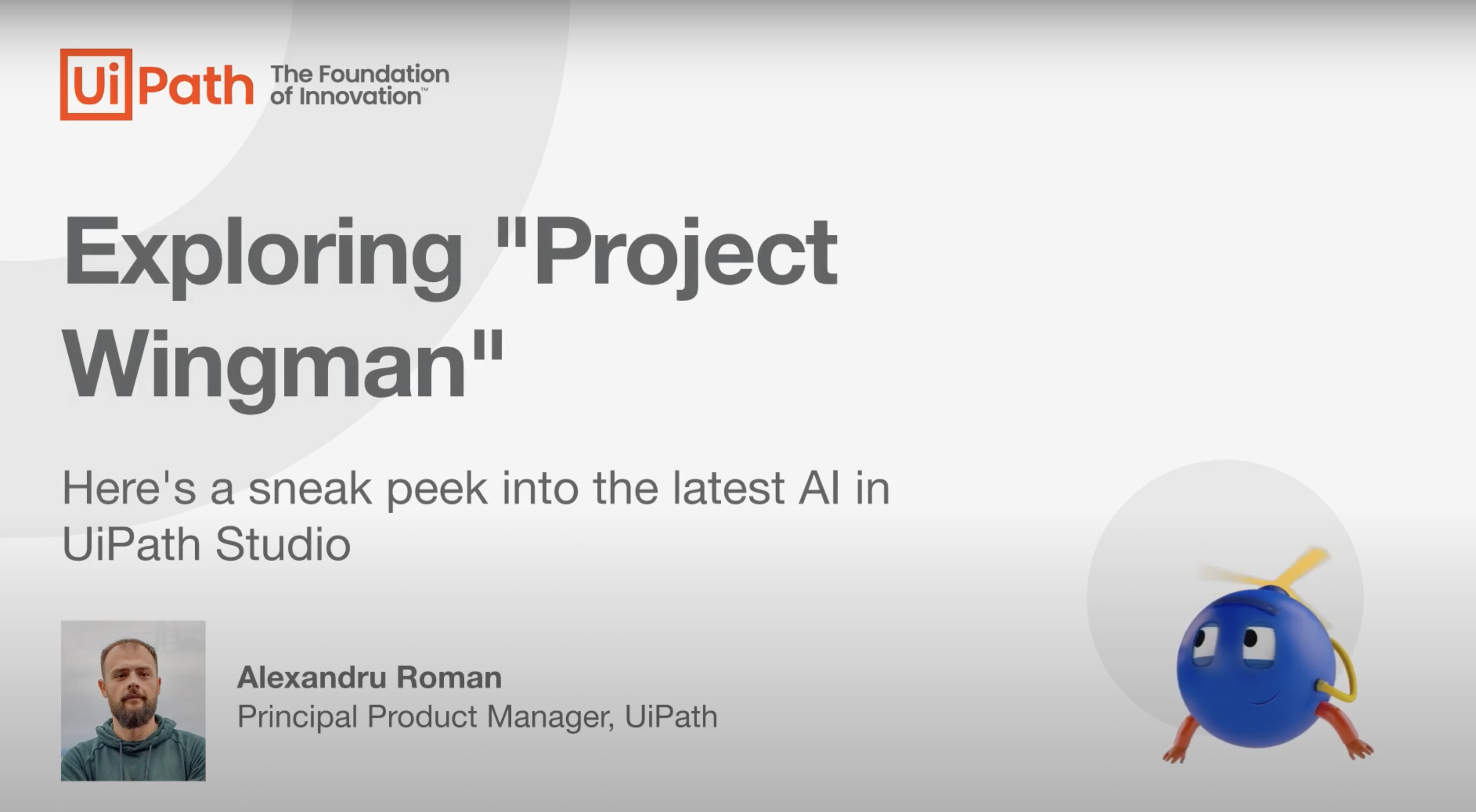 But that's just one example. At TOGETHER London, we were excited to announce the preview availability of Clipboard AI for finance teams. Clipboard AI combines the Specialized AI of Computer Vision with the power of Generative AI to easily transfer data between documents, spreadsheets, and apps. It also understands the content and automatically inserts the extracted data in the correct fields.
Watch the demo to see how Clipboard AI can help finance teams enhance and streamline invoice management across disparate platforms: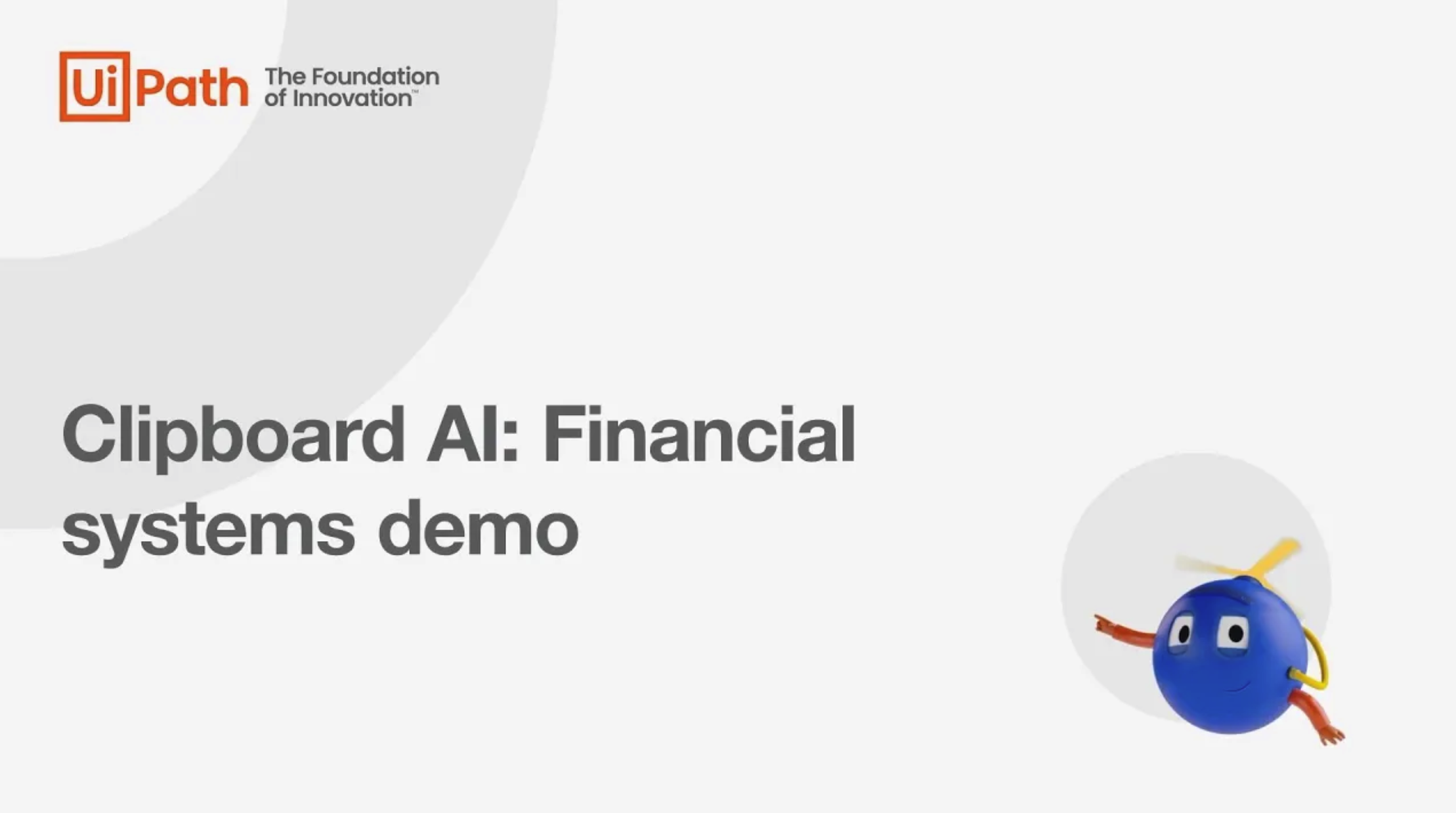 As the imperative for AI-powered automation grows, UiPath is constantly aware of the need to make the latest AI and automation capabilities more easily accessible to businesses. UiPath Studio Web completes the puzzle, providing a web-based automation companion. Enabling users to build and test cross-platform automations across online apps and services. No prior programming knowledge required. It's the ideal starting point for AI-powered automation.
UiPath Studio Web is the ideal starting point for AI-powered automation and is available for all Automation Cloud customers. Visit here to start using it today.