The UiPath AI Summit 2023 was a must-attend event for anyone interested in the latest trends in artificial intelligence (AI) and automation. The virtual summit was packed with insightful presentations from experts and pioneers in the AI and automation space. At the summit, attendees heard about successful AI and automation implementations, and gained insights into the AI capabilities of the UiPath Business Automation Platform. Experts also discussed the latest trends in AI and natural language processing (NLP) that are transforming the enterprise landscape.
If you were unable to attend, don't worry. On-demand recordings are available for you to catch up on all the presentations and discussions at your convenience. Additionally, we've compiled highlights from the summit in this blog post.
Capabilities and challenges of generative AI
In the keynote session, AI experts delved into the growing significance of AI in enterprises and the emergence of generative AI, which has been receiving increased attention lately. Among the speakers was Boris Evelson, VP and Principal Analyst at Forrester Research, who emphasized the critical role that AI plays in today's enterprise, with automation of internal and external processes being two of its major benefits. He also noted that both knowledge-based and machine learning-based techniques are widely used, while emerging technologies such as NLP are gaining traction.
Professor David Barber, Director at the UCL Center for AI and Distinguished Software Engineer at UiPath, discussed generative AI and recommended that businesses take a cautious approach. Barber emphasized the importance of planning and budgeting for human involvement in the process. He made it clear that AI is here to stay and that it has the potential to revolutionize the way businesses operate, but it is essential to understand the different techniques and their implications.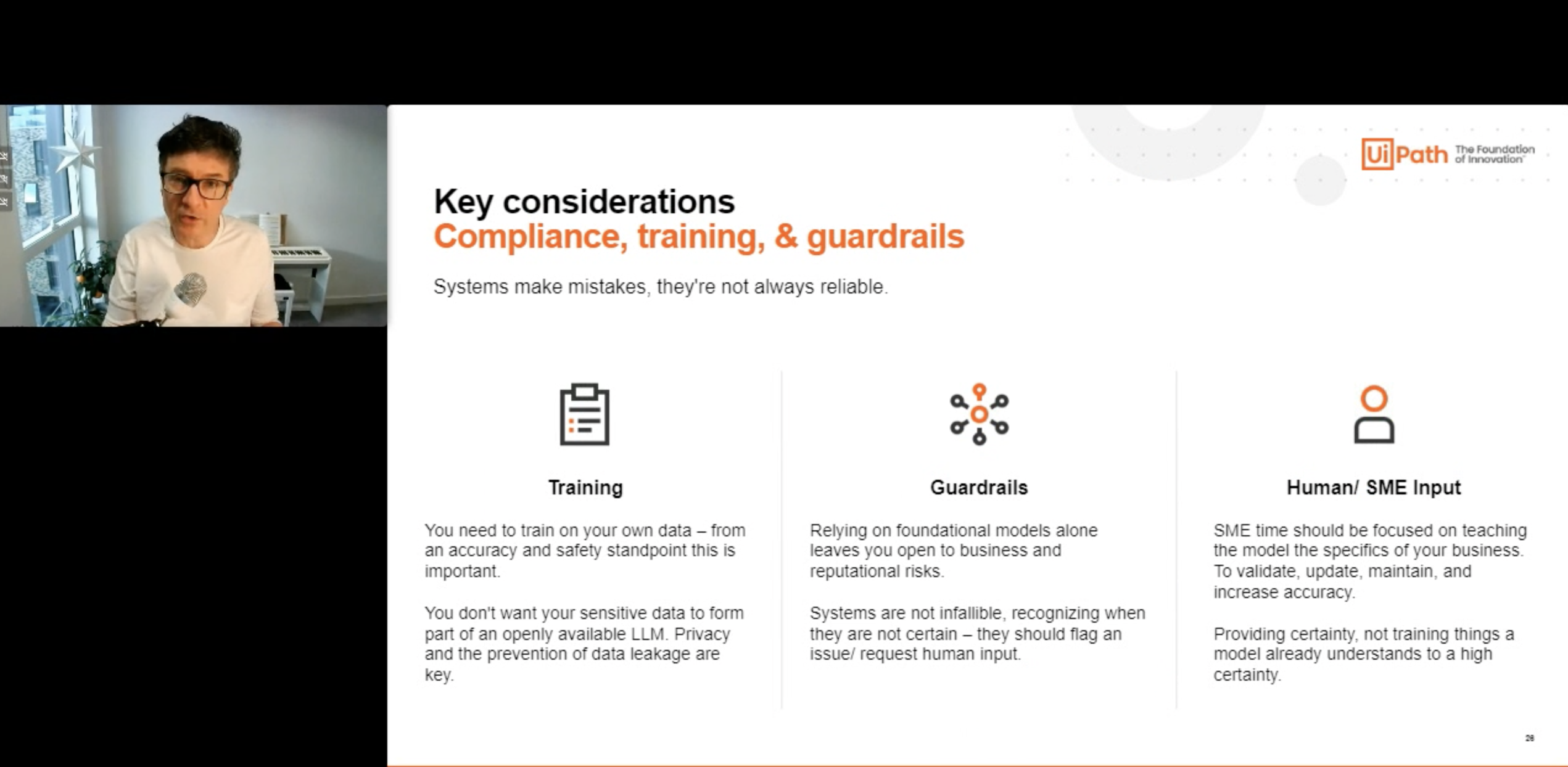 Image: Professor David Barber, presenting during the UiPath AI Summit 2023
AI's transformative potential across industries
The summit provided attendees with the opportunity to attend industry-specific breakout sessions, where they learned firsthand about the practical applications of AI and automation in various industries. Companies and partners like USI, Hub International, Exponent Health (now Expion Health), Anika Systems, Dexcom, Greenlight, qBotica, and others presented real-world use cases.
Financial services firms are using AI and automation to improve their operational efficiency and customer experience. Insurance companies are also turning to AI-powered automation to stay competitive and optimize costs.
In healthcare, automation has transformed manual document-driven processes into automated workflows, improving patient outcomes and streamlining claims processing. In the public sector, AI and automation are being used as a force multiplier to drive mission impact. 
Finally, the manufacturing industry is also harnessing the power of AI and automation to optimize business processes, with one leading medical device manufacturer saving 175,000 hours using UiPath products (all available via the UiPath Business Automation Platform).
Overall, the use of AI and automation has become critical for businesses to improve efficiency, reduce costs, and stay competitive in today's digital age.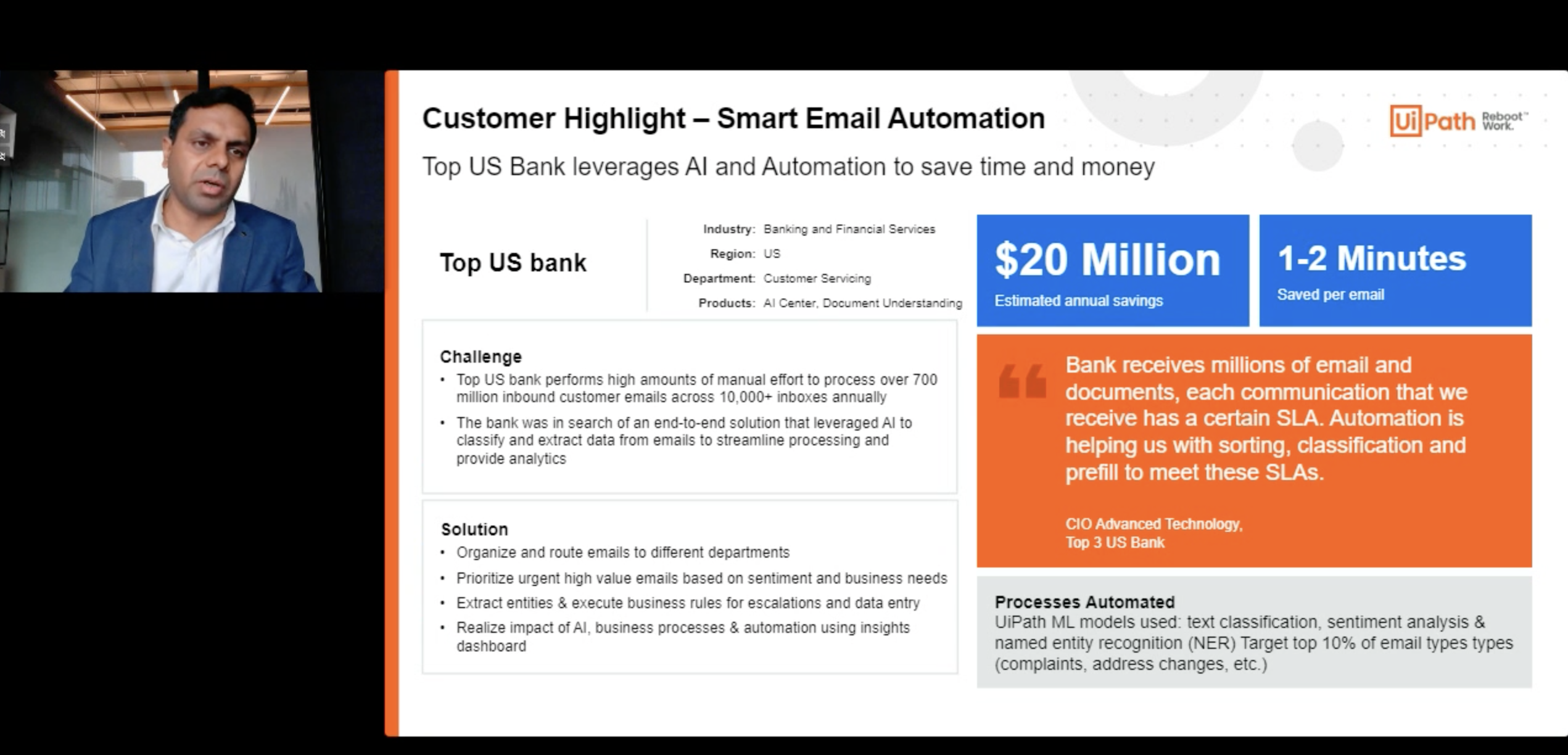 Image: Nitin Purwar, Senior Banking and Financial Services Industry Practice Director at UiPath, presenting during the AI Summit 2023
Latest AI advances that revolutionize business processes
The product deep-dive sessions provided valuable insights into the practical applications of AI and automation. Attendees learned about UiPath Document Understanding, including best practices and success metrics for implementing AI and robotic process automation (RPA) to delegate paperwork to robots. They also heard about UiPath Communications Mining, which combines AI and automation to process and understand every business conversation at scale.
Finally, attendees learned about leveraging the power of UiPath AI Center™ to manage and train their own custom machine learning models, enabling unique use cases with increased accuracy and scale.
Overall, the deep dive session demonstrated the remarkable potential of AI and automation to transform business operations and drive agility, efficiency, and innovation. With cutting-edge technology across the UiPath Platform, businesses can unlock new opportunities and stay ahead of the curve in an ever-evolving technological landscape.
Building the future of AI and automation
The closing session covered a variety of topics and exciting announcements, including the announcement of UiPath AI Awards winners by Luke Palamara, VP of AI Product Management at UiPath. He also highlighted the impressive UiPath advancements in AI integration, especially the new Ask GPT activity in the UiPath Marketplace, an activity that allows users to utilize the powerful capabilities of GPT to extract information from documents and automate tasks. Additionally, the upcoming Project "Wingman" is set to be a game-changer in automation creation, offering a more user-friendly experience for developers. It will also make the process more accessible to those without extensive programming experience.
For developers and automation program runners, the latest AI connectors provide a seamless integration between UiPath and popular AI platforms such as Google Cloud and Microsoft Azure. These integrations enable UiPath users to incorporate advanced AI technologies into their automation workflows with ease.
Finally, Clipboard AI™ offers a glimpse into the future of automation with an AI-powered productivity tool that can understand and execute tasks based on natural language commands when it comes to copying and pasting data. This tool has the potential to greatly increase efficiency and productivity for users of all skill levels. Overall, the continued UiPath investment in AI and automation technologies is sure to bring significant benefits to users and businesses alike.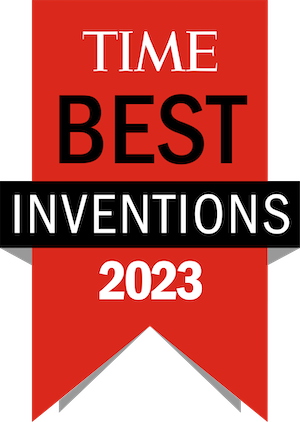 UPDATE: UiPath Clipboard AI™ was named one of TIME's Best Inventions of 2023. Read why TIME recognized Clipboard AI for improving productivity.
We want to thank all the participants for their invaluable contributions in making this year's summit a grand success. We can't wait to bring you more exciting updates and insights next year.
If you're looking to gain insights into how you can use AI and automation in your business operations or simply want a refresher on what was discussed at the UiPath AI Summit 2023, make sure to check out the on-demand recordings.