Bobby Patrick is chief marketing officer at UiPath.
UPDATE: FORWARD III may be over but now you can get FORWARD III presentations, videos, and guides right to your inbox when you sign up for the free FORWARD III event pack!
Original post:
As we approach our 2019 FORWARD III event in Las Vegas, we can't help but look back on key takeaways from our 2018 FORWARD series.
Our favorite thing about our FORWARD events is getting to see our customers in real life. It gives us a chance to listen to their experiences and learn from their journeys to see what's possible with Robotic Process Automation (RPA) in different markets.
Last year, we hosted leaders from a variety of industry-leading organizations including Google, McKinsey, Microsoft, Deloitte, Celonis, and Roboyo. They shared success stories, tales of pitfalls, and insights into the ways that automation has helped them create ground-breaking products, support top-tier services, and revolutionize their industries.
This year's FORWARD III is the largest gathering of RPA experts and practitioners. We hope you'll join us in Las Vegas, Nevada, for this year's incredible line-up of speakers.
In this post, we'll outline the top lessons from presenters at the 2018 FORWARD event, including how to navigate the rapidly evolving 'automation first' era and accelerate your RPA goals.
A new style of automation is possible
"Maybe it's not just a game changer for your organization; maybe it's a game changer for society," explained UiPath CEO Daniel Dines at FORWARD last year.
Thanks to a convergence of trends in the automation market, a new style of automation is possible.
As our speakers detailed at the 2018 UiPath FORWARD event in Miami Beach, today's automation first era is a combination of computer vision, the "summer of artificial intelligence (AI)," and business process automation (BPO).
Speaking last year, Dines explained the automation first era relies on:
Business-led enthusiasm

A fast, accurate user interface

Business process automation

Robot economics
Related read: The Automation First Era in Enterprise Technology is Here to Stay
At FORWARD last year, one of our customers—Ladbrokes Coral—spoke about the results they achieved by combining these technologies. Within the first year of implementation, they saved 11,000 work hours with the help of a Robot named Michelangelo. Read the full story.
Advancement in computer vision technologies will allow companies to leverage increased data and cloud processing power. As more data from global companies enters the cloud, this vision will only improve.
On the smart automation front, the summer of AI is the result of widespread tech advancements adopted by businesses and people across multiple industries, including the adoption of:
Mainframe

Computer

Graphical user interface (GUI)

Internet

Mobile devices

Cloud computing
Thanks to the adoption of these technologies, customers are seeing a return on investment (ROI) on AI and RPA technologies, including natural language processing (NLP) and machine learning (ML).
As businesses have outsourced more and more work, they--and the companies they hired--needed to redesign these workflows to make them more efficient. This has driven companies to map out processes and lay the foundation for digital transformation.
This was a key topic at the 2018 FORWARD events and we'll dive even deeper into the topic this year at FORWARD. 
Dines will speak to "The State of UiPath" in his upcoming FORWARD keynote on October 15, 2019.
The key to automation success is open, free collaboration
Gone are the days when companies succeeded through isolated, siloed strategic methods. We wrote about the importance of democratizing RPA in a recent blog, but the topic was also a highlight of last year's FORWARD events.
As Dines and our partner presenters discussed at last year's events, businesses embracing an automation first mindset need a platform that offers an open, collaborative way of transforming their operations.
"One of the best business decisions we ever made was to make our software freely available," said Dines.
As our attendees last year attested again and again, UiPath Enterprise RPA Platform offers something unique: a product that can be used commercially as well as individually, for free.
While "free" is often thought to be inferior, we've worked to show that open, collaborative software can be the foundation for success in any industry. When many leaders hear the term "innovation," the adjectives that come to mind are less "open" and "collaborative" and more "insular," "secretive," and "bureaucratic."
This is slowly shifting the mindset of global industry leaders. In fact, 78% of respondents to a survey on collaborative tech adoption reported running their companies on open-source software.
We believe this number will continue to grow as automation tech—and education about developing and using it—becomes more widely available. We're doing our part by working to train 1 million students in automation over the next three years through our Academic Alliance program.
By investing in and supporting this shift in software use, companies can achieve:
Greater security

Faster scaling

Smoother deployment

More flexibility
With UiPath Go! and a community of progress-minded developers and leaders, we've helped hundreds of companies like those at FORWARD 2018 reap those rewards. UiPath customers will also outline the ROI they've achieved at this year's FORWARD event.
Related read: 7 Things You Don't Want to Miss at FORWARD III
Companies can easily download and reuse RPA and AI components through Go! and teach their teams how to best put them to use through the Academic Alliance program.
Your robots need to level up
"Increasingly, RPA vendors are integrating with additional capabilities such as intelligent optical character recognition (OCR) and others in order to create broader features for automation," Everest Group Executive Vice President and Distinguished Analyst Sarah Burnett said.
"The RPA capability itself will effectively become the glue that holds many of these technologies together."
In the early days of automation, companies had to show their robots each individual step of a process according to detailed instructions. This was good but limiting.
As workflows have become more advanced, so has the technology we can use to automate it.
At last year's FORWARD events, we shared how we're able to teach robots to visually interpret elements on the screen, read documents using intelligent character recognition (ICR), and talk to customers through chatbot technology.
These features allow companies to use automation tech for the kinds of workflows that bog down teams and eat up resources: complex, exception-heavy processes.
Our newest release at the time—2018.3—allowed companies to begin to program this into their UiPath robots. Though we built the framework, these capabilities need exposure and experience with the processes our companies rely on to grow better.
As our customers continue to use our platform, their robots will grow, mature, and learn autonomously. They'll help to stitch together the machine learning and expert AI technologies that complete their automation ecosystems.
And, while we've jumped into the automation first era with both feet, there's still a long way to go.
To help with this, we unveiled, during our UiPath FORWARD in London last year, the Automation First Immersion Labs. The labs offer workshops and trainings from data engineers and automation experts to showcase how today's automation technologies blend together.
Building the workforce of the future means having a robot for every person
"Just as we have human policies, we will have robot policies," PwC Intelligent Automation Director Dev Govender said. "This new world will create some chaos, but out of this chaos, we will create new realities that will become the new normal."
On October 15, 2019, PwC will give a behind-the-scenes look at their own automation journey during their main stage presentation "A Robot for Every Person." 
Our 2018 FORWARD attendees represented some of the most cutting-edge companies in the automation first era and this year's FORWARD continues to raise the bar.
FORWARD participants and speakers have embraced the mobile-first era and the cloud-first computing era to rise to the top of their markets. At the 2018 FORWARD events, a new goal was outlined: a robot for every person.
Last year's speakers outlined how this mission involves everyone from the top down and bottom up. It's not just about leadership pushing the automation vision forward or employees helping to identify when and where robots should be used next. Instead, companies have to look at each opportunity for automation, weigh each employee's contribution to their company, and think about how automation can make each process and experience better.
"Together, we will redefine what the future of work is going to be like," said UiPath Chief Product Officer Param Kahlon.
By looking at every opportunity to automate, and empowering employees from the bottom-up to identify everyday automation opportunities, we can eliminate unrewarding work and move industry into a new era. This includes adopting an approach that captures the long tail of work.
While last year introduced this automation first approach, the graph below is part of our recently released automation first white paper.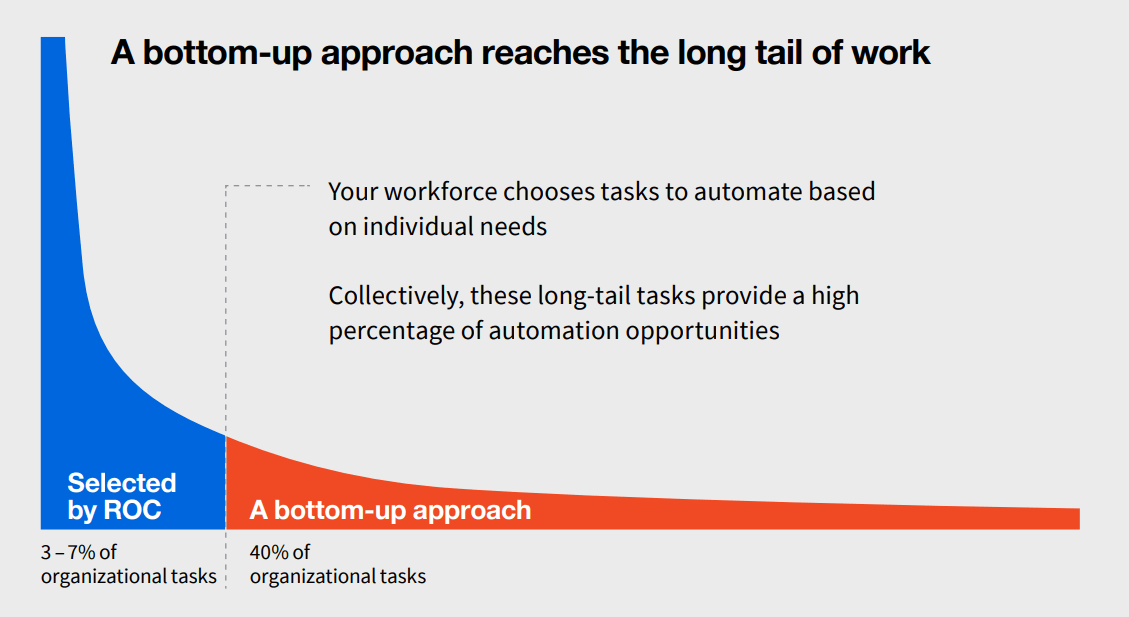 At UiPath, we believe that cutting-edge technology should be shared. By aiming for a robot for every person, we—alongside our customers and partners—can create a world where automation is available to help everyone do their jobs better, faster, and with more satisfaction.
Join us at FORWARD III to accelerate your automation journey
"People are limited, computers are limited, and we'll always be able to complement each other," said Jonathan Levav, Stanford University Professor of Marketing.
At last year's 2018 FORWARD events, we shared stories, swapped advice, and bounced ideas off our innovative community of partners, presenters, and customers. We heard all about the ways machine learning, RPA, and AI were accelerating the transformation of businesses around the world, as well as making them more efficient and competitive.
We can't wait to do it again at FORWARD III this fall in Las Vegas, Nevada.
RPA innovators will share how they're using RPA in ways you've never considered and rebooting work across entire organizations.
Join us at FORWARD III to learn more from our global customers and partners about how to implement, scale, and transform your company's digital transformation strategy.