Diego Lomanto is vice president of product marketing at UiPath.
The 'automation first' era is here, but progress toward realizing its potential isn't evenly distributed. The Economist Intelligence Unit, in a report sponsored by UiPath, surveyed 502 executives from eight countries to understand the state of automation in the enterprise and explore the visions these companies are working toward.
A few years ago, Robotic Process Automation (RPA) was still a new technology.
In 2013, McKinsey predicted that knowledge work automation technologies, such as RPA, would be disruptive. In 2014, RPA was only beginning to challenge business process outsourcing, and in 2016, some companies started to institutionalize RPA.
Today, RPA has become a core technology and a strategic priority for companies around the world. Research shows the adoption and scaling of RPA are accelerating—though not at the same rate everywhere.
The pace of progress is speeding up, but there are lessons from different regions and countries that companies can learn from to remain competitive in the automation first era.
Automation is reaching new levels of maturity
Today, more companies in more countries believe in automation and reap its benefits.
The vast majority of executives The Economist Intelligence Unit surveyed are using automation: 90.8% of them report using automation, and 50.6% report using it extensively. Automation is no longer a topic exclusive to "future of work" reports; it's an essential tool in most modern enterprises.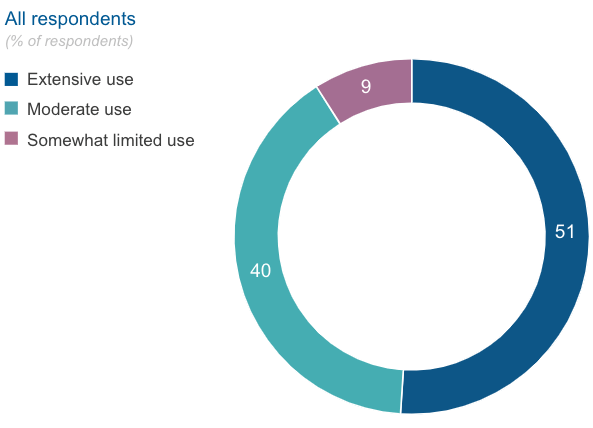 Not all countries are using automation exactly the same way. For example, executives in Canada and India reported moderate use of automation, while automation use tended to be more extensive in the United States (U.S.), France, and Germany.
Worldwide, companies are getting returns on their automation investments. Eighty-six percent of executives from India, 81.7% from Germany, and 79.5% from the U.S. report high satisfaction with the benefits that resulted from automating business processes in their organizations. These returns can only lead to more companies taking up RPA and more companies scaling already-present RPA deployments.
Spending patterns show investment in RPA isn't slowing down. Forrester predicts that by 2023, the RPA market will reach $23 billion. By 2022, Gartner research predicts 85% of companies with more than $1 billion in annual revenue will deploy some form of RPA.
The automation industry as a whole and automation deployments within individual companies are reaching new levels of maturity. It's no longer a question of whether RPA is a good investment.
Curiosity and excitement have shifted to figuring out how companies can best face the challenges that inhibit deploying and scaling RPA even further.
Shared problems and shared potential
No one problem is impeding the further adoption of RPA, but some commonalities across technology and regulatory challenges make shared best practices possible.
The Economist Intelligence Unit study shows a generally even split between technology, regulatory, and privacy challenges across regions. Technology-related problems tend to be the biggest hurdle in Asia, while India's biggest problems lie with regulatory and privacy challenges.
These challenges are some of the most common, and the most vexing, for companies trying to scale RPA.
Building robotic Centers of Excellence (CoEs) is going to be key for companies that want to surmount these challenges. Robotic CoEs are business units that centralize governance procedures, share best practices, and standardize robot deployment.
CoEs can set up and standardize governance and security procedures that make it easier to address region-specific compliance and regulatory challenges. A CoE can also manage robot requests and deployments, ensuring internal security rules remain intact.
Despite these challenges, belief in automation's potential—beyond sheer ROI—remains strong.
As RPA scales, work will get less tedious, and humans will have more time and space for higher-value activities. The Economist Intelligence Unit found that 79% of surveyed executives believe automation is most effective when it complements humans—not replaces them. Beyond making human lives easier, 88% of executives believe that automation will accelerate human achievement.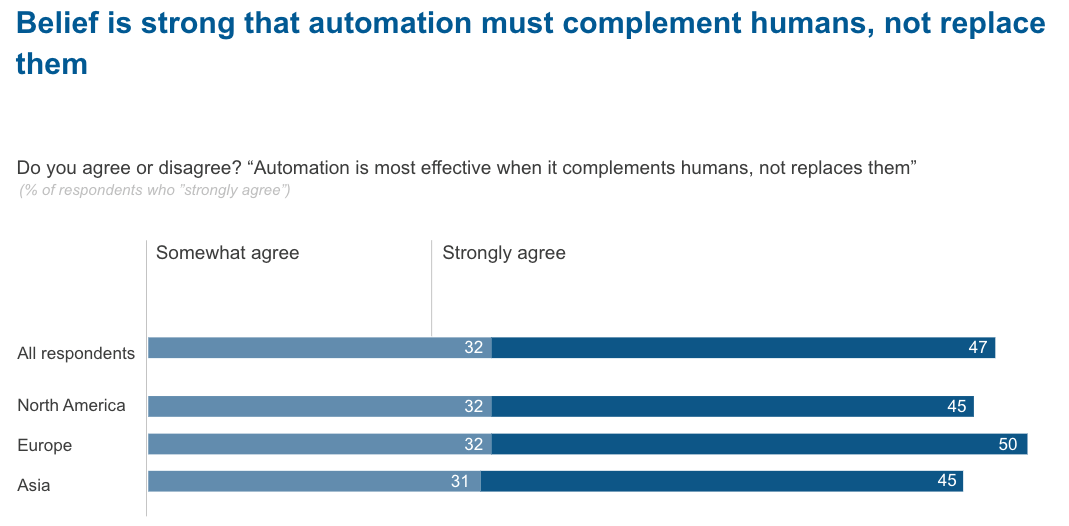 This consensus about human-oriented goals provides the bedrock for the automation first perspective that will soon become necessary for companies to compete. Automation first companies consider the availability and unique advantages of their hybrid workforce when solving their problems, turning first to robots to handle any tedious work and free human creativity.
Automation first leaders are emerging
Winners in the automation first era won't be the companies that deploy RPA; they will be the companies that develop an automation first mindset.
RPA has become a core tactic and a high priority for countries all over the world. When considering their strategic objectives, 84% of executives in India and 73.2% in the U.S. prioritize the usage of RPA.
This prioritization is a sign that executives in these regions are learning to think automation first, but if companies focus exclusively on the immediate benefits, then RPA scaling can stall. As it stands now, India, Germany, and the U.S. are the furthest along in actually achieving those strategic objectives via automation.
The shift from immediate benefits to strategic benefits will be a tipping point for many companies. Once companies start pursuing the full range of RPA's potential, they'll be able to leap ahead of companies that still consider it one tool among many.
Kulpreet Singh, managing director of test automation at UiPath, predicts that companies in Europe, the Middle East, and Africa will be able to boost the pace of large-scale RPA implementations with training programs, open marketplaces, and maturing CoEs. Luckily, training isn't region-locked, and countries around the world can access a similar boost via the UiPath Connect Enterprise and UiPath Academy training program.
Keeping up is only going to get more difficult if companies don't quickly learn how to think automation first.
When companies first take up RPA, they tend to focus on increasing productivity and reducing operating costs. The most obvious processes to automate are slow, expensive, and involve significant amounts of manual work. Once automated, the processes become faster and more accurate, and these companies can re-allocate employees to activities that are better suited to human creativity.
Once this re-allocation is in action, companies can shift their goals from achieving immediate benefits to achieving long-term, transformative benefits.
The Economist Intelligence Unit report shows that, by and large, fewer executives will be targeting the 'low hanging fruit' of reduced errors and reduced operating costs in the next two years. Even the proportion of executives pursuing improved productivity slims from 51.5% to 43%.
Instead, over the next two years, executives predict the most significant benefits from automation will increasingly be from gains in profitability and competitive advantage. Trends are pointing away from exclusively productivity-based needs toward using RPA to fulfill customer service, marketing, research and development (R&D), and competitiveness goals.
As executives and companies learn to think automation first, they won't only deploy robots when they see a process ripe for automation. Instead, they'll approach every process as one capable of transformation, one that will include mixes of human and robot labor. This mindset is the foundation of organization-wide transformation.
Finding a shared future
Progress happens in fits and starts, not in one fell swoop.
We're reaching a point with RPA and automation, broadly, where deployment is replacing doubts, and potential is replacing fears. More companies are using automation, more are benefiting from it, and more are prioritizing it in their future strategies.
The automation first era is a global shift, one that each region and company is finding its way toward. As more companies perfect their approaches to automation, the benefits they reap will give them competitive advantages and leave slower, less efficient companies behind.
Few of these problems are unique. Different companies are identifying similar problems across industries and regions. Patterns are emerging as companies face the challenge of transformation—but so are solutions for companies willing to learn.
I joined Emily Wasik, thought leadership editor at The Economist Group, for a webinar about how companies are succeeding in the automation first era. Check out our on-demand webinar "Build a Thriving Enterprise in the Era of Automation First" to learn more!