With breakthroughs in technology and artificial intelligence (AI) advancements, today (more than ever) CoE leaders count on a talented workforce to enable complex digital strategies and innovative programs, and build through end-to-end automated workflows.
For the fourth year, we connected with automation developers, business professionals, and students to hear directly from them how they see the evolution of automation technologies. We also looked at their job satisfaction, and their intention to grow in the field. With more than 1,600 respondents, we synthesized key takeaways that'll help CoE leaders implement a digital transformation strategy from a people perspective.
Continuous growth and maturity of organizations that use automation.

Automation is a career choice for seasoned professionals and people entering the workforce.

AI is embraced by the majority, and it is part of their immediate future.

Strong sense of belonging and satisfaction in their career choice.
Note: insights are based on responses received on the State of the Automation Professional 2023 survey. Download the report.
1. Continuous growth and maturity of organizations that use automation.
From survey responses, it's clear there's a continued trend in automation adoption. Seventy-seven percent of organizations have used automation technology for more than three years already, and 50% of organizations have at least 25 people dedicated to automation roles.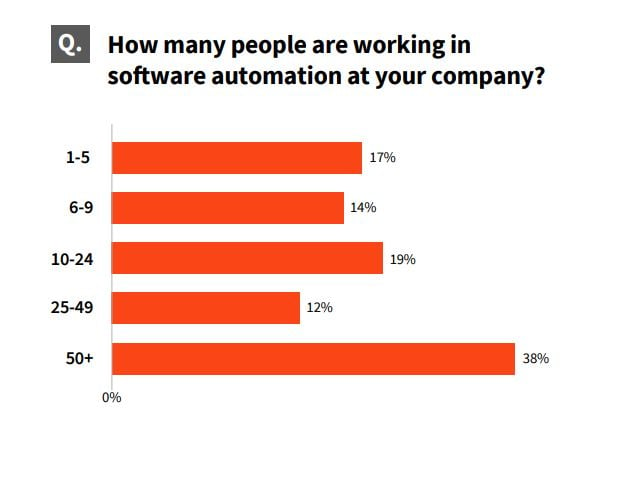 Although 2022 was a year with major changes from mass layoffs and talent shrinkage in the tech sector, 68% of the respondents mentioned that their automation teams grew in the last year. They see continuous expansion happening in the coming months. Another positive result is in the unemployment rate. Year over year, we see a decrease from 9% as it was seen in the last report to 4% as per this year's responses.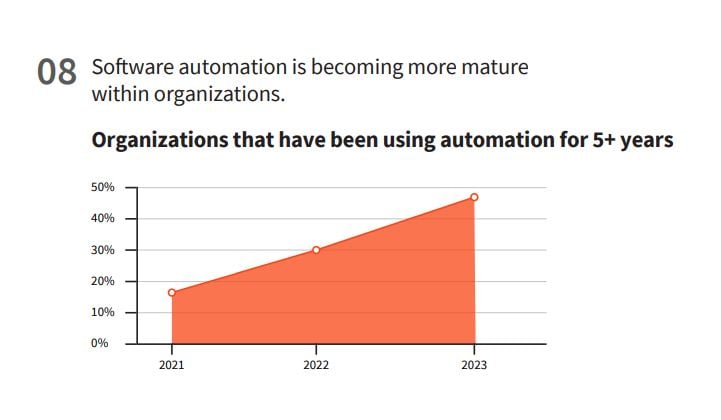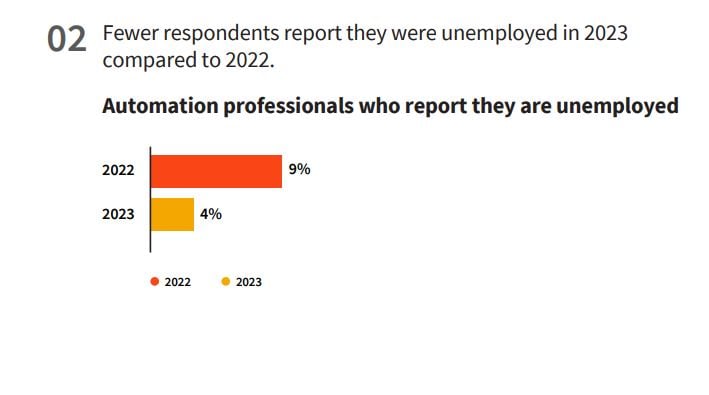 2. Automation is a career choice for seasoned professionals and people entering the workforce.
For 46% of respondents, automation was their first career choice when they entered the workforce, and they continue to stay in the field. Automation was an easy-to-transition option for professionals with more years of experience, so there was no significant disruption for them. The data shows that the UiPath Business Automation Platform is extremely easy to use by upskilled and reskilled professionals.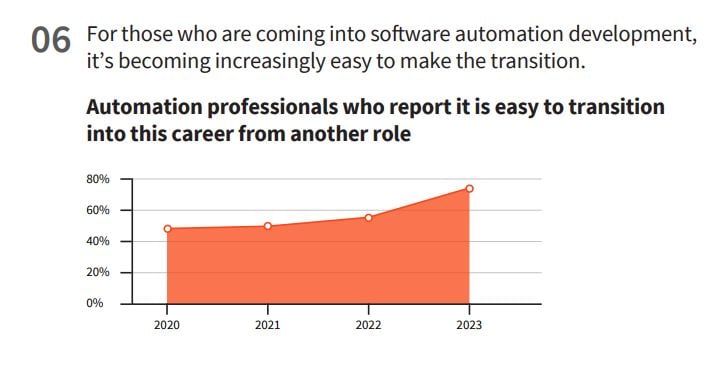 With the expansion of the automation field with Generative AI, test automation and process mining, there are more roles to be filled and professional careers to be pursuit by developers but also by business professionals. This year, the report expanded from RPA developers to automation professionals that have key roles in the lifecycle of automations. We see seasoned professionals contributing with their business knowledge to automation development. As per the responses, most of them have over six years of business role experience and more years of continuous studies with master's degrees or other formal educational completed.
3. AI is being embraced by the majority and is part of the immediate future.
Eighty percent of automation professionals are ready to incorporate AI capabilities and another 12% already using AI in their roles.
Given the accelerated expansion and fast innovation in the field of Generative AI, respondents stated there are struggles in getting AI technologies well integrated into their automation flows. The positive is their continuous interest in learning and gaining expertise. The three main UiPath products that they want to grow their expertise on are: UiPath Studio followed immediately by UiPath AI Center™ and UiPath Document Understanding. Both are technologies that boost the AI strategy of any organization that implements UiPath. There are multiple learning resources that can help developers move forward in becoming AI automation developers.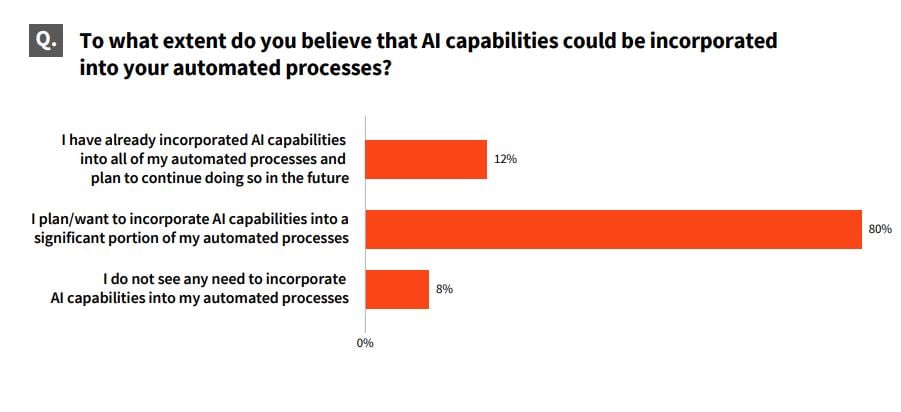 "The State of Automation Professional confirms the market trend that AI is becoming more and more important. 80% of ‌professionals are interested in the topic of AI and are starting their first experiments. Covered by the difficulty of a successful implementation, which as confirmed by the 30% of respondents, it is even more important to train professionally in this sector and to expand skills.
Nevertheless, AI is a game changer for customers and even for professional careers, as 62% of the respondents to this study also see. To prepare for this trend as a professional it's more important to use platforms which are dedicated to the topic of AI like UiPath." (Andreas Obermair, Global Practice Lead Intelligent Automation at Roboyo)
"The report confirms the development in the market. Enterprise ready automation space has gained a lot of momentum in recent months. Customers' solutions and approaches are getting bigger and more complex. This makes it more and more important to deal with the topic of automation and AI." (Andreas Obermair, Global Practice Lead Intelligent Automation at Roboyo)
4. Strong sense of belonging and satisfaction in their career choice.
Automation professionals are satisfied and on a continuous growth of satisfaction in their job. Sixty-six percent of those surveyed responded that they are very satisfied with their job, while 3% aren't satisfied with their role. With so many opportunities in the field, 78% see themselves in the automation space for the long term.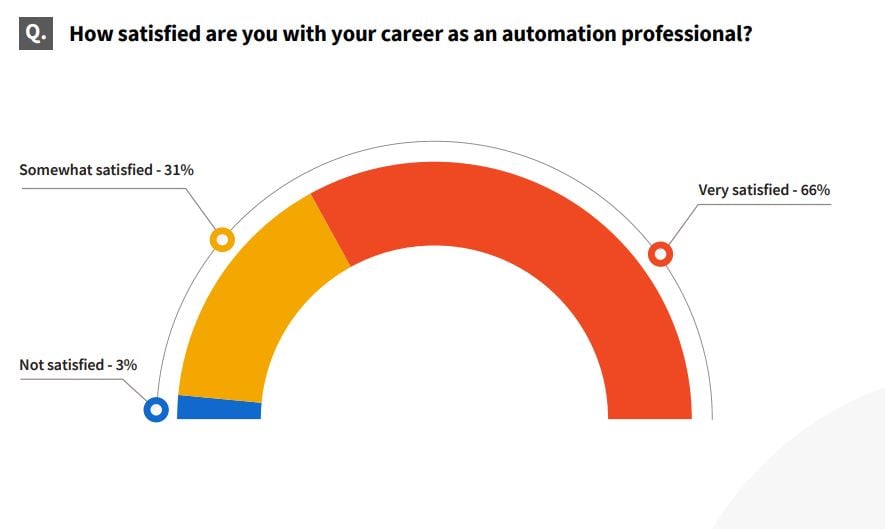 Reasons that make them stay in the field and feel so positive about their roles are related to the appreciation they get from leadership, the influence they have in choosing the technologies that they get to use, and the ease of learning technologies like UiPath.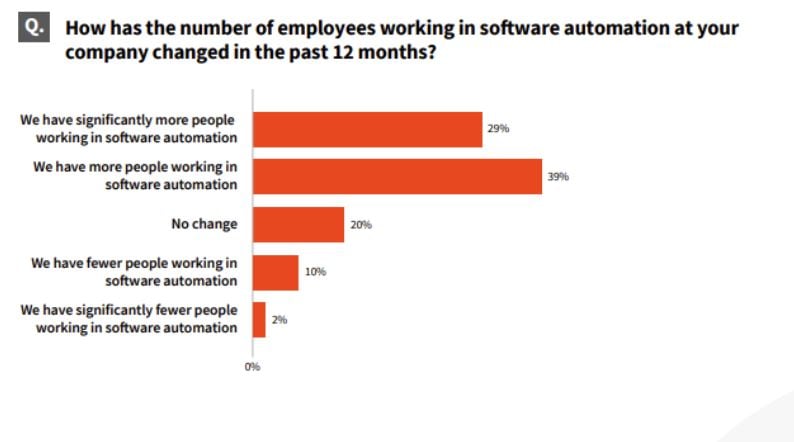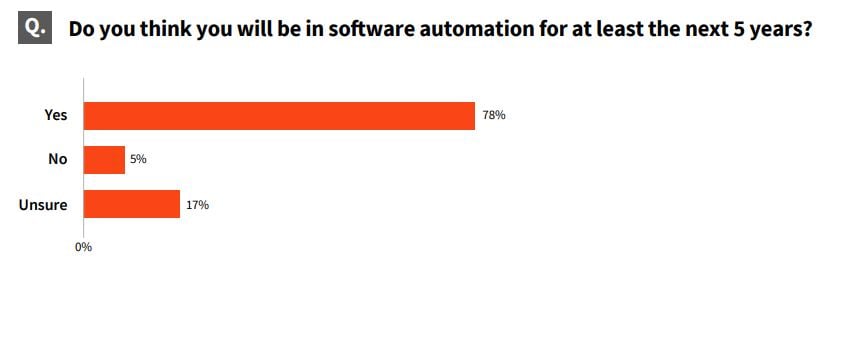 Most of the respondents also felt a strong sense of belonging to the automation community. Eighty-two percent of respondents see themselves as part of the UiPath Community, up from 77% last year. The UiPath Community represents a strong reason for automation professionals to choose UiPath given the resources offered: the structured learning plans on UiPath Academy, the UiPath Forum support, and many opportunities to connect with other like-minded professionals in dedicated product events. Explore the upcoming list of events here.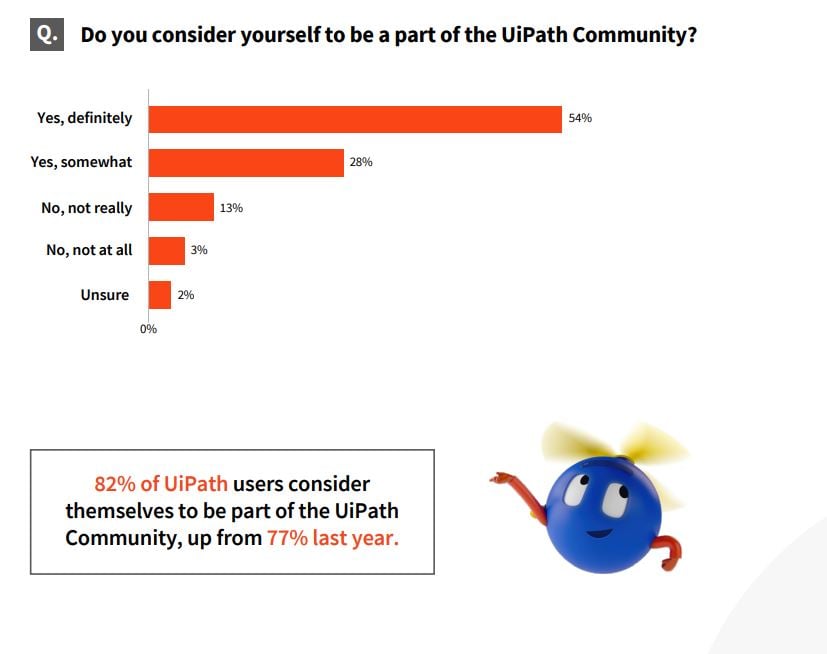 "An elaborate and insightful report, the enthusiasm for automation and platform adoption has leap frogged. It is heartwarming to see RPA and automation processionals excited about AI, ML and cognitive technologies and upskilling themselves. There has not been a better emphasis on intelligence aspect of business process automation and encourages in the pursuit for process excellence. " (Sreejit Harshan, Solution Architect - Automation at Reckitt Benckiser)
Download State of the Automation Professional report and get more insights into today's automation talent and how to best shape an effective digital transformation strategy.