Building a software robot is a way to make children express critical and analytical thinking. The whole world is moving towards next-generation technologies, i.e. software robots, artificial intelligence, machine learning, and chatbots. It's beneficial for children's future that their creativity gets sharper and reaches its peak early. Embracing technology on their path to building a career can help them shape innovative solutions.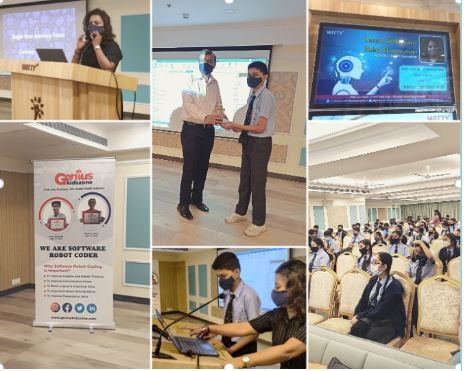 Our main focus is to prepare children of 8 to 18 years, to improve their analytical skills, logic-building and become equipped for the future. Robotic process automation (RPA) with UiPath Studio courses are designed to enrich the children's intellectual capabilities and their futuristic demands.
 Our vision is to popularize UiPath Studio as an important tool for digitalization and make it available worldwide. Our mission is to guide children of 8 to 18 years to learn how to build software robots. 
 We visited Mumbai's one of the top-rated and most recognized international schools on February 15, 2022. The aim was to conduct a free workshop titled: "How to Become a Software Robot Creator at a Young Age?"
 The outcome was that students were highly curious about the RPA technology. I built a play solar system project video robot in UiPath Studio by adding the necessary activities and explaining the logic behind each step. Children were actively asking questions and manifesting their creative thinking during the interaction. We invited them on stage to build their first software robot and the participation rate was high. Many of them wanted to get involved, and the one that took the steps and successfully ran the robot, received a certificate and trophy. The summary of the student's feedback convinced us to lead further these types of workshops. 
 We are inviting and approaching several schools to conduct such free workshops. This way we can leverage next generation technology to improve creative thinking, design thinking, problem-solving ability, and logic of students. We intent to make them future-ready with tools like UiPath Studio. 
 According to a study lead by George Land to test the creativity of up to 1,600 children, from three-to-five years old, up to 98% were considered to be creative geniuses.
 According to India National Education Policy 2020, technology expertise is compulsory for children and we are empowering them with next-generation technologies like software robots, artificial intelligence, machine learning, chatbots. All of our students get international certificates after completing the course.
 At Genius Kids Zone, we intend on exploring children's creativity and teaching them to apply it in robotic process automation. We encourage to uncover our students' curiosity and teach them to apply logic creatively to building robots. These skills will help children to prosper in their academics and any career that they choose to chart in their future. Children are curious by nature, and if we nurture this, their genius can express and manifest.