Introduction
UiPath Community values visionary minds in the automation space by organizing hackathons. This a paved way to ensure adoption and innovative ways of using UiPath 2022.4 release. Here we are, delivering HyperHack 2022 third edition to showcase solutions using UiPath Apps, UiPath Test Automation or any other products available in the UiPath suite. 
Open to the world's largest automation community, HyperHack 2022 invited small teams of professionals and students to identify and build solutions. The main scope was to solve different use cases using automation. Who participated? RPA professionals, student software developers, engineers, testers or anyone interested in the automation space with previous experience.
An important criteria for the solutions submitted was that these shouldn't be available as a solution or component on the UiPath Marketplace. However, participants could develop an existing solution, for example, a connector in Salesforce with extended functionalities.  
All ideas should efficiently use UiPath products, bring value added to society and be innovative.
With more than 560 participants from 38 countries, the competition drew diverse participation from around the world. Women represented 30% of the hackathon participants from over 230 unique organizations. 
HyperHack winning solutions
HyperHack 2022 included three product categories.
UiPath Apps category
We challenged the community to automate any of their business processes with UiPath Apps and UiPath Data Services. Top 10 in this category participated in a live session with a jury  and here are the three winners. 
First place – Team "The Silicon Robots" 
The winning team created a platform to connect all the stakeholders in the blood transaction system: blood donors, blood banks, hospitals etc. This way they could create the required network of blood availability. Generally, the challenge is to ensure that blood reaches patients on time. The solution helps reduce blood wastage through better movement of blood units from one location to another. 
The solution aims to solve the connectivity gap between the different stakeholders of the system, thus helping blood banks ensure the last-mile delivery of healthcare services. 
Donors can register on the platform and can be invited by blood seekers, either individuals or blood banks, to donate blood 
Hospitals can use the platform to find out which blood banks have their required units available, and collect those units as needed. 
Blood banks can find other blood banks which have a surplus and can purchase blood units for their own stock keeping.  
Products used in the solution: UiPath Apps, UiPath Data Service, Unattended Robots with Background Process. 
Meet the team: Umesh Sharma (RPA Team Lead, TSP), Mohd. Faiz Khan (RPA Tech Consultant, TSP), Nishant Banka (RPA Developer, TSP)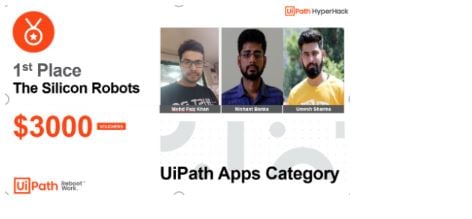 Second place – Team "Vuram CoE"
Meet the team: Rajeshwaran Ramaswamy (RPA CoE Lead, Vuram), Balaji Murugan ( RPA Developer, Vuram), Amruta Kallimani (RPA Developer, Vuram), Narendiran Thangadurai (RPA Developer, Vuram)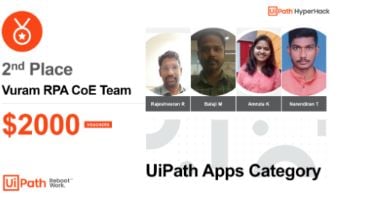 Third place – Team " MARS"
Meet the team: Malak Dudhia (Technical Lead, WonderBotz), Ayush Aswal (Technical Lead, WonderBotz), RamKrishna Kadiya (Technical Lead, WonderBotz), Saurabh Pawar (Consultant, WonderBotz)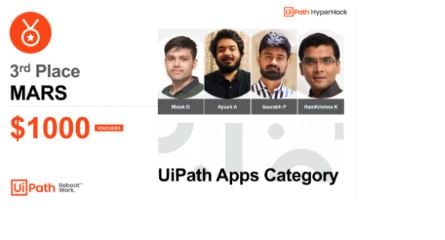 Test Automation category
We challenged the community to showcase their skillset with UiPath Test Automation, design, and quality assurance. The teams were expected to submit a solution that tied into multiple UiPath Test Suite themes like: RPA foundation, open architecture, interoperability, platform integrations.
Here are the top three teams that excelled in this challenge.
First place – Team "Automata" 
RPA and test developers spent a lot of time setting up the necessary test case workflows in test automation projects. A test developer requires up to 4 minutes to prepare a typical test case workflow with comprehensible annotations and while adhering to internal best practices to create the test case .xaml file. 
Saving time in creating test cases can impact many automation teams, and that's what team "Automata" managed to solve. Team Automata found a novel way to use the .xaml format to create automated test cases. 
Products used: UiPath Studio and UiPath Test Manager 
Meet the team: Jeevith Hegde, ph.d (Senior Developer, Hemit RF), John Michael Otico Obligar (Senior Developer, Hemit RF), Fredrik Skylstad Solem (Senior Developer, Hemit RF)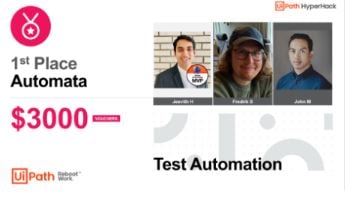 test-automation-1 
Second place – Team "SS_Champs"
Meet the team: Deepti Khattar (Project Manager, Soprasteria), Richa Bhardwaj (RPA Developer, Soprasteria), Suraj Kumar (Solution Architect, Soprasteria), Sugandha Bansal (Senior Software Engineer, Soprasteria)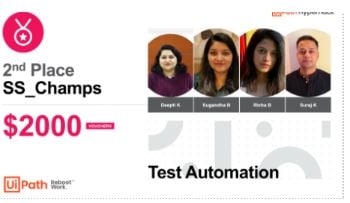 Third place – Team "Q Check" 
Meet the team: Saranya Manikandan (RPA Developer, Vuram), Kaviyarasu Natrajan (RPA Developer, Vuram), Muthu Valliappan Palaniappan (RPATest, Vuram), Hrithikeshwar Veerendraprakash (RPADev, Vuram).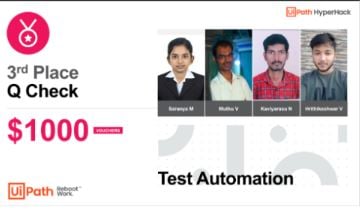 General category
We challenged the community to use at least two of the following products from UiPath Suite (UiPath Task Mining, UiPath AI Center, UiPath Document Understanding and UiPath Integration Service) and develop end-to-end solutions solving real-world, impactful challenges.
Here are the winners for the general category.
First place – Team "AutoWiz"
People seeking bank loans usually end up reaching the respective banks to check if they are eligible to apply for a loan. This is a lengthy process as it requires time to process the validation of all the documents. Team AutoWiz built a solution to automate the extraction of documents provided by the user using UiPath Document Understanding framework and validating them with data present in the UiPath Data Service. Thus making the process efficient, accurate and time saving. All the documents given in the input are encoded using a custom developed encoder that helps store them securely. UiPath Apps help build interface to interact with user and provide the facility to trigger the complex process in the background which improves customer experience with the bank. Days of manual work are done within a few minutes.
Products used: UiPath Studio, UiPath Robot, UiPath Orchestrator, UiPath Document Understanding, UiPath Apps, UiPath Data Service.
Meet the team: Pradeep Murugesan (RPALead, Vuram), Madhurima Sundaram (RPADev, Vuram), Noodhana Rangarajan (RPADev, Vuram), Yadukrishnan Sunilkumar (RPADev, Vuram)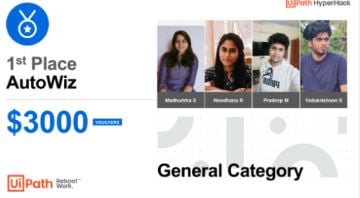 Second place – Team "Ennuviz"
Meet the team: Anandhavalli A (Programmer Analyst – Automation, Ennuviz), Roopak Desai (Automation Lead, Ennuviz)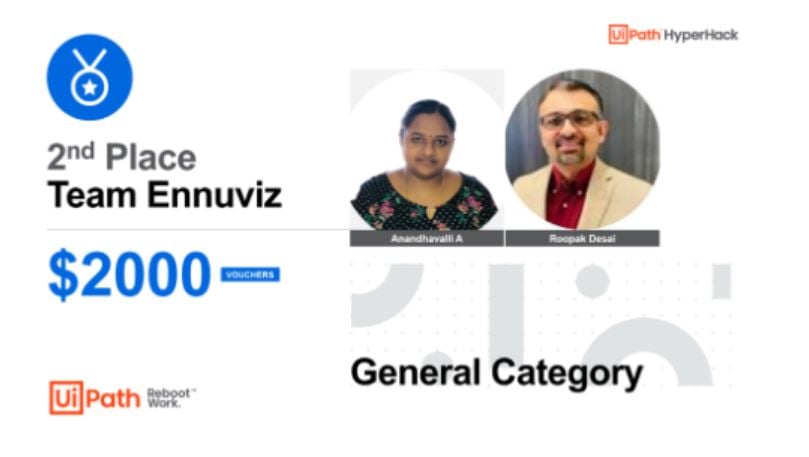 Third place – DocRobotix
Meet the team: James Jacob (RPA Consultant, Tech Mahindra)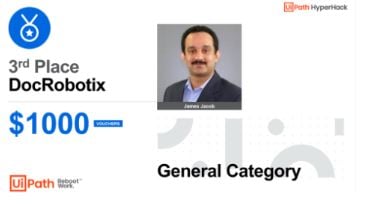 Testimonials from the jury panel
Finalists pitched their projects in front of a panel of judges with different roles in the product area in UiPath, from Director, Product Manager to VP of Technology Strategy and Growth Principal Sales Solution Architect. 
The judges evaluated submissions based on the real-world impact, relevance of concept, use of technology, completeness of solution, novelty of the concept and presentation. Here are their thoughts on this experience. 
"It was really incredible to see, the passion and the creativity of all the submissions." Evan Cohen, Principal Product Manager for Apps
"Some of the solutions were truly impressive, and it opened our minds. We are glad to see use cases which we didn't think about when we designed the product." Venkata Subramanian, Principal Product Manager
"It was fun and interesting to see how the community members are using our products for use cases we wouldn't have initially thought of. It's like reinterpreting the scope of the product, which is inspirational and let us think way beyond!" Monica Luca, Product Manager 
Conclusion
UiPath Community has on the roadmap ways to engage community members to successfully use UiPath products to solve problems. We are grateful for these bold ideas and we'll do our best to shape them further in marketplace components. Stay tuned for the upcoming hackathons that'll be available in UiPath Community. Meanwhile, you can continue to build on innovative ideas and monetize them on UiPath Marketplace. Keep an eye on the product updates on UiPath Documentation Portal and UiPath Academy. 
By Rohit Radhakrishnan, Marketing Community Manager and Oana Chicioroaga, RPA Content Manager