Introduction
During COVID-19 restrictions, most of the countries introduced a contact form to be filled in by people to/from a given country. The goal is to alert passengers from a flight if a positive COVID-19 case is later detected.
But, how to manage so many forms and data? The answer is automation.
And how to automate this process? Thanks to UiPath tools we can manage most of the process, leaving the hard work to software robots. In this article, we will present how we built a fully functional solution.
Solution overview
Our solution is designed to support public services, facilitating their work. At the beginning of the flow, all forms are automatically read and processed, then all is stored in UiPath Data Service.
As soon as the controller receives information about a COVID-19 positive case, they can change the status in the system. After that, the UiPath Robot will alert all the other passengers who may have contact with a person who has tested positive for COVID-19.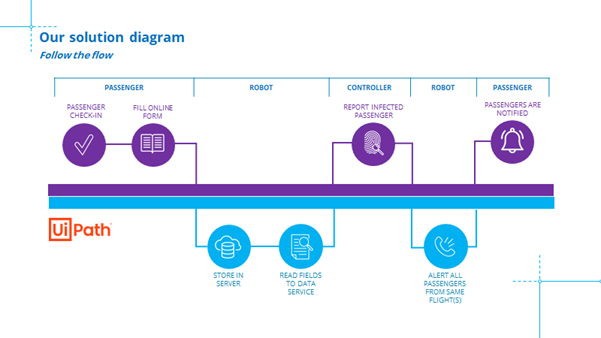 Step 1: Data Service
These three entities are the core of our solution.
The first entity contains the passenger's data including the COVID status.
The List of Flights is a seamless representation of all the flights reported by passengers, containing flags to report if an alert was emitted or a COVID case exists.
Lastly, the List of Boarding connects the two previews' entities.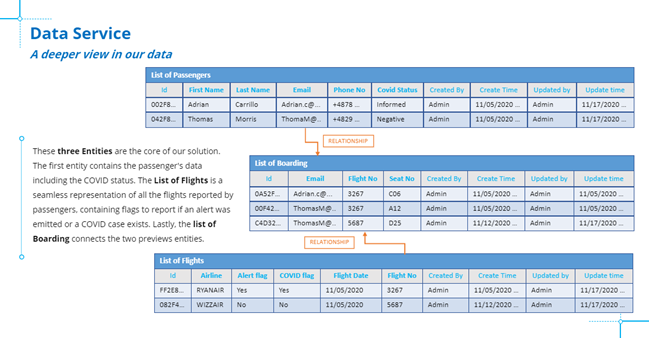 Click to see a larger version of this graphic.
Step 2: UiPath Apps
To easily navigate through our solution, we built a user interface in UiPath Apps.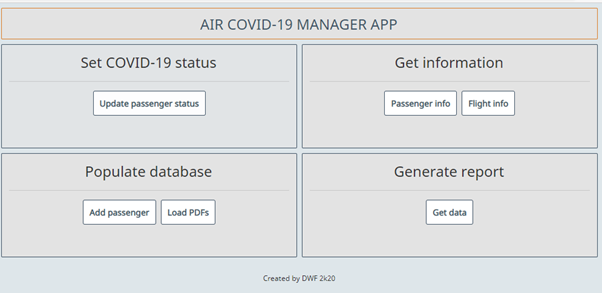 Below we describe the core functionalities of your solution.
Populate data
One of the most important functionalities is to populate data from forms to entities. Usually, our automation does it automatically after clicking one button, all PDF files are read and processed. But in real life, some manual interaction might be necessary. For that reason, we have implemented a form to add a passenger manually.
Set COVID status
The second core functionality is setting each passenger's COVID-19 status in the database. To do it easily, we have implemented a simple web form. The most important part is that when a passenger's COVID-19 status is set to positive, the system automatically sends an alert to other passengers from the same flight.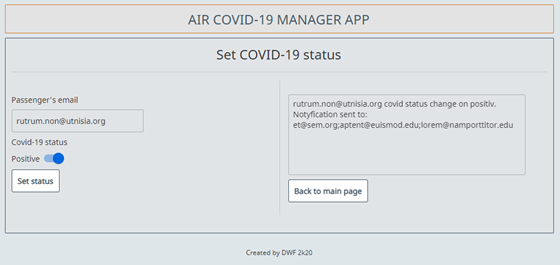 Quickly check information
During the pandemic, public services receive a lot of requests to check specific information. Flight information can be very easily checked in our Air COVID-19 manager app, as well as specific passenger information. Additionally, to get the list of all the flights with infected passengers, the operator can simply click one button.
Extract data
Data analysis can be very important during planning steps to fight the pandemic. We have implemented a special module to extract data from Data Service. There is a possibility to export raw data or already analyzed charts as well.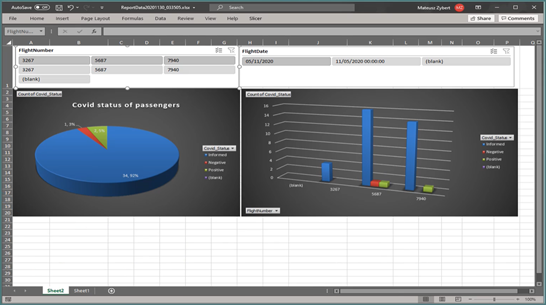 Step 3: UiPath Studio
Robots built in UiPath Studio are responsible for reading data from a PDF and uploading it into Data Service. We can say that between each action in UiPath Apps and Data Service a flow developed in UiPath Studio was created to execute the operation.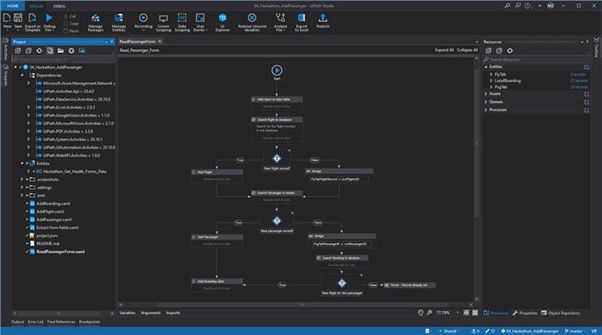 Conclusion
UiPath Data Service, UiPath Apps, and UiPath Studio could be a game changer for building fully automated solutions with a user-friendly interface that can have a huge impact on many aspects of our lives.
It's easy to build and to integrate it all into one working application. All the necessary tutorials to create and use these applications can be found in UiPath Academy: https://academy.uipath.com/
Gil Silva is an RPA Tech Lead at Digital Workforce Services.
---