Mainframe Integration and Automation
Enables you to integrate any mainframe, T3700, green screen, Java, or legacy app via UI Automation. Automated data entry and 100% accurate screen scraping on mainframes are integrated into your business flow.
API Enablement
Create an interactive dialogue between your mainframe and the Cloud through a common, flexible infrastructure. Any communication protocol, language, or format is safely supported.
Rapid Mobilization
Existing applications and processes, including legacy apps that have no available API, are integrated in real time, thus keeping with the information flow throughout the enterprise.
Mainframe Data Migration
Flawless bridging between the legacy system and new applications, as well as a complete system upgrade, is possible with UiPath.
Monitoring and Tracking
Ongoing trace monitoring of the data is kept highly available, which allows operators to analyse and respond to events in real time.
Extendability
It is easy to scale up or down, and this flexibly is extendable according to emergent enterprise initiatives.
Mainframes : Trusted Companions Through the Years
Today, mainframes continue to play a strategic role in the IT logic of many organizations. They act as efficient data stores and reliable workhorses for complex processing. Meanwhile, current business climate changes call for the integration of mainframes with new applications and architectures. The challenge is to unlock the data that is housed in the existing mainframes in order to prime them to respond to new demands. All of this is done without having to reinvent the system.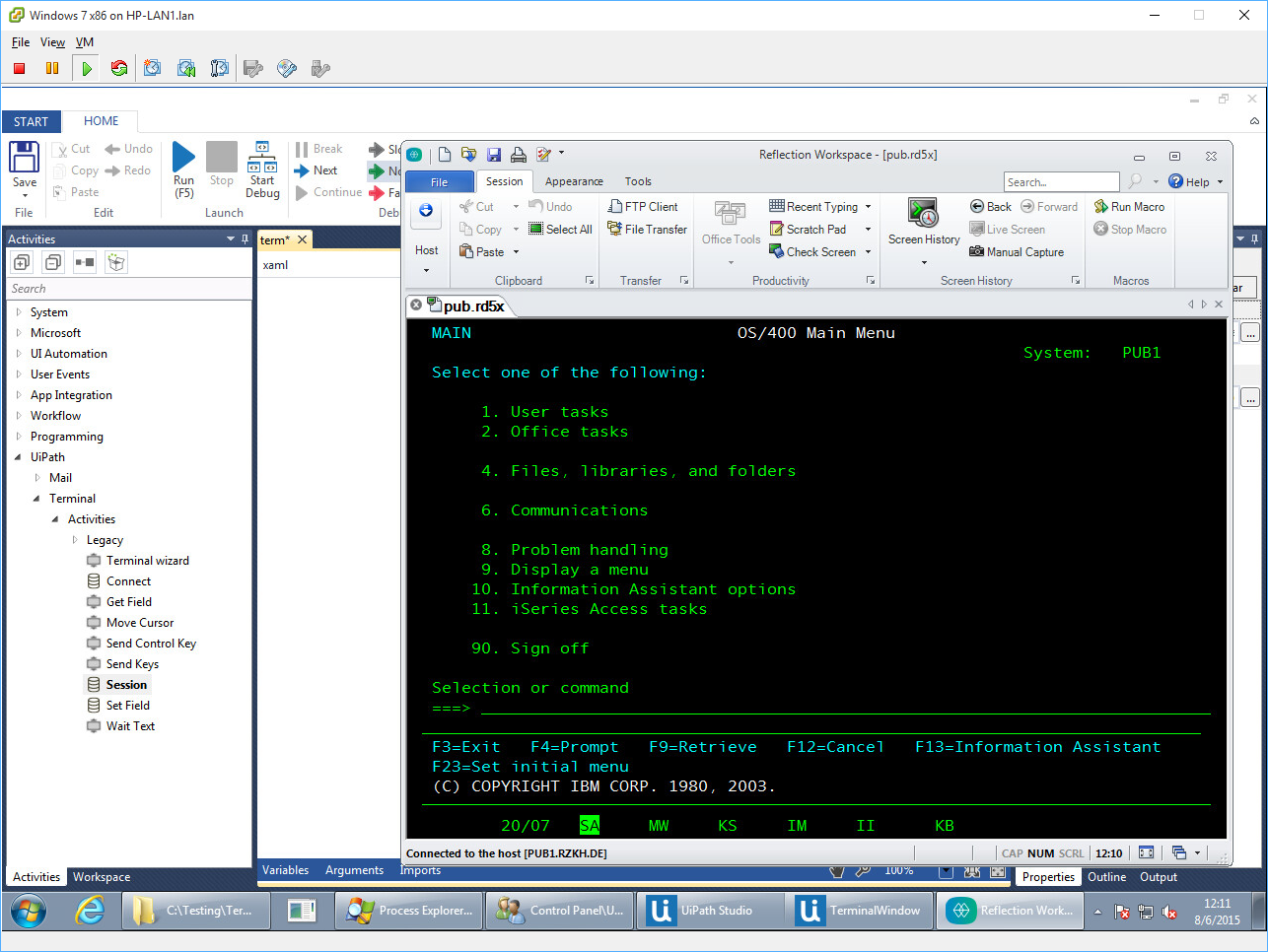 The Challenges that Legacy Apps Face
Although they work admirably well how they were designed, green screens can pose quite a few challenges to a company.
Increasing Cost: The mainframe often works only on outdated systems and hardware. These systems start to break down as time goes by and the cost of maintaining them rises exponentially.
Decreasing Expertise: It becomes more and more difficult to get people with the right skill-set to maintain and use the system as it becomes increasingly antiquated. This could mean hours and hours of training for new staff.
Low Security: As a mainframe app becomes older, it also becomes rarer. Security products or solutions that meet modern day threats may no longer be available in the market, which exposes the whole system to security risks.
Data Retrieval: Retrieving the data you need when you need it can become extremely difficult, especially if your organization is spread over a large geographical area.
Integration: The biggest challenge that an organization with a legacy application faces is integration. It is unable to share data with other organizations, nor is it able to take advantage of the new systems and technologies available. In the case of mergers and acquisitions, you end up with two mainframes or legacy systems that cannot work together.
So how do companies bring their mainframe systems up to speed?
UiPath Mainframe Automation: Bridging Your Green Screen Through GUI Automation
Robotic process automation holds all of the capabilities that are needed to unlock the potential of the core functions of your business. Without modifying the mainframe, RPA's software robots act as translators between the old and new platforms and applications, as well as over the Cloud. You can leverage the existing mainframe and applications to quickly integrate with new systems and Cloud-based services,orchestrating everything from a single interface.
Apps and processes are quickly mobilized, agents to manipulate the workflow with prompt results. They can monitor, analyse, correlate and respond to events in real time and improve customer service. You are free to choose the pace of integration, scale up or down, as well as extend according to your strategic needs. There is no need to worry about the safety of your data as RPA builds on that. As far as expenditure is concerned, you can be sure that this is essentially the most cost-effective solution to integration.
Attachmate Reflection

Rocket BlueZone

IBM Personal Communications

IBM EHLL Standard

Attachmate Extra

Micro Focus Rumba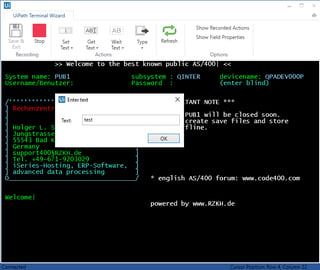 Read more on automating terminals and mainframes
UiPath: Seamless Integration Without the Hassle


With UiPath, you can have your cake and eat it too. Without disrupting the mainframe, UiPath swiftly and intuitively migrates data between systems and provides advanced web enablement. It works with all technologies (Windows, Java, Oracle Apps) and can automate within Citrix.
By connecting your mainframe to the latest endpoints, you will be able to respond to new opportunities in the market and stand out in a highly competitive arena.
Try UiPath today to discover the integration plan that will add value to your brand functionality.
UiPath – RPA Designed for the Needs of Global Enterprises and BPOs
UiPath RPA is an enterprise computing platform dedicated to automating business processes. It provides process modelling, change management, deployment management,
access control, remote execution and scheduling, execution monitoring, auditing, and analytics in full compliance with the enterprise security and governance best practices.
UiPath Studio is the highly visual productivity environment where business users can model end-to-end business processes into a process diagram with simple drag-and-drop functionality.
Advanced error checking and history visibility ensure flawless execution and detailed project monitoring.
UiPath Orchestrator is a scalable RPA server, fully integrated and equipped with centralized instrumentality for enterprise class management, security, compliance, support, and auditability.
Our Orchestrator records everything the robots do through log files and transforms them into advanced analytics.
UiPath Front Office Robot is the agent-assisted robot that shares the same workstation with human employees and assists them to automatically execute business activities.
UiPath Back Office Robot is the autonomous software robot programmed to run unattended, independent from human interaction.