The UiPath AI Summit 2022 attracted a record number of automation professionals and enthusiasts interested in learning more about artificial intelligence (AI) and robotic process automation (RPA). This virtual event hosted more than 20 global industry thought leaders from around the world and from six different industries, each with unique perspectives and expertise. The attendees left with a wealth of knowledge, inspiration, and ideas.
If you weren't able to attend the summit, you can still watch all the recordings on demand.
In this post, I will share some of the valuable insights from the keynote session—make sure to check back for future posts that will delve more deeply into industry-specific sessions.
1. Automation fabric helps organizations toward the goal of being autonomous enterprises
Leslie Joseph, Principal Analyst at Forrester, opened the keynote session by introducing the concept of the autonomous enterprise and noting that enterprises will not be able to rely on automation technology alone to become fully autonomous.
As organizations have matured in the ways they use RPA, the scope of their automation efforts has expanded. Organizations want to automate increasingly complex processes, drive the evolution of their enterprise, and move closer to becoming autonomous.
According to Joseph, if an organization wants to be autonomous, they cannot just rely on automation technology alone. They have to commit their entire operating model towards automation and must build automation as a pervasive fabric that runs across their business operations and connects human employees, digital workers, AI agents, and more.
Forrester calls this fabric an automation fabric, and defines it as a collection of technologies such as RPA, AI, machine learning (ML), internet of things (IoT), chatbots, and more, that together can enable organizations to efficiently automate their business processes, helping them become autonomous enterprises.
Forrester predicts that by end of 2022, at least 5% of Fortune 500 will start building their automation fabrics.

Leslie Joseph, Principal Analyst, Forrester
Joseph emphasized that, as with any other type of large-scale transformation, a successful automation fabric within an organization depends on having a good strategy and plan with involvement from the C-level and positive culture among employees.
2. Semantic automation is the next major step in enabling a fully automated enterprise™
The potential of automation is vast. We believe the power of AI can make it almost limitless. And so, we've built AI into every part of the UiPath Platform. You can reach new levels of productivity and automate more.

Daniel Dines, co-founder and CEO, UiPath
Following Joseph's keynote speech on automation fabric, Tony Tzeng, Senior Director of Product Management at UiPath, shared how UiPath is working toward helping companies become fully automated enterprises. He first provided an overview of classic RPA and AI, followed by an introduction of semantic automation as the next frontier in emulating human work.
As RPA is the core set of capabilities programed and controlled through a user interface, AI allows a software robot to simulate human intellect as it relates to perception, cognition, and action. And semantic automation builds on this by allowing software robots to understand higher levels of abstraction between data, documents, processes, and applications just like humans.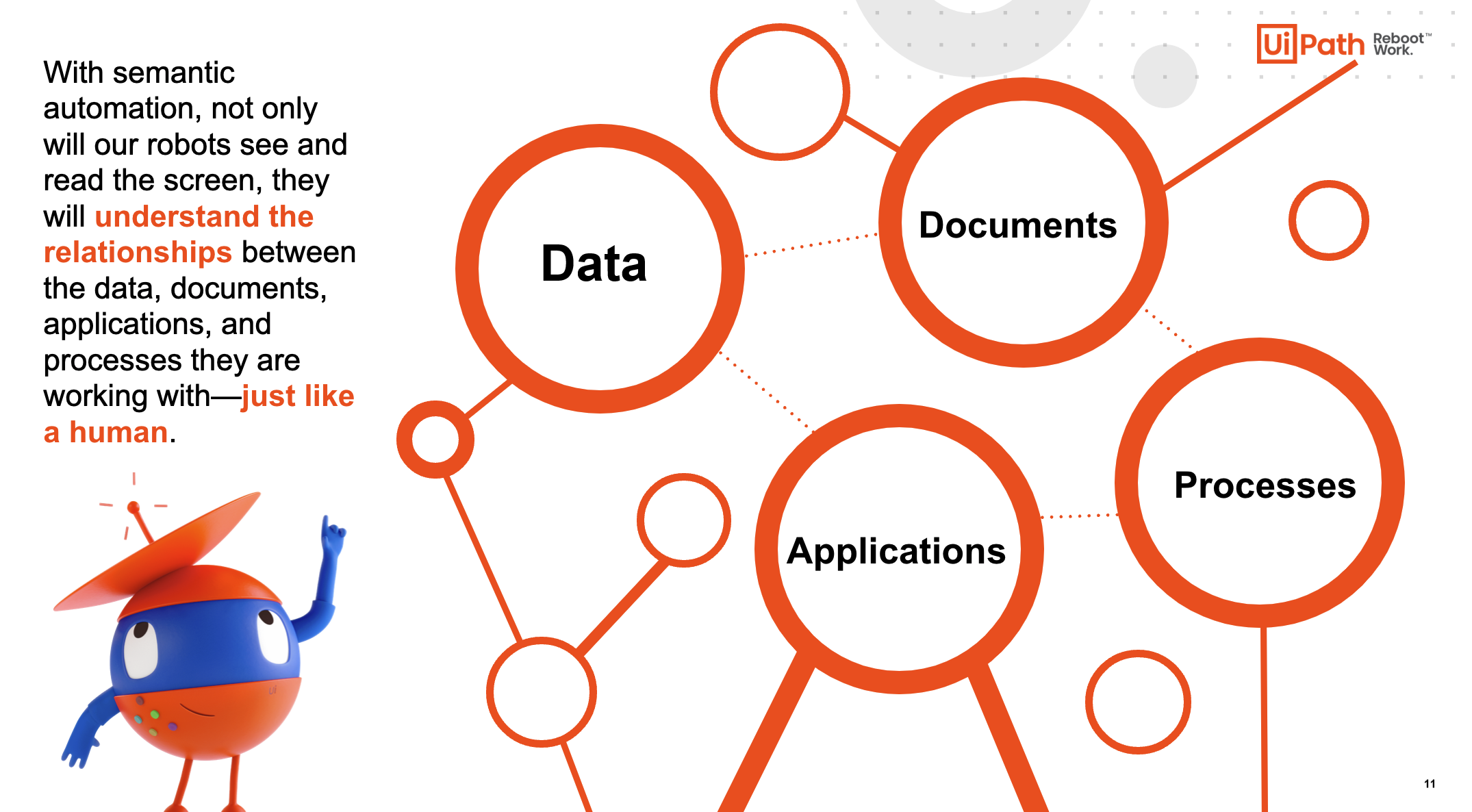 Benefits of semantic automation include:
Faster development

Enhanced reliability

More power for more users
Tzeng addressed the role of semantic automation in the UiPath Platform from a product perspective, citing several capabilities that already exist and outlining others in development: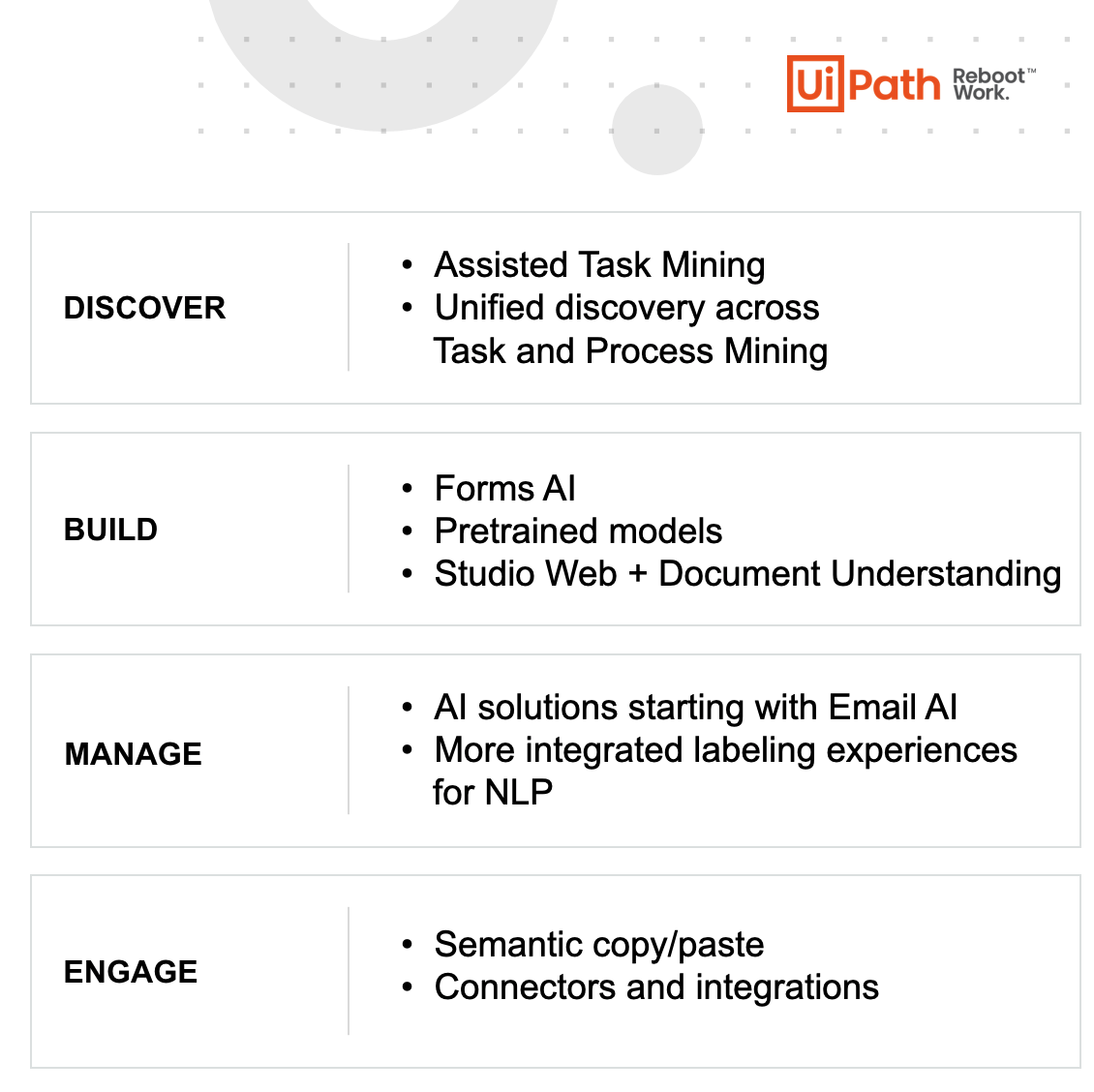 To see a demo on Forms AI and Semantic Copy/Paste, check out the Practical AI session.
3. Past, present, and future of software robots
Dr. Oren Etzioni, CEO of AllenAI and chairperson for UiPath AI Advisory Board, shared his expertise in software robots, tracing the evolution of the technology from the mid-1980s until now, and where he sees it going in the future.
Past
He briefly discussed his research from 1992 to 2002, including work on modeling UNIX commands using softbots, creating a softbot-based interface to the internet, extending his research to databases, and finally developing a system that automatically recognized people's goals based on their actions.
Present
His talk then turned to the emergence of deep learning, which had allowed us to process language and images, and understand them in ways that were previously impossible.
And in the field of deep learning, two major challenges have been addressed: the need for millions of training examples and how to label them. However, with the emergence of transformer architecture, deep learning does not require labels in order to model how data is structured. The result of which is tremendous success across a huge range of tasks, including language processing, speech recognition, and computer vision.
Future
Dr. Etzioni concluded his keynote speech by discussing how these technologies can be used in conjunction with the UiPath Platform to unlock automation's true potential in the enterprise.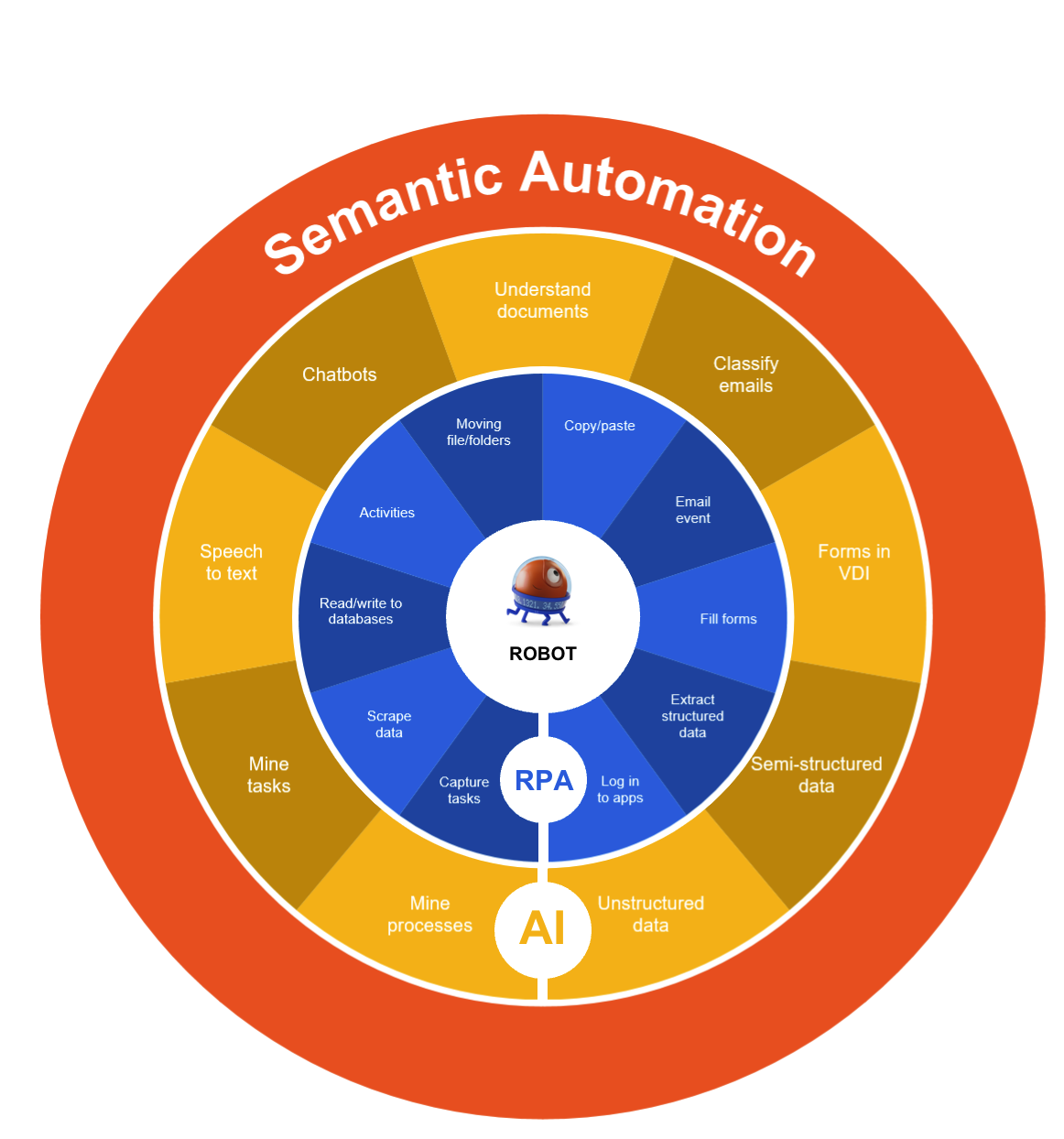 If we think about the future […] the next 12-36 months, we can see that each of the items Tony highlighted in yellow […] all these actions, activities are now ready to benefit from semantic automation, using deep learning techniques, and that's what we are aiming to do in the near future.

Dr. Oren Etzioni, CEO, AllenAI
Thank you for another great summit
Because of the popularity of AI, many people are familiar with it to some degree—but they might not understand how it works with RPA.
At this recent UiPath AI Summit, we had the chance to hear from experts in the field about the limitless potential of AI and RPA, and how they can help organizations transform by improving productivity, streamlining business operations, and empowering employees to do more fulfilling work.
In addition to the keynote address, UiPath customers from six different industries shared their individual automation stories and best practices. You can watch the recordings from the summit at your convenience.
Finally, we want to thank all the speakers and attendees who made this summit another great success. We hope that everyone was able to take away some new insights from the event, along with a deeper understanding of how to implement AI and RPA in their own business processes. We look forward to sharing more on AI and RPA, inspiring more people, and helping more organizations become fully automated enterprises.