Any large organization can have as many as 1,000 discrete applications, with more than 200 enterprise applications. As part of a quest for digital transformation to realize business value, the enterprise technology landscape is becoming more and more complex. It's also leading to non-standardization across the landscape.
In the 1Q22 CFO Signals™ Deloitte report, "complexity and non-standardization" is highlighted as one of their top three challenges in realizing value from the information technology function. The report highlights that more than 50% of the IT budget goes into maintaining these applications and IT operations, and another 26% enhancing the existing capabilities, leaving just 24% for building the new capabilities. Chief information officers (CIOs) may wish for a 'rip and replace' approach to achieve digital transformation. But that approach isn't practically possible considering budget, time, and capabilities.
So, how can CIOs achieve business outcomes?
Application and data silos lead to 'linkage burden'
According to the latest MuleSoft 2022 Connectivity Benchmark Report, only an average of 28% of applications are integrated in a large organization. The integration gaps slow down digital transformation efforts in the organization.
CIOs incrementally modernize their platforms and enterprise applications. At any given point in time, there would always be a mix of modern and legacy systems in any organization. Technology is changing at such a fast pace that it's hard for an organization to keep up with the changing technology landscape.
While the enterprise applications do a great job in their specific domains, most work processes need to move across and within multiple applications, systems of record, and data repositories. Those connections and workflows don't create themselves—they have to be developed. Developing bespoke integrations to connect systems is not an easy option and comes at a high cost.
And so, every modern enterprise has a massive linkage burden that leads to data silos and data inconsistencies. Moreover, it drags down productivity, innovation, nimbleness, and all too often, the human spirit.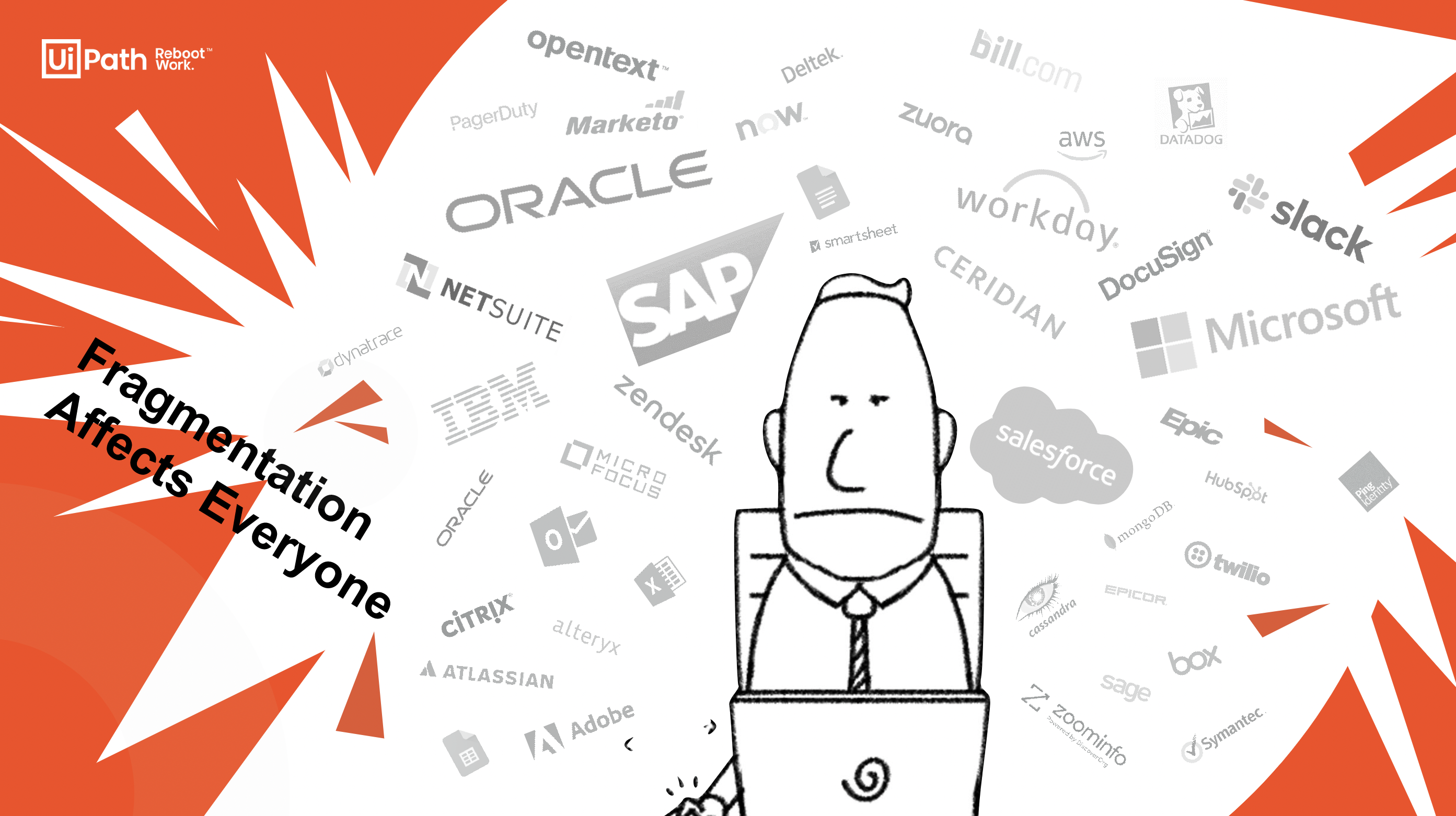 Source: "The Innovation Engine of the Fully Automated Enterprise™" keynote at FORWARD IV. Watch the recording.
Integration platform as a service (iPaaS) solutions can connect enterprise applications through API creations. And API management tools like MuleSoft can enable businesses to build, manage, and extend APIs continually and in a secure environment. While iPaaS and API management tools are addressing this problem to a certain extent, they cannot achieve end-to-end process automation. The process involves multiple systems, document understanding, structured/unstructured data interpretations, orchestrations of various activities, and interfacing with apps that cannot be integrated via APIs. Integration is one component of process automation but not the end-to-end solution to achieve process automation.
UiPath Platform: a multi-faceted solution to address the silos 
Any organization will always have fragmented technologies. An automation-centric approach is a way to achieve digital transformation. Forrester recommends applying systems to operationalize automation fabric across every aspect of the firm's operations. This requires deep process analysis and design at the process layer, as well as activating multiple technologies at the automation layer. UiPath Platform enables multiple capabilities at the process and automation layerto achieve end-to-end process automation.  
Process mining
UiPath Process Mining analyzes data from your line-of-business systems and applications (like SAP and Salesforce) and uses visualization to give you a thorough understanding of your actual processes. It uncovers all process deviations and bottlenecks, so you can see what should be automated and the impact automating the process will have on your business.
Integrations
UiPath Integration Service includes native integrations with best-in-breed technologies like Amazon Web Services (AWS), Microsoft, SAP, Oracle, Salesforce, and Workday. These bi-directional native integrations offer both inbound integrations which let users start and stop UiPath robots from third-party systems, as well as pre-built activities in UiPath Studio for outbound integrations to third-party APIs. It's expected that the organizations would have other integration solutions in their landscape, so UiPath connects with other iPaaS/API management tools like Workato and Mulesoft, providing flexibility to leverage existing technologies for faster results.
Within UiPath Marketplace there are more than 1,200 integrations and other reusable components provide the next layer of connectivity and acceleration. Not only this, UiPath offers the capabilities to help you build your integrations, leveraging our open platform. Watch Integration Service in action: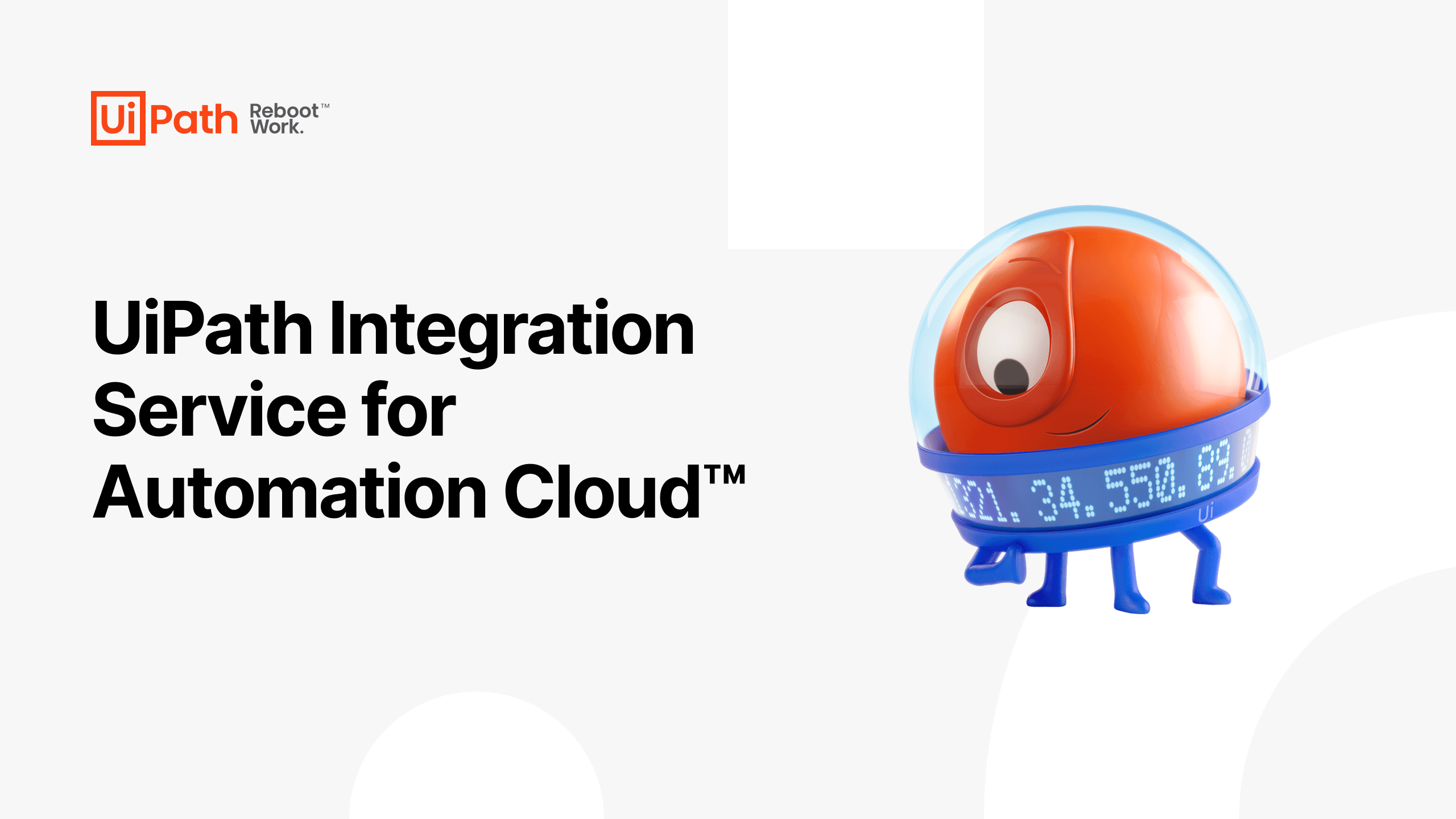 UI capabilities
UiPath core UI automation capabilities fill gaps where applications cannot be connected through APIs, especially legacy systems. Unique AI Computer Vision technology from UiPath allows robots to mimic humans, easily navigating screens to complete tasks and understand what is happening on any screen. It enables task automation across multiple environments, screens, applications, or legacy systems.
An automation-centric transformation approach helps organizations achieve faster time to value: rapid results with easy deployment rather than 'always in catch up' mode building new integrations.
Uber is a great example of an organization building its digital transformation strategy centered around automation and achieving 350% ROI within a year. Uber is expanding rapidly, and that means growing pains. When you are experiencing phenomenal growth, implementing a digital transformation strategy built on automation can help tame a constantly changing infrastructure. They're continually adding new capabilities such as chatbots, optical character recognition (OCR), and machine learning to achieve end-to-end automation.
Reckitt transformed its IT operations by leveraging a combination of UiPath Platform capabilities to achieve a 20% saving in IT operations cost and 20% increase of its net promoter score (NPS).